I have owned this company few years back, but luckily sold down with only minor losses. Today, have decided to have a look on how Sandstorm is doing and was surprised at how much worse the business has gotten. The only thing unchanged is kind optimistic words from its promotional management and smiling management pictures at the front pages of every investor communication.
Business Model
Sandstorm Metals and Energy (OTCPK:STTYF) is a micro cap Canadian company engaged in metals and energy mining streaming business. The company finances resources projects through an arrangement called commodity streaming. A commodity stream involves Sandstorm making an upfront payment to a resource partner that is in need of capital to build a project, refinance obligations, complete an acquisition or for various other reasons. In exchange for that upfront payment, Sandstorm receives a contract which stipulates the purchase of a certain percentage of the commodity produced from the project, for the life of the asset, at a fixed per unit cost.
The commodity streaming business model is supposed to minimize the typical downside risks in resource investment because there is no obligation for Sandstorm to contribute additional capital after the upfront payment is made and Sandstorm's ongoing cash costs should be fixed forever. Moreover, for a number of streaming contracts Sandstorm has arranged minimum cashflow guarantees which would have to be paid even if mine production is late or not sufficient. This business model was supposed to have saved Sandstorm from typical problems in the mining industry such as capital expenditure overruns, sustaining capital requirements and inflating costs. Company presents advantages of its business model in a very neat looking chart:

Sandstorm was founded in Dec 2010 by Nolan Watson (President & CEO) and David Awram (Executive Vice President) who, prior to Sandstorm, were the first two employees at Silver Wheaton (which was the first metal streaming company and has grown into the largest in the world). Both guys also have established and currently run a sister company Sandstorm Gold (engaged in similar streaming business).
So we have a low risk business model, management with significant expertise and track record in the industry - seems like a great combination. However, that is not what has happened.
Significant value destroyed in 3 years
The company raised C$100 from investors in Dec 2010. Fast forward to today, the company has C$4m of cash on the balance sheet, had revenues of only C$3m and had operating cashflow loss of C$2m during 2013.
So where did all the money go?
All of it got invested into various streaming contracts, which were not as low risk as company has expected. None of the streams started production on time, most of them had cost overruns which Sandstorm partially financed or got its stake diluted due to outside financing, the minimum cashflow guarantees have never worked so far, and some of the companies/projects with which streaming agreements have been signed have actually gone bust. So basically Sandstorm has faced all the risks of ordinary mining development company and neither its business model nor diversification of streams have helped.
Today the company has only one producing coal stream (Bracemac Mine) and its other streams have dates of production in 2016 at earliest or are currently in restructuring or impairment stages (with no indication of starting dates or expected production levels). So the company's cashflows are not expected to improve anytime soon.
Interestingly, Sandstorm used to provide optimistic looking charts with forecasts of its operating cashflow in earlier presentations (for obvious reason none of historical presentations are available on company's website). But in the latest presentation such chart is no longer available, probably because it would paint a rather bleak picture. Below I am copying one of these charts from an earlier report. Compare this to today, when the earliest increase in cashflows is expected by 2016.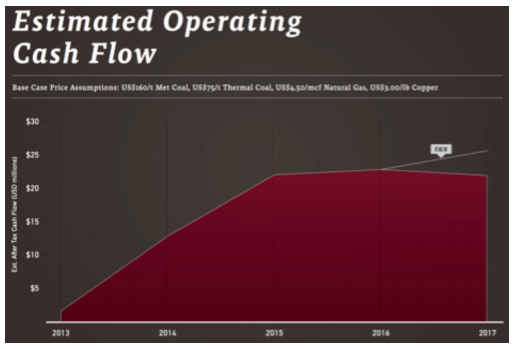 Moreover the share count has also increased by 50% during this period, so on per share basis even more of the value has been destroyed.
Promotional Management
If you look at the latest presentation which is supposed to provided potential investors with important information about the company, the first two slides are devoted to smiley management pictures, with titles such as "BC CEO of the Year 2012", "Canada's Top 40 Under 40, 2011", "Vancouver's Top 40 Under 40, 2013". Clearly management thinks that is the most important information to attract potential investors. Also have a look at the CEO's Wikipedia page, which was clearly written by himself or someone in the company.
Also not surprisingly, whenever one of the streams the company purchased faced any problems and the deal had to be restructured, Sandstorm portrayed it as if the restructuring has brought an even better deal for Sandstorm (which was actually never the case). So mistakes have never been acknowledged but any new streaming opportunities have always been cheered.
What's next for Sandstorm Metals and Energy
My guess is that management will continue to destroy value in the same way as they have been doing for the last 3 years. The only problem is that Sandstorm has limited cash resources left and no increase in cashflows from streaming operations is expected shortly. Thus further equity dilution or company's liquidation / sale for pennies to some other streaming business is likely. I do not see any upside whatsoever.
Disclosure: I have no positions in any stocks mentioned, and no plans to initiate any positions within the next 72 hours. I wrote this article myself, and it expresses my own opinions. I am not receiving compensation for it (other than from Seeking Alpha). I have no business relationship with any company whose stock is mentioned in this article.
Editor's Note: This article covers a stock trading at less than $1 per share and/or with less than a $100 million market cap. Please be aware of the risks associated with these stocks.
Editor's Note: This article covers one or more stocks trading at less than $1 per share and/or with less than a $100 million market cap. Please be aware of the risks associated with these stocks.