Both Fuel Cell Energy (NASDAQ:FCEL) and First Solar (NASDAQ:FSLR) are alternative energy companies that manufacture large power plants to provide clean energy in the megawatt class market. They both compete with the grid and seek to partner with utilities and also supply green energy solutions to large business. First Solar converts sunlight into power with its thin film solar panels while Fuel Cell Energy uses its molten carbonate fuel cell technology to efficiently convert natural gas, methane or other biogas fuels into electricity without combustion. A First Solar power plant eliminates greenhouse gas emissions while Fuel Cell Energy substantially reduces CO2 and other emissions versus conventional technologies with its efficient fuel cell power plants.
First Solar has been a public company since 2006. Fuel Cell Energy went public in 1992 and had a 14 year head start on First Solar. First Solar has managed to achieve over $3,000,000,000 in annual revenues while Fuel Cell Energy has never broken the $200,000,000 mark. Even though they compete in the same space of alternative energy, Fuel Cell Energy has lost money in every year of its existence while First Solar was solidly profitable in 2013.
OK, so one company has done well while the other has struggled. "So what?" you ask. Well let me get to the point. I thought it would be interesting to run a StockValueCompare chart on these two companies in an attempt to evaluate their relative share prices using a few fundamental valuation metrics.
Ideally, I'd like to use measures like current and forward price to earnings ratios but since Fuel Cell is unprofitable that math can't be done. So instead, I've focused on these three measures:
Trailing 12 Month Revenues
Trailing 12 Month Gross Profits
Book Value Per Share
The table below shows what the stock prices of these two companies would look like if they were valued based open the other company's metrics I've listed above.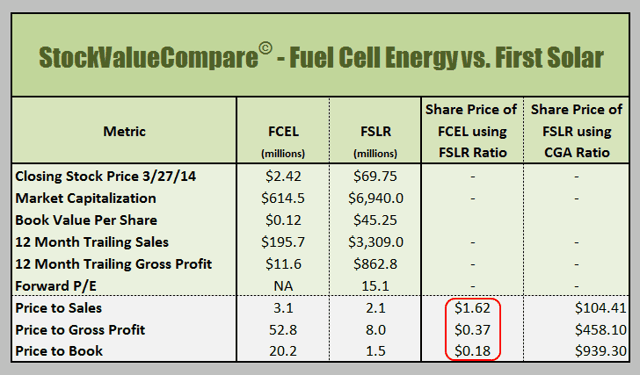 As indicated in the chart, if FCEL shares traded based on the price to sales ratio of FSLR shares, they would be worth about $1.62 per share. That's the best case scenario of the three valuation measures and comes closest to the $1.25 per share secondary the company executed in January. Looking at gross profit ratios, with its low margin business, FCEL shares would be worth only $.37 per share based on FSLR's trailing 12 month price to gross profit ratio. It gets even worse when looking the price to book value ratios of 20 for FCEL and about 1.5 for FSLR. If we value FCEL based on FSLR's price to book ratio, FCEL shares would be worth only $0.18 per share.
Some may argue that, based on this chart, FSLR shares are undervalued and that FCEL shares trade at fair value. I wouldn't make that argument based on Fuel Cell Energy's declining backlog but everyone is entitled to their opinion.
Investors seem to have lost focus on valuation as they simplistically look at FCEL's share price alone and somehow equate it with valuation. However, share price is totally irrelevant without also considering the total number of shares outstanding and the resulting market capitalization of the company as compared to its financial metrics. This is obvious to most but it appears that there are many who have lost sight of this simple concept. Since FSLR and FCEL compete in the same alternative energy space the question that must be asked is: Should FCEL shares trade on valuation metrics that are so much richer than those afforded to shares of FSLR? In my opinion the answer is obvious.
Disclosure: I have no positions in any stocks mentioned, and no plans to initiate any positions within the next 72 hours. I wrote this article myself, and it expresses my own opinions. I am not receiving compensation for it (other than from Seeking Alpha). I have no business relationship with any company whose stock is mentioned in this article.
Additional disclosure: These are the personal views of Wall Street Titan and should not be used for your investment decisions. All readers should always do their own due diligence. I am long FCEL Puts based on unsustainable valuation.