It is not at all clear why economists continue to be asked about the future because, after the last few years, they've proven their prognostication skills are quite poor, the latest example being an only slightly less rosy view of the nation's housing market, one that is being steadily revised lower as more data from the real world trickles in.
From Macromarkets latest monthly Home Price Expectations Survey come more downward revisions to a chart that, to a non-economist, still looks to be far too optimistic.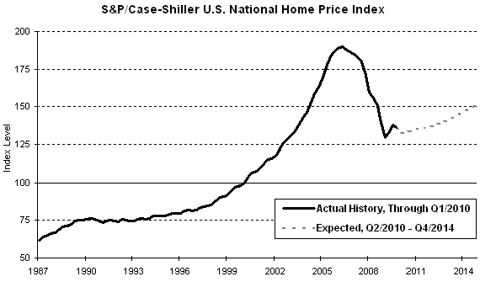 There is a related report in the free section of the Wall Street Journal, the key take-away being that "56% of the 106 economists and other analysts surveyed expect home prices to decline this year. That is up from 40% a month ago". Of course, after that, steady increases are expected – up 1.3 percent in 2011, up 2.7 percent in 2012, up 3.5 percent in 2013, and up 3.8 percent in 2014 for a cumulative gain of 10.5 percent.