Have you thought about tissue paper lately? Most likely you haven't - after all, what could be more mundane? However, even though it's not as sexy as some of the dividend stocks in our recent articles, this week's focus stock, Orchids Paper Products Company, (NYSEMKT:TIS), is a tissue paper company that has been consistently growing its earnings and revenues over the past four quarters, in a big way:

Profile: TIS manufactures and sells tissue products for the at-home market in the United States. Its products include paper towels, bathroom tissue and paper napkins. It also sells parent rolls to other converters. The company markets its products directly as well as through a network of independent brokers. It serves dollar stores, discount retailers, grocery stores, grocery wholesalers and cooperatives and convenience stores. Orchids Paper Products Company was founded in 1976 and is headquartered in Pryor, Oklahoma. It went public in 2005.
Huge Dividend Growth: TIS grew its annual dividend payout by 70% in 2012, and by over 58% in 2013, but was able to keep its Dividend Payout Ratio increases more modest, thanks to strong earnings growth of 44% to 45% in both years.
TIS began paying a quarterly $.10 dividend in March 2011, and has raised it over the past two years up to the current $.35 payout. It's currently one of the highest yielding stocks in the Consumer Staples section of our High Dividends By Sector Tables.

Options: We haven't added TIS to our Covered Calls Table or to our Cash Secured Puts Table as there are no options available yet.
Earnings: So, how is Orchids growing so rapidly in such a stodgy industry? For one thing, its management has concentrated on moving its product offerings up the product quality tier.
Orchids has been expanding into mid and upper tier market segments with new and existing customers. Its market penetration for high quality tiers has risen dramatically, from just 6.8% in 2011, to 15% in 2012, all the way up to 37.9% in 2013.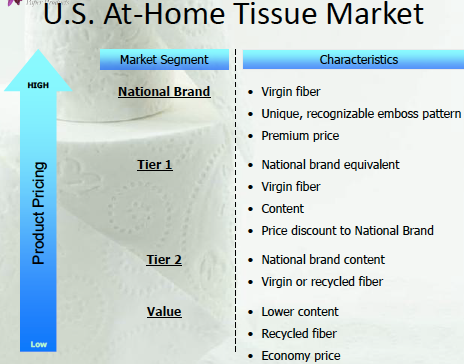 (Source: Orchids website)
In addition, TIS has been making more inroads into the Private Label tissue paper business, which is growing faster than Branded labels: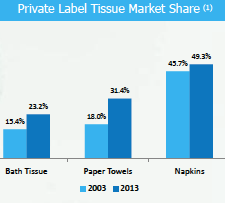 (Source: Orchids website)
Undervalued long term: Analysts have an average 20.44% 2015 EPS Growth forecast, which gives TIS a 2015 PEG of .86, indicating that it's undervalued on a long term PEG basis. In addition, analysts' current mean price target is $36.00, and ranges from $33.00 to $40.00. At its 3/27/14 $29.27 price/share, TIS is still over 11% below the low end of analysts' price target range.
One reason for the big bump up in 2015 is TIS's 2-part $30 million capex project, which it says will save $6M to $8M in costs for paper manufacturing, and will also increase production capability by 25%, starting in Q2 2015. The project will also upgrade TIS's conversion production by nearly 16% and increase EBITDA by $2.8M to $3.4M, starting in Q4 2014.

TIS also looks undervalued on a P/E and Price/Sales basis.

A Temporary Fly In The Ointment Provides An Opportunity For Investors: With all of this growth, why has the market discounted TIS by almost 14% over the past 10 days?
A law firm announced that it's investigating "Orchid's board of directors for potential breaches of fiduciary duties in connection with their conduct in seeking shareholders' approval for the Company's 2014 Stock Incentive Plan. Specifically, in the Proxy Statement filed by the Company with the Securities and Exchange Commission on March 5, 2014, the Board of Directors recommends that Orchids' shareholders vote to approve a grant to approve the Company's 2014 Stock Incentive Plan which would allocate 400,000 shares of Company Stock. This would be separate from the 400,000 shares allocated under the Schoen Option for the Company's President and Chief Executive Officer, (Jeffrey Schoen). The issuance of the additional shares could have a substantial dilutive effect on the shares of Orchids common stock." (Source: PRNewsWire)
Mr. Schoen was appointed President and Chief Executive Officer of Orchids Paper Products in November 2013. He replaced retiring CEO Robert Snyder, who left on 12/31/13, after leading TIS for the previous six years.
However, Mr. Schoen isn't a newcomer to Orchids or this industry - he joined the Orchids Paper Products Board in February 2007. Before that, he worked in the private label personal care products industry from 1999 to 2006, and also worked for Kimberly Clark prior to that.
On April 9th, 2014, there will be a special meeting of TIS stockholders to vote on a grant to CEO Schoen of an option to purchase 400,000 shares at the purchase price of $30.25 per share.
The Board stated the following, in reference to this grant, on its 14A SEC form: "Based upon review of compensation paid to executives of the company's peers, the Compensation Committee determined that the terms of the Schoen Option constitute an appropriate award for this grant because the Schoen Option will create value for Mr. Schoen only if the price of the Company's Common Stock increases. Further, once the trading price of the Common Stock exceeds various thresholds and the Schoen Option (or portions thereof) becomes "in the money," the amount of additional value to be realized by Mr. Schoen will be in direct proportion to further increases in the price of the Common Stock during the period in which the Schoen Option is exercisable. For these reasons, and because we view Mr. Schoen's leadership as critical to the Company's future, the Schoen Option was granted to Mr. Schoen upon his appointment as President and Chief Executive Officer.
The Company believes the Schoen Option is a critical component of Mr. Schoen's total compensation and will help ensure Mr. Schoen's interests are in-line with those of the Company and its stockholders." (Source: TIS 3/5/14 SEC 14A filing)
Bottom Line On This Option Grant: The $30.25 purchase option price is actually higher than TIS's current $29.27 price/share.
In addition, Mr. Schoen can't exercise this option all at once, and, more importantly, can only do so when TIS stock has risen substantially. With this plan, shareholders have an industry veteran running the show, who has a very compelling incentive for growing the company's earnings and increasing its price/share. Here's the price and vesting schedule for this option grant:

(Source: TIS 3/5/14 SEC 14A filing)
Upside potential: At the 3/27/14 $29.27 price for TIS, your upside, as it relates to the Schoen option, is currently even sweeter than Mr. Schoen's $30.25 exercise price.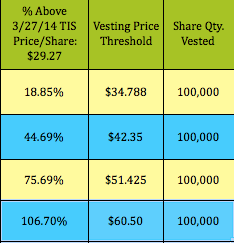 Given the strong price/share, earnings, sales and dividend growth record of TIS' management and Board, buying on this dip looks attractive long term: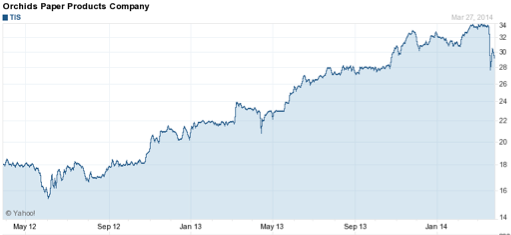 (Source: YahooFinance)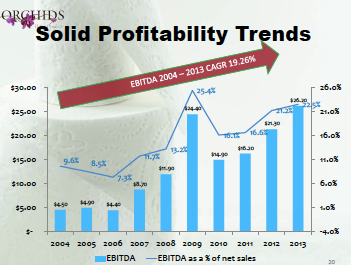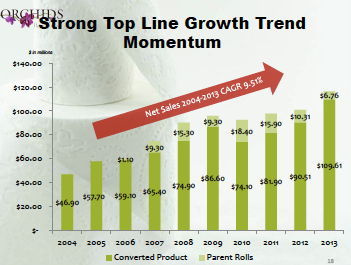 (Source: Orchids website)
By the way, there has been an explosion of litigation vs. publicly traded companies and their boards in the market over the past six years. For example, it was recently revealed by Cornerstone Research that 94% of all merger deals were challenged in 2013 vs. only 44% in 2007. (Source: Wall St. Journal)
Financials: There's really nothing to carp about here either - TIS' stats look good vs. industry averages. Its debt load is a bit higher, but it's mostly long term debt, and it has a strong Current Ratio:

Disclosure: Author was long TIS shares at the time of this writing.
Disclaimer: This article was written for informational purposes only.
Above Tables were furnished by DoubleDividendStocks.com, unless otherwise noted.
Disclosure: I am long TIS. I wrote this article myself, and it expresses my own opinions. I am not receiving compensation for it (other than from Seeking Alpha). I have no business relationship with any company whose stock is mentioned in this article.