Last week, Microsoft Corp (NASDAQ:MSFT) traded above $40 for the first time since the dotcom era and the stock is now up over 50% since January 2013.
With new CEO Satya Nadella at the helm, there are many reasons for investors to be optimistic over the company's chances.
New management making the right noises
Investors had been doubtful of former CEO Steve Ballmer's leadership for an increasingly long time, so it was no surprise that when his exit was first announced in August of last year, it triggered a 7% rally in Microsoft stock on the day.
Since then, new CEO Nadella has had little time to stamp his authority but if first impressions are anything to go by, he appears to be making the right noises so far.
Under Ballmer's leadership, the company spent years debating what route to take with Apple (NASDAQ:AAPL), but Nadella has been swift to act and on Thursday the new CEO confirmed a new package of MS Office apps designed specifically for the iPad.
It is a brave and confident step, made all the more promising by its subscription based pricing model. There is no doubt that subscription models are the way to go for cloud based applications and one only needs to look at Adobe (NASDAQ:ADBE), with its creative cloud design suite, to see the potential of this approach.
More importantly though, Nadella clearly appreciates the need to collaborate with other developers in the cloud and mentioned in his opening remarks that this move marks "the beginning of exploration for us."
Meanwhile, Apple CEO Tim Cook took to Twitter to welcome the move. If anything, investors will be hoping for more of the same in coming months.
A conservative valuation of $49
While new product launches may make the headlines, it is perhaps more important to look at the underlying value of a company and in Microsoft's case, a simple discount cash flow model can be used to assist with a conservative current valuation.
Trailing twelve month EPS for the company is $2.71 while analysts are currently estimating a five-year EPS growth rate of 7.62% per annum.
If we assume a much more conservative estimate of 5% over the next 10 years, dropping to 2% after that, and with a discount equity rate of 9%, we come to a figure of $49.36.
With the stock currently trading around $39 we can therefore have a decent margin of safety of 25%.
Fundamental considerations
Although the DCF model is useful for determining adequate entry levels, it is also useful to consider other fundamental factors and a quick glance at Microsoft's financials show the company is in a strong position.

Financials at a glance from finviz.com.
Most notable, at first glance, is Microsoft's excellent current ratio of 3.20, stemming from the fact the company has around $83 billion in cash.
MSFT also boasts high profit margins, PE is reasonable (14.52) and ROE is also generous (28.30%). Dividend yield is attractive at 2.85%, meanwhile insiders still own a big chunk of shares - around 4% of total outstanding.
Taking this a step further, I decided to run some of these metrics through a stock back-testing application from portfolio123 and see how similar stocks have fared over time.
This is a technique I have written about before on a number of different stocks and using various criteria.
I therefore plugged in the following values to find companies with similar profiles and then back-tested the strategy over all stocks in the S&P 1500:
• Reasonable PE between 5 and 25
• PEG less than 2
• Current ratio greater than 1.5
• EPS growth (last 5 years) greater than 5%
• ROE (TTM) greater than 20
• Net profit margin greater than 20
• Reasonable dividend between 2% and 7%
• Market cap greater than $250 million
As you will see from the chart below, the strategy of buying stocks that fit this criteria returned an impressive annual gain of 30.21% between March 2006 and March 2011. This is as part of a portfolio rebalanced every 4 weeks.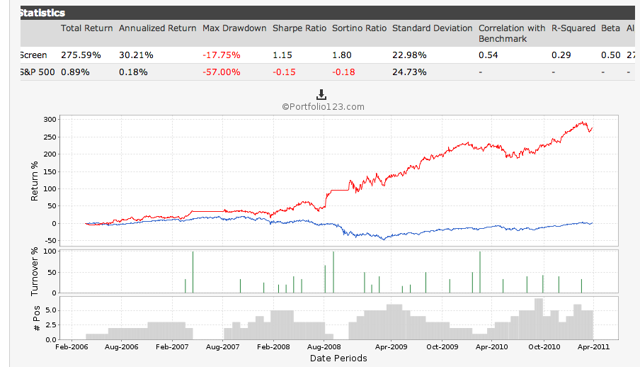 Back-test results from portfolio123.com back-tester.
Of course, this does not mean that we will experience the same returns by using this strategy, but it does indicate that the current makeup of Microsoft's financials should be conducive to decent share price gains.
Stock price resilience
Now that we have looked at fundamentals it's worth covering the technical side since the recent price action for Microsoft has been promising for investors and traders.
Indeed, while the overall market has dropped sharply this week, particularly for technology shares, Microsoft has stayed relatively resilient, even as the likes of Google (NASDAQ:GOOG) and Facebook (NASDAQ:FB) have dropped. The product unveiling has something to do with it of course, but Google is down at least 7% while Microsoft has barely budged.
This is good news for investors and suggests that further upside will soon be on the cards. A move toward the DCF valuation of $49 should get underway once the overall market resumes its upward trend.
Disclosure: I have no positions in any stocks mentioned, but may initiate a long position in MSFT over the next 72 hours. I wrote this article myself, and it expresses my own opinions. I am not receiving compensation for it (other than from Seeking Alpha). I have no business relationship with any company whose stock is mentioned in this article.