Disney Company (NYSE:DIS) is continuing to stay current with its recently announced acquisition of Maker Studios. This is the largest acquisition of a YouTube multi-channel network to date. The move is expected to increase Disney's viability over the longer term and could have a significant impact on the company's choice of a CEO when Bob Iger leaves in 2016.
The Maker Acquisition
Maker Studios was founded by a team of YouTube video creators, hoping to profit substantially by consolidating individual audiences. The enterprise grew to hundreds of millions of subscribers. The company raised considerable capital along the way, and Disney paid a premium price over the company's recent valuation at $300 million.
With short-form online video growing at a rapid rate, Disney will be positioned to take advantage of a growing future market immediately. Maker is expected to remain in their Culver City headquarters and will report to CFO Jay Rasulo. Disney is paying $500 million for the company, with another $450 million in the deal if the company is successful in meeting target goals.
Disney Succession
Speculation has run rampant in investment corners about who will succeed to the CEO position when Iger makes his departure. Anne Sweeney was discussed as a contender, but her recent announcement to leave the company dashed that idea. (Sweeney previously headed the Media/TV department of the Disney conglomerate.)
Facebook COO and member of the Disney board of directors, Sheryl Sandberg, is another name being mentioned. Her media experience on the Internet would be extremely useful as Disney moves into more Internet-centered entertainment venues. See our previous article on the topic here.
Chief Financial Officer Jay Rasulo is another possible contender for the spot. His experience and financial savvy would keep the company on course in a time of transition. Thomas Staggs, head of the theme park division, could also offer strategic advantages and wealth of experience to the leadership of the company.
Though little is being said publicly about the current candidates, the company is clearly planning strategically to take advantage of the public's growing appetite for entertainment.
Disney's Outlook For Investors
The Disney Company has made a habit of long-term planning that has worked to its advantage, as evidenced in its five-year chart below, and despite a rapidly changing entertainment industry.
Its recent release of "Frozen" has been a hit with audiences, still playing in theaters five months after its initial release. The Shanghai Disney Resort, a $4 billion theme park investment, is scheduled to open in December of 2015. The release of a new Star Wars film in 2015 will likely also net substantial profits.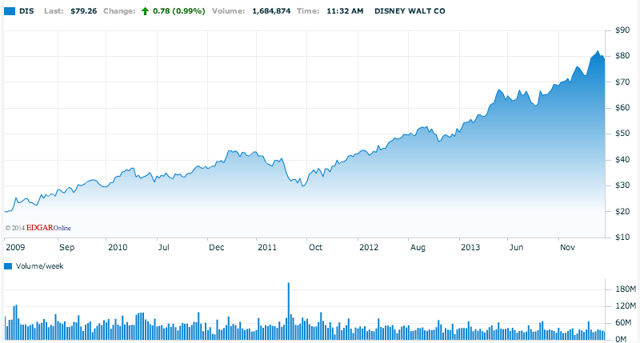 (Nasdaq.com)
Iger will be leaving the company on the high note, and it's clear that Disney is making aggressive moves to keep many plates in the air in future years. The acquisition of Maker Studios can be an integral part of these future plans.
We recommend DIS as a buy for those looking for continued growth in 2014.
Disclosure: I have no positions in any stocks mentioned, and no plans to initiate any positions within the next 72 hours. I wrote this article myself, and it expresses my own opinions. I am not receiving compensation for it (other than from Seeking Alpha). I have no business relationship with any company whose stock is mentioned in this article.