Introduction
Advanced Micro Devices (NASDAQ:AMD) is a semiconductor company that develops CPUs (computer processors), GPUs (graphics processors), and other products for personal computers, servers, and a variety of other machines. Its stock has created a volatile history, with prices as high as $40 in 2006 and a low of $1.81 in November of 2012. AMD, known as a PC company, has faced a variety of problems in the past, mainly lost market share to Intel (NASDAQ:INTC) and Nvidia (NASDAQ:NVDA) - AMD's main competitors for CPUs and GPUs. AMD has successfully driven through its multi-year turnaround with solid execution, design wins, cost cuts, and a return to profitability. Its turnaround has involved three steps: restructure, accelerate, and transform. Now on the last stage, AMD is transforming from a company where 96% of its revenue relied on the dying PC, into one that will incorporate its products into high-growth markets that will make up 50% of its revenue by the end of 2015. This is a new AMD emerging, and for this article, I will discuss its progress, as well as why AMD will make a very desirable long-term investment.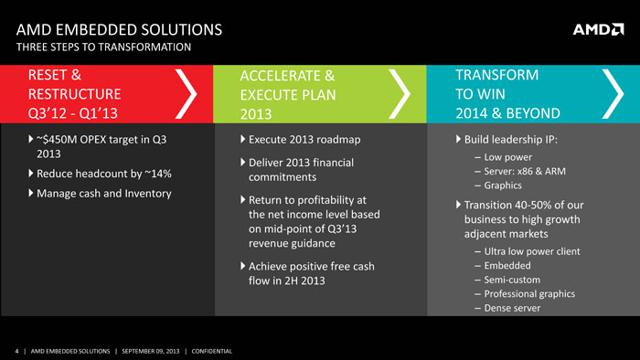 With earnings closing in, traction and volatility is arising
With earnings in less than a month, AMD has started to build some traction, introducing high-volume and volatile trading sessions in the last few weeks. This is expected, as AMD's turnaround progress is difficult to judge outside of earnings results. As seen in the chart below for last January, October, and July, AMD has regularly built forward momentum in anticipation of surprises and strong beats on expectations. However, AMD's dissipating market share in the dying PC market has disappointed investors, likely due to their misunderstanding of AMD's new focus. Although still important and in focus at AMD, the PC business has only become part of its vision, as it is currently expanding into new markets.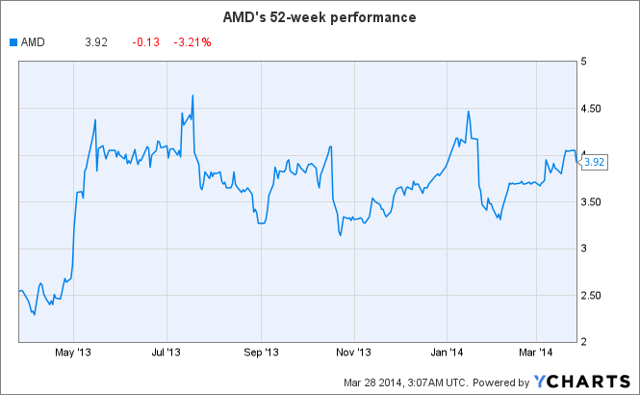 CEO Rory Read shines light on this transformation to the public
Earlier this month, Rory Read was able to enlighten the public on this transition thanks to interviews by Bloomberg and CNBC. Spiking shares by as much as 6% that day, it was clear that this transition, along with Rory's confidence was not common knowledge. Rory heavily emphasized on how AMD was transforming its company's dependency from primarily on the PC into a business model that features a half-PC, half-diverse product portfolio, which focuses on high-growth markets, such as dense cloud servers, gaming, medical, semi-custom chips, and more. This is a very promising approach, as the old AMD was risky because all it took in a weakening PC market to be knocked out was a set of inferior products - which is exactly what happened. Plummeting PC sales, along with Intel's superior product lineup blew AMD near extinction.
Examining progress through revenues
To get a visual on this change, I constructed a chart below, showing AMD's computing solutions (CS) revenue and graphics visual solution (GVS) revenue, along with its total revenue. It's important to understand how these have changed, because 2013's $5.30B revenue is very identical to 2012's $5.42B figure. As you can see, starting in 2012, AMD's CS revenue began a steady decline into what looked like the end, but on the GVS side, you can see a solid increase starting from Q3 2013. This was due to the sales of AMD's semi-custom Jaguar APU, used in Sony's (NYSE:SNE) and Microsoft's (NASDAQ:MSFT) new consoles, being added to this sector. Last quarter featured an outstanding increase to 865M thanks to successful console sales, new consumer graphics cards, and Apple's (NASDAQ:AAPL) new Mac Pro that features two FirePro professional graphics cards each.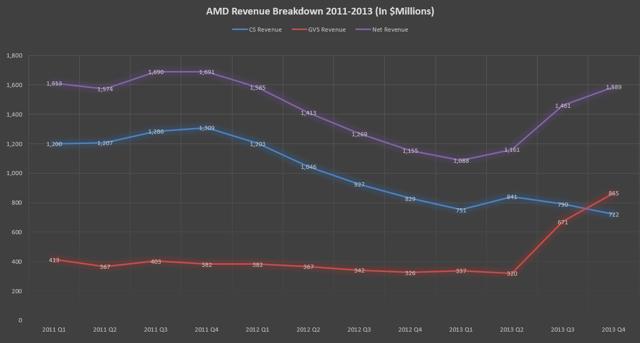 Most people's disappointment in AMD has been their failure to understand this shift into the PC market. For the last three quarters, AMD had consistently beat expectations on even the top of its projections, but this still led to rapid sell-offs. AMD has been in a tough position, and has fallen way behind Intel due to its failure to launch competitive products, but it insists on catching up, and while it does, its CS revenues are likely to remain in a temporary decline. However, with its competitively-priced FX-series CPUs gaining market share, and the addition of its most powerful APU yet, Kaveri, AMD has set itself up to soften the blow in the short term. In the next few months, as AMD rolls out its Beema and Mullins low and super-low power APUs for ultra-thin notebooks and fanless tablets, AMD may be able to put an end to this chaos, as it's the mobile sector that's really hurting AMD. Beema and Mullins are two products that it is excited for, as they promise leaps in performance and efficiency over the previous generation. The APU is a great product to be excited for, as AMD has invested nearly a decade of its time and money into it. If you're interested in learning about the APU, I have a dedicated write-up about the revolutionary APU here.
Conclusion
The new AMD is emerging and starting to surface, and for the long run, I expect it to be restored to its former glory. Rory has over-delivered every step of the way, and I believe that he will continue to do so. That aside, for the long run, it's important to understand that AMD will be a company based on more than just the PC. Even when asked if Rory saw Intel as a competitor, he specifically clarified that they will only be competing in this one sector, in which will be only a part of AMD. We have already witnessed change, and with AMD being expressed at such highly undervalued levels, AMD is like a compressed spring ready to be released.
Disclosure: I am long AMD. I wrote this article myself, and it expresses my own opinions. I am not receiving compensation for it (other than from Seeking Alpha). I have no business relationship with any company whose stock is mentioned in this article.