Crude oil futures tumbled in early trading today after government data showed surprising buildup in oil inventories.
On Tuesday, crude oil futures softened on lowered expectations about Chinese demand and reactions to mixed economic data. The expiring July WTI futures contract settled 61 cents, or 0.8 percent, lower. August futures, the new front month, swooned as much as $2.33, or 3.0 percent, after the weekly oil inventory report was released by the US Energy Department this morning.
Wall Street analysts had been looking for the government to report a drawdown of between 800,000 and 1.2 million barrels in crude oil stocks despite estimates for a 3.7-million-barrel build from the American Petroleum Institute. Actual inventories increased by 2.0 million barrels.
There were surprises in the product numbers as well. Street estimates of shifts in gasoline inventories varied from a 100,000-barrel decline to a 500,000-barrel build, while the API eyed an 810,000-barrel increase. Definitive numbers from the Energy Department showed gasoline stores declining by 800,000 barrels.
Distillate stocks increased by 300,000 barrels according to government data, a smaller build than the 1.3-million-barrel increase forecast by analysts and the 1.1-million-barrel increase estimated by the API.
The government reported refineries operating at 89.4 percent of capacity last week. Analysts had forecast usage to remain flat at 87.9 percent. Energy Department figures showed gasoline production decreased to an average 9.3 million barrels per day, while average daily distillate fuel production increased to 4.3 million barrels.
Additionally, government data pointed to gasoline demand averaging 9.2 million barrels per day, up 0.8 percent from a year ago. Average daily distillate fuel demand, at 3.9 million barrels, is 12.8 higher than this time last year.
Trading Week
Distillate prices took the lead this week as heating oil rose 2.1 percent. Gasoline prices climbed 0.6 percent as crude oil inched 0.4 percent higher. The outsized gains for the middle distillates pushed 2-1-1 operations to a premium over gasoline-heavy 3-2-1 refinery runs.
Nearby NYMEX Crude Oil vs. Gross Refining Margins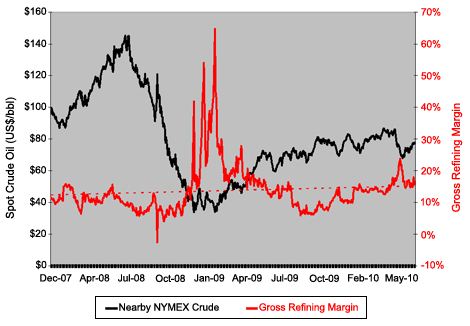 The gain in distillate pricing was underscored by a diminution in WTI's premium over North Sea Brent crude. This week, the premium shrank to 23 cents from 89 cents.
Contango in the WTI market also narrowed. A three-month NYMEX roll cost $2.87 a barrel last week. As of Tuesday, the spread shrank to $2.62. Excess carry was nearly halved this week, bringing the net annualized return for three-month storage to 1.4 percent.
Spot crude struggled to maintain its recovery momentum in the overnight market. With the knowledge that a close below $77.15 would set crude back on its heels, sellers set upon oil in morning trading.
After the gains made in the previous week, normal volatility would allow a sell-off to the $74.40 level on a spot basis.
Such a move, however, would put prices below their moving averages. For spot, that would put resistance of the 10-day average at $76.35.
Deep support rests at spot's June 11 low at $73.26.
Disclosure: No positions