The chemical industry is expected to grow 58% in 2014. That news alone should attract investors faster than a Viking horde to newly discovered land, but based on the sector's performance so far this year, that doesn't appear to be happening.
Materials Select Sector SPDR ETF (XLB) has over 30% of its portfolio in chemical stocks - the top 2 stocks it holds are both chemical companies that contain 20% of the fund weight. Its performance since January has been lackluster, with gains of just 1.15%. That's on par with the S&P 500's record, however, so you may be confused as to why chemicals could be a bargain.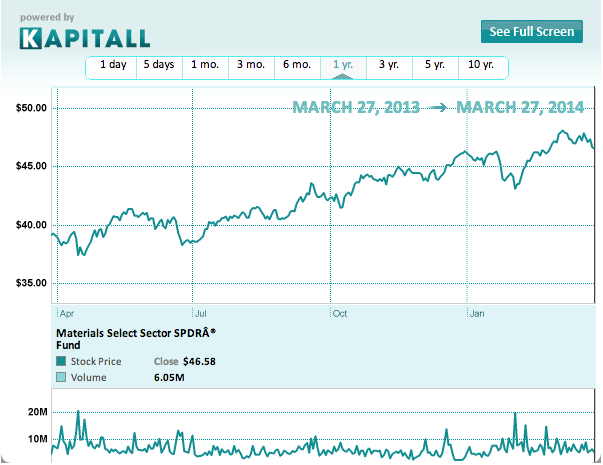 Click here to get more information on materials select sector ETF.
Breaking down the outlook for chemicals in 2014
Total global growth for chemicals this year is expected to be 3.8%, up from 2.4% last year. Those figures may not sound impressive by themselves, but they stand out when you compare them to the overall economic growth forecast of 3.3%, and last year, the economy only grew by 2.5%. In a nutshell, the chemical industry is growing faster than the economy.
The industry in the U.S. is expected to grow 4% annually up to 2020, beating out estimates for total domestic economic growth. Growth expectations are the highest they've been in 20 years. U.S. chemical companies have lagged in the past several years, but are regaining competitiveness thanks largely to cost advantages created by shale feedstocks.
Exports of chemicals are expected to grow 6.6% in 2014 to $205 billion, and an additional 7.6% in 2015. Excluding pharmaceuticals, production growth for chemicals should be 3.5% in 2015, 3.8% in 2016, and 4.0% in 2019, according to estimates by the American Chemistry Council.
The best stocks that stand to benefit from improving macroeconomics
Chemical stocks are poised for larger-than-average growth this year, and could continue to outperform for years afterwards. This sector is highly cyclical, so the stocks selected contain value-oriented statistics like low price-to-earnings ratios, dividend payouts, and triple-digit EPS growth this year. These stocks are: The Dow Chemical Company (NYSE:DOW) and Celanese Corporation (NYSE:CE).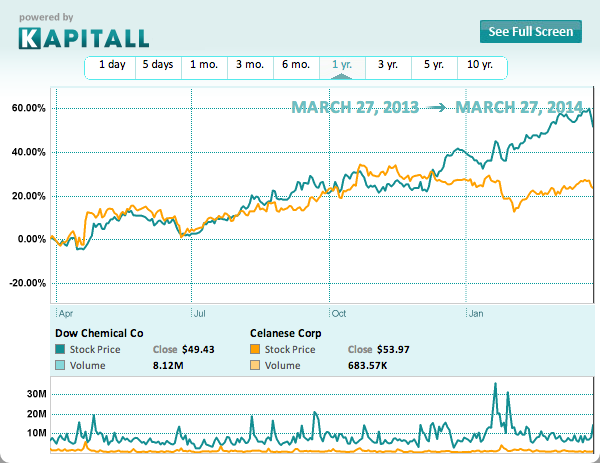 Click here to get more information on Dow Chemical and Celanese Corporation.
Dow Chemical is a $59-billion diversified chemical behemoth, with more than 6,000 manufactured products, and operations spread throughout 201 sites in 36 countries. Management has done good job of eliminating non-core business items, and aggressively cut costs to the tune of $500 million in savings last year. EPS growth this year was over 388%, while quarterly earnings growth was up 221%.
The stock trades at a low 14 times earnings, and has seen EPS growth of 42% over 5 years. Dow recently boosted its dividend by 15%, bringing the annual yield to about 3%, and announced a huge increase to its stock buyback program - $5 billion in planned repurchases.
Celanese Corporation is an $8.5 billion chemical company that operates 36 production facilities across the globe. In the company's most recent quarterly report, management announced cost-cutting initiatives that should add $100 million in earnings for 2014. This year, EPS growth was 194%, and quarterly earnings growth came in at a stratospheric 496%.
At just 7.75 times earnings and a PEG ratio of 0.83, Celanese looks incredibly undervalued. The company has boosted its dividend by 140% since 2012, and yields 1.3% at current price levels. Like Dow, Celanese is expanding its share repurchase program, and is authorized to buy back $400 million. The only real drawback is a pension shortfall, which could be the main reason the stock hasn't lifted off yet.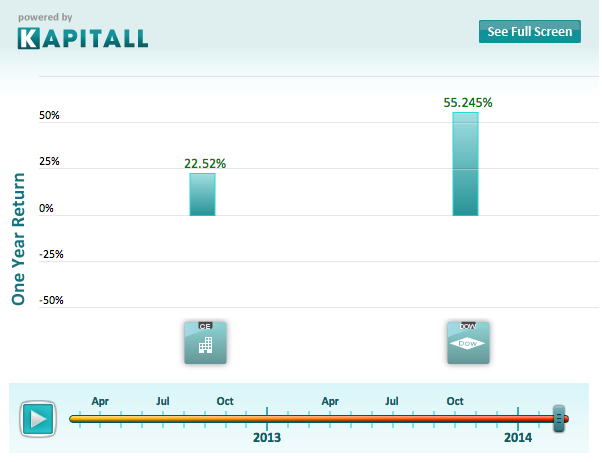 Click here to see more analyst recommendations for DOW and CE.
Risks and concerns
Chemical companies are sensitive to price changes in the cost of raw materials, and could face volatility if energy commodities like oil increase. Investors interested in the sector should also watch for regulatory changes and environmental policies, which could impact large chemical companies like Dow and Celanese.
Disclosure: I have no positions in any stocks mentioned, and no plans to initiate any positions within the next 72 hours.
Business relationship disclosure: Kapitall is a team of analysts. This article was written by Daniel Cross, one of our writers. We did not receive compensation for this article (other than from Seeking Alpha), and we have no business relationship with any company whose stock is mentioned in this article.