This is part 12 in a continuing series of articles discussing building a portfolio of dividend income equities. The strategy seeks to use value investing principles and apply them to stable companies offering reliable dividends. Further safety is sought by diversifying through a wide range of industry segments and often using multiple tickers in each of those segments. This lowers our entry cost.
Series parts 1, 2, and 3 lay out the philosophy, strategy, and methods of the Tortoise Strategy and Use of Covered Option Writing to boost performance. I recommend readers review each of these first 3 initial parts. Beginning with part 4, each subsequent installment reviews and analyzes one of the 16 tickers identified in the preliminary screen (listed in part 4). A full index of links to the complete series, including future installments as they occur, is available here.
Entergy Corporation
| | | | |
| --- | --- | --- | --- |
| | Current Price | Current Dividend | Yield |
| Entgergy (NYSE:ETR) | $66.60 | $3.32 | 5.00% |

Entergy is an electric power producer and distributor of retail and wholesale energy. The company traces its roots back to 1914 with the beginning of Arkansas Light & Power. It has progressed through a series of failures to its current incarnation, restructured in 1989 from the former Middle South Utilities, Inc., and is headquartered in New Orleans, Louisiana. It owns and operates nuclear, gas/oil, coal, and hydroelectric generation plants.
Eighty-five percent of the company stockholders are institutions, primarily index funds and ETFs. Shares have had a very volatile history, trading in a wide range with frequent breakout and breakdowns. Prices peaked at about $125 in November 2007 and have traced a reliable but disappoint downward path even since then, currently at $66.60.
(source: yahoo.com)

Since its weak recovery from the financial crisis and Great Recession, prices have traded in a broad and volatile channel trending slowly downward. near term limits are about $60 on the lower side and $72 on the top. The current price of $66.60 is solidly in the middle of this spread.
Dividend income investors are attracted to Entergy for its long history of dividends. However, like a moth to a flame, some attractions can be fatal. Several factors point to ETR using its dividends as a value trap to hide fundamental weakness.
A look at the YDP chart for Entergy show yields slowly drifting up as prices decline, reflecting investors increasing demands for higher returns to offset the risk of this aging company with negative growth and looming plant obsolescence over the coming years.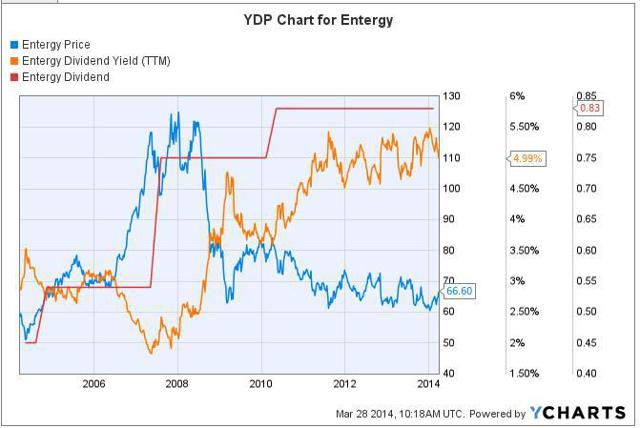 Yield is currently at 5.0% and no dividend increase for 4 years, since the first quarter of 2010. The yield curve suggests that investors will soon be demanding a 5.5% effective rate, requiring share prices to decline to $60.36 to provide this at the current $3.32 dividend yield. Within a couple of more years, this trend will reach a 6.0% yield demand. This represents a $55.33 share price on the existing distribution levels as the classic Y = D/P mathematic correlation (where: Y=yield, D=dividend, P=price) of the 3 variables adjusts along the established trend for risk balanced competitive rates on the income stream. For those not familiar yet with YDP charts, I refer you to my introductory article on YDP chart analysis and its precursor article with several YDP chart interpretation examples.
The situation is even worse than this superficial examination. Payout ratios are unsustainable, generally exceeding 100% on cash payout ratio and in the 83% range and rising for income/payout ratio.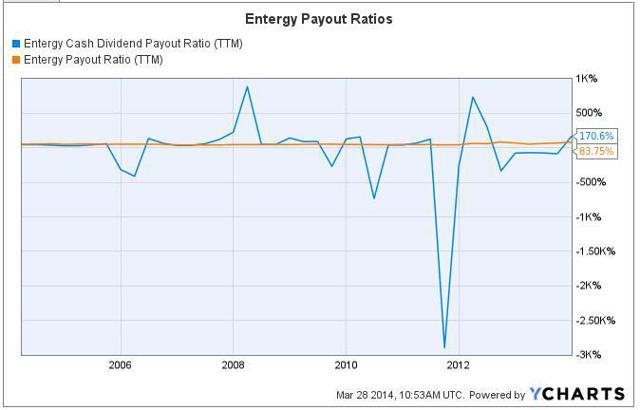 The picture continues to get worse as we look at the company's performance trends. Income, free cash flow, and operating margins are all continuing falling trends for the past 10 years. The only trend on the rise is long-term debt.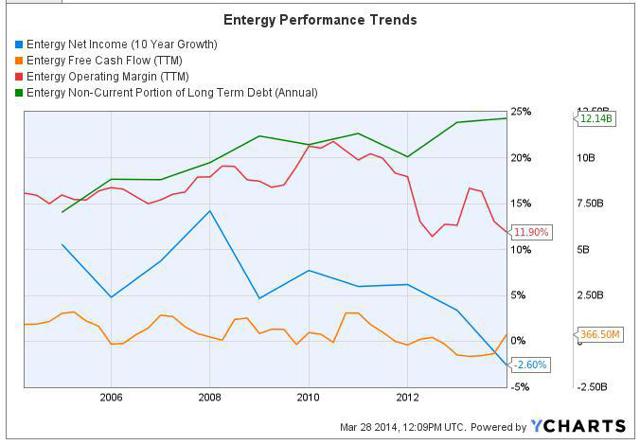 A look at value matched against competitors shows Entergy to be the lowest Price/Tangible Book ratio, The nearest competitor, Southern Company (NYSE:SO) enjoys a 47% of valuation advantage, with the leader being Dominion Resources (NYSE:D) at 5.16 P/B and a 279% valuation advantage. This is understandable as investors recognize the value trap and shy away from paying for disappearing value seen for Entergy.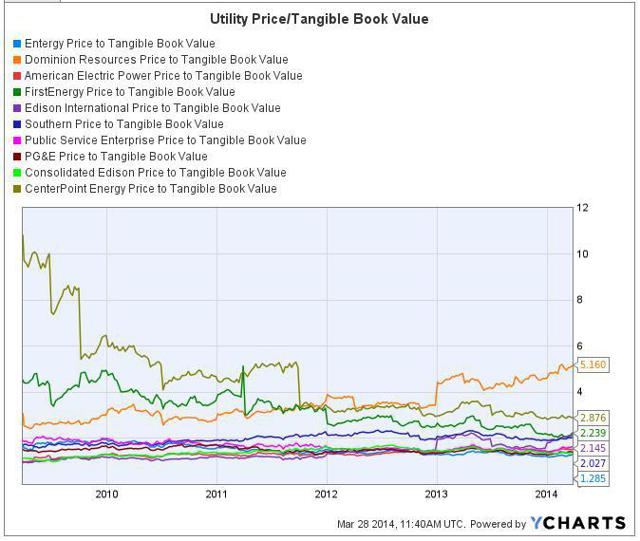 In summary:
Entergy is a sagging cash cow on a declining path of revenues, margins and free cash flow.
The company faces large future liabilities for plant decommissioning of its nuclear and coal facilities.
10 year trends of declining performance metrics cannot be ignored.
Excessive payout ratios make the dividend unreliable despite its long history.
Conclusions and Recommendations:
Do not establish a position in this company, now or in the future.
The 5.0% dividend and future trends of Y=D/P are not sufficient to provide a real total return on Entergy.
The fundamental tenant of the Tortoise Strategy is only to consider companies we would want to own even without performance boost from options. Entergy fails to meet this hurdle.
Because the company fails to meet the fundamental hurdle, no covered option analysis was presented here. No attractive options exist in any event.
Existing shareholders should exit for alternative opportunities.
In part 13, I will discuss the Southern Company. Each subsequent part of the series will discuss and evaluate one more of the original 16 tickers identified in the preliminary screen for building your Tortoise on Steroids portfolio.
I hope you will join me as I detail the use of covered option writing on quality dividend income equities to develop a model portfolio for the Super Tortoise. Simply click on the bold link labeled FOLLOW above the title at the top of this article to get an email notice of my new articles when they are published.
Disclaimer: I am not a licensed securities dealer or advisor. The views here are solely my own and should not be considered or used for investment advice. As always, individuals should determine the suitability for their own situation and perform their own due diligence before making any investment.
Disclosure: I have no positions in any stocks mentioned, and no plans to initiate any positions within the next 72 hours. I wrote this article myself, and it expresses my own opinions. I am not receiving compensation for it (other than from Seeking Alpha). I have no business relationship with any company whose stock is mentioned in this article.