Dividend growth investing has performed extremely well over the last several years. And it is easy to see why, in the wake of the financial crisis, with investors seeking safe and reliable ways to grow their savings and income. But with the stock market having performed so well in recent years, it is reasonable to wonder how much longer these consistently strong returns are likely to continue. And when taking a closer look, it seems that risk levels may be rising for dividend growth investors, that warrant increasingly close attention moving forward.
The Appeal Of Dividend Growth Investing
The focus of the dividend growth investor is to accumulate and own shares in companies that have demonstrated the ability to consistently grow earnings over time, which enables them to steadily increase the dividend payouts to their shareholders. While investors from across the demographic spectrum have successfully applied such a strategy for decades, it has particular appeal to retirees and those individuals living on fixed incomes, as this consistent dividend growth provides a steadily increasing income stream, ideally in excess of the rate of inflation, in order to support lifestyle goals and objectives.
For investors seeking to allocate to the dividend growth space, they may be accomplishing this through the research and selection of individual names that meet the criteria of consistently growing their dividend over time, along with the ability to continue doing so in the future. Or they may opt instead to establish this allocation through owning a broadly-diversified ETF, such as the SPDR S&P Dividend (NYSEARCA:SDY) or the Vanguard Dividend Appreciation Index (NYSEARCA:VIG).
Potential Distortions In The Dividend Growth Stock Space Today
Unfortunately, the dividend growth stock space has potentially been distorted and overinflated by two particular developments, among others, in the years since the financial crisis.
First, many new investors have either been drawn or forced into the space in recent years, in the desperate need to generate income. Prior to the financial crisis, many retirees and fixed income earners would satisfy their yield requirements, at least in part, by depositing their savings in FDIC-insured instruments, such as savings deposits and certificates of deposit (CDs). But since the Federal Reserve lowered interests rates effectively to 0% during the financial crisis in an effort to try and resuscitate the economy, many of these savers have either shifted or been effectively forced into dividend growth stocks, along with other risk assets, such as high-yield bonds (NYSEARCA:HYG), REITs (NYSEARCA:VNQ) and Master Limited Partnerships (NYSEARCA:AMJ) in order to secure a reasonable yield. While these additional capital inflows have likely provided added support to the dividend growth stock space in recent years, many of these new investors have never experienced a sustained stock price correction in any meaningful way. For the experienced dividend growth investor, they recognize the importance of holding through downside volatility and enthusiastically embrace such pullbacks as an opportunity to purchase more of their favorite companies at discounted prices. But for the inexperienced investor who is new to the space either through choice or necessity, a decline of -20% or more at any point along the way may induce understandable panic and an abandonment of any such discipline to stay the course. This is likely to be particularly true if such a decline is not short-term in nature, but extends over a few years or more.
The second development that may be having a distorting effect on the dividend growth stock space is simply the fact that returns have been so strong in recent years. While it has always been a popular approach that many have successfully implemented for decades, a new wave of investors have been flocking to the space in recent years, drawn by the allure of strong total returns and the perceived relative safety from focusing on these consistent, higher-quality names.
As investment markets demonstrate time and time again over the years, when new capital flows pour into an asset class over any short-term period of time, it can just as quickly and violently rush back out once the tide has turned. And those who are inexperienced in the space stand to lose the most in the process.
Evidence Of Potential Imbalances
Likely distortions are increasingly presenting themselves in the dividend growth stock space today, upon closer examination.
The S&P 500 Dividend Aristocrats is an index that tracks the performance of companies within the S&P 500 Index (NYSEARCA:SPY) that have raised their dividends each year for at least the past 25 years. An elite group of 54 companies are members on this list, including a variety of well-known names such as Exxon Mobil (NYSE:XOM), Johnson & Johnson (NYSE:JNJ), McDonald's (NYSE:MCD), Coca-Cola (NYSE:KO) and Procter & Gamble (NYSE:PG). Historically, and as would be expected, the performance of the S&P 500 Dividend Aristocrats has had a high correlation with the underlying S&P 500. But what has been notable in the years since the financial crisis is the widening margin of outperformance of the Aristocrats relative to the S&P 500 Index. Perhaps this consistent relative outperformance is warranted. Then again, perhaps it is evidence of either speculative froth or potential short-term demand distortions resulting from side effects associated with a zero interest rate monetary policy. Regardless, the cyclical nature of sub-asset class performance and the possibility of a closing of the gap with the broader market is something that dividend growth investors should at minimum be aware of moving forward.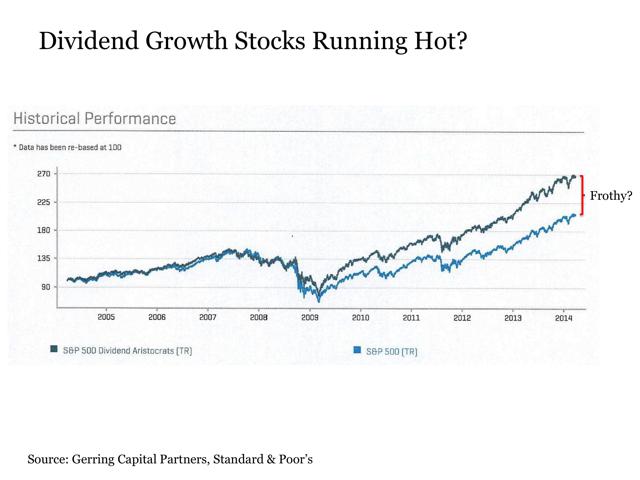 Another factor suggesting that dividend growth stocks are potentially overinflated is valuation. Examining the equal weighted price-to-earnings ratio of the 54 stocks that make up the S&P 500 Dividend Aristocrats Index reveals two notable points.
First, the absolute valuation of dividend growth stocks at over 21 times trailing 12-month earnings represents a historically high multiple for the group. While one could certainly argue that such rich valuations are warranted given how low interest rates are today, the potential risk that interest rates may rise from currently low levels should be enough to at least give the dividend growth investor pause as they look out into the future from the current lofty perch.
Also, the valuation of dividend growth stocks relative to the S&P 500 Index is high and widening. At present, dividend growth stocks have a roughly 20% valuation premium to the S&P 500 Index, which is also a historically high reading.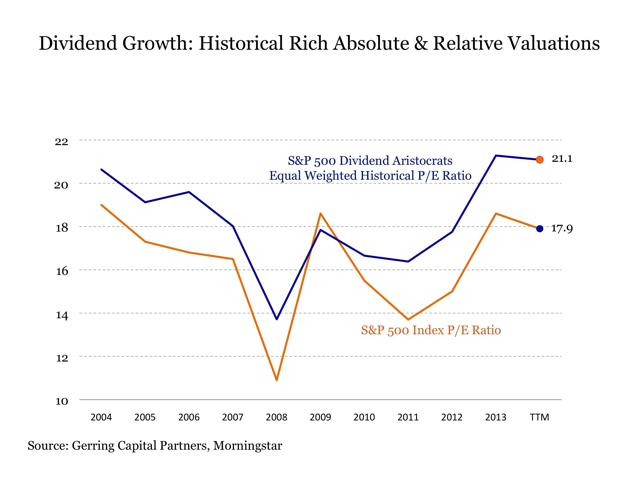 Whether these readings are justified or not is beside the point. For just as we have seen across so many investment categories over the years, securities that are trading at a historical premiums often suffer disproportionately once the inevitable change in sentiment finally arrives. And while a justified premium may help pad the downside once it occurs, an unjustified premium can be far more unforgiving and severe. More broadly, if the stock market eventually corrects, dividend growth stocks are likely to go down with it. After all, dividend growth stocks experienced a peak-to-trough decline of -56% during the financial crisis from 2007 to 2009 that required more than two years and a continuous fire hose of Fed liquidity to recover this lost value, so they are certainly not immune from downside even when trading at fair value, much less premium prices. As a result, dividend growth investors may be well-served to monitor potential risks like these, if for nothing else to make sure they are prepared and even ready to capitalize if a such corrective phase were to finally come along.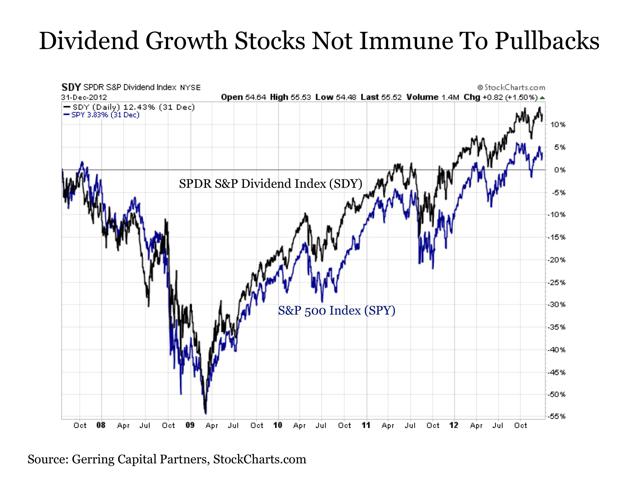 Notable Individual Names
Taking the analysis a step further to individual names reveals where any potential excess optimism might be concentrated. Before going any further, it is important to note that highlighting the companies below does not imply in any way that these are bad companies. To the contrary and in the interest of full disclosure, I have owned each of these companies in the past at varying points in time, and will likely own many of them at some point in the future, if and when the time is right. But even if a company is absolutely outstanding, it does not necessarily mean that its stock may be great to own at a particular point in time. And such is the concern that some might have with some dividend growth names at the present time.
The following are total return charts for eight of the 54 companies currently in the S&P 500 Dividend Aristocrats Index relative to the S&P 500 Index from the early 1990s to the present. This represents roughly 15% of the Aristocrats index, although it is worthwhile to note that many more charts could be created from this group that show a comparable degree of relative outperformance. What is notable in each case is that the correlation with the S&P 500 Index was extremely high in the years leading up to the financial crisis. But in the years since, and in particular the last 12 to 24 months, the shares in the companies have burst to the upside well in advance of the broader market.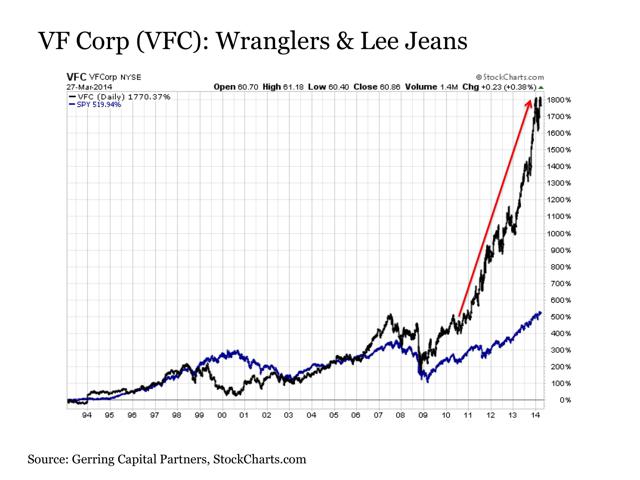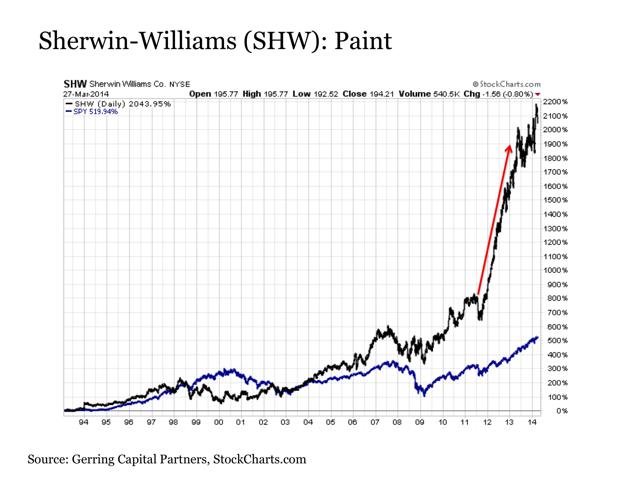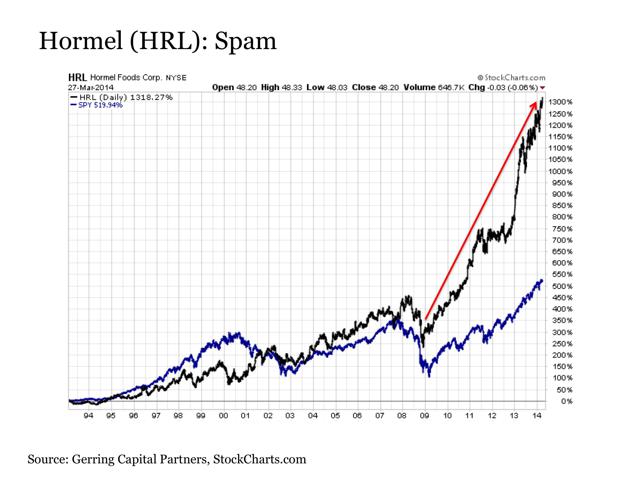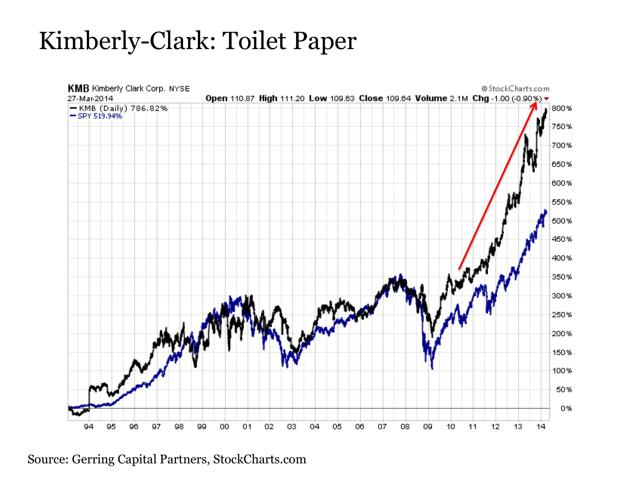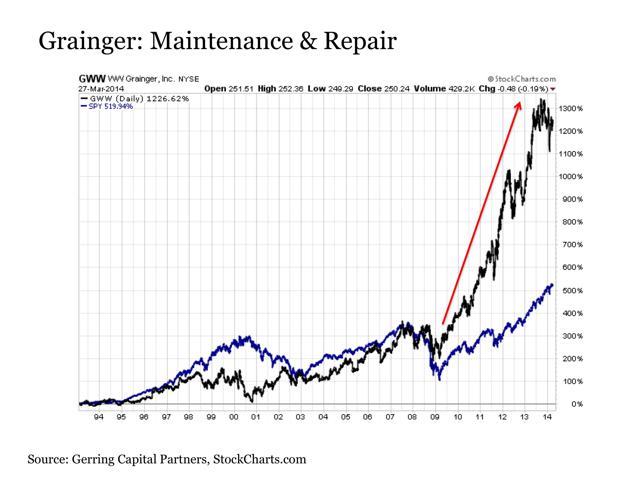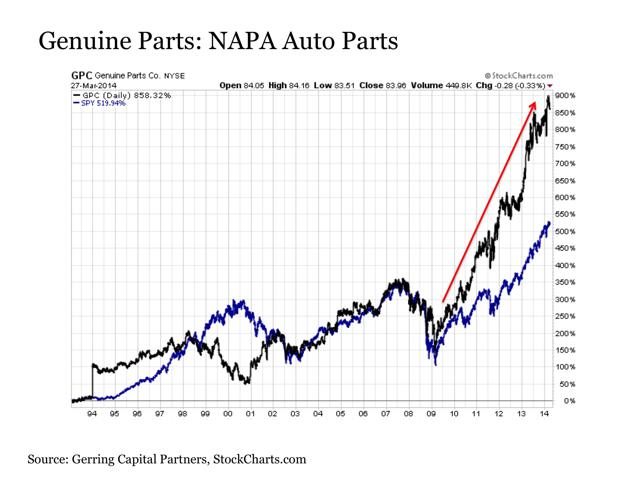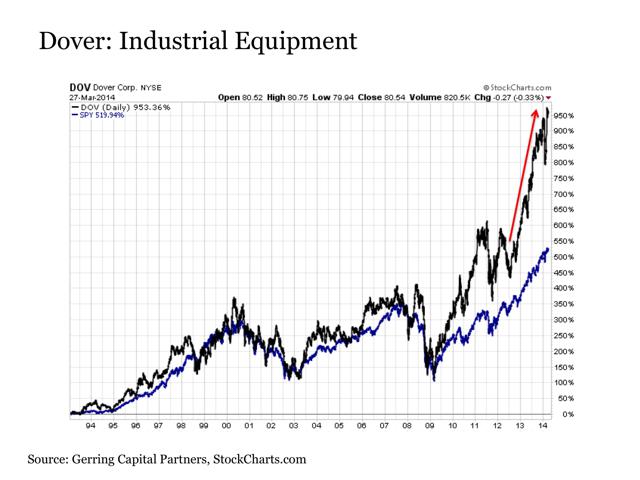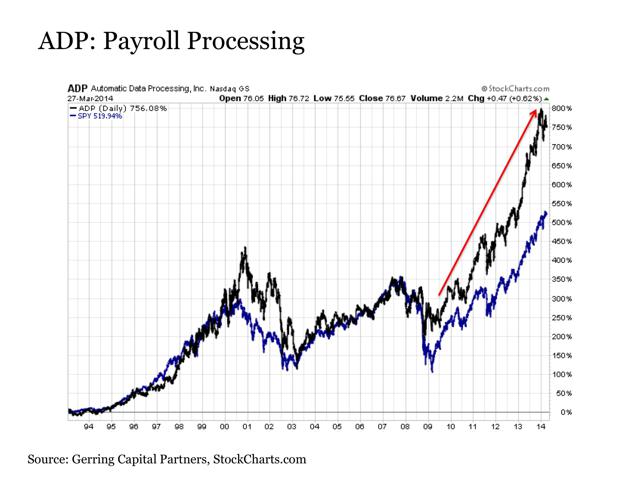 Two things are particularly notable about the total return advance in each case.
The first is the pace of the increase in the last few years. When stocks quadruple or quintuple over fairly short-term periods of time, it can sometimes be worrisome, because it may indicate an asset price has gotten ahead of fundamentals.
This leads to the second point. It is not as though any of the companies above have recently come to market with a new and revolutionary game-changing product or innovation that might help explain such an impressive price performance advance beyond that of the broader market. To the contrary, each are well-established, long-term companies with steady operations and traditional product lines like VF Corp. (NYSE:VFC) with clothing and mass-market jeans, Sherwin-Williams (NYSE:SHW) with paint, Hormel Foods (NYSE:HRL) with traditional packaged food products like Spam, Kimberly-Clark (NYSE:KMB) with paper products including toilet paper, W.W. Grainger (NYSE:GWW) with industrial maintenance and repair, Genuine Parts (NYSE:GPC) with auto parts, Dover Corp. (NYSE:DOV) with diversified industrial equipment and Automatic Data Processing (NASDAQ:ADP) with payroll processing. Without a doubt, these are all great companies, but it stands to wonder whether any should reasonably be behaving so robustly relative to the broader market. The simple fact alone that we have seen such dramatic price gains in these otherwise steady companies should at minimum raise an eyebrow whether gains such as these are fully justified and sustainable or not. Perhaps they are, but then again, maybe they are not.
Security Selection Is As Important As Ever
None of this is to say that an investor should quit the dividend growth stock space or even the individual names shown above, for that matter. But given the potential distortions that are evidencing themselves today, a reasonable argument could be made that now is not the time to be using a broad brush when making dividend growth allocations. For while the price of some of the companies in the space may be running ahead of themselves on the basis of valuation, others are still trading at reasonable discounts, both on an absolute and relative valuation, and may still warrant a long-term allocation today. In short, the best strategy in the dividend growth space to continue generating gains while protecting against the risk of loss is to be selective and concentrate specifically on those names that represent the best potential return opportunities going forward. It may also be worthwhile to remain alert for any sustained changes in the broader market tide. The extra effort may be well worth it in the end.
Disclosure: This article is for information purposes only. There are risks involved with investing including loss of principal. Gerring Capital Partners makes no explicit or implicit guarantee with respect to performance or the outcome of any investment or projections made. There is no guarantee that the goals of the strategies discussed by Gerring Capital Partners will be met.
Disclosure: I am long MCD, XOM. I wrote this article myself, and it expresses my own opinions. I am not receiving compensation for it (other than from Seeking Alpha). I have no business relationship with any company whose stock is mentioned in this article.