I'm somewhat surprised that there isn't more noise about this topic, although considering the agenda of most media outlets, it makes some sense. The math is there, but there aren't any media outlets that are big enough that are willing to convey this message: The United States' GDP growth isn't as organic as we thought, and the United States would be, and has been in a recession without Quantitative Easing (QE) spending.
Now, there are two ways that statement can be construed. You can look at it from the Fed's side, and say "See! QE has been helping us stay afloat! We need to keep the program going!" Or, you can look at it from the Fed-bashers' side, and say: "There needs to be more focus on investing in the infrastructure of our country, or else our GDP growth will forever be sustained by monetary policy, and never be spurred by truly organic growth."
*The information following is all based on calculations by 'Ironman' on PoliticalCalculations.blogspot.com, I can provide specific calculations if needed.*
When the effects of quantitative easing are taken out of GDP, it is found that the United States GDP growth has been negative for the past five quarters. This means that if the Federal Reserve hadn't been buying financial assets from commercial banks and the like, the United States would have been in a recession for the past four fiscal quarters.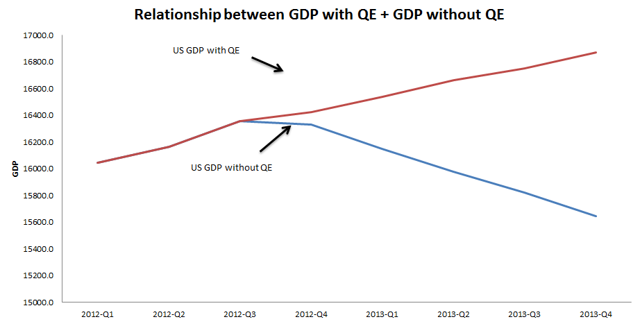 As you can see in the graphic above, QE spending has been heavily important in keeping the United States afloat (seemingly). This graphic will help the argument on the dovish side, yes, but the point of this article is to address something very important: the United States would be in a terrible position without money being pumped from the Fed.
In fact, as shown in the figure below in the far right column, the difference between 'GDP with QE' and 'GDP without QE' grew from Q4 2012 to Q4 2013 (there is no data on Q1 or Q2 2014, so it's possible for the difference to begin reducing from the taper).

Although propping up GDP growth numbers wasn't the main consequence aimed at by the Federal Reserve when they decided to implement QE, it is a nice side effect. When you think about it, the US really needs the GDP prop-up that QE provides, or else consumer confidence would never come out of the enormous hole that the financial crisis put it in.
When QE 3.0 was announced in 2012, consumer confidence was starting to crawl out of the hole. If the Federal Reserve didn't start buying $85 billion worth of MBS and UST bonds, a dreaded headline would've shown itself on the front page of every finance media outlet across the country: "United States dips back into recession, Q4 2012." This headline would be absolutely devastating for the economy. Investors, consumers, and savers would all panic. People would begin to question the legitimacy and sustainability of the United States' economy, if they already hadn't.
We might have needed QE 3.0 to keep consumer confidence on its snail-paced climb, but time will tell if the unprecedented program has any lasting negative impact on our financial system.
Disclosure: I have no positions in any stocks mentioned, and no plans to initiate any positions within the next 72 hours. I wrote this article myself, and it expresses my own opinions. I am not receiving compensation for it (other than from Seeking Alpha). I have no business relationship with any company whose stock is mentioned in this article.