Followers of my feed are acutely aware of my concern about a recent reported military buildup along Russia's border with Ukraine. I discussed it in depth my article, Stocks Endangered by Fresh Putin Aggression and also in Why I Strongly Disagree with Goldman's Bearish Gold Call. Please refer to those articles for more background detail on the issue of concern. Investors seeking to mitigate risk tied to the potential negative geopolitical catalyst of a new war in the region can look to the iPath S&P 500 VIX Short-Term Futures ETN (NYSEARCA:VXX). Here's why:
A Brief Recap of the Catalyst
According to U.S. State Department, the U.S. Delegation to the NATO Parliamentary Assembly and a high ranking Ukraine defense official, Russia has quickly amassed approximately 100K troops and significant military hardware along its border with Ukraine. According to the reports, the threat of another Russian incursion into Ukraine is highly possible near-term, and authorities are either preparing or advising decision makers to prepare. This is a fresh aggression separate from the Crimea annexation and involving different territory, and so presents a new and immediate threat to Ukraine and to U.S. equities.
In my article published earlier today, I suggested investors should sell the SPDR S&P 500 (NYSEARCA:SPY) and reduce holdings in stocks generally on the risk factor, with an emphasis on high-beta issues. I anticipate a previously indifferent market will sell stocks fast and furiously on another Russian incursion. The event would be on an order of magnitude greater than the Crimea annexation. While we know what to sell, some might prefer to add protection to a portfolio that is required or desired to be fully invested. For such interests, I've already suggested the SPDR Gold Trust (NYSEARCA:GLD) and other gold ETFs, but gold has had another catalyst working against it of late; the Goldman Sachs' bearish forecast.
Buy Protection
For those seeking a pure instrument to guard against quick market demise, and to do so with as little drag as possible, I suggest the iPath S&P 500 VIX ST Futures ETN. VXX provides investors with a vehicle to tap into equity market volatility through CBOE Volatility Index Futures.
It's a better option than the ProShares Short S&P 500 (NYSEARCA:SH), in my view, because the SH is a pure bet against stocks or the S&P 500 Index. The SH counters our long vehicles perfectly, where the VXX benefits if the market comes under event pressure, but does not necessarily suffer otherwise over the short-term.
Investors feeling a little more sure of themselves with regard to the likelihood of the geopolitical catalyst unfolding might use greater leveraged instruments. For instance, the VelocityShares Daily 2X VIX Short-Term ETN (NASDAQ:TVIX) or the ProShares Ultra VIX Short-Term Futures ETF (NYSEARCA:UVXY), which seek to attain twice the return of the daily performance of the S&P 500 VIX Short-Term Futures Index. The risk to holding these is amplified if an event does not stimulate volatility, but the reward is greater if an event occurs.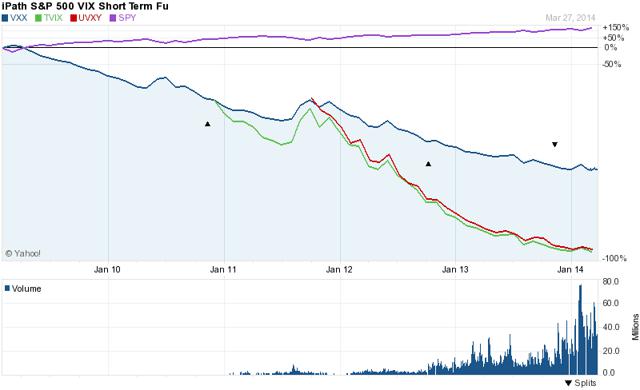 Max-Chart of VXX & Relatives at Yahoo Finance
With the VXX and the other futures ETN instruments, it's a losing proposition as a long-term holding. You can see that in the max-time-frame chart above here comparing the long-term performance of the VXX and peers to the SPY. It's because of the nature of the underlying instruments and the costs of effectively operating the ETN and the instruments it must invest in regularly.
These are purely hedging instruments to be used on special occasions. For instance, investors concerned about risk this weekend related to the military buildup at the Ukraine border might take an interest today and sell it on Monday, depending on developments. You might even trade in and out of it daily to use it for overnight protection while seeking to limit its drag upon your portfolio as much as possible via trading. That's something I would do if the event I were concerned about was being dictated by the U.S. military, because I would expect the American leadership to weigh market considerations and act when markets are closed. Russia's Putin, though, could seek to maximize destructive impact to U.S. markets by acting while they are open. Thus, at a time like this, with the event time horizon difficult to pinpoint, you might bear the cost of the insurance for as long as you deem it necessary and not trade in and out.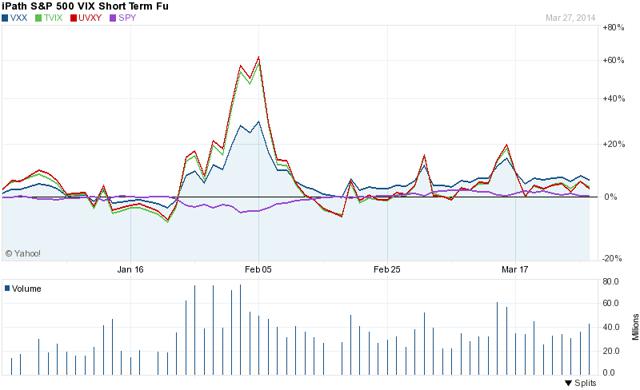 3-Month Chart of the VXX & Peers vs. the SPY
It can still be effective even as a holding over a period of weeks. As you can see via this 3-month chart, these instruments can be useful over short time frames. Around recent economic data, the Crimea catalyst and FOMC events, they proved important. So, if you're seeking shelter from the possibility of a Russian aggression against Ukraine, I say consider using the VXX.
Disclosure: I have no positions in any stocks mentioned, and no plans to initiate any positions within the next 72 hours. I wrote this article myself, and it expresses my own opinions. I am not receiving compensation for it (other than from Seeking Alpha). I have no business relationship with any company whose stock is mentioned in this article.