I'm sure I do not have to tell you that the stock market has been in an upward trend now for five years. As much as there has ever been in my lifetime, this has been a bull market. The Dow Jones Industrial average rose from 8,000 to over 16,000 in the period for a 102% gain. We certainly hope it will keep rising. However, the odds are we are either due for or in the beginning of a correction.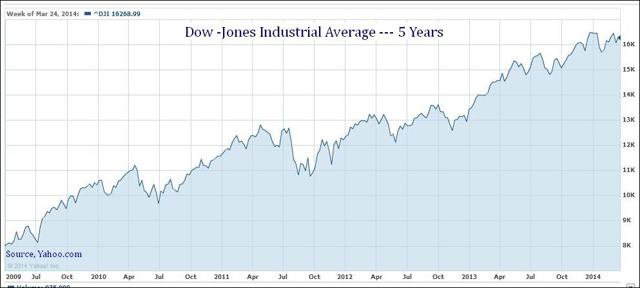 The Market Will Act Like the Market
There is a growing consensus that we are well overdue for a correction of 10% to 15% or 20%. This is not empty speculation, but is based on historical patterns as well as changes that are going on now in the economy and the market.
We know that the economy and the market have been artificially stimulated and that the market has responded in lockstep with the release of money from the Fed. As we all know, that is going to stop. One would be naive to believe that the economy and corporate earnings are strong enough to continue the upward trend in the market. The TTM P/E ratio is at about 19, not nosebleed territory, but well above the norm. A more normal P/E of 16 would put the market at 13,400, a 17.5% decline from its present level. I quote The Reformed Broker,
"Since the end of World War II (1945), there have been 27 corrections of 10% or more, versus only 12 full-blown bear markets (with losses of 20% +). The average decline during these 27 episodes has been 13.3% and they've taken an average of 71 days to play out (just over three months). The most recent correction took place in 2011, between the end of April into the end of September. The Dow dropped roughly 16%. The S&P 500 actually dropped a hair over 20% before snapping back, leading some to believe that this was a bear…"
My suggestion that we could be in the beginning of a correction is based on several pieces of evidence. It was reported last month that "more than half the stocks in the Standard & Poor's 500 are already down 10 percent or more from their recent highs." The article continued, "The pattern is a reminder that while a few outperformers are helping support the broad market, the destruction is already wreaking havoc on many stocks." Estimates say that 10% of the S&P 500 is down 20%, which is not surprising after the huge run up in 2013."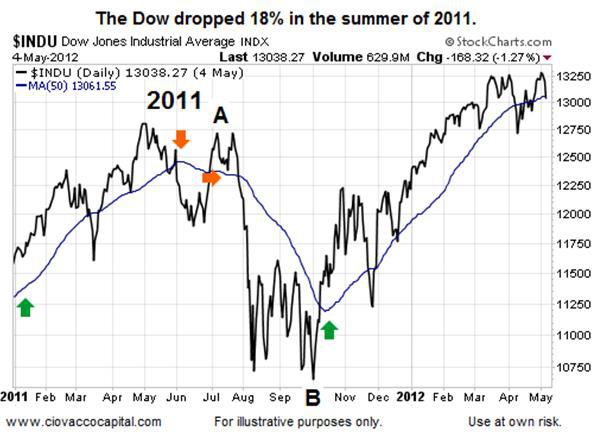 The above chart is from a great article from Chris Ciovacco. While the 50-day moving average is never a certain indication of the future movement of the market, he believes that the current market could behave like it did in 2011. Indeed, the current chart shows similarities.
There seems to be ample macroeconomic evidence to cast negative shadows across the market. Below are some of the forces that have caused the decline of some sectors and companies...

The weak demand from China is affecting the consumption of raw materials and lowering the price of many commodities. The basic materials sector, including miners, has been hurt, as have shippers.
The lingering high unemployment rate and slow creation of jobs in the U.S. is a strong negative.
Excessive government debt in the US and elsewhere continues to threaten currencies and economies.
Europe's sluggish economy lessens world demand.
Trouble in Ukraine is causing turmoil in Europe and worldwide.
Paul Farrow, the Market Watch commentator, feels that as usual, we will not see the fall of the market coming. Even though there are often many signs and signals indicating a downturn, they get lost in the noise and the continual clashing of the bull and bear advocates.
Seeking Alpha's Eric Parnell writes, "The greatest threat facing investors today is complacency, for those who have lost sight of risk and the potential havoc it can wreak on their portfolios and long-term financial health face the potential for great discomfort in the end."
There are many situations in the world which could blow up, precipitate an avalanche of bad news, and bring this aging bull to his knees. Complacency could be expensive. While macroeconomics is fascinating, it is not my field. Though I have some ideas of what might happen in the future, I'm not much on making predictions of what and when. I only know that the market will act like the market, overreact to some shocking headlines, and sharply decline. Where I believe I can help you is to offer some ideas that you may implement to reduce the impact of a correction, a beginning bear market, or heaven forbid, a crash.
Be Prepared
Now is the time to take defensive moves so that you do not end up lamenting your fate when the correction happens. Now is the time to examine your portfolio for weaknesses and cull any unhealthy stocks from it. Now is the time to make defensive moves. There are many variables regarding what moves you should take, and many of those depend on your personal circumstances. So, I offer below as general methods of fortifying your portfolio against a strong down market.
Bonds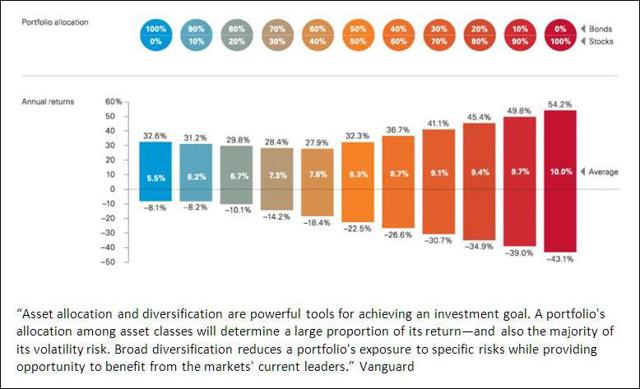 Source: Vanguard
A traditional approach to portfolio management is to have a portion of equity holdings and a portion of debt holdings, stocks and bonds. This portfolio might start out as an aggressive growth-oriented collection of mostly stocks when you are young, and gradually transition to a portfolio weighted much more heavily on the bond side as you age. That is, perhaps a mix of 90% stocks and 10% bonds at age 25, to a mix of 70% stocks to 30% bonds in your mid-career years, to somewhere between a 60/40 mix and a 40/60 mix in retirement. As is illustrated above, the larger bond component dampens volatility and downside risk.
I realize, of course, that bonds are extremely unpopular at this time. There are several reasons for that. First, bond yields are very low and one can do better, income wise, with high-yielding stocks compared to bonds in the current interest rate environment. Second, interest rates are very low, and within 2 to 3 years they will probably start rising. There is some thought by investment bankers that interest rates will stay low for 5 years. However, it is a nearly certain thing that they will eventually rise. In that case, the value of bonds, especially longer-duration bonds, will decline in value. Third, it has come into vogue to think of your Social Security as a capital investment, throwing off a bond-like yield. The average retiree then has the equivalent of $400,000 in bonds, from which he gets a lifetime income. Therefore, this ethereal bond holding balances your holdings in stock. Vanguard's founder, John Bogle, and SA author David Van Knapp are in that camp, and you can get a good perspective on their view with David's Article.
However, this concept of an artificial construct to enable you to think of government programs as your own bond holdings offers no protection from sharp declines in portfolio value if a correction or bear market comes upon us. Real bonds, held with the stocks in a portfolio, are inversely correlated to stocks in their price movement, and will buoy up the portfolio during market downturns. Therefore, after this five-year bull market, I suggest taking some time to cull your weakest equity holdings and use that money to move into intermediate or longer-term bonds, depending on your situation. While I like individual bonds that I can hold to maturity, which abrogates interest rate risk, the ETF TLT (TLT) offers a convenient buffering solution, along with liquidity.
In addition, you might move to cash with a percentage of your holdings. This would serve the purpose of reducing the hit you take in a correction or a sharper and longer downturn, and you could use some of it to buy stocks at better valuations than exist now.
Evaluating Your Portfolio for Strengths in Declining Markets
There are a number of factors that make some stocks more susceptible than others to a decline in times of market stress. Some of the measures I cite have been proven in academic studies, others are more or less common knowledge or the kind of things we always look at to estimate a company's future. You may wish to add other factors, based on your experience and research. I will provide the positive factors in a list, and then use these to evaluate some stocks. Below are some attributes of stocks that may hold up well in declines, along with sources of data.
High credit ratings - S&P rating at standardandpoors.com
Low beta - FinViz
Dividend greater than 2% - FinViz
Fairly valued or undervalued -F.A.S.T. Graphs, Morningstar
Analyst buy or better -FinViz
EPS next 5 years greater than EPS last 5 years - FinViz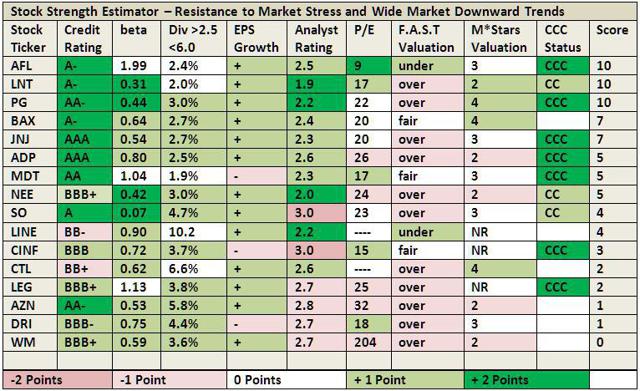 Chart created by author
The top scoring companies of those we used for illustration are Aflac (AFL), Alliant Energy Corp. (LNT) and Procter & Gamble (PG), each scoring 10 points. Baxter International (BAX) and Johnson & Johnson (JNJ) follow these, rounding out the top 5. The bottom 5 are CenturyLink Inc. (CTL), Leggett & Platt (LEG), AstraZeneca (AZN), Darden Restaurants (DRI) and Waste Management (WM).
My inclination is that the credit rating is the most important factor and that beta and valuation are also quite telling. That is, if a firm has a low credit rating, a high beta and is overvalued, I believe it is at high risk of declining more than the broad market. However, this is only a crude screening process, and as with any screening process, it should be only a first cut in the decision-making process. If one looks at the story behind Waste Management's numbers, and at forward projections, there is cause for optimism.
Note that these are all "C" type corporations. I need to do further work to successfully rate BDCs, REITs and MLPs. This is a system under development… I hope it will evolve with the help of SA readers.
Scoring System
Credit AAA to A- =2 points; BBB+ to BBB- =1 point; BB+ and lower = -1 point
Beta 0.01 to 0.49 = 2 points; 0.50 to 0.9 =1 point; over 1.00 to 1.25 = 0 points; 1.25 to 2.00=-1 point; over 2.00 = -2 points.
Yield 2.5 to 5.9 = 1 point
EPS direction: Is next 5 years' EPS growth more (+)=1 point; or less (-)=-1 point, than the last 5 years' growth?
Analyst rating 2.0 to 2.2 = 2 points; 2.3 to 2.6 =1 point; 2.7 to 2.9 = 0 point; 3.0 to 3.9 = -1 point; 4.0 and up = -2 point. On a scale where 1 means a strong Buy and 4 is a Sell
P/E 5 to 11 = +2 points; 12 to 17= +1 point; 19 to 23 = 0 points; 24 up = -1 point
Over = -1 point; fair = 0; Under = +1 point
2 stars -1 point, overvalued; 3 stars = 0 points, fairly valued; 4 stars =+1 points, undervalued
CCC status, Champion, 2 points; Contender 1 point
Dividend Growth Blue Chip Holders - Stay the Course
It is a good thing to add bonds and cull weak stocks to reduce the downside risk of an unbalanced portfolio with weak holdings.
However, those who have a collection of blue chip stocks, which provide adequate retirement income and dividend growth, are often best served if they ignore the gyrations of the market. Few top-notch companies with years of increasing dividends and strong balance sheets, as estimated by credit ratings, will cut dividends. These are the dividend Champions and Contenders on David Fish's CCC spread sheets. Of course, the market disaster of 2008-2009 thinned the ranks of those stocks, but the survivors of that market bloodbath have proved their mettle.
Often, it is better to do nothing than tamper with a good portfolio. Have confidence that your well-designed, strong and balanced portfolio will weather the storm. When you hold great companies, there is never a need to panic, the market goes up and down in mysterious ways. The dividends, however, of the sound blue chips will keep arriving in your checking account.
I wish you good luck with the up trends and the down trends of the market and life. Be at peace and enjoy.
Disclosure: I am long SO, KMP. I wrote this article myself, and it expresses my own opinions. I am not receiving compensation for it (other than from Seeking Alpha). I have no business relationship with any company whose stock is mentioned in this article.