Before I begin, I'm focusing here on Bank of America (NYSE:BAC), but the thought I want to discuss could easily be applied to any bank.
Over the past years, one of Bank of America's most popular profitability indicators, net interest margin, has been going down (or staying down depending on how you look at it) with seemingly no end in sight. Some will point to the yield curve and show you how flat or low it is, then either spin it in a negative story about further declines and relief much farther away than expected or, on the other hand, sell it as the two birds in the bush that represent significantly higher profits. I have to confess, I have a hard time arguing either of these outcomes because, like the weather, either could materialize.
Net Interest Yield (FTE basis)
2010 - 2.78%
2011 - 2.48%
2012 - 2.35%
2013 - 2.47%
4 year average - 2.52%
Focusing on macro items has to be thought of as an average or first level of thinking because it's not going to provide any edge. Why would it? The yield curve applies to everyone. What doesn't apply to everyone, however, is the individual holdings and construction of each company. You may find similarities between the holdings of each big bank but none have the same volume and I believe that is more dependent on management's goals than any sort of reliance on the markets.
Credit quality has been under a microscope and one has to believe the assets walking into Bank of America's balance sheet have to be of a grade not seen for a very long time. The bar is set very high and, in addition to that, there is little incentive right now to increase the loan balance. It would be great to see a ballooning portfolio but why would investors want that right now? Writing a loan has more costs involved than interest expenses alone, and any fixed rate product sold now, regardless of quality, will be worth less as soon as rates rise.
The supply for more loans is at an all-time high, but Bank of America doesn't appear to be chasing and I for one have no problem with that. The two items I hinted at in the title of this article were competition and available for sale securities. These two items, more than the yield curve, are cutting margins. As far as competition goes, Bank of America could easily win by lowering quality or profitability requirements and printing a ton of new business. These are all under the bank's control but what good would that be? Margins would move even lower or quality would go down while increasing interest rate risk. Bank of America has proven it has many attractive products to sell and if it didn't we wouldn't see a build-up in dry powder or excess deposits over loans. Unfortunately, this dry powder comes with its own cost and is stored away in very low yielding available for sale securities. This build-up, my friends, is a big part of what is killing your net interest margins - but it's okay!
AFS Securities as a percentage of Tangible Assets
2010 - 15.45%
2011 - 13.44%
2012 - 14.55%
2013 - 13.24%
4 year average = 14.17%
Bottom Line
Easy is thinking interest rates are going to move up and earnings will be saved, but Bank of America has very tough competition and is waiting for the right time. Macro items like the yield curve will give a good indication of where the lending environment or cycle is but the ability to sell loans is more in the hands of the bank than most seem to believe. Banks adding to their portfolio at a fast pace are in store for a lot of pain when rates rise. When hoping for more, be mindful of the price.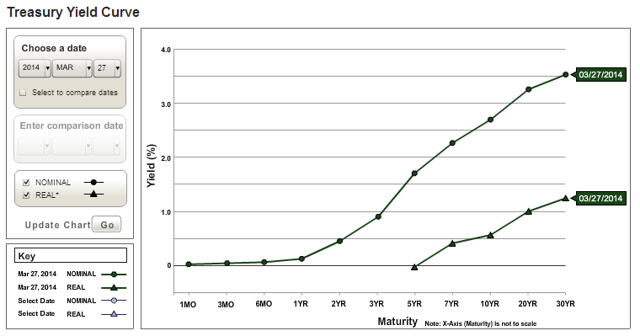 Disclosure: I am long BAC. I wrote this article myself, and it expresses my own opinions. I am not receiving compensation for it (other than from Seeking Alpha). I have no business relationship with any company whose stock is mentioned in this article.
Additional disclosure: I am long BAC through warrants.