The first time I ever heard of the company GameStop (NYSE:GME) was back in 2008 when I overheard a commentator mention that GME had a larger capitalization than General Motors (NYSE:GM). GM of course went on to file for bankruptcy, but the comment woke me up to the fact that a company had emerged that was totally off my radar. I had never even heard of this company. The stock reached a peak in 2008, and like most other companies got hit during the correction. In 2012 GME started paying dividends. The stock immediately responded and was recently approaching all time highs.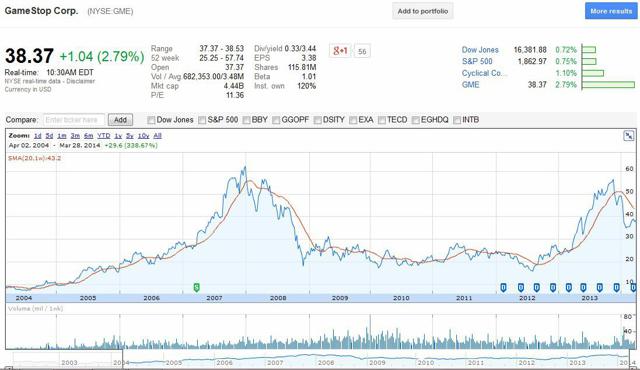 Then around November 15th the company hit a land mine, and lost 30% in a little over 2 months. On the 15th the company announced a Chairman change, and then on the 21st of November they cut guidance. They also announced a dividend and a $500 million share repurchase, but that wasn't enough to stem the fall. The stock bottomed in early February and has been clawing itself back ever since.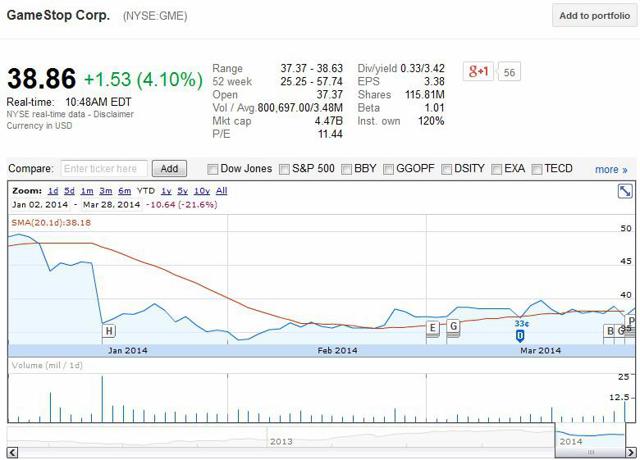 What got me interested in GME again were two announcements. The first was that Wal-Mart (NYSE:WMT) was getting into the used game business. On March 18th, WMT announced that it would be buying and refurbishing games and equipment. I was surprised that the announcement didn't damage GME stock much, and neither did missing earnings a little time later. I was impressed by the stock's resilience, but I can't believe they will survive once WMT gets its program running at 100%.
The other announcement was that the soon to be released Amazon (NASDAQ:AMZN) streaming dongle may broadcast games. Yes, at first that may be a boost to the old-tech gaming, but it will also open the door for AMZN to simply start streaming games. A "new era" of gaming is starting, and old school CD/DVD games are simply soon to be obsolete. Game makers like Activision Blizzard (NASDAQ:ATVI) stream right to the device cutting out the middleman.
The fact that publishers are now focusing on digital streams tends to suggest that brick and mortar retailers like GameStop will soon become obsolete.
The bottom line is, GME faces the same challenges that Blockbuster faced in the movie/game DVD rental business. Things are going internet/cloud based like Netflix (NASDAQ:NFLX) or more convenient like Coinstar's Redbox. I would imagine the best opportunity for GME is for WMT to buy it for its inventory. With a P/B of 2.02 however I would imagine GME has a lot further to fall before that becomes an option. I would imagine that WMT or AMZN will ultimately cross market its game sales with a cloud storage service much like certain movie DVDs can use the Ultraviolet system. Middleman GME is simply the easiest cost to remove from the supply chain.
Looking forward, GME may have a little more life in it, but I would watch carefully the GME Q2 2014 earnings report to see how WMT is impacting earnings. WMT's service is just starting, and shouldn't really hit until this summer, but WMT is buying inventory now. I would imagine this should drive up the cost of inventory for GME in Q2 2014, and then the WMT competing sales should provide a double whammy in Q3 2014.
Personally, I will be looking to buy Put options on GME in advance of the earnings and/or after the recent rally looks to be stalling.
Disclaimer: This article is not an investment recommendation or solicitation. Any analysis presented in this article is illustrative in nature, is based on an incomplete set of information and has limitations to its accuracy, and is not meant to be relied upon for investment decisions. Please consult a qualified investment advisor. The information upon which this material is based was obtained from sources believed to be reliable, but has not been independently verified. Therefore, the author cannot guarantee its accuracy. Any opinions or estimates constitute the author's best judgment as of the date of publication, and are subject to change without notice. Past performance is no guarantee of future results. For my full disclaimer and disclosure, click here.
Disclosure: I have no positions in any stocks mentioned, and no plans to initiate any positions within the next 72 hours. I wrote this article myself, and it expresses my own opinions. I am not receiving compensation for it (other than from Seeking Alpha). I have no business relationship with any company whose stock is mentioned in this article.