Easy peasy today.
Clinical work, short article, I'll be in and out of your brain in 20 minutes and I swear, you won't feel a thing.
In keeping with my relentless arguments that Herbalife (NYSE:HLF) is operating a worldwide confidence game that sells commodity products to inventory-loading distributors who buy for the primary purpose of recruiting, we're going to check out a recent SEC press release regarding a pyramid scheme it just shut down.
Seeking Alpha pointed this gem out on Friday, so I decided to take a closer look. The headline, "SEC Halts Pyramid Scheme Targeting Asian and Latino Communities", looks like something that could be directly out of the Herbalife bear case.
And we also know that Herbalife exhibits all of the reasons that pyramid scheme Fortune Hi-Tech was shut down. So, if we can find some similarities here, we may be able to continue to strengthen our case that:
1. The SEC/FTC, et al. take pyramid schemes very, very seriously.
2. Herbalife, as it currently operates, is a pyramid scheme.
What we're going to do is rather simple - we'll have a look at the SEC's latest release, and we're going to compare and contrast that with what we already know about Herbalife's business model to see if we can come up with any similarities with the short argument against the company. Aside from, of course, the similarity that the SEC Enforcement Division already has an investigation ongoing with regard to Herbalife.
So, let's start from the top.

1. This shows similarity to Ackman's short thesis in Herbalife due to the fact that he claims the major constituency of people being harmed by Herbalife are the low income Latino communities.
Targeting minority groups - check.
2. This shows similarity to Ackman's short thesis in Herbalife due to the fact that Herbalife continues to bask under the cloak of being an MLM company, a term they hardly use and often substitute with "direct seller".
Posing as an MLM - check.

3. This is a massive one. Of all the steaming whoppers that Herbalife has put forth, the massively exaggerated income claims are really part of the smoking gun with this company. This shows that the SEC doesn't like lofty income claims, similar to the ones that John Tartol - who is on Herbalife's very own Board of Directors - has made. Tartol claimed that you could make $10,000 a month after just 300 days in Herbalife. On a $3,000 initial investment, that's 333% gains in 300 days. Divide by three, and we have...
Promising 100% gains or more in 100 days - check.
4. I'm going out on a limb here and guessing that "some investors" were likely the people involved early on in this project. Or, as we'd call them in pyramid speak, the top of the pyramid. The SEC is alleging that this company has funneled money from the bottom of the pyramid to the top. In Herbalife, we have a base of 3 million distributors that is ever-changing, and guys at the "top of the pyramid", like John Tartol, who in 2013 received over $3 million in gross compensation. ($2.9 million of which as a result of simply being a distributor, as per the company's DEF 14/D filed just days ago.)
Money going to "some investors" (i.e. the "top of the pyramid"), but not others - check.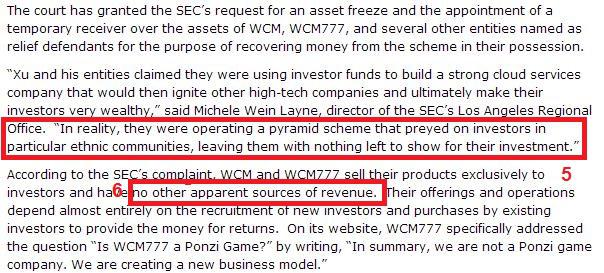 5. This shows similarity to Ackman's short thesis in Herbalife due to again, not only the ethnic comparison, but the fact that many were left with nothing to show for their investment. Herbalife's own statement of gross compensation from 2012 (we don't have one from 2013 yet - don't know why) shows that 92% of all "distributors" earn less than $5,000/year. Many of these people likely bought excessive inventory to begin their stint as their "initial investment".
Leaving many with nothing to show for their investment - check.
6. This shows that the company made its money from selling to people involved in the business, with no other sources. Herbalife has yet to prove their sales that come from outside the network and have obfuscated and manipulated other facts to show anything but the meat and potatoes of this argument. They don't enforce their rules governing outside sales and most product is bought by distributors to "inventory load", not for the discount. Example? You can go on eBay right now and buy HLF's flagship product at the same "discount" you'd get as an HLF distributor, without having to sign up.
Company has no material revenue aside from in-network sales. Check.

7. While I won't claim that Herbalife made false claims about partnerships, what I will claim is that Herbalife uses their "partnerships" - all of which are paid for by Herbalife - to leverage the amount of credibility they seemingly have. The monies paid to the LA Galaxy, Cristiano Ronaldo, UCLA, and the big names on their "nutrition advisory board" are monies paid directly to lend credibility to their company when it needs it most. The SEC touches on that here by going after this company using big names to push its scheme.
Buddying up to big names for needed credibility - check.
Long story short, I'm not claiming that this press release sets any type of legal precedent. But, rather, that it certainly calls into question an odd number of - similarities - between this case and the items in question with Herbalife.
With something like this being released while Herbalife remains under investigation, it certainly would continue to give me pause about my investment in Herbalife, should I be long the stock.
One by one, the pieces continue to fall and the evidence continues to add up. We're bursting at the seams with the amount of circumstantial evidence we can possibly have that regulators are going to step in at Herbalife - we've compared the dead on similarities between Fortune Hi-Tech and now another pyramid scheme with that of Herbalife. Further, we know Herbalife meets all 7 of the SEC's own criteria - released in October - of what constitutes a pyramid scheme.
The reason the SEC/FTC et al. have not acted yet is because this is an extremely complicated case concerning an extremely complicated company. Regulators like to take their time, think critically, and get their work done right. This has to be a slam dunk if they're going to go after it, so it's going to take some planning. Planning that, no doubt, should result in a negative outcome for Herbalife.
I remain short Herbalife and have full confidence that the government will do its job, protect consumers and low income minorities, by eventually shutting down Herbalife and then reforming the MLM industry.
Best of luck to all investors.
Disclosure: I am short HLF. I wrote this article myself, and it expresses my own opinions. I am not receiving compensation for it (other than from Seeking Alpha). I have no business relationship with any company whose stock is mentioned in this article.