It is a fundamental tenet of dividend growth investing. Regardless of how sharp or severe the stock market correction at any point in time, shareholders must stick to their discipline and hold positions so that they can continue to benefit from ongoing dividend growth and the resulting steadily rising income streams over time. But what happens in the midst of a major market correction when a company with a long history of increasing its payout suddenly stops raising its dividend? Worse yet, what if it suddenly cuts its dividend, perhaps dramatically? What then is the impact on a dividend growth investor's portfolio and their outlook moving forward?
In Memoriam: The Aristocrats Who Have Departed
The Dividend Aristocrats is a list of companies that have raised their dividends each year for at least the past 25 years. Heading into the financial crisis in 2008, 59 companies from the S&P 500 Index were members of this elite stock market club. But in the more than five years since, 23 companies have departed from the aristocracy, which represents a nearly 40% turnover for the group as nearly as many companies were added to the list over the same time period.
This fact alone raises an important point. Just because a company has consistently raised its dividend over the past 25 years does not necessarily mean that they will continue to do so in the future, particularly if we enter into a period of broader economic or financial market stress.
The Implications Of Holding A Fallen Aristocrat
All of this raises an important question. We have seen since the outbreak of the financial crisis that dividend growth stocks that continued to increase their payouts along the way have performed very well relative to the broader S&P 500 Index. But what can history tell us about the performance of dividend growth stocks once they either held their dividend steady or worse yet cut their payout? A closer look at the names that have fallen from aristocrat status in recent years is instructive for what investors might expect going forward.
The Financials
Without a doubt, the financials sector was the hardest hit during the crisis from 2007 to 2009, and the episode clearly took its toll on the dividend aristocracy. The following are financial institutions that cut their dividends in the wake of the crisis including the year they departed the Dividend Aristocrat club.
Bank of America (NYSE:BAC) - 2009
Comerica (NYSE:CMA) - 2009
Fifth Third Bancorp (NASDAQ:FITB) - 2009
KeyCorp (NYSE:KEY) - 2009
Progressive (NYSE:PGR) - 2009
Regions Financial (NYSE:RF) - 2009
BB&T (NYSE:BBT) - 2010
General Electric (NYSE:GE) - 2010
Legg Mason (NYSE:LM) - Added in 2009, departed in 2010
M&T Bank (NYSE:MTB) - 2010
State Street (NYSE:STT) - 2010
U.S. Bancorp (NYSE:USB) - 2010
In short, 12 of the 24 post crisis departures from this elite dividend growth club came from the financial sector. For those active dividend growth investors that foresaw the fundamental challenges facing the financial sector in advance, they most likely sidestepped the damage sustained from this group. But for those that did not, they are still struggling in many cases to not only recover the lost principal value so many years later, but are also hit with not only the loss of dividend growth but also the significant cut in any dividend that remained.
The following are charts from those former Dividend Aristocrats that were hurt most both during the financial crisis and continued to lag in its aftermath.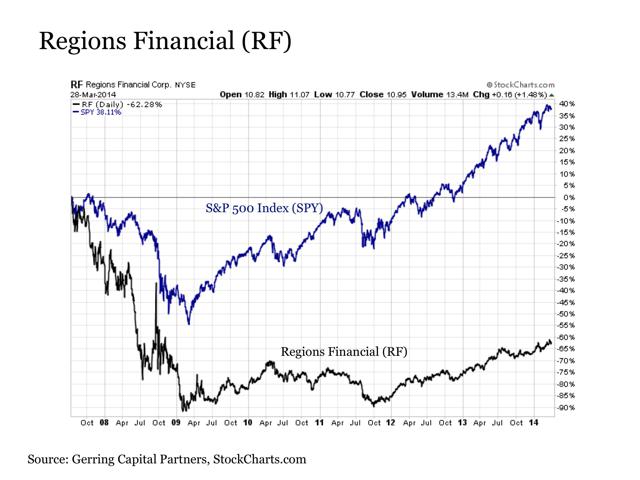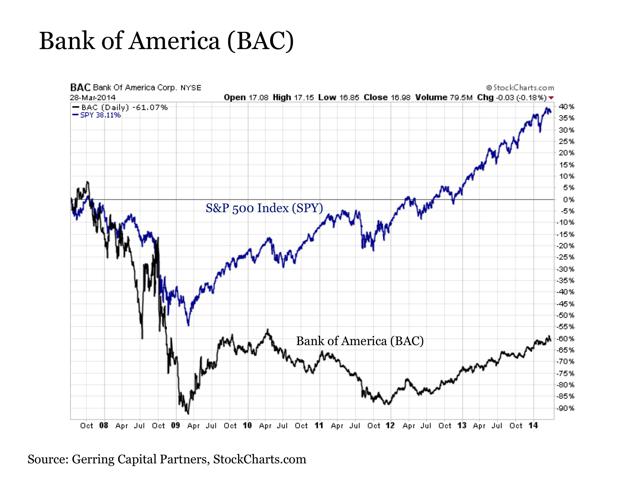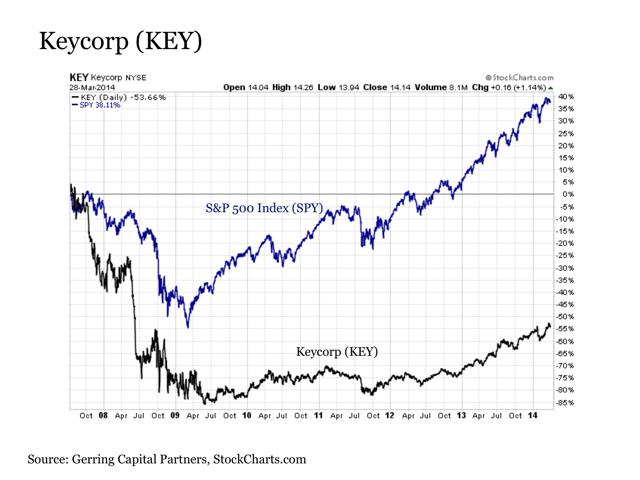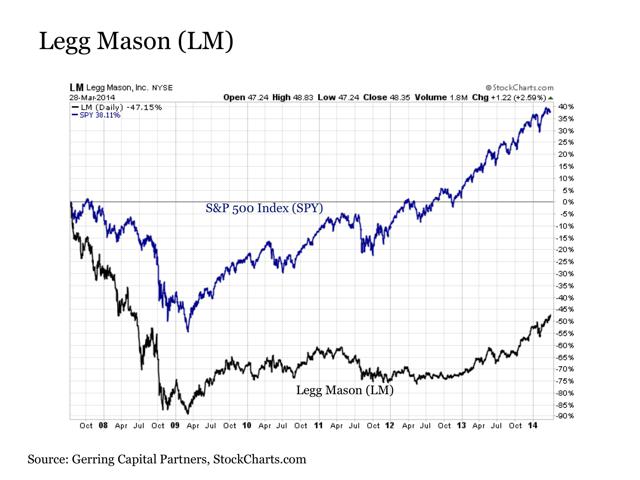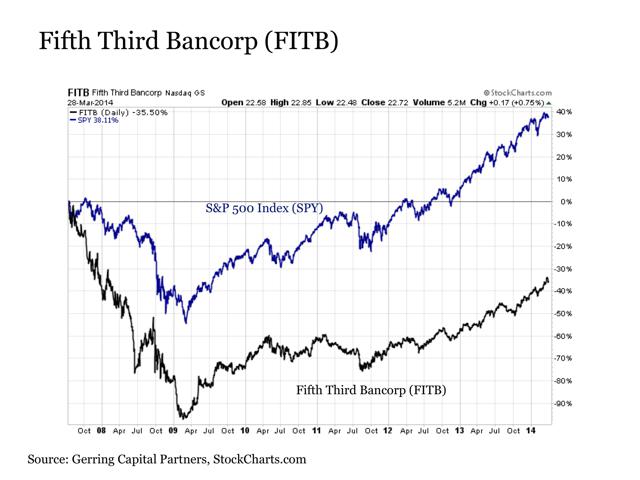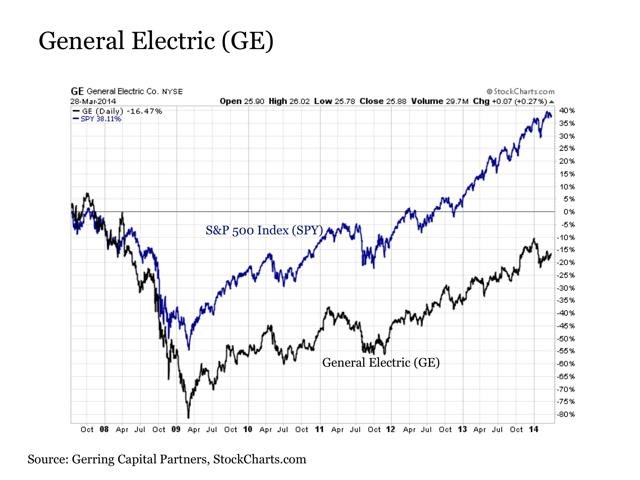 While many financial institutions in this fallen group saw their share prices disproportionately punished and subsequently languish to varying degrees in the years since, not all companies in this category have fared so poorly. In fact, a few among this group have held up rather well. So although the dividend growth stream was disrupted in each case, investors were able to recover principal over time in the following instances.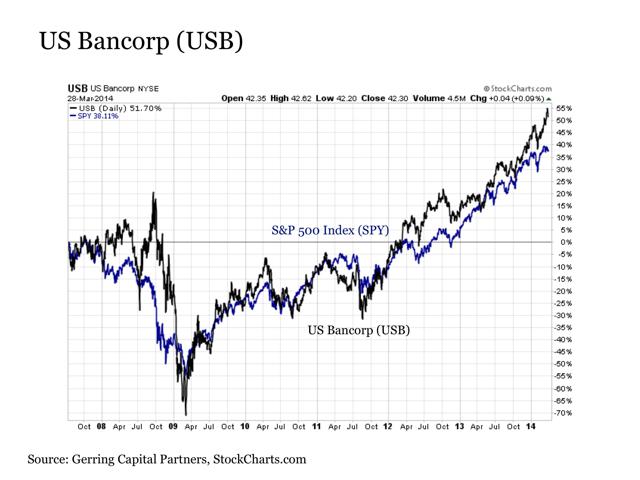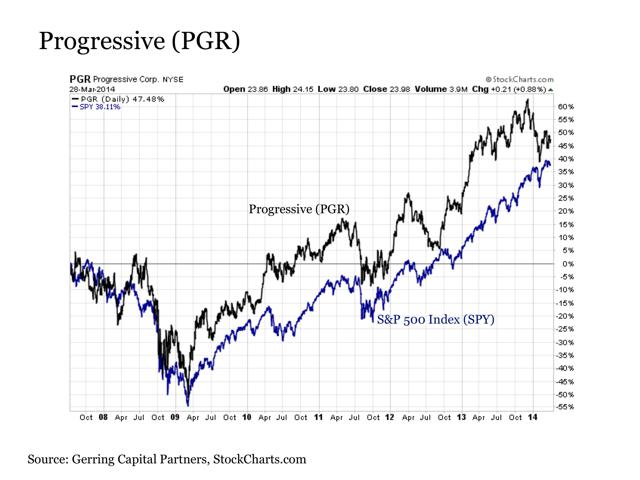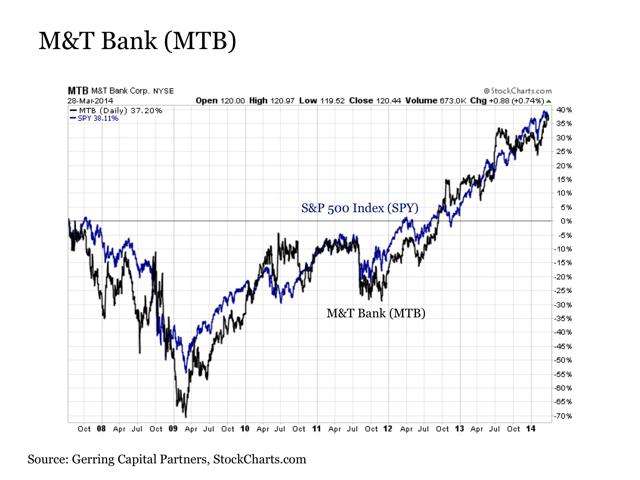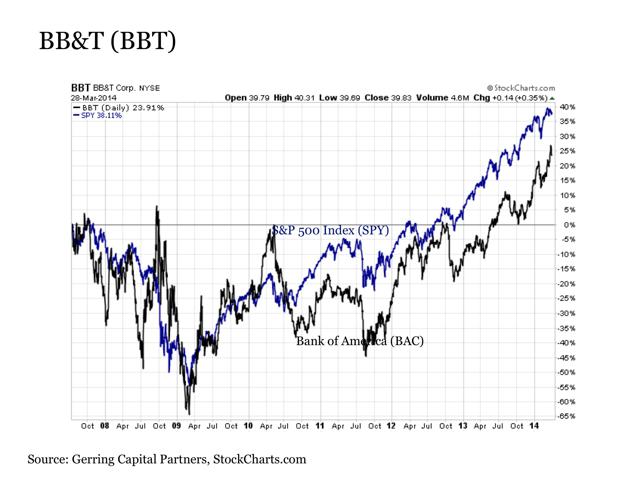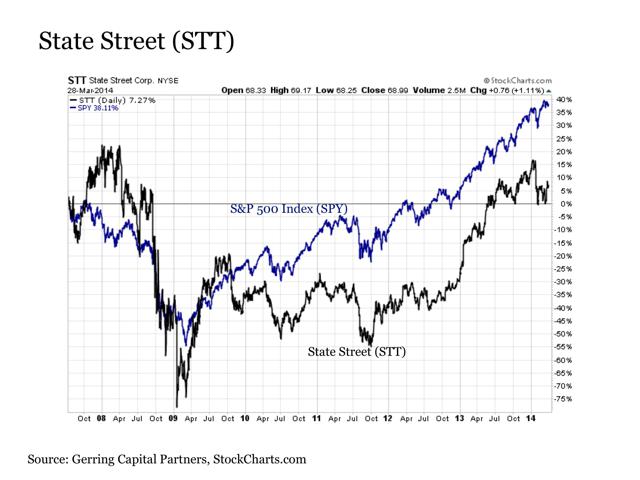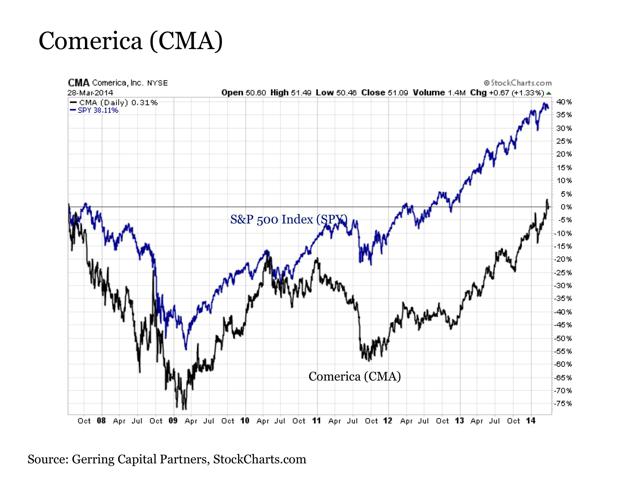 The Industrials
Of course, it was not just financial institutions that have been induced to cut their dividends in recent years, as a number of industrial companies have also either stopped increasing their dividend or cut it to varying degrees. The following is the list of industrial companies that have done so over the last several years.
Avery Dennison (NYSE:AVY) - 2010
Gannett (NYSE:GCI) - 2010
Johnson Controls (NYSE:JCI) - 2010
Pfizer (NYSE:PFE) - 2010
Eli Lilly (NYSE:LLY) - 2011
Supervalu (NYSE:SVU) - 2011
Integrys Energy (NYSE:TEG) - 2011
CenturyLink (NYSE:CTL) - 2012
Pitney Bowes (NYSE:PBI) - 2013
It should be noted that the two remaining companies that exited the Dividend Aristocrats since 2009 did so due to acquisition (Anheuser-Busch (NYSE:BUD) and Wrigley, both in 2009)
The following are charts from the nine former non-financial Dividend Aristocrats that have left this elite group in recent years.
The first is Johnson Controls, which briefly stopped raising its dividend before resuming payout increases in 2011. As might be expected, performance has held up just fine relative to the broader market.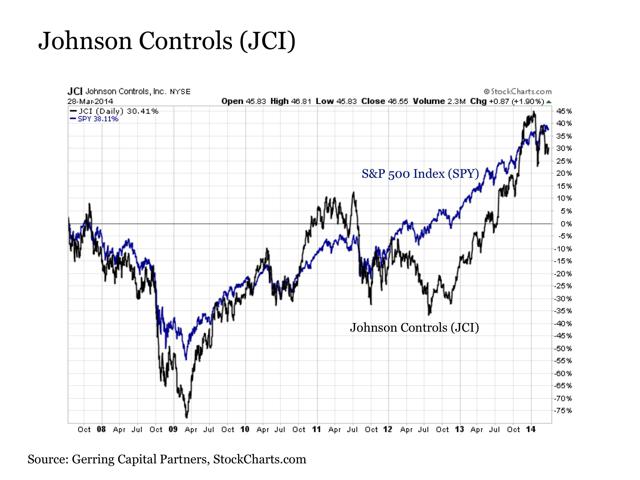 The next batch includes those companies that stopped increasing their dividends but did not cut their payouts. This group consists of Eli Lilly and Integrys Energy. Despite the fact that the dividend growth stopped, the underlying share prices did not, as both stocks kept up well with the broader market.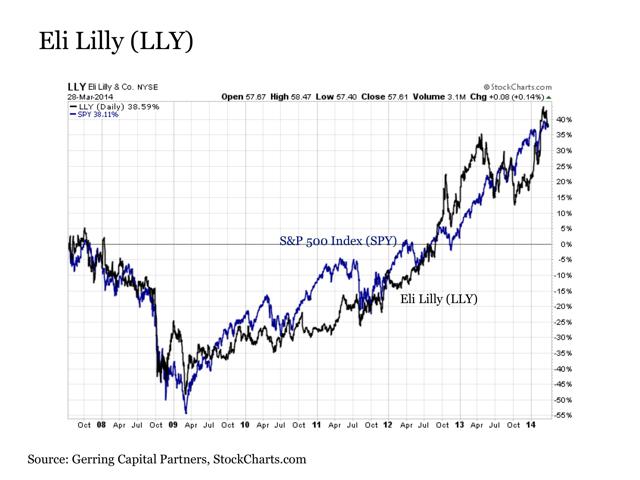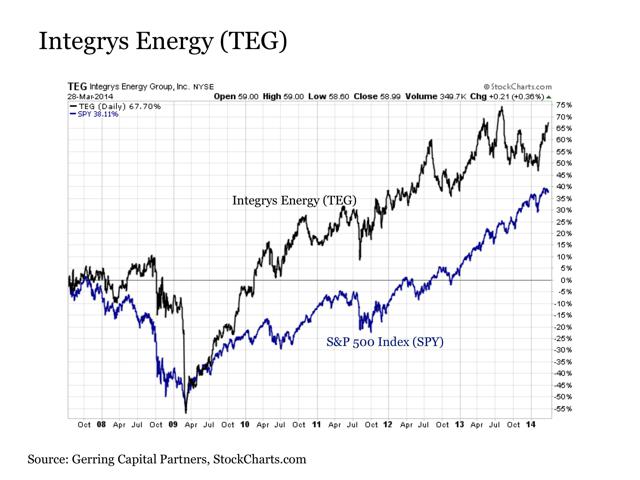 The remaining group includes those firms that cut their dividends to varying degrees. And it is within this bunch that performance is considerably more mixed. Those like Pfizer that cut their dividend relatively modestly have held up well.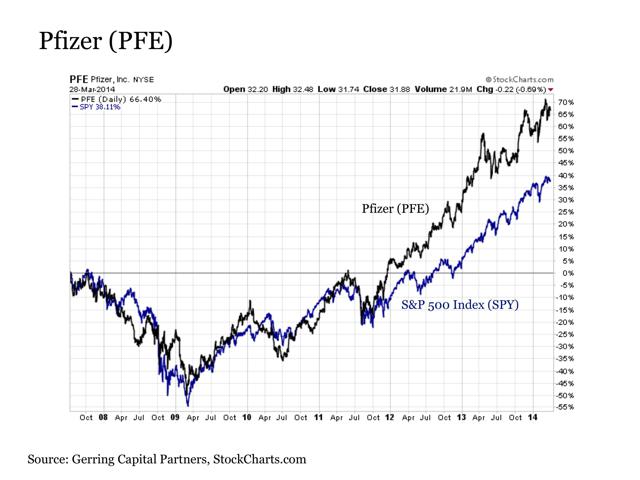 But for those that have instituted more dramatic dividend cuts such as CenturyLink, Avery Dennison, Gannett, and Supervalu, the outcome has been more negative.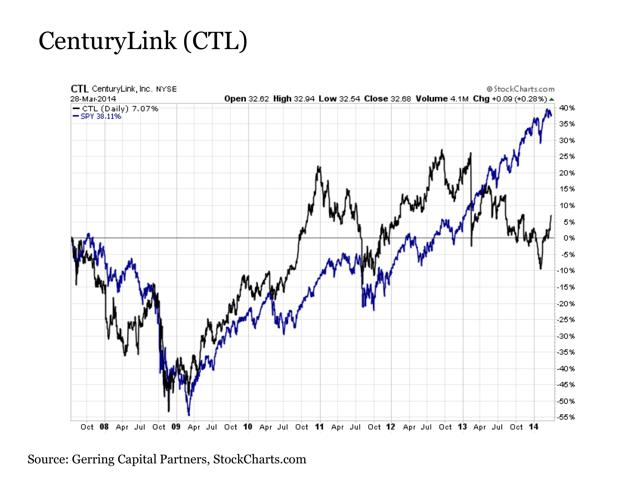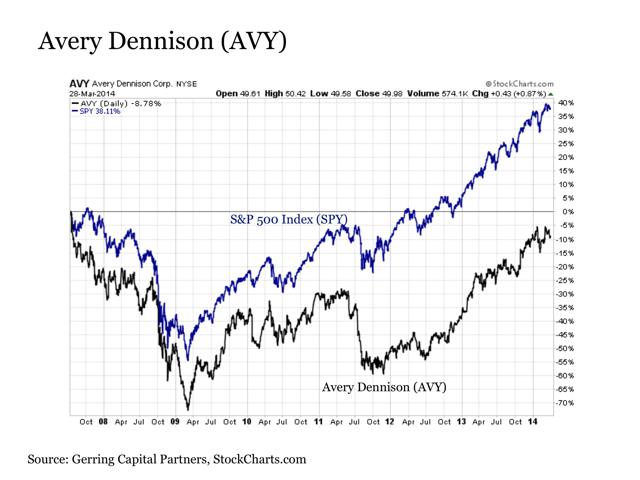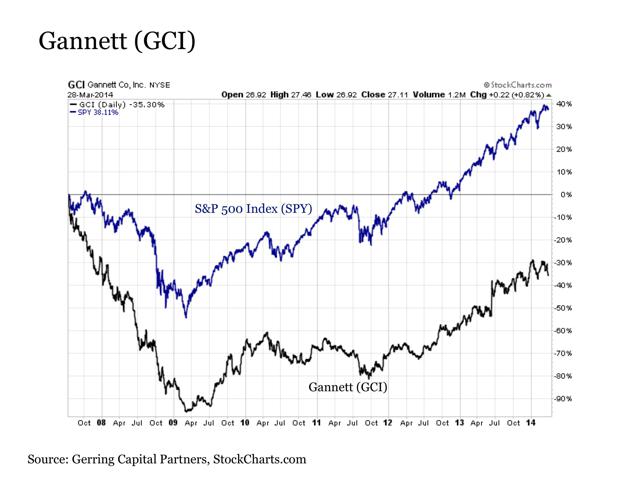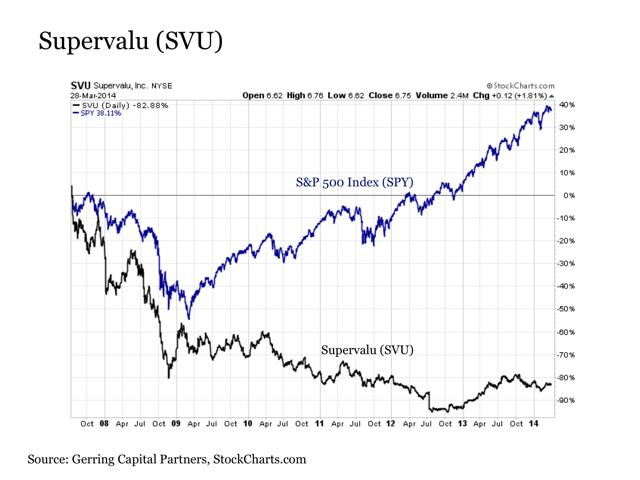 As for Pitney Bowes, perhaps what is most notable is that the company's stock price was struggling badly until they cut the dividend, as it has been rallying strongly ever since.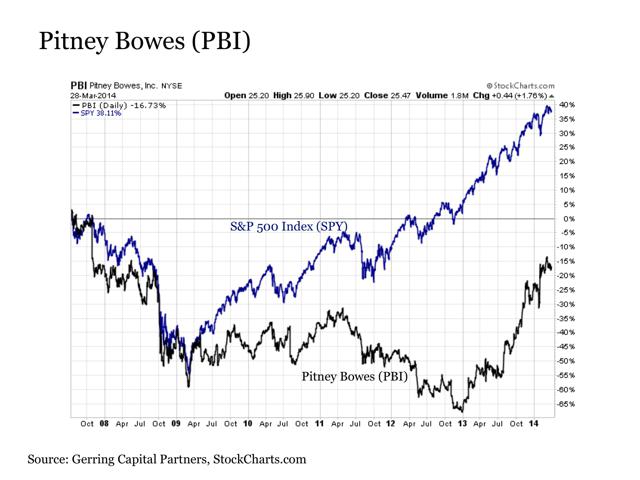 Bottom Line
The good news for dividend growth investors is that all is not lost if a company with a long history of steadily increasing its dividend opts either to stop raising it or cut its payout to shareholders. For it has been a roughly even split in the post crisis period between those companies whose share prices have held up well and those that have struggled.
This does not at all mean that dividend growth investors should have their portfolios on autopilot, however, as continued oversight and active management has the potential to add meaningful value in this context. For those investors conducting continued and in depth fundamental analysis on the dividend growth stock space would have likely been able to identify in many cases the advance warning signs that resulted in the dividend cuts and subsequent struggles among those that have performed particularly poorly from the list above. Thus, the extra effort of staying on top of developments both within and among companies in the dividend growth stock space remains well worth the time in the end.
Disclaimer: This article is for information purposes only. There are risks involved with investing including loss of principal. Gerring Capital Partners makes no explicit or implicit guarantee with respect to performance or the outcome of any investment or projections made. There is no guarantee that the goals of the strategies discussed by Gerring Capital Partners will be met.
Disclosure: I have no positions in any stocks mentioned, and no plans to initiate any positions within the next 72 hours. I wrote this article myself, and it expresses my own opinions. I am not receiving compensation for it (other than from Seeking Alpha). I have no business relationship with any company whose stock is mentioned in this article.