Back on 6/4/2010, the markets universally panned the May "Jobs Report." With very little private-sector job creation, traders punished stocks with the U.S. market's 3rd worst beating of the year.
Some folks endeavored to point out silver linings sans the precious metal. Average hours worked climbed yet another 0.3% percent after large gains in April and May. Private sector hourly earnings had also climbed 0.3% in May.
Yet stock traders weren't having any of it. The headline numbers pointed to "extreme stimulus, marginal results."
Still, there are a variety of conflicting polls and surveys that suggest hiring may indeed start showing up in the employment data. A May survey conducted by Manpower had nearly 20% of employers looking to boost payrolls in Q3, against less than 10% considering decreases in payrolls. Moreover, a May poll posted by Money Magazine of nearly 30,000 respondents found that 92% of companies planned on hiring in 2010. (Note: Those same companies could have people leaving, so it's hard to gauge net job gains here.)
Today, an association of CEOs of big U.S. companies, the "Business Roundtable," found 39 percent of chief executives expecting to boost payrolls in the second half of 2010, only 17 percent expected to see jobs decline. This survey confirms the Manpower poll conducted in May. What's more, the proportion of those planning to hire hasn't been this high since Q2 of 2007.
Of course, net hiring gains could still be minimal even when more companies are hiring than letting their employees go. Moreover, those gains may do little do make a dent in the unemployment rate with more people planning to enter or re-enter the workforce.
Nevertheless, if the headline June employment report coming in the first week of July does its part, certain ETFs may catch fire. Here are a few possibilities:
1. Market Vectors Environmental Services (NYSEARCA:EVX). BP (NYSE:BP) clean-up, anyone? IBIS World forecasts that the $18 billion dollar environmental consulting industry will grow at 9% over the next 5 years. EVX tracks the performance of the NYSE Arca Environmental Services Index and the fund price is currently above its 200-Day trendline.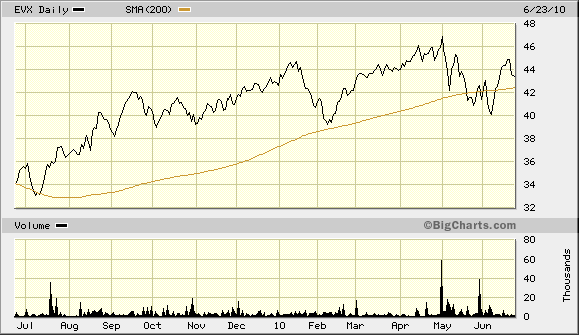 2. SPDR Industrials (NYSEARCA:XLI). Some fund managers made a big deal about the Institute of Supply Management's PMI dip from 60.4 to 59.7. When anything over 50 is considered expansion, and when more than 100,000 jobs were created in the manufacturing sector during the first 5 months of 2010, you might want to consider XLI. This exchange-traded fund is currently above its 200-day moving average AND it represents titans of industry like Caterpillar, Boeing and 3M.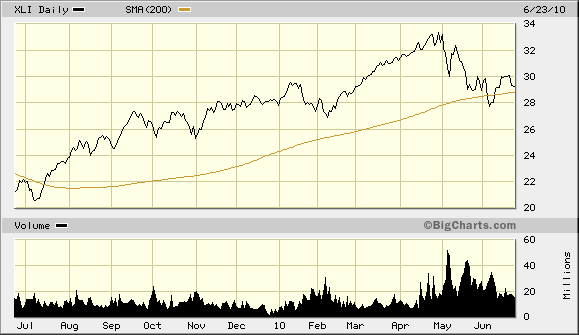 3. First Trust DJ MicroCap (NYSEARCA:FDM). Leap of faith, perhaps? Remember, 2/3 of jobs occur in small businesses. Moreover, a Robert Half survey of 1100 Tech CIOs expected net IT job growth to climb 6% in Q3, with the largest percentage occurring in business services. FDM has its largest weightings in business and financial services.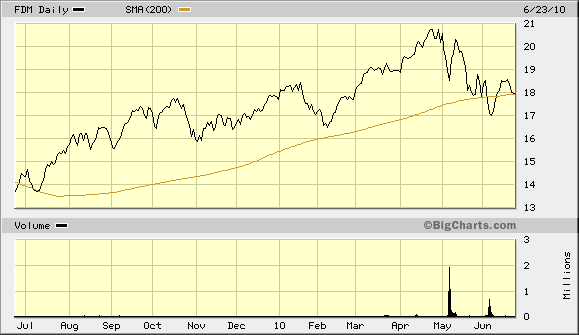 Disclosure Statement: Gary Gordon, MS, CFP is the president of Pacific Park Financial, Inc., a Registered Investment Adviser with the SEC. The company and/or its clients may hold positions in the ETFs, mutual funds and/or index funds mentioned above. The company receives advertising compensation at the ETF Expert web site from Invesco PowerShares Capital Management, LLC. The commentary does not constitute individualized investment advice. The opinions offered herein are not personalized recommendations to buy, sell or hold securities.