The stockholders of Tesla Motors (NASDAQ:TSLA) breathed a collective sigh of relief on Friday when the NHTSA said that its investigation did not find a defect trend in two battery fires that were widely reported last year. Since it takes at least three data points to identify a trend and a post-collision fire in Merida, Mexico was factually distinguishable from the two road debris fires, I believe the NHTSA made the right decision.
I also believe that Tesla made the right decision when it chose to install underbody armor on all new cars and retrofit the underbody armor package throughout its existing fleet of 30,000 cars. In its press release touting the wonders of the underbody armor package Tesla emphasized that it included three core components:
A rounded, hollow aluminum bar that is designed to either deflect objects entirely or absorb the impact and force an object to pike upwards in front of the battery pack;
A titanium armor plate that prevents the sensitive battery pack from being damaged and aids in neutralizing the road debris; and
A solid aluminum extrusion that further absorbs impact energy and causes the car to ramp up and over an object if it is incompressible and immovable.
From a layman's perspective, the underbody armor package seems like a good safety solution. It will not, however, be a cheap safety solution. Titanium is one of the toughest industrial metals around, which makes it tremendously expensive to cut, machine and form into components. At $8.25 per pound in ingot form, titanium is also one of the most expensive industrial metals around.
I have no idea what the component costs will be for Tesla's underbody armor package, although I won't be surprised by a cost several hundred dollars for the titanium parts alone. I also won't be surprised to learn that retrofitting the underbody armor package on existing cars will cost several hundred dollars more. Under the circumstances it seems reasonable to assume that Tesla's total cost for the "not a recall" underbody armoring program will be somewhere in the $20 to $60 million range.
Under generally accepted accounting principles, a company like Tesla must accrue the cost of an extraordinary warranty program when the need becomes apparent. I don't think the market fully understands the crushing impact of the NHTSA "victory" on Tesla's Q1 earnings. I also don't think the market fully understands that the combined impact of the NHTSA victory and the debt financing Tesla closed at the beginning of this month could drive net stockholders equity into the $300 million range by the end of Q1.
In my last article I suggested that Tesla's debt to equity ratio would be unsustainably high at the end of Q1. When you add the impact of the "not a recall" underbody armoring program, it looks like Tesla's debt to equity ratio will be close to double digits by the end of Q1. It is never healthy when the aggregate claims of a company's creditors are ten times greater than the total claims of its stockholders.
I frequently caution readers that history doesn't repeat itself but it often rhymes. For the last several months, I've believed Tesla's price chart since early 2013 was beginning to bear an eerie resemblance to BYD Co. Ltd.'s (OTCPK:BYDDF) price chart after a real billionaire bought a $125 million stake in September 2008. While the market didn't react immediately to Warren Buffett's investment in BYD, the stock took off like a scalded cat in March 2009 and reached twin peaks in October 2009 and April 2010 before collapsing to pre-mania levels.
This week I decided to test my theory and do a percentage change analysis that overlays Tesla's market performance since March 1, 2013 over BYD's market performance during a 30-month period beginning March 1, 2009. While the two companies are very different, the price chart overlay is more than a little disturbing.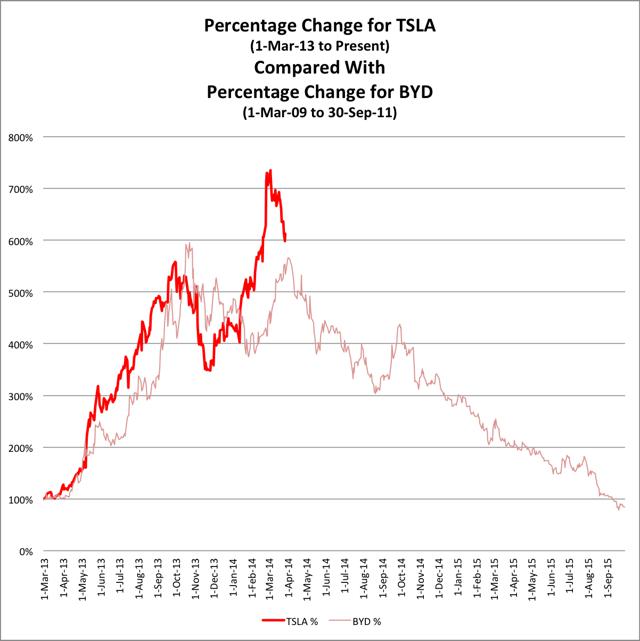 I frequently criticize Tesla because I believe it's fiscally irresponsible for a company to borrow money when it needs equity and doubly irresponsible for a company to fail to maintain a substantial cushion for the inevitable encounters with Murphy's Law.
In July 2012 when Tesla was running on fumes, I compared Mr. Musk's cavalier attitude to barnstorming aviators of the early 20th century planning their next spectacular death-defying feat. "We'll go into a vertical dive at 10,000 feet, start our pull out at 500 and clear the treetops by inches. It'll be epic!" Tesla resolved that problem by selling $200 million of equity during Q3-12 after telling stockholders that it didn't need any money. This time around, I think Tesla may have pushed its luck too far.
The market doesn't know it yet, but Tesla's wingtips clipped the trees on Friday and the structural damage from that impact will be severe.
Consider the humble pendulum.
It would prefer to rest comfortably in the six o'clock position, but a strong finger can push it to the seven, eight, nine, ten or even the eleven o'clock position if the hand is willing to exert a stronger force for each tick forward on the clock face.
When the pushing force is relaxed or abruptly taken away, the pendulum doesn't just return to the six o'clock position. It overshoots six o'clock and doesn't stop until it hits a level that's a mirror image of the previous upside.
Stocks behave the same way, particularly when the fingers of hype that have been pushing the price with increasing force over the last 13 months are knocked out of position by seriously bad news.
I believe Tesla's 20% price decline over the last month is just the beginning of the bloodletting.
Disclosure: I have no positions in any stocks mentioned, and no plans to initiate any positions within the next 72 hours. I wrote this article myself, and it expresses my own opinions. I am not receiving compensation for it (other than from Seeking Alpha). I have no business relationship with any company whose stock is mentioned in this article.