Facebook (NASDAQ:FB) shares are now down 17% from their 52-week high. It's a steep fall that has come in less than a month's time. Why?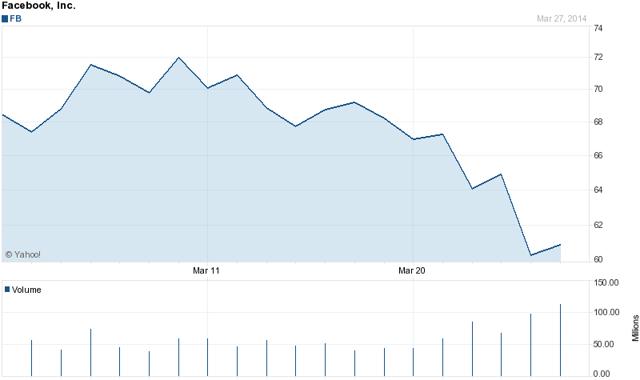 1-Month Chart for FB at Yahoo Finance
Facebook has shown recent sensitivity to disappointing news of all sorts due to its extended valuation in my opinion. It's been part of a group of stocks known as momentum names which have all fallen steeply of late. The group includes some of the market's highest flyers of 2013 like Tesla (NASDAQ:TSLA), Netflix (NASDAQ:NFLX), Amazon.com (NASDAQ:AMZN), 3D Systems (NYSE:DDD), Gilead Sciences (NASDAQ:GILD), Salesforce.com (NYSE:CRM) and Twitter (NYSE:TWTR). Some of the characteristics these companies share are exceptional 2013 gains, great expectations and rich valuations.
On New Year's Eve I first warned that the high flyers would likely take the biggest hit as part of a January purge on tax delayed profit taking. For some of these stocks, it took a little while longer than others, but as market worries mounted, each of them began to participate. At the start of the year, Facebook had plenty capital gains built into, and so it saw some selling along with the overbought market. Facebook had more than doubled in 2013, so there were serious tax gains to be taken by individual investors after New Year's Eve, and it appears via the chart above that some were taken. If you would have liked to have known about this sooner, and before these stocks actually did start to shed value, then follow my column. Here's what I'm talking about now ahead of market perception and against the tide.
| | | | |
| --- | --- | --- | --- |
| Stock | Beta | YTD | TTM |
| SPDR S&P 500 (NYSEARCA:SPY) | 1.0 | +0.4% | +18.4% |
| Facebook | NA | +9.8% | +135% |
| Netflix | 2.0 | -2.5% | +90% |
| Twitter | NA | -25.7% | +5.3% |
| 3D Systems | 1.5 | -36.4% | +83.2% |
| Amazon.com | 0.8 | 15.2% | +26.9% |
| Tesla | 1.3 | +41.2% | +460% |
| Gilead Sciences | 0.9 | -8.7% | +40.1% |
| Salesforce.com | 1.4 | +1.0% | +24.7% |
A good chunk of the momentum fluff has recently been squeezed out of Facebook thanks to the Fed and other distressing issues worrying the market today. So is it safe to buy yet?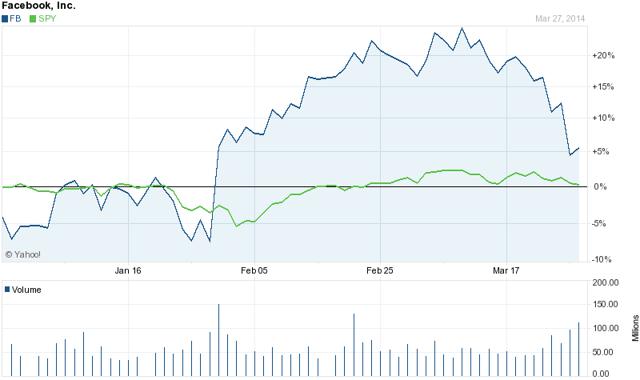 3-Month Chart at Yahoo Finance
The three-month price chart of Facebook is shown here matched against the performance of the SPDR S&P 500. It illustrates how far ahead of the market the stock got this year and how it exaggerated the basic trend of the S&P 500. If it exaggerated market moves, then similar catalysts must have come into play for the market and Facebook, save for that big spike in late January on the company specific driver of Facebook's EPS report.
That's something to think about. If FB is selling off now on market sensitivity (beta), but took ground previously on company specifics (alpha), perhaps it is cheap now versus its intrinsic value or perhaps it will benefit from its next important alpha catalyst, earnings. Acquisitions of important and exciting high-tech businesses including WhatsApp and Oculus have hardly stirred up new interest in the shares though, given the price decline. Pessimists might question the price paid for each of the last two major acquisitions, but I believe that at least in the case of WhatsApp, it made sense.
I'm not a technical analyst or chartist, but I do believe there is some value in technical analysis when used in conjunction with fundamental analysis. When I was an analyst, at the conclusion of my fundamental research, I would usually have a conversation with our in-house chartist to get his thoughts on stock price movement and a best entry point. My ideas were 3-5 to year plays, and so the entry point hardly mattered much for that expected holding period, but I still wanted to initiate coverage at a point that would satisfy investors and my managers who might doubt me over the short term if the stock slipped after initiation.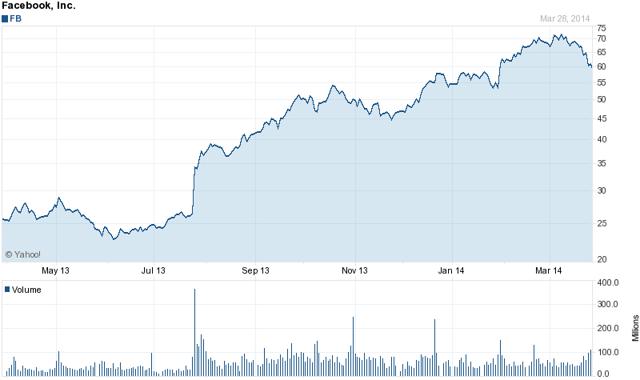 1-Year Chart of Facebook at Yahoo Finance
I look at charts casually and they speak to me, which is hardly scientific. But I do not think it takes an expert to notice what the chart seems to be saying today. Given that there has been no real breakdown in the company's business, the chart seems to reflect attractive entry point here and a mad love entry point at $55.
Facebook has beaten analysts' estimates handily over the last three quarters. Current quarter estimates are on a steady uptick, rising to $0.24 currently, from $0.23 30 days ago and $0.21 90 days ago. I feel comfortable that earnings will not be disappointing, and hopefully guidance as well.
The stock trades at 47.6X the $1.26 consensus estimate for 2014 and 24X the $1.68 consensus for 2015. It's growing EPS at a 100% clip this current quarter, but estimates have it down to 47% for next quarter, 43% for this year and 31.4% for the next five years. My bet is that the full year growth forecast is conservative, and I can't give a stock like this a PEG of 1.0 for the current quarter and 1.1 for the current year. I feel like the fluff is gone, and see opportunity for long-term interests to start nibbling again. However, one more macro risk remains to offer even a better entry point to holders of all these momentum names and Facebook, and please read the above linked article to know about it. We might just get our $55 entry point or better near-term because of this catalyst, but I favor the stock long-term here and recommend it for acquisition again (Recommended in June 24, 2012 article).
Disclosure: I have no positions in any stocks mentioned, and no plans to initiate any positions within the next 72 hours. I wrote this article myself, and it expresses my own opinions. I am not receiving compensation for it (other than from Seeking Alpha). I have no business relationship with any company whose stock is mentioned in this article.