Amazon (NASDAQ:AMZN) is usually shown as a poster child of internet bubbles. The company survived through the dot-com bubble of the late 1990s and the Great Recession of 2008. Lately, Amazon's shares are on a sharp decline as many high-momentum stocks are experiencing a slowdown due to the Fed's tapering that is expected to be finished by the end of this year. In this article, we'll look at Amazon from a historical standpoint to determine whether the company's current valuation makes sense.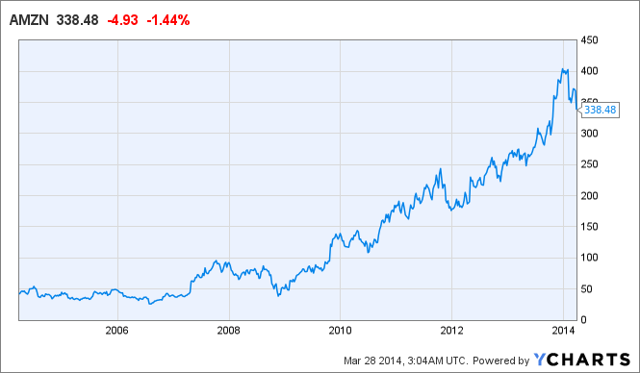 Over the years, one of Amazon's greatest accomplishments was the company's ability to grow its revenues at a tremendous rate. In the recent years, Amazon's revenue growth accelerated due to new products, services, cloud offerings, aggressive marketing and expanding into new markets. Because of the company's impressive revenue growth, investors have been tolerating the company's low margins pretty well.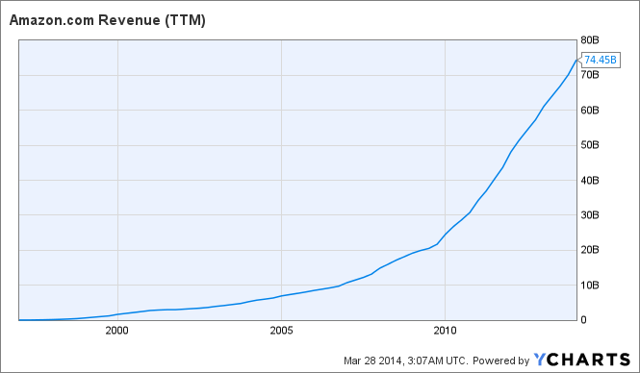 Speaking of the company's margins, things have always looked tricky for this company. First, we will take a look at Amazon's gross margins over the years. Historically, Amazon's gross margins ranged from low 20s to high 20s. After peaking at just short of 26% in early-to-mid 2000s, Amazon's gross margin trended lower for the rest of the decade. This trend has only started reversing in the last couple years. In the last 12 months, Amazon claimed a gross margin of 27.23% which is an all-time high for the company's public history.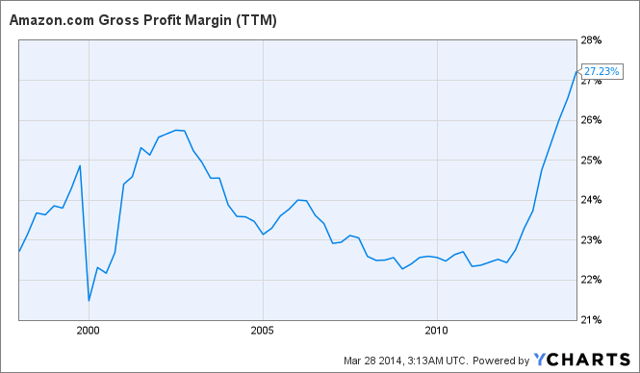 The company's operating margins tell us a little different story though. Initially, Amazon enjoyed very poor operating margins as the company was making a name for itself and growing its market share in expense of profits. When the company's operating margin bottomed out in very early part of 2000s, it was as low as -40%. Even at the peak, Amazon's operating margins never passed mid-single digits and the company has never achieved a double-digit operating margin. This is alarming but many of Amazon's advocates say that this will come to an end once the company focuses more on profits and less on growing revenues aggressively at all costs.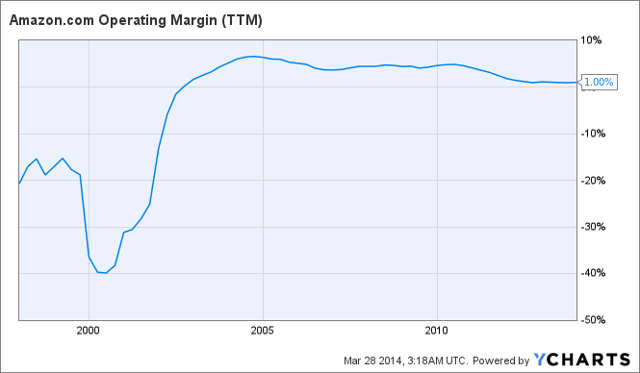 As for the company's net profit margins, they just got from bad to worse over the years. At peak, Amazon was able to get a net profit margin of 8% but currently things have been on the decline for nearly a decade. Currently, the company's net profit margin is around 0.37% which is exceptionally low for a well-established retailer. Many people blame Amazon's aggressive revenue-growth policy for this as the company does not put much focus on profitability for the time being.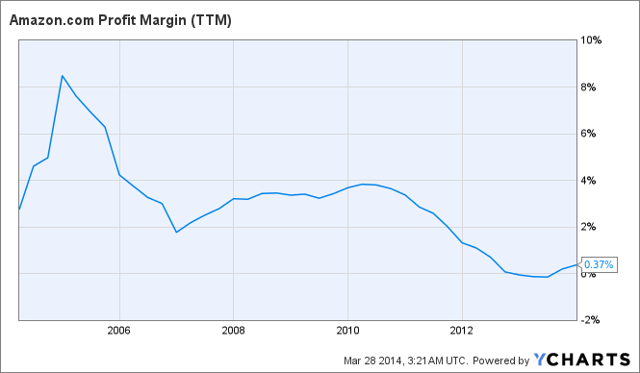 Since Amazon always had either razor-thin or negative margins, many people felt like it would be unfair to value the company based on its earnings. Those people suggest that Amazon should be valued based on its revenues (i.e., price to revenue ratio). Currently, the company trades for about 2 times its revenues which is pretty much in line with its historical valuation. Historically, investors always paid Amazon about 2 times its revenues and as the company was able to grow its revenues rapidly, the share price also followed. If we were confident that the company will continue to be valued on this metric, it would be rather easy to value it for the foreseeable future but you never know when the market will actually decide on switching metrics. A lot of times it doesn't take long before the market decides that a particular metric is not good enough to value a company and that it should be valued based on other metrics.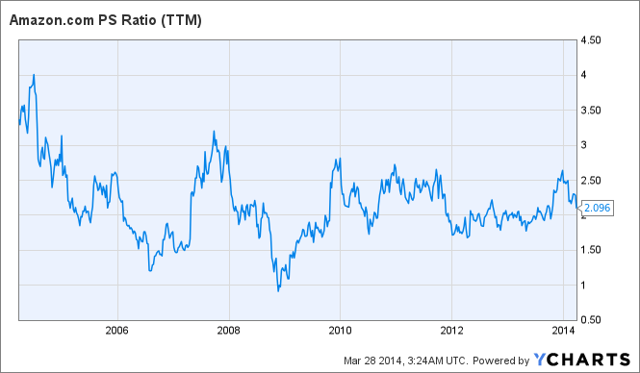 One metric I like to look at in companies is cash from operations. This metric can tell us how much money a company actually earns from producing products or offering services before depreciation and growth-oriented investments come in play. If Amazon can grow this value, investors will excuse the company's lack of profitability in the short-to-medium term because this will mean that the company is actually making money and spending that money on growth rather than not making money at all. Well, if we look at this metric, we see that Amazon has been able to grow its cash from operations year-to-year almost consistently. Currently, Amazon generates $5.48 billion of cash from its operations and this is the highest this metric has ever been for the company.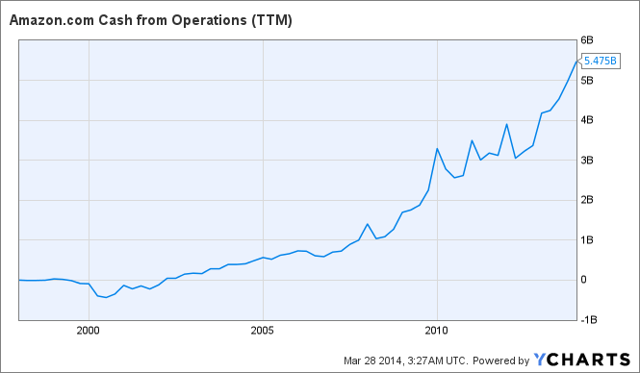 Now that we found a metric that works for Amazon, let's price the company based on this metric. Now we will find out how Amazon looks from a price to CFO (cash from operations) standpoint. It turns out that the company's price to CFO ratio was a little less predictable than the company's price to revenue ratio as it was rather volatile. At peak, investor were willing to pay nearly 60 times the cash Amazon generated from its operations and at the bottom, they were willing to pay only 12 times. Currently, they are paying about 28-29 times the company's CFO and this is near the bottom in the short term even though it was as low as low 20s in 2012. Will the investors let this metric fall further?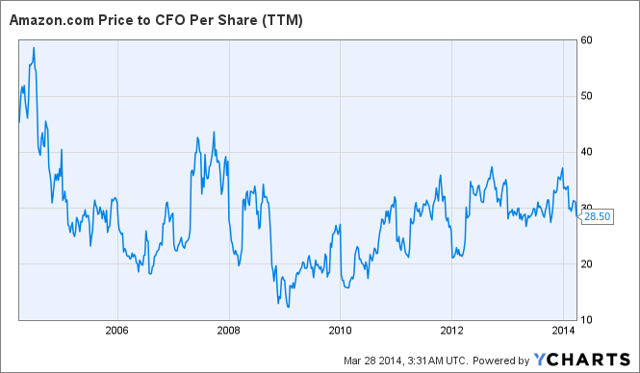 The analysts see Amazon generating $89.88 billion in revenues for this year and $107.59 billion for the next year while the company's profit estimates range wildly (on average $1.92 per share for this year and $4.23 per share for next year, down from earlier estimates of $2.65 and $5.36 respectively) since it is too difficult to estimate. If Amazon continues to trade for about 2 times its revenues, it may have a market cap of $215 billion, an upside of about 38%. On the other hand, it is difficult to predict what metric the market will use to value Amazon 2 years from today, so there is always some uncertainty with this company.
Disclosure: I have no positions in any stocks mentioned, and no plans to initiate any positions within the next 72 hours. I wrote this article myself, and it expresses my own opinions. I am not receiving compensation for it (other than from Seeking Alpha). I have no business relationship with any company whose stock is mentioned in this article.