Just days ago Rubicon Technology (NASDAQ:RBCN) closed on a public offering of more than 3 million shares, raising around $62 million. In that offering, 834,000 shares were sold to the public by "selling stockholders" as indicated in the press release. We know now that those selling stockholders include the CEO and CFO according to InsiderCow.com, both of which liquidated their entire position. CEO Raja Parvez sold all 200,000 shares for a cool $5.68 million pay day, while CFO William Weissman sold all his 100,000 shares for $2.84 million. Several other insiders sold millions worth in shares.
There are all kinds of reasons for insiders to sell, but when you have two key executives dumping their entire position in the company all in one shot and several other insiders cashing out, it raises the big red flag. Considering RBCN has run up more than 10 fold in less than a year and a half, I'd be cashing out too!

Add to that the fact the stock is hitting resistance at the all time high in 2008 and RBCN is flashing a clear sell signal.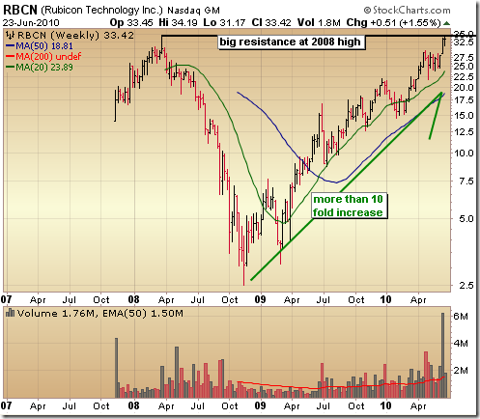 Disclosure: I don't have a short position in RBCN with an interest in driving down the stock. I just call it like I see it and would be a seller up here even without the insider selling.