This article will focus on Tiffany's (NYSE:TIF) and Nike's (NYSE:NKE) performance in the Asia-Pacific, and where applicable, China, a country that we believe is vital for long-term expansion and to support our fair value estimates of both firms.
Recent reports have put a damper on the outlook for luxury spending in China during 2014. Though the outlook is consistent with data points, we've received with respect to slowing, but still robust, economic expansion in China, the commentary is worth nothing.
Wealthy Chinese are likely to buy fewer luxury goods again this year after the steepest cut-back on spending in at least five years, changing the game for high-end retailers like Louis Vuitton which have staked their growth on China.
Overall spending by wealthy Chinese fell by 15 percent in 2013, the third consecutive year of decline, according to a survey by the Hurun Report. Spending on gifts in particular also declined by a quarter.
The drop coincides with a government crackdown on corruption and gifting, as well as a growing penchant for traveling and shopping overseas to circumvent Chinese consumption taxes on luxury goods as high as 40 percent.
One in three so-called high net worth individuals have already left, or are planning to leave, China, the report showed, a factor that has also reduced luxury spending.
Tiffany's fiscal fourth-quarter results (ended January 31, 2014), released March 21, fell short of consensus expectations on both the top and bottom lines. Worldwide net sales advanced 5% (9% excluding currency fluctuations) in the quarter, and excluding a charge related to an adverse arbitration ruling, net earnings rose to $190 million, or $1.47 per share (compared to $1.40 per share in the year ago period). Performance in the Asia-Pacific region and China noticeably slowed relative to the full-year pace:
Total sales in the Asia-Pacific region increased 8% to $275 million in the fourth quarter and 17% to $945 million in the full year. On a constant-exchange-rate basis, total sales rose 11% in the quarter and 18% in the full year; comparable store sales increased 4% in the quarter due to growth in Greater China and most other markets, and increased 11% in the year due to broad-based sales growth across the region.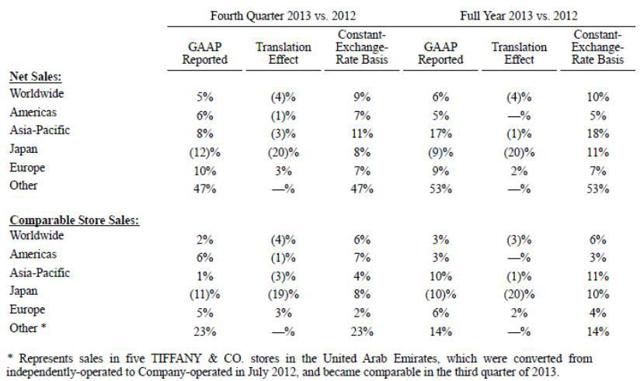 Image Source: Tiffany
Though slowing same-store sales growth in the Asia-Pacific region may persist into fiscal 2014 (ending January 31, 2015), Tiffany's strategy to increase brand awareness in China to influence Chinese tourists when they travel to other markets should have an overall positive impact on worldwide sales, even as growth in China itself may slow. We also cannot overlook the tremendous pricing power inherent in the Tiffany business model, and the lever the company can pull to achieve earnings expansion. Still, the jewelry giant's outlook for fiscal 2014, albeit not terrible, was a bit lower than consensus expectations on the bottom line. We take comfort in its strong free cash flow generation, however, (see below):
Outlook for 2014:
For the fiscal year ending January 31, 2015, management forecasts net earnings to be in a range of $4.05 - $4.15 per diluted share. This forecast is based on the following assumptions, which are approximate and may or may not prove valid:
a. Worldwide net sales increasing by a high single-digit percentage in U.S. dollars and on a constant-exchange-rate basis, with all regions expected to achieve growth in their total sales and comparable store sales.
b. Adding 13 Company-operated stores and closing four existing stores: opening four in the Americas, five in Asia-Pacific, two in Japan, and one each in Europe and Russia, while closing one each in the Americas, Asia-Pacific, Japan and the U.A.E.
c. Earnings from operations as a percentage of net sales ("operating margin") increasing due to a higher gross margin and SG&A expense growth less than sales growth.
d. Interest and other expenses, net of $65-$70 million with the increase over 2013 reflecting the interest cost on higher average levels of net-debt.
e. An effective income tax rate of 35%.
f. A 6% increase in net inventories.
g. Capital expenditures increasing to $270 million, with the increase over 2013 largely reflecting incremental investments in certain information technology systems.
h. Free cash flow (cash flow from operating activities less capital expenditures) of at least $400 million.
Nike reported fiscal third-quarter results (ending February 28, 2013) on March 20. Revenue from continuing operations, excluding currency changes, advanced 9%, while diluted earnings per share jumped 20% thanks to gross margin improvement (up 30 basis points), a lower tax rate (down 4.9 percentage points), and share buybacks. The quarterly performance was solid, and worldwide futures orders increased 7%, excluding currency fluctuations. Still, commentary regarding demand in China wasn't that exciting, with Nike noting that revenue in Greater China fell during the period.
Excluding the impact of changes in foreign currency, NIKE Brand revenues rose 10 percent, with growth in all geographies except Greater China and Japan and in all key categories except Sportswear and Action Sports. Revenues for Other Businesses increased 9 percent as growth at Converse and NIKE Golf more than offset lower revenues at Hurley.
On Nike's conference call, the firm revealed that it expects fourth-quarter revenue growth in the high-single digits (below consensus expectations), and its fiscal year 2015 earnings per share growth to be below its mid-teens expansion target. The lower-than-expected outlook is partly due to foreign exchange headwinds and investments across its distribution channels. Still, we're not overly disappointed with the outlook, as the pace of expected future expansion is still strong.
Valuentum's Take
Tiffany's and Nike's Asia-Pacific performance left much to be desired, and other bellwethers such as Richemont echoed concerns in China. Richemont owns several of the world's leading brands in the field of luxury goods, with exposure to jewelry and luxury watches. The company, in reviewing its revenue performance during the three-month period ended December 31, 2013, noted slower growth in its wholesale channel, particularly in the Asia-Pacific region. All of its major markets reported growth, except for mainland China, which reported lower sales. Still, Coach (COH) revealed an impressive 25% gain in Chinese sales during its fourth quarter (ending December 28, 2013), so the growth environment in China, while deteriorating, can also be described as mixed.
In any case, the recent data points offer some credibility to the view that the luxury consumer market in China is becoming more and more difficult to navigate (if not, it is not as robust as it was only a few quarters ago). Still, this is no reason not to like the luxury space or firms such as Tiffany or Nike over the long haul. However, we're not seeing many opportunities to dabble in the luxury space on the basis of our strict valuation guidelines, but we're monitoring the industry closely should any firm come under considerable selling pressure.
Disclosure: I have no positions in any stocks mentioned, and no plans to initiate any positions within the next 72 hours. I wrote this article myself, and it expresses my own opinions. I am not receiving compensation for it (other than from Seeking Alpha). I have no business relationship with any company whose stock is mentioned in this article.