Another choppy day in the markets came to a close Wednesday. Equities meandered throughout the day to finally finish down slightly overall. The Dow managed a minor gain, but both the S&P and NASDAQ ended in the red. Given the horrid news from the housing market in the form of atrocious new homes sales, the slight downgrade of economic growth prospects from the Fed, and the pending cram down of the Financial Reform bill to meet an arbitrary deadline; the market behaved better than expected with all the negative news flow. In this type of environment it pays to stay defensive. Stick to those equities with pristine balance sheets, rock solid business models, reasonable valuations, and decent dividend yields. Most of the stocks that we are finding using these criteria are in the Large Cap Blue Chip area (VOD, PFE, JNJ, XOM, MSFT, etc). The next selection we would like to highlight is American Electric Power (NYSE:AEP)
Overview
: American Electric Power Company, Inc. engages in the generation, transmission, and distribution of electric power. It generates electricity using coal and lignite, natural gas, nuclear, and hydroelectric energy.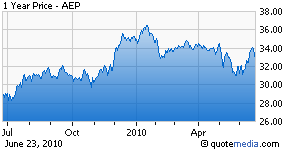 The company distributes electric power at wholesale to other electric utility companies, rural electric co-operatives, municipalities, and other market participants, as well as to retail customers in its service areas. It also operates non-regulated wind farms and barging operations, as well as provides various energy-related services.
Prognosis
: The stock has basically at same level it was in September of 2009. The company has shown improving revenue and earnings during this time frame.
We believe the company is ready to outperform the market over the next 12 to 18 months. We based this on the following:
Valuation: AEP is selling for approximately 10.5 times this year's consensus earnings. It has a dividend yield of over 5.5%, has low cost fuel sources and generally supportive regulatory environments.
Catalysts: There are several factors that we believe should provide support for a higher stock price in the near and medium term:
1.
The dividend is substantial at 5.5%, especially in a low interest rate environment.
2.
Revenues and earnings are projected to improve both in 2010 and 2011.
3.
Utility index has stood up well comparatively over the last 6-8 weeks and has underperformed since market rally started in March 2009.
Recommendation(s):
We believe the stock should be trading at a more appropriate 11-12 times next year's projected earnings of $3.23 given stock's steady prospects and juicy dividend yield; our target Price is $35-$38, up from current price of $32.75.Not a sexy pick, but one that should provide decent overall return at a low risk.
Disclosure: Long AEP