Keurig Green Mountain (NASDAQ:GMCR) is a company that I started covering a couple of months ago, when I introduced a volatility trade on earnings that, if you played, made you a ton of money.
Between Keurig's name change and its partnership with Coca-Cola (NYSE:KO), the stock has been in the news quite a bit the last couple of months, and thus, has been on the move.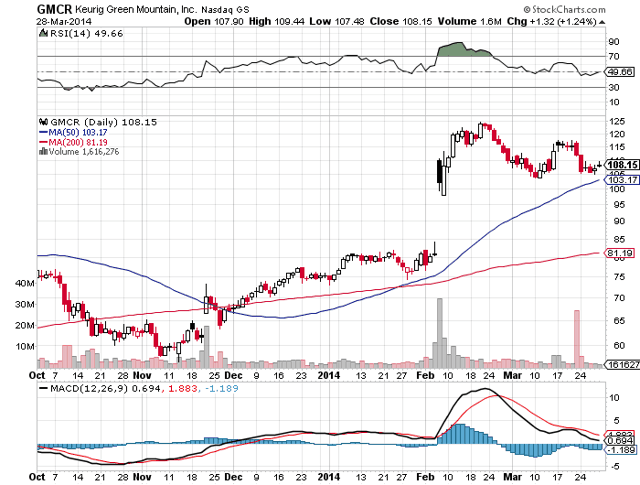 This article is part of a series of articles on stocks that show significant volatility and/or are heading into a binary event that is likely to move the stock price significantly. The point is to be able to recognize stocks with significant volatility and benefit from it through both short-term and long-term trades.
My article of this same nature on Amarin (NASDAQ:AMRN) was the first in this series. My second article was on Tesla (NASDAQ:TSLA), and the trade finished extremely profitable. So far, the only two "strike" dates I've hit have come with profitable trades.
The point of these articles is to make money from volatility. I wrote about Twitter (NYSE:TWTR) at the beginning of the year for this series, as well. Twitter, since then, has moved significantly to the downside, showing the volatility trade is the way to go with these names. In 2014, I also introduced Questcor (QCOR) into this series, claiming it's either an enormous house of cards or the most undervalued pharma stock in history. After a series of Citron reports, the stock has been trading off its highs, but still above where we introduced the trade. Herbalife (NYSE:HLF) and Facebook (NASDAQ:FB) are two other examples, both of which are on their way to entering profitable territory well before their strike dates.
Here's my track record for this series:
Today, we're calling for Keurig Green Mountain to be a volatility trade.
So, let's identify the main points that are fueling both the bullish and the bearish arguments behind this stock, and then introduce our medium-term and long-term sentiments on the company.
Bullish
Recent partnership with Coca-Cola to launch Keurig 2.0 cold beverage system.
Keurig 2.0 has proprietary technology that is specific to GMCR and addresses some issues with Keurig 1.0, such as being able to make more than one cup at a time.
Retail deals for sale already in the works with sellers like Target (NYSE:TGT) and Costco (NASDAQ:COST).
Company planning to buy back shares with cash from its financing with Coke.
Company arguably in its best position ever for future revenue growth.
Bearish
Keurig 2.0 won't be available until next year.
SodaStream (NASDAQ:SODA) joins an increased list of competitors for Keurig now that they're venturing from Keurig 1.0.
The volatile cost of coffee leaves the company susceptible where they do not own futures contracts to protect their prices paid.
Keurig 2.0 increases competitors many times over by competing with off the shelf cold beverages, as well.
Keurig 2.0 likely to have a large price tag, pushing $200.
Without Keurig 2.0 success, the company's waning cash flow could put downward pressure on the stock.
So, as we can see, there are good points that could push this company in either direction over the coming months. What's going to be the medium-term trade that would allow us to benefit from swings in GMCR's stock?
For this trade, we can buy the January 2015 $110 strike calls for $20.05 and puts for $23.05. It's going to cost us $43.10, sans commissions, putting our breakeven points over a year from now at $153.10 and $66.90.

In addition to both the bullish and the bearish arguments, we have also allowed ourselves three more earnings reports, all of which will likely generate momentum, to occur before our strike date.
In terms of long-term sentiment on the company, there are too many questions up in the air right now to firmly recommend going either bullish or bearish. What I do know, however, is that when these questions find their answers, the stock should likely be on the move one way or another, catalyzing our trade. For the long-term, I would likely be on sidelines, with a neutral or very hedged long position in the company consisting of buying stock and selling covered calls.
Best of luck to all investors; we'll check back on this one in a couple of months.
Disclosure: I am long SODA. I wrote this article myself, and it expresses my own opinions. I am not receiving compensation for it (other than from Seeking Alpha). I have no business relationship with any company whose stock is mentioned in this article.