With the gold price having moved down almost $100 from its mid-month high just shy of $1,400 an ounce, bearish traders remain firmly in control, as it has become increasingly difficult to be positive about the metal's near-term prospects. Lower prices, however, are expected to spur renewed demand in Asia, and this will be closely watched in the period ahead to see if U.S. investors respond in kind.
Based on ETF flows, U.S. investors appear to be neither bullish nor bearish on the metals, as big price gains earlier in the year were accompanied by only modest ETF buying while the recent reversal has prompted no net selling. With the gold price now below $1,300 an ounce and with silver at less than $20 an ounce, the second quarter is set to begin much differently than precious metals investors would have thought just a few weeks ago.
For the week, the gold price dropped 3.0 percent, from $1,334.70 an ounce to $1,294.90, and silver fell 2.2 percent, from $20.27 an ounce to $19.82. The gold price is now up 7.4 percent for the year, still 33 percent below its record high of over $1,920 an ounce in late 2011, and silver is up just 2.0 percent so far in 2014, now 60 percent below its all-time high near $50 an ounce three years ago.
To be sure, much technical damage has been done over the last two weeks. Topping the list of negative gold price drivers were easing tensions in Eastern Asia, an improving U.S. economy, a more hawkish Federal Reserve that suggested interest rate hikes could come sooner than expected, and widely publicized bearish calls by Goldman Sachs and Société Générale, the same two banks that triggered the big price declines of a year ago.
Absent a Russian invasion of Ukraine, there seems to be nothing on the horizon to spur gold demand in the near-term.
The widely reported move by hedge funds back into gold has probably already reversed course, though that won't be confirmed for a few days due to the CFTC reporting lag. Less than a week ago, a Bloomberg headline read Hedge Funds Defy Goldman Sachs after traders had built their most bullish futures position in gold since late-2012.
But, as was the case in the sell-off from a year ago, modest price declines turned into a rout after the investment banks made their well-publicized bearish calls. In the absence of fundamentally bullish news from somewhere, gold and silver could see more price declines over the near-term.
About the only positive news from the gold market last week was the latest import data from the Hong Kong Census and Statistics Department that showed Chinese demand surged last month as shown below.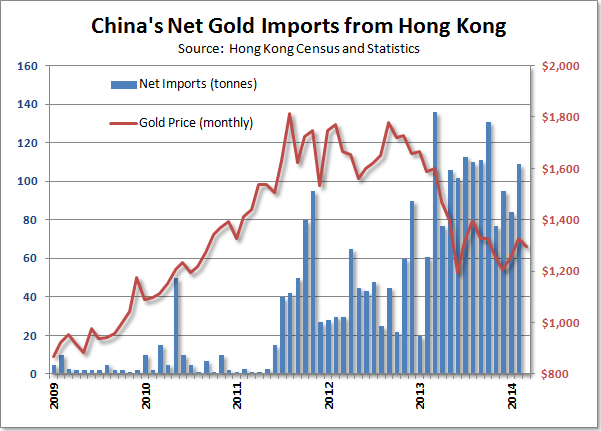 Imports to mainland China rose 30 percent, from 84 tonnes in January to 109 tonnes in February, much to the surprise of some analysts who thought that the China gold buying spree had already run its course after three straight months of lower demand.
February imports were up 79 percent from a year ago and they ranked as the highest total since last October, serving as a timely reminder that the Middle Kingdom remains the world's biggest and most important gold buyer.
Granted, amid the ongoing credit crunch in China, some of these February gold imports were probably being used as collateral for financing deals that have become increasingly difficult to get done, much in the same way that copper has been used as collateral for loans over the years.
Also, this data is a month old. More recently, as the gold price rose early this month, gold premiums of as much as $20 an ounce seen in January had vanished and, according to this Reuters report, last week gold in China was selling at a slight discount to spot prices for the second week in a row.
The big question at this point is whether demand from China will bounce back at sub-$1,300 an ounce prices, and many analysts are expecting just that.
It is again worth pointing out that, unlike the West, gold demand in Asia is for the physical metal, not paper futures contracts, a distinction that, someday, will be very important. When that day comes is anyone's guess, but one thing is certain - unlike last year when a ready supply of gold was available from ETF outflows that could be recast in Switzerland and shipped to China via Hong Kong, no such dishoarding is occurring this year.
Holdings of the SPDR Gold Shares ETF (NYSEARCA:GLD) were unchanged last week, up 19 tonnes for the year. Similarly, the holdings for the iShares Silver Trust ETF (NYSEARCA:SLV) trust were flat, up 206 tonnes so far in 2014.
The subject of China demand and Western ETF flows was covered nicely by Bloomberg's Kenneth Hoffman who, in this interview from December, detailed what gold supply in Western vaults looks like these days.
In short, not good.
Factor in the real possibility that gold demand in India could rise sharply this year if the Indian government relaxes some of its draconian import curbs and, all of a sudden, the gold market could see a very important fundamental bullish factor in the form of tight physical supply.
Regardless of what Goldman Sachs says then, futures traders who set the gold price in the West are sure to respond with constructive price action.
Possibly very constructive.
At least a partial roll-back of Indian gold import restrictions is increasingly likely after national elections next month and, with other nations such as Iraq reportedly buying 36 tonnes of gold and Russia adding 7.2 tonnes to their holdings, other bullish price drivers could emerge too.
But, it seems that only a Russian invasion of Ukraine will boost gold and silver prices which, in the days ahead and the weeks ahead, might not be any better.
Why?
One key reason is the perceived improving health of the U.S. economy and the strength of the dollar, both of these factors being bolstered by the ongoing spring thaw. Recall that the severe winter weather had a huge negative impact on the economic data in recent months and, as the weather warms, there is likely to be a larger than normal pickup in activity in the spring. Economic data is likely to consistently beat estimates in the month or two ahead for this reason alone, and that will be viewed as a sign of a strengthening recovery, regardless of the underlying economic conditions.
This will, in turn, lead to a stronger dollar (which is very negative for gold) and more talk of the Fed raising interest rates sooner than expected, all of which could make for a nasty spring for precious metals.
Disclosure: I own gold and silver coins and bars. I have no positions in any stocks mentioned, and no plans to initiate any positions within the next 72 hours. I wrote this article myself, and it expresses my own opinions. I am not receiving compensation for it (other than from Seeking Alpha). I have no business relationship with any company whose stock is mentioned in this article.