This week's circular will take us to the Technology Sector of the stock market, where we will search for some hot deals on dividend growth prospects for your portfolio.
3. Energy
4. Financials
5. Healthcare
6. Industrials
7. Technology
8. Materials
9. Telecommunications
10. Utilities
Sector #7 - Technology
Investopedia defines the Technology Sector as:
A category of stocks relating to the research, development and/or distribution of technologically based goods and services. This sector contains businesses revolving around the manufacturing of electronics, creation of software, computers or products and services relating to information technology.

The technology sector offers a wide arrange of products and services for both customers and other businesses. Consumer goods like personal computers, stereos and televisions are continually improved and upgraded, offering the latest technology to all users. Businesses receive information and services from software and database systems, which allow the companies to make strategic business decisions.
The Technology Sector is one of the smaller members of the CCC List, as it takes up just 33 of the 509 (6.5%) positions. The percentage gets even smaller when looking at the Dividend Champions, as just 3 of the 105 companies on that list are members of the Technology Sector, these being Automatic Data Processing (NASDAQ:ADP), Computer Services Inc. (OTCQX:CSVI), and Diebold Inc. (OTCPK:DBD).
This is somewhat understandable, as the sector is a volatile one as disruptive discoveries continue to change the landscape. Few technology companies have been around long enough to have grown into mature cash generators able to pay dividends for greater than 25 years. While the total numbers may be few, some of the members on the list are true "cash cows" that appear to be great candidates for dividend growth portfolios.
Here are the final 5 that made the list.
| | | | | | | | | |
| --- | --- | --- | --- | --- | --- | --- | --- | --- |
| Company | Symbol | Sub-Industry | Price | P/E | Dividend | Yield | 5YR DGR | 10YR DGR |
| International Business Machines | (NYSE:IBM) | Technology/Hardware | $190.45 | 12.7 | $3.80 | 2.00% | 14.30% | 19.40% |
| Microsoft Corp. | (NASDAQ:MSFT) | Technology/Software | $40.30 | 14.9 | $1.12 | 2.78% | 16.10% | 15.00% |
| Oracle Corp. | (NYSE:ORCL) | Technology/Software | $39.57 | 16.6 | $0.48 | 1.21% | 29.80% | N/A |
| Qualcomm Inc. | (NASDAQ:QCOM) | Telecomm Equipment | $79.28 | 20.3 | $1.68 | 2.12% | 16.00% | 26.90% |
| TESSCO Technologies | (NASDAQ:TESS) | Technology/Hardware | $35.10 | 18.1 | $0.80 | 2.28% | 41.00% | N/A |
International Business Machines (IBM) provides information technology "IT" products and services worldwide. The company operates in several business segments, including: Global Technology Services, Global Business Services, Software, Systems and Technology, and Global Financing. The company was founded in 1910 and is headquartered in Armonk, New York.
IBM is a member of the Dividend Contenders List, having raised its dividend for the last 18 years with an average increase over the last 10 years of 19.7%. The company has historically announced a new dividend rate at the end of April. The company has raised the quarterly payout by $0.10 per share each of the last four years. A similar raise this year would be a 10.5% increase from $0.95 to $1.05 per quarter, which would provide a forward yield of 2.2%.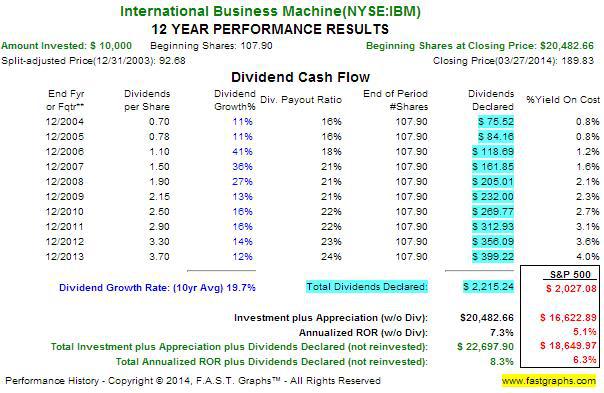 Above all the noise about the so-called imminent downfall of IBM is the fact that the company has been a model of consistency when it comes to earnings growth. While part of this is due to their aggressive stock buyback program, the fact remains that the company continues to grow the bottom line. Over the last decade, the company has grown earnings at an annual rate of 13.5%, with the smallest year over year increase during that time of 7% in 2013.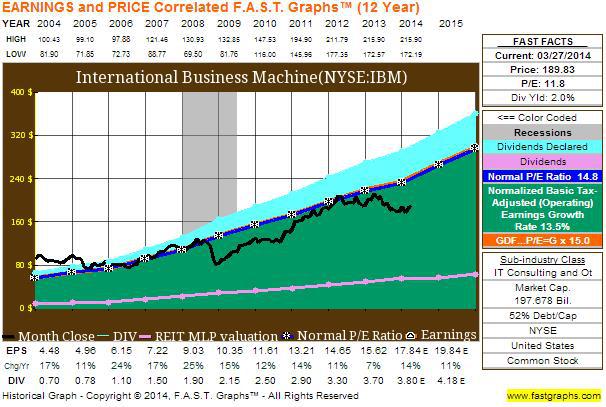 Using the normalized tax adjusted earnings on FAST Graphs, the company currently trades at a PE of below 12, a level that hasn't been since the recession of 2008/2009. Analysts continue to forecast earnings growth of between 9-10% over the next 5 years, which is very attractive compared with the current valuation.
Microsoft Corporation (MSFT) develops, licenses, and supports software, services and hardware devices. The company provides server software, cloud-based services, and training to developers and information technology professionals. Its products include Windows, Windows Azure, Bing, Windows Office, Xbox, Skype, and Windows Phone. Microsoft was founded in 1975 and is headquartered in Redmond, Washington.
Microsoft is a member of the Dividend Contenders List, having raised its dividend for the past 11 years, with an average increase over the last decade of 34.2%. The company most recently increased the payout in September of 2013, with a 22% increase to $0.28 per share.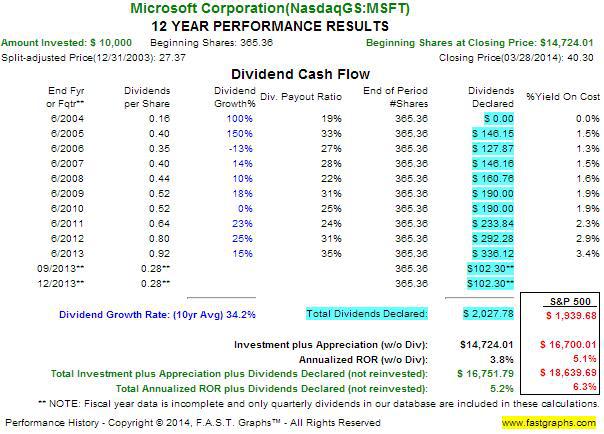 It's often said in the comment threads here on Seeking Alpha that investing in large cap tech is dead money, with examples of Microsoft's lackluster returns over the last decade being used as evidence. Looking deeper though, the lack of returns were less a function of underperformance by the company, but rather an inflated share price at the beginning of the period. Since 2004, the company has grown earnings at an 11.5% annual rate, tripling earnings from $0.83 to $2.60 during the time.
According to FAST Graphs, the company earned $0.75 per share in 2003, and ended 2003 at a price of $27.37 per share. This means an investor who bought on that date paid over 36 times trailing earnings. It took until the 2008 recession for the multiple to fall to an earnings justified level, and since then, the price has generally tracked the orange line, which represents a PE of 15.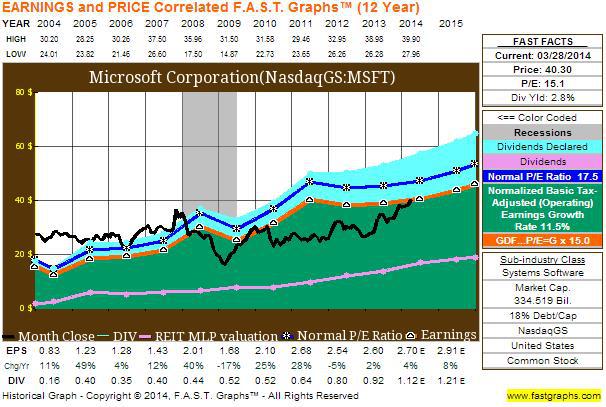 With the stock now trading at a reasonable PE and earnings projected to grow at between 8-9% per year going forward, it is reasonable to expect 10-12% annual total returns when adding in the 2.8% yield.
Oracle Corporation (ORCL) develops, manufactures, markets, hosts, and supports database and middleware software, applications software, and hardware systems. The company also provides consulting services, enterprise architecture planning and design, initial product implementation and integration, and education services. The company was founded in 1977 and is based in Redwood City, California.
Oracle is a member of the Dividend Challengers List, having raised its dividend for the last 5 years. The company first implemented the dividend in 2009 and has been increasing the annual payout every year since.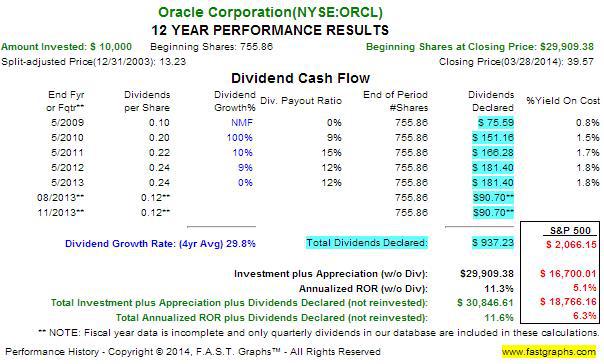 Oracle is another company that shows a great track record of steady earnings growth over the years. The company has grown earnings at a 15.9% annual rate over the last decade and hasn't had a single year during that span with a year over year decrease in earnings.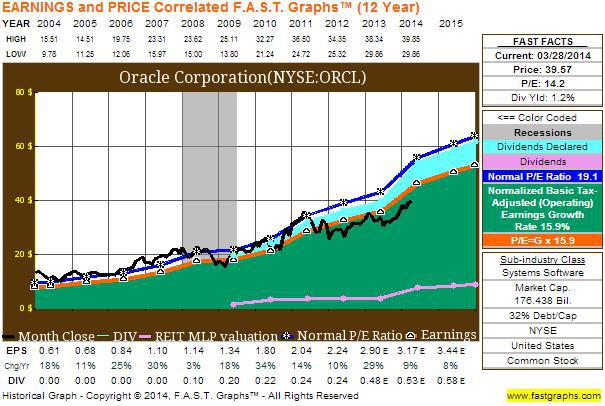 This steady growth is expected to continue by analysts, as they project earnings to increase at a 10% rate over the next 5 years.
Qualcomm Incorporated (QCOM) designs, develops, manufactures, and markets digital communications products and services. It operates in four segments: Qualcomm CDMA Technologies, Qualcomm Technology Licensing, Qualcomm Wireless & Internet, and Qualcomm Strategic Initiatives. The company operates primarily in the United States, China, South Korea and Taiwan. Qualcomm was founded in 1985 and is headquartered in San Diego, California.
Qualcomm is a member of the Dividend Contenders List, having raised its dividend for the last 11 years, with an average increase over the last decade of 33.8%. The company announced its most recent increase on March 4, with a 20% raise to $0.42 per quarter.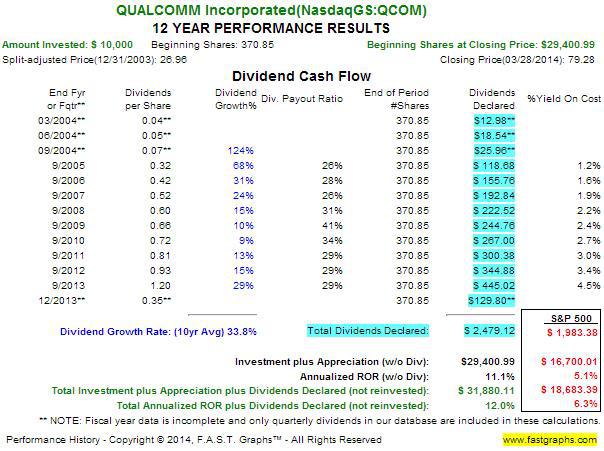 In what is becoming a recurring theme with the tech sector stocks, Qualcomm has shown a great growth in earnings over the last ten years, as they have increased at a 17.8% annual rate over the period. The growth rate has accelerated in recent years as the rapid expansion in smartphone use has caused demand for their chips to explode.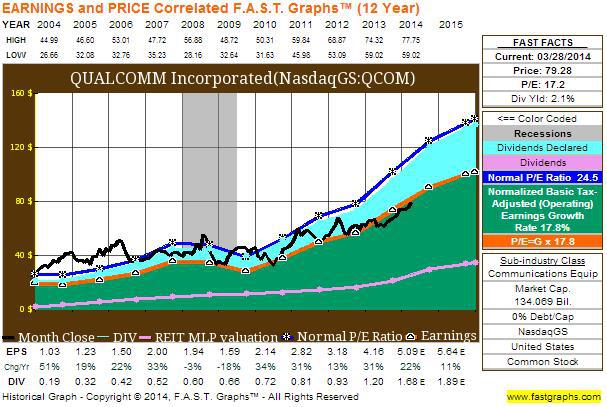 Analysts expect this trend to continue as they project growth over the next 5 years to remain in double digits at 12-15% per year.
TESSCO Technologies Incorporated (TESS) architects and delivers products and value chain solutions to organizations for building, operating, and maintaining wireless broadband systems for commercial and retail. It offers base station antennas, cable and transmission lines, small towers, lightning protection devices, connectors and power systems. It also provides network systems, mobile broadband equipment, wireless networking, two-way radios, and security and surveillance products. TESSCO was founded in 1982 and is headquartered in Hunt Valley, Maryland.
TESSCO is a member of the Dividend Challengers List, having raised its dividend for the last 6 years. TESSCO raised its payout with the most recent payment as the quarterly rate was increased by 11%, from $0.18 to $0.20.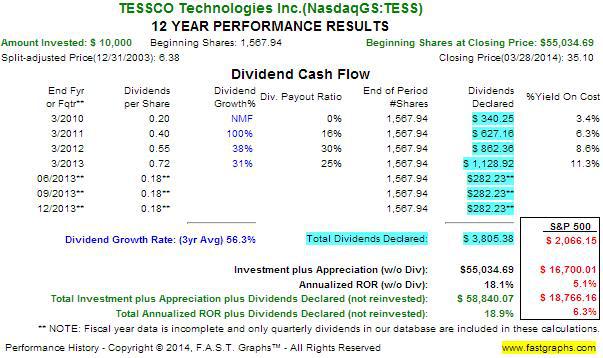 TESSCO is much different than the previous stocks that were highlighted, as this is a small cap with a market cap of just around $300M, while the others highlighted were all technology behemoths of over $100B market caps. What TESSCO lacks in size, it makes up for in performance as the company has produced an impressive growth rate of 19.3% over the last decade.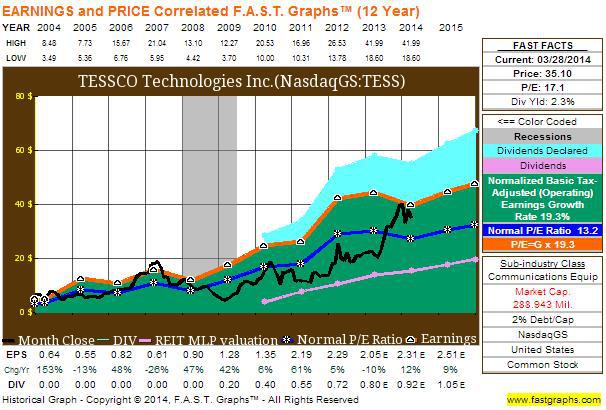 Unlike the tech giants, TESSCO also has plenty of top-line growth as well, as revenue has grown at a 13% CAGR since 2010.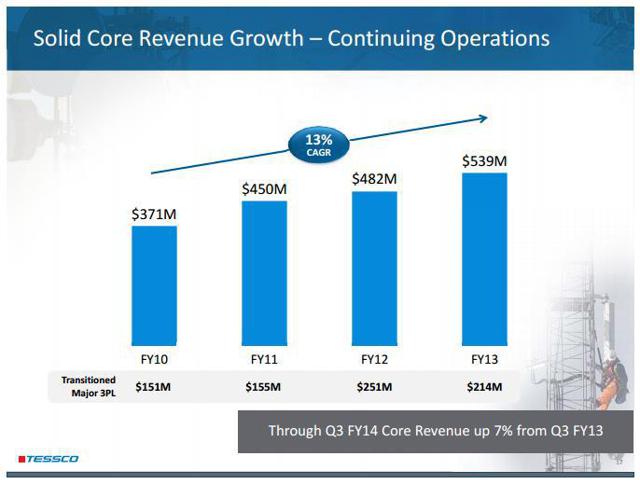 As demand for mobile data and wireless networks is expected to continue its strong growth, earnings for TESSCO are expected to continue their growth as well. Analysts project earnings growth over the next 5 years to increase at around 15% annually.
Summary
While the Tech Sector is still relatively small in numbers when it comes to dividend growth stocks, there are some blue chip behemoths that look attractive at current prices. Between organic growth and stock buybacks, the companies listed have all maintained double digit earnings and dividend growth rates over the last decade. This is an impressive feat considering the struggles many of the other sectors had during the "Great Recession." The market seems to be discounting these large cap stocks with the ever present fears of increasing competition and low revenue growth. However, when looking at the bottom line, the companies continue to produce results and analysts predict that will continue in the future.
Coming up in the next part of the series, I will be reviewing companies in the Materials Sector as I look for more Blue Light Specials In The Market.
Disclosure: I am long IBM, MSFT, QCOM. I wrote this article myself, and it expresses my own opinions. I am not receiving compensation for it (other than from Seeking Alpha). I have no business relationship with any company whose stock is mentioned in this article.
Disclaimer: I am a Civil Engineer by trade and am not a professional investment adviser or financial analyst. This article is not an endorsement for the stocks mentioned. Please perform your own due diligence before you decide to trade any securities or other products.