On June 6, 2012, I wrote my first article on Healthcare Trust of America (NYSE:HTA), just days before the Scottsdale-based REIT listed 229.5 million shares on the New York Stock Exchange. Since that time, I have been diligently researching the health care REIT in an effort to build a long-term ownership position.
Although HTA had a track record as a non-listed REIT, I was not anxious to jump in early until Mr. Market had acknowledged the stability in the underlying business model. Oftentimes non-traded REIT investors seek quick cash, and I wanted to wait for the dust to settle before I began to formulate a BUY price.
Also, HTA listed the shares over four phases and I thought it would be more beneficial to monitor the trading patterns and determine how many shares were being moved from retail investors to institutional investors. Back in November I wrote an article explaining that HTA had "decided to accelerate the conversion of its last and final group of non-traded shares…enabling approximately 57 million shares to trade" freely.
I began to "dip my toe" into HTA back in August (2013) at a price of $10.25 and $10.44. Then, in December I saw my safety net (in HTA) starting to expand and I hit the BUY button again at a price of $10.17 - my total dollar cost average has been around $10.29.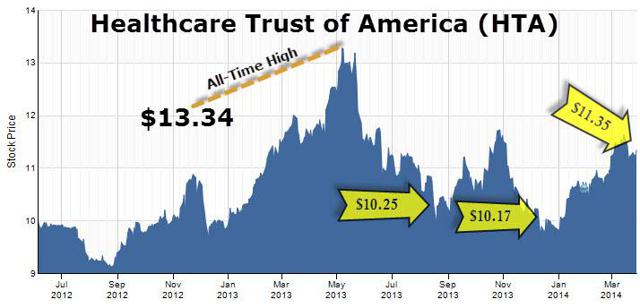 HTA closed at $11.35 today and my dollar cost averaged shares are up around 10.3%. Since I started accumulating shares (August 21st), HTA has returned 14.73%, beating the S&P 500 (14.5%) and most other REIT peers.

A large part of HTA's most recent success has been based on improving fundamentals and increased investor confidence. Back in May 2013, HTA hit an all-time high of $13.34 and the purpose for this article is to determine whether or not I will continue to add to my current position, maintain my position, or look for other healthcare REIT opportunities.
Why Do I Like Having Exposure To a "Pure Play" MOB REIT?
Back in April 2013, I wrote an article explaining the ABCs of Medical Office Buildings, or "MOBs". In that article, I stated, "unlike some of the other sectors - like retail, self storage, and office - everyone has to visit a healthcare property. Accordingly, the healthcare sector has become a most reliable asset category that is driven by the necessity-based characteristics that make the income stream all that more durable."
Strong healthcare fundamentals seem to be driving the growth for HTA and the "MOB" sector, as expenditures (for healthcare) are projected to grow at around 5.9% CAGR through 2022. By 2020, approximately 20% of GDP should be attributed to healthcare, as technology and increased expenditures are forging the growth.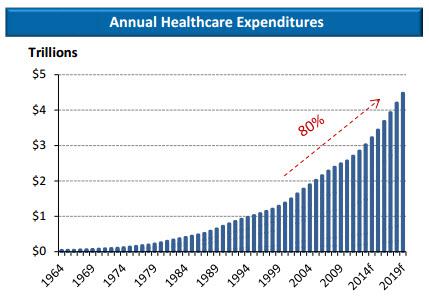 One of the biggest tailwinds for the MOB space is the Affordable Care Act. The key provisions (of "ACA") start in 2014 and 2015 and, as 25-35 million become insured, increased coverage will allow previously uninsured individuals to access healthcare and expand utilization. As healthcare utilization increases, there will be an increase in the need for all types of providers, including doctors and on-physician workers. The growth in demand for these occupations is expected to increase sharply during the next several years.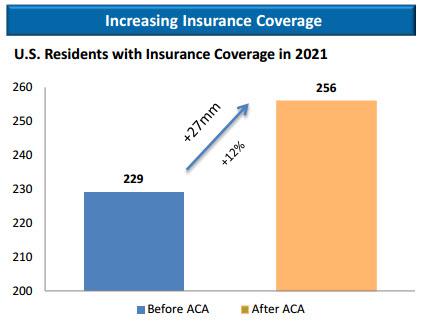 The total number of physicians' office visits and per capita visits should continue to trend upward, driving demand for medical services. In turn, this will lead to increased healthcare employment and greater need for medical office space. The focus will continue to be more on preventive medicine - more care, lower acuity.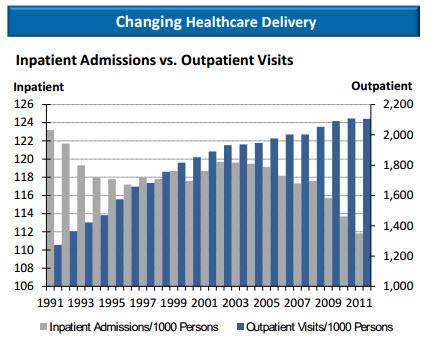 There are two ways to get exposure to "MOB" income. One is to invest in a diversified REIT like Ventas, Inc. (NYSE:VTR), HCP, Inc. (NYSE:HCP), or Health Care REIT (HCN). I already hold a position in Ventas. The other way to gain exposure is through a "pure play" MOB like HTA or Healthcare Realty Trust (NYSE:HR).
I like owning HTA because I like the fact that physicians are becoming increasingly attracted to medical office space on, or very near, hospital campuses in order to leverage hospital services and increase traffic to their practice. Also, some physicians affiliated with hospital systems are now requiring proximity to hospital campuses.
It's a fact that hospitals create strong demand and retention. The physicians that are based at or near hospital campuses are able to utilize significant hospital infrastructure and ancillary services. Accordingly, physicians usually get a more cost-effective site for growth in outpatient services.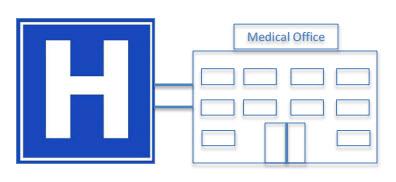 So with demand increasing, MOB development has decreased. Since 2008, MOB "new" development has declined by 70% and that slow growth is expected to remain limited.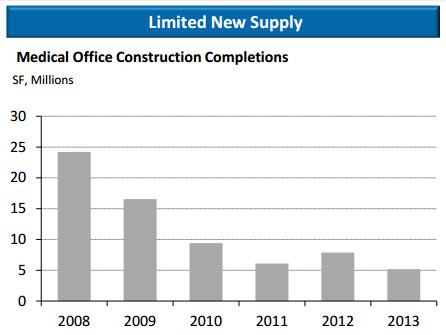 That's good news for MOB landlords - rental rates are below 2008 levels and the favorable supply and demand fundamentals make HTA a perfect landlord. MOB rates are expected to rise creating durable barriers to entry for On-Campus MOB owners.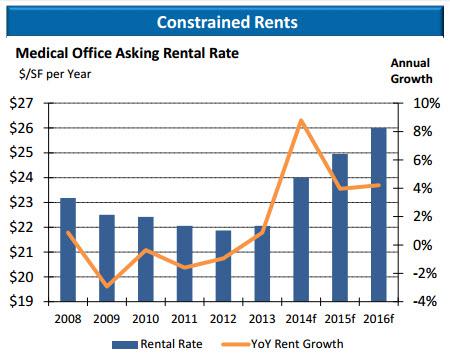 Now Let's Drill Down to HTA's Drivers
Several important considerations that drive HTA's growth include future expectations, external growth, portfolio growth, and strong tailwinds. Let's examine these further:
2014 Earnings Growth Expectations: Analysts and investors are expecting much better FFO growth from HTA in 2014 compared to the big guys. Using consensus estimates, analysts expect HTA to grow FFO/share by 12.5% in 2014, which compares favorably to some of the other big guys (VTR - 5.8%, HCN -6.4%, HCP - 1.3%). HTA's growth is coming on multiple fronts - same store growth, the impact of a 10% expansion in investments in 2013 and the interest savings from its Moody's upgrade late last year.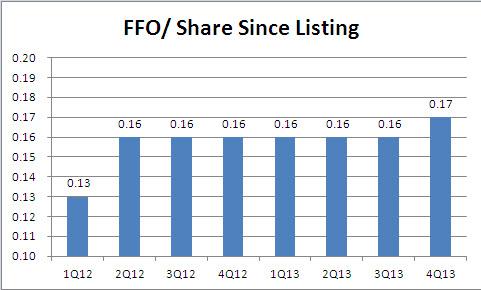 Long-term external growth potential: Another item on investors' minds is HTA's ability to grow long-term relative to the big guys. HTA only needs to grow by $300mm to grow 10%. HTA has done that each of the last two years ($295mm in 2012 and ~$400mm in 2013). HTA is also able to do that without chasing large portfolios that are of mixed quality and generally more expensive.
Existing portfolio growth and stability: HTA has a very low-risk portfolio that is expected to grow 2.5%-3.5% year in and year out (consistent with other healthcare REITs' expectations). This is especially true given HTA's dedicated asset management platform. The larger diversified companies (like Ventas and HCP) face a number of issues in the other sectors including:
1) Oversupply - There has been a significant uptick in senior housing supply (according to recent data). Similar to apartments a few years ago, stocks have traded on the expectations of the impact new supply will have, well before the actual impact. This new supply should certainly impact operating fundamentals in the next few years. As noted above, MOBs have not had much new development and really can't get built in short periods of time on-campus.
2) RIDEA Structure: This gives REITs exposure to significant amounts of operating leverage, as the typical senior housing operators' margins are approximately 30%. That means that for every 1% revenue increase (holding expenses flat), NOI increases 3.3%. This is great on the way up (last few years); however, it's tremendously hurtful on the way down - a 1% decrease in revenue from occupancy or rate declines actually results in a 3.3% DECREASE in NOI. This is a very different risk profile.
3) Positive sector tailwinds. As mentioned, delays in the Affordable Care Act rollout have actually been beneficial to physicians and health systems, who are figuring out how to operate under those parameters. As it is slowly implemented, HTA (and others with MOB exposure) are experiencing good leasing activity (as discussed on the earnings calls). This only bodes well for HTA and the sector.
Now Let's Examine The Latest Results
HTA performed well in 2013 and is positioned to perform well in 2014. The company's same store growth was more than 3% for each quarter in 2013 and portfolio occupancy has increased quarter-over-quarter from 91.1% in Q4-12 to 91.6% in Q4-13. In 2013, HTA acquired $398 million, representing an expansion of 15%.

HTA's same store growth reflects both the quality of assets and the progress of having a dedicated asset management platform in growing the leasing pipeline and improving operating efficiency. HTA now has over 14.1 million square feet in 27 states.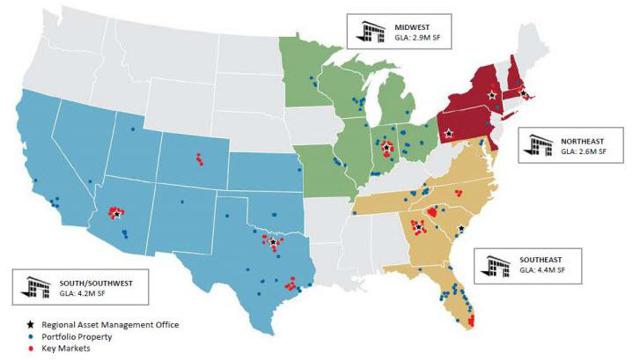 HTA's total base rent growth continues to be very solid and the operating expenses have declined significantly through the reduction in management overhead, utilities, maintenance, and property taxes. The company was able to capture saving for tenants of over $1 million in operating expenses.
This focus on operating efficiencies is important to HTA's tenants and enables the company to deepen long-term relationships with physicians and healthcare systems. Lower costs allow both higher rent and higher escalations.
From a balance sheet perspective, HTA has one of the most defensive balance sheets in the healthcare sector. The company's capital stack consists of 22.6% of unsecured debt, 11.4% of secured debt, and 66% in equity. HTA has $18 million of unrestricted cash (as of 12-31-13) and $595 million available on its credit facility.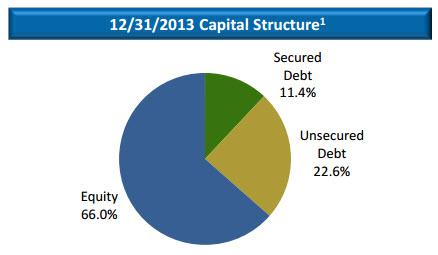 HTA has total liquidity of around $613 million and the company's weighted average borrowing cost is 3.95%. The company has well-laddered debt maturities with a weighted average maturity of 5.6 years.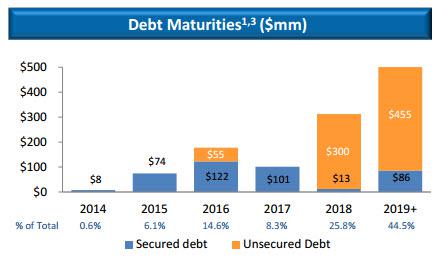 HTA is committed to a strong and conservative balance sheet - Moody's upgraded HTA to Baa2 in December 2013 generating interest expense savings of 2.5 million for 2014. HTA's balance sheet is positioned for growth with low leverage (only 34%) and Total Debt / 2014 Est EBITDA of 5.3x.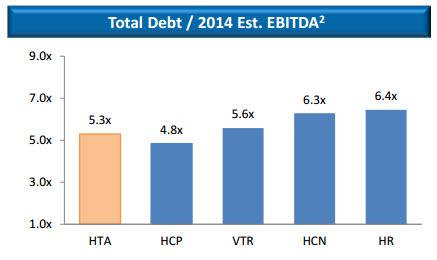 Can Healthcare Trust of America Move The Needle?
HTA is trading at $11.23 with a market capitalization of $2.655 billion.

HTA has a Price to Funds from Operations (P/FFO) multiple of 15.5x. I consider the shares to be trading at fair valuation given the more recent results and guidance, and the company should be able to generate long-term growth with less risk than the larger peers. As noted above, growth is coming on multiple fronts - same store growth, the impact of its 10% expansion in investments in 2013 and the interest savings from its Moody's upgrade late last year.

HTA's dividend yield is 5.12%. Keep in mind that the company could have increased the dividend last year by leveraging the portfolio; however, the company has taken on a more risk-averse strategy of preserving capital for the strong supply and demand opportunities.

I was hoping to see a dividend increase from HTA; however, I'm optimistic that management can continue to move the needle and provide investors with a stronger commitment for dividend growth. It's true that a dividend increase provides a terrific forward-looking indicator of a company's growth prospects and that is one of the loudest messages that management can send.
One of the primary reasons that I bought shares in Ventas last year was because of the loud message from Cafaro (VTR's CEO) and company that resonated from the company's annual three year dividend increase of around 8%. To date, HTA has demonstrated a growing track record of consistency and a dividend increase to me implies that the earnings stream (and dividends) can withstand a "lickin' and keep on tickin'."
I like what I'm seeing with HTA and I believe the company has excelled at managing risk (and my hard earned capital) at all costs. At $11.23 I'm not adding to my current position (in HTA) and I will likely hold the line until I see a dividend increase or a pullback.
I have assigned HTA a "Sustainability Grade" of B+ (a new grading system for my newsletter subscribers) and I believe shares could top $12.00 by the end of the summer which would equate to a total return of over 12% for investors who buy-in today (a good reason to get in before a dividend bump).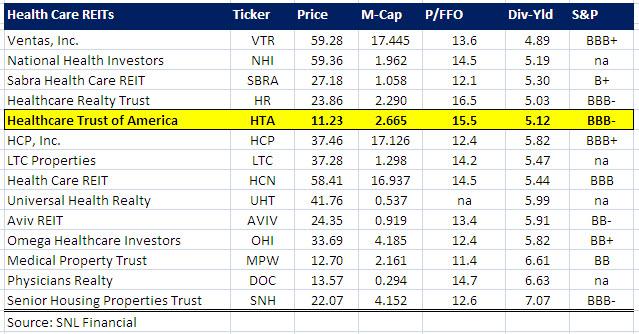 REIT Newsletter: The author is also the Editor of a monthly newsletter called The Intelligent REIT Investor. For more information or to subscribe click HERE.
Sources: SNL Financial and HTA Investor Presentation.
Other REITs mentioned: (NYSE:NHI), (NASDAQ:SBRA), (NYSE:LTC), (NYSE:UHT), (NYSE:AVIV), (NYSE:OHI), (NYSE:MPW), (NYSE:DOC), and (NYSE:SNH).
Disclaimer: This article is intended to provide information to interested parties. As I have no knowledge of individual investor circumstances, goals, and/or portfolio concentration or diversification, readers are expected to complete their own due diligence before purchasing any stocks mentioned or recommended.
Disclosure: I am long O, DLR, VTR, HTA, STAG, UMH, CSG, GPT, ARCP, ROIC, MPW, HCN, OHI, LXP, KIM. I wrote this article myself, and it expresses my own opinions. I am not receiving compensation for it (other than from Seeking Alpha). I have no business relationship with any company whose stock is mentioned in this article.