For investors who hesitate to enter a volatile yet non-trending equity market, a relative value position may be the safest approach. With deep pockets (top five market cap in the US), a decentralized management structure, a focus on long-term growth, and a below-market beta (0.7 relative to S&P in the last 10 years), Berkshire Hathaway (NYSE:BRK.B) can be the "buyer of choice" for acquisition targets during market downturns. For investors who are unfamiliar with BRK, its earnings are about 1/3 insurance sector driven, and 2/3 US equity markets driven. By understanding BRK's industry, financials, management, and valuation, the cautious investor may consider going long BRK and short an emerging market ETF (NYSEARCA:BIK) in 2014 to benefit from Berkshire's unique business position in a volatile global environment. BIK is chosen over a general emerging market ETF (NYSEARCA:EEM) as a hedge, as it has higher correlation to US equity markets and may be more vulnerable to structural reforms than EEM at large.
| | |
| --- | --- |
| Countries | % of BIK |
| China | 53% |
| Russia | 20% |
| Brazil | 19% |
| India | 8% |
Macro Environment (volatile)
There are numerous global risks in 2014 that could derail US equity markets, where BRK has deployed the vast majority of its $130+ Billion equity holdings.
In the US, quantitative easing is losing its effect on job/wage creation. Since 2009, employment to population ratio at 59% has barely improved, while the Beveridge Curve has moved such that more job openings are needed per level of unemployment. Inflation as measured by PCE is only projected to be 1.5% to 1.6% YoY according to the Fed's projection, which is below its 2% target. Tapering, an important strategic move for the US in the context of the international monetary system, is likely to complete this Fall according to Janet Yellen's latest post-FOMC press conference. The fed funds rate may be raised as early as early 2015, which may further raise mortgage rates and stall the promising yet attenuating housing rebound. BIK may decline due to a rising dollar, as it is not currency hedged.
In Europe, low inflation (0.8% YoY in January 2014) does not help EU debtor nations undergoing deleveraging. The legality of the ECB's Outright Monetary Transaction will continue to be debated in Germany, as seen in the recent complaint raised by the German Constitution Court. Piece-meal progress toward a common banking union is seen in the latest approval for a single-resolution fund/authority for banking failures, but stopped short of any cross-nation borrowing. Creditor nations hesitate to bail out debtor nations despite reaping the benefits of a common currency. Economic sanctions on Russia for annexing Crimea and the reticent responses from the other BRIC countries show that economic polarizations may also lead to geopolitical polarizations.
With huge current account surpluses and domestic debt, both China and Japan are instigating nationalistic fervor with elevated territorial disputes that overshadow social angst from structural transformations. With government debt-to-GDP ratio of more than 200%, Japan is still awaiting the effect of financial repression on Abenomics via a higher consumption tax in April (from 5% to 8%). China is trying to dissolve the moral hazard of the government-guarantee behind its corporate debt bubbles (150+% of GDP) with periodic repo rate spikes, unprecedented corporate debt defaults, and sudden reversals of its once-steady RMB appreciation. The Middle East's social unrest may rise again if China, its biggest oil export destination, slows down way below the 7.5% growth target stated during the National People's Congress in March. The word "reform" was mentioned 77 times in Premier Keqiang Li's 2-hour report. Morgan Stanley projected that for every 1% drop in Chinese GDP growth, world GDP growth would drop by 0.6%.
In Emerging Markets, Quantitative Easing from developed markets since 2008 has induced excess liquidity and delayed the long-term transition from investment/export-driven to consumption-driven. Now that US tapering is in full swing, capital outflow and currency depreciation is causing policy rate hikes, especially in emerging market countries with current account deficits (All BIITS countries have elections this year: Brazil (Oct), India (Apr), Indonesia (Apr/July), Turkey (Aug), South Africa(Apr-Jun)). Tightening monetary and fiscal policy during a downturn is untimely for emerging market investors in 2014, and may stall the BRIC countries' reform efforts. Banks, being the largest component of BIK (about 33%), are also the most vulnerable to the unraveling of non-performing loans in BRIC countries.
| | |
| --- | --- |
| BIK (Top 10 Names) | WEIGHT |
| Tencent Holdings Ltd. | 8.18% |
| China Construction Bank Corporation Class H | 6.55% |
| Industrial and Commercial Bank of China Limited Class H | 5.70% |
| China Mobile Limited | 5.43% |
| Gazprom OAO Sponsored ADR | 5.10% |
| Baidu Inc. Sponsored ADR Class A | 4.83% |
| Itau Unibanco Holding S.A. Sponsored ADR Pfd | 4.30% |
| Ambev SA Sponsored ADR | 3.96% |
| Bank of China Ltd. Class H | 3.47% |
| Banco Bradesco S.A. Sponsored ADR Pfd | 3.32% |
For more comprehensive macro/geopolitical coverage, I recommend reading Rodrigo Serrano's monthly newsletter.
Industry (stable with regulatory risk)
The Property/Casualty and Reinsurance industries generally favor a rising interest rate and bullish economic environment, as it leads to lower liabilities and more policy buyers. Most of their assets are held-to-maturity bonds, which are only susceptible to credit risk and not to rising rates. While the 2014 economic outlook and interest rate environment are unclear, GEICO (second largest auto insurer in the US and a subsidiary of BRK) has low industry risk given the short duration and limited loss of its auto policies. It also enjoys relatively low expenses due to direct marketing and weathered the 2008 downturn nicely. On the reinsurance side, BRK also enjoys a negative cost of float from a large balance sheet that allows it to insure other insurance companies' tail risk, such as those from natural catastrophes or health hazards related to Asbestos.
BRK is currently being considered as a SIFI (Systemically Important Financial Institution) by the Treasury's FSOC (Financial Stability Oversight Council), given its high asset base and derivative positions. Separately, the FSB (Financial Stability Board, an international regulator) may designate reinsurance companies as systemically important by this summer (according to WSJ). Nonetheless, BRK's RBC ratio (Risk-Based Capital: similar to common equity capital ratio in banks, except the denominator is the required capital on risk weight assets) is adequately high (490% in 2013 YE), while its asset to equity ratio is low due to a preference for reinvesting earnings instead of distributing dividends.
Financials (strong yet leveraged)
The ratio of BRK's equity investments relative to bonds is about 15 to 1 (2013 4Q), a stark contrast to the 1 to 6 ratio for its reinsurance peers (2012 study by NAIC Capital Market Bureau). However, this is seen as BRK's competitive advantage, given its tendency to unleash its high cash holdings ($48 Billion in 2013 4Q) during bear markets, including from the parent level (pledged to be at least $10 Billion).
While BRK's Operating EBIT/Interest Expense ratio of 9.7 (2013 2Q according to Fitch) is lower than Fitch's average of 12X for the AA category, it nearly doubles if its self-funded subsidiaries are excluded. The two main self-funded subsidiaries, BNSF and MidAmerican Energy, are both recession-proof given the ever-lasting nature of railroads and utilities. BRK generated a healthy average of $20 Billion annual cash flow from operations over the last three years (according to Moody's), and carries one of the lowest combined ratios (sum of insurance expense and losses divided by premiums received) in the industry at 91.2% (2013 YE).
BRK wrote puts on US, UK, EU, and Japan equity indices between 2004 and 2008 at strikes lower than the current market price, and will come out a winner as long as these markets do not drop dramatically (roughly 30% from current levels when looking at historical S&P prices) by the end of the contracts ($32 Billion with 7.25 years till maturity according to 2013 3Q 10Q). BRK also sold CDS protection on state, municipal, and corporate bonds, albeit on a smaller notional value ($9 Billion with 18 years till maturity according to 2013 3Q 10Q). While fluctuations of these contracts are reflected in BRK's Net Income in accordance with GAAP accounting rules, BRK does not have to put up collateral for its existing derivative positions, unless it receives a rating of "BBB" or below.
Management (delegation just short of abdication)
Warren Buffet is 83 and would like to run the company for another 10 years. His long-time partner, Charles Munger, at 90, may retire earlier. However, a successor CEO has been selected by the board, and 2 CIO's that currently manage $7 Billion each have outperformed Buffet himself in 2013. To be noted, 20% of each CIO's performance-based compensation is tied to the investment performance of the other, thus creating a collaborative spirit. Most subsidiary CEO's are given the freedom to lead while enjoying the benefits of BRK's long-term strategic and financial support. Furthermore, Howard Buffet, Warren Buffet's son, may become a non-executive Chairman to preserve the conservative culture at BRK, which compares its performance to the S&P with book value instead of the total return of its stock.
Market Valuation (reasonable)
BRK 5 year CDS spread is close to its peers while its 12 month trailing PE is about 20. Its price to book value is roughly 1.4. BRK has pledged to repurchase its shares at 1.2X book value or lower. The S&P seems to be grossly overvalued, as its 12 month trailing PE is 27% over historical average (19.7 over 15.5), while its Shiller PE (10 year moving average of inflation adjusted earnings) is 55% over historical average (25.6 over 16.5). BIK's trailing PE may seem cheap at around 10, but its five-year Beta relative to the S&P is higher than that of EEM (1.2 vs 1.1), making it a better hedge for BRK in case the US equity market falters.
2014 Outlook
Given its astute business model of making large equity investments during downturns while maintaining a high market cap to satisfy regulatory requirements, BRK would be vulnerable to regulatory risk if the NAIC (or FSOC/FSB) tells it to pare down on the percentage of equities from its total investment portfolio, especially during the thick of a bear market. BRK's current credit ratings are mostly stable at AA (Outlook: S&P negative, Moody stable, Fitch stable). As pointed out by S&P last May when it nudged BRK down from AA+ to AA, 80% of BRK's dividend capacity from its insurance subsidiaries is at the mercy of a single insurance regulator in the state of Nebraska.
However, Warren Buffett is steering BRK away from regulatory risk by publicizing limitations behind its insurance market share growth while sounding upbeat on making more diverse acquisitions in his 2013 letter to shareholders. To hedge the ensuing market risk, therefore, the prudent BRK investor could short emerging markets, where US corporations receive nearly a quarter of their profits. This proportion may become volatile if the emerging market countries slow down dramatically in the midst of economic rebalancing. Worse yet, they may simply refrain from economic reform due to political upheaval or regional conflicts. A half-year price chart for BRK/SPY vs. BIK/EEM from Yahoo Finance is shown below for the curious alpha seeker.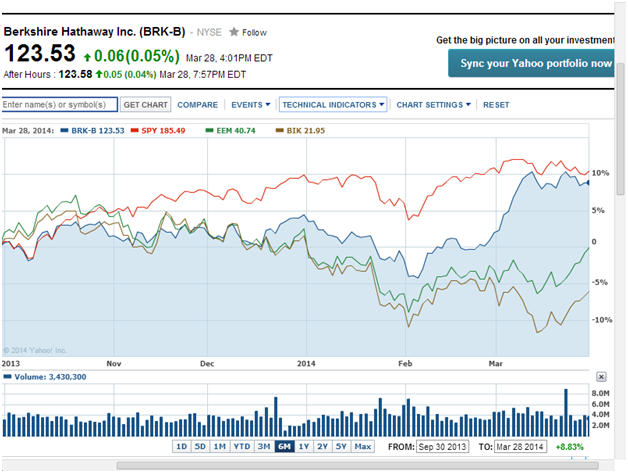 Disclosure: I have no positions in any stocks mentioned, and no plans to initiate any positions within the next 72 hours. I wrote this article myself, and it expresses my own opinions. I am not receiving compensation for it. I have no business relationship with any company whose stock is mentioned in this article.