Not too many banks have grown more quickly than Banc of Californial (NYSE:BANC). Over the last 2 years, the bank has purchased 3 banks and 3 specialty finance companies. In doing so, the bank has increased its total assets 4X over the last three years, 3.6X over the last two, and 2.2X in the last year. Management declared its intention to become "California's bank." In 2013, the bank organically grew its loan portfolio by 70% and deposits by 80%, perhaps a record for any publicly traded bank this year. Despite the bank's startling growth, the stock itself has been a disappointment, falling 25% in the last 3 years, grossly underperforming its regional bank index's (NYSEARCA:KRE) 75% rise.
The problem: Management focused on aggressive growth through acquisition, but lost sight of cost management. The bank has missed analyst estimates badly the last two quarters (-283% and -67%), leading to a number of high profile resignations including its president. Non-interest expenses have grown at an alarming rate, eating into corporate profits.

Remarkably, this company had 95 full-time employees three years earlier. By the end of 2013, Banc had a payroll of 1361. Salaries soared to $111 million, equaling 3% of TA. Executive compensation rocketed 10X, reaching $7.4 million in 2012 (sourced from 10-K/A) - ironically equal to the company's pre-tax 2013 income and exceeding the 2012 pre-tax income of $6.1 million (sourced from 10K). To put management's payroll in perspective, PacWest (NASDAQ:PACW) - with twice the assets, six times the net income, and also active in M&A - paid its execs $2.3 million less.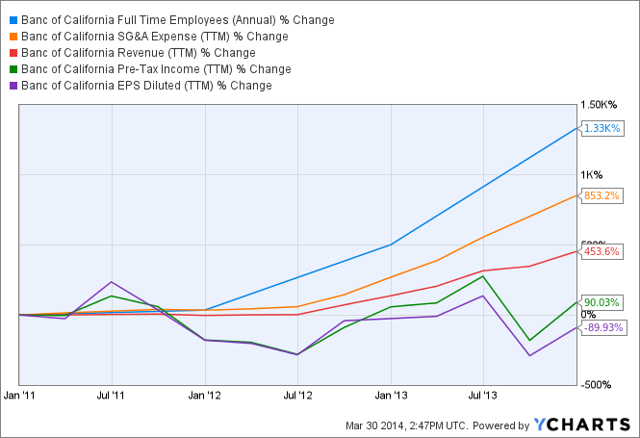 The company has promised to reform and started with the obvious: It didn't need two bodies for its corporate positions.
The duplicity of officer positions that we have consolidated since the end of the third quarter of 2013 include the officers of CEO and President, Chief Financial Officer, Chief Lending Officer, Chief Credit Officer and Chief Administrative Officer of the bank.
Since December 1, the bank has terminated 250 positions and closed 8 offices - cost reductions that will be fully realized in the company's Q2. Management has improved its efficiency ratio to 84% for the quarter from an abysmal 116%.
The big question remains: Can it deliver cost savings and bring EPS in-line with analyst expectations?
Earnings Expectations: Low But Probably Not Low Enough
Analysts have slashed earnings estimates from 22 cents to 6 cents for Q1 and from 32 cents to 19 cents for Q2. While I would like to suggest the bank will top these lowered expectations, I think the meat cleaver has not yet gone deeply enough. First, the bank benefited from an 8-branch sale last quarter. That was the driver behind any efficiency ratio gains. Without that gain, Banc of California would have made a net loss for its Q4. I doubt the bank has sliced enough to make up for that entry when it reports next quarter.
Further, the bank pays a hefty $951,000 dividend (post tax) on its preferreds. In its quest for expansion, Banc of California borrowed $80 million in exchange for preferreds, an action creating a drag on earnings and net interest margin for years to come.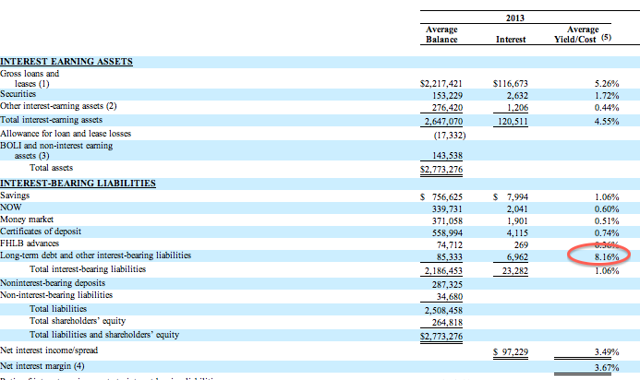 There are additional risks. The bank has tilted toward reperforming loans and nontraditional mortgage loans in its portfolio. Both of these products are relatively new to their portfolio (beginning in 2012) so it is unclear how they will perform. Together, they comprise over 25% of the portfolio, adding credit risk that does not seem to be adequately compensated by the 5.26% average loan yield.
Bottom Line
While intriguing, Banc of California has a long way to go to convince me it is serious about cost containment. Its first steps at expense control are in the right direction but the heaviest lifting is still ahead. So far, the bank has been a brilliant acquirer. It now needs to demonstrate its proficiency at growing the bottom line. That may be the hardest task of all. Until the bank can meaningfully cut non-interest expenses, AVOID.
Disclosure: I have no positions in any stocks mentioned, and no plans to initiate any positions within the next 72 hours. I wrote this article myself, and it expresses my own opinions. I am not receiving compensation for it (other than from Seeking Alpha). I have no business relationship with any company whose stock is mentioned in this article.
Additional disclosure: The opinions in this document are for informational and educational purposes only and should not be construed as a recommendation to buy or sell the stocks mentioned. Past performance of the companies discussed may not continue and the companies may not achieve the earnings growth as predicted. The information in this document is believed to be accurate, but under no circumstances should a person act upon the information contained within. We do not recommend that anyone act upon any investment information without first consulting an investment advisor as to the suitability of such investments for his specific situation.