There's been a bit of a rough patch in the markets recently. A bunch of momentum names have sold off, and the declines have been rather sharp. The social media names have been thrown in this group, and even industry giant Facebook (NASDAQ:FB) could not escape this correction. Facebook shares lost a little more than 20.1% from their 52-week high to last Thursday's low.
Facebook shares have bounced a few dollars off last week's low, and a bottom may have been set. As you can see from the chart below, we saw a similar fall in Facebook shares in October and November last year, nearly 20.6% from the peak to the bottom. In both cases, the 100-day moving average was basically a level of support. Facebook bounced off this moving average last week, and in November 2013 the stock was less than a dollar from reaching the level when it bounced. In my previous Facebook article, I discussed buying on a pullback. Now that we have a pullback, it's time to take another look at Facebook.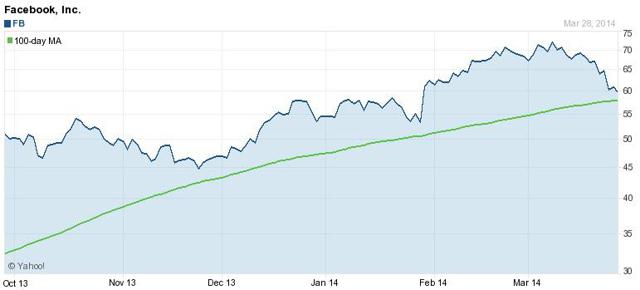 (Source: Yahoo! Finance)
Estimates on the rise:
Facebook has done a great job in recent quarters when it comes to earnings reports. As you can see from the three reports below from Seeking Alpha's Facebook earnings page, 2013 estimates were smashed. As a reminder, EPS numbers are non-GAAP.
Q2 revenues of $1.81 billion beat by $0.20 billion. EPS of $0.19 beat by $0.05.
Q3 revenues of $2.02 billion beat by $0.11 billion. EPS of $0.25 beat by $0.06.
Q4 revenues of $2.58 billion beat by $0.25 billion. EPS of $0.31 beat by $0.04.
Why am I showing these three earnings headlines? Well, it has to do with the strength of Facebook's business. Facebook shares struggled after the IPO because of monetization concerns. Well, Facebook seems to be doing quite well now, wouldn't you say? In recent quarters, the company has shown a tremendous ability to beat on both the top and bottom line. Because of this, analyst estimates have continued to rise. In the table below, I've tracked 2014 estimates going back to May 2013.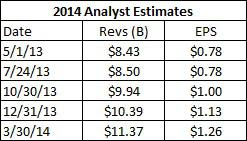 In about 11 months, the average revenue estimate for this year is up by about $3 billion. That's a tremendous jump. The EPS average is up by nearly 50 cents. We're just finishing the first quarter of 2014 now, so there is still a large part of the year remaining. Another couple of large beats, and estimates will go much higher. The highest estimate on the street currently is $12.22 billion, and that could prove to be conservative if Facebook continues its series of large beats. The high EPS estimate is $1.49, in case you were wondering.
I'm always in favor of a company with rising estimates. In fact, we saw two analysts raise their price targets on Facebook in March due to rising estimates. Nomura lifted its target from $78 to $84 on the heels of pricing power. The firm lifted its 2014 EPS number from $1.20 to $1.32, and 2015 EPS from $1.61 to $1.73. In both cases, Nomura's EPS figure is above the street average. Additionally, Citi raised its target from $70 to $85, thanks to the WhatsApp deal and the potential for increased revenues. The firm cited monetization of Instagram as well as incremental revenues from video ads on Facebook's main site.
Another deal in the works:
Facebook surprised many with the WhatsApp acquisition, with many shocked at the price Facebook paid. Recently, Facebook announced another surprising purchase, albeit on a smaller scare. Facebook is buying Oculus VR, developer of a virtual reality headset that has made waves in the gaming community. The deal is expected to close in Q2. Facebook will pay $400 million in cash and a little over 23 million shares of Facebook stock. Additionally, if certain milestones are hit, another $60 million in cash and nearly 3.5 million shares would be paid. There has been a divide between investors and analysts over this deal, so I encourage all to read some of the arguments here. Facebook seems to be looking for the next big thing. The company believes it can use Oculus' technology beyond gaming, including communications, education, and media.
There is one interesting item I will bring up here. When looking at the initial prices of both recent deals, they were both based on average trading prices of Facebook, prices that were higher than shares are trading at currently. In the 8-K filing for the Oculus deal, the value of shares for the deal was based on a share price of $69.35. In the WhatsApp 8-K filing, the price used was $65.265. Should Facebook shares remain at current levels or even go lower before these deals are completed, the actual price paid could be less than originally reported if no adjustments are made. On the flip side, if shares rally back to their highs, the price would be more than reported. At current levels though, Facebook might not be paying as much, and that's something investors should think about.
Growth and valuation comparisons:
Even with all of the growth in recent years, Facebook is still in the early stages of growth. In 2013, the company didn't even hit $8 billion in revenues, and that number could double by the end of 2015 (highest estimate currently is for $17.32 billion). When looking at other names in the space, Twitter (NYSE:TWTR) and LinkedIn (LNKD) are always discussed as competitors. The table below shows current growth estimates for all in terms of revenue and earnings growth this year and next. As a reminder, all of the EPS numbers used for growth comparisons below are non-GAAP.

*Twitter currently expected to swing from $0.18 loss in 2013 to $0.01 profit in 2014.
In 2014, Facebook is expected to show the second most revenue growth. If you exclude Twitter due to the note above, Facebook is expected to show the most earnings per share growth. For many of the social media type names, revenue growth is not a problem. The problem has been expenses and profitability. Facebook had non-GAAP net income of $2.2 billion in 2013 and $1.5 billion in GAAP net income. Additionally, you won't find too many companies that have a market cap of more than $150 billion and are still growing at a 40% plus clip.
Looking forward into 2015, expectations are for strong growth. Facebook is expected to rival LinkedIn for second place in terms of revenue growth. In terms of earnings per share growth, Facebook slots in third place. However, LinkedIn's number might be inflated in the mind of some thanks to 2014's current forecast for a roughly 2% decline. If you look at the two year period, Facebook looks a lot more impressive. Twitter has a massive growth number for 2015 right now because 2014 estimates are for a profit of just a penny.
The one thing that may concern investors, even after the recent fall in Facebook shares, is valuation. These social media and related names trade at valuations that are well above market averages. These names offer a lot of growth, but are expensive. In the table below, I've compared these four names on price to sales and price to earnings for 2014 and 2015. One note for Facebook. These numbers do not include any dilution from either the WhatsApp or Oculus deals. If those deals close, Facebook's outstanding share count will rise, and so will the market cap at the same stock price. That will push the P/S value up a bit.

On a price to sales basis, Facebook is probably comparable to the LinkedIn/Twitter average for 2015 if you account for the dilution from the two deals. On a P/E basis, Facebook is the cheapest name of the three. In the end, investors have to decide if the growth story is worth the price. I said in my WhatsApp deal article that I would wait for a pullback before buying Facebook. At $72 a share, this valuation would be another 20% higher than it is here at $60. I think that makes the long argument a bit better.
Further technical help:
I mentioned in my opening that Facebook got some support from the 100-day moving average. That wasn't the only technical help the stock got. As you can see in the chart below, Facebook broke through but eventually got back above, its lower bollinger band. For many stocks, this lower band can be a level of support. If you look at the past two rallies in this stock, they both started close to or at this lower band. The first rally was the late November bottom I referenced above, and the second rally was after Q4 earnings.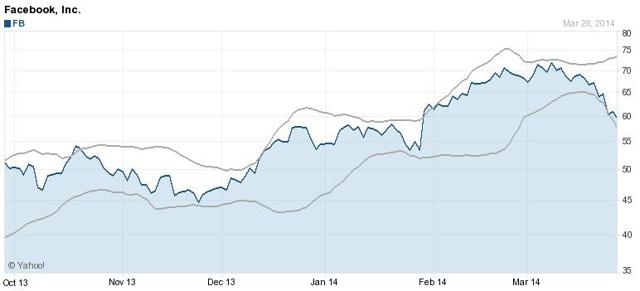 (Source: Yahoo! Finance)
Final thoughts:
Facebook shares found a temporary bottom down 20% with help from some technical support, primarily the 100-day moving average. With recent quarterly earnings blowouts, analyst estimates are on the rise and are at new highs. The growth story of this company is just getting started, although investors will have to pay a premium for it. For investors that were looking to get into Facebook when it was in the high $60s or low $70s, the stock looks a lot better at $60. The market has seen some rotation lately, and the momentum names have fallen out of favor at the moment. If Facebook announces another earnings blowout at this quarter's report, shares should start to march higher again. While I can't rule out a little more downside in the short term, investors that were waiting for a pullback certainly got one.
Disclosure: I have no positions in any stocks mentioned, but may initiate a long position in FB over the next 72 hours. I wrote this article myself, and it expresses my own opinions. I am not receiving compensation for it (other than from Seeking Alpha). I have no business relationship with any company whose stock is mentioned in this article.
Additional disclosure: Investors are always reminded that before making any investment, you should do your own proper due diligence on any name directly or indirectly mentioned in this article. Investors should also consider seeking advice from a broker or financial adviser before making any investment decisions. Any material in this article should be considered general information, and not relied on as a formal investment recommendation.