We learned on Wednesday that Bank of America (NYSE:BAC) plans to increase its dividend from a quarterly payment of $0.01 to $0.05 starting in the second quarter of this year. This represents a 400% increase and is its first dividend hike since 2007. Historical payment data suggests we will see the first increased dividend payment at the end of June. Using a $17 share price, the yield will increase from 0.24% to 1.18%.
Here is a long-term chart of the company's quarterly dividend payments: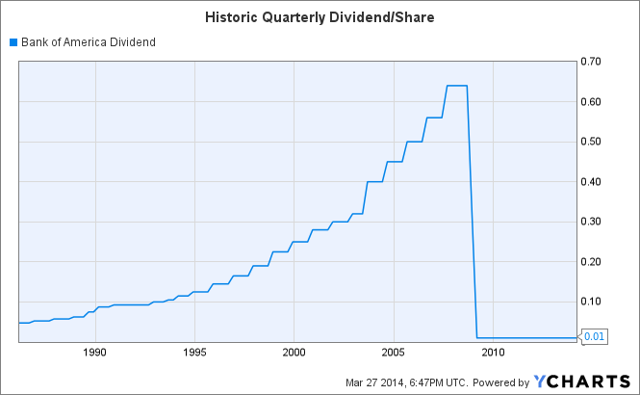 BAC Dividend data by YCharts
Bank of America cut its annual dividend in half from $2.56 to $1.28 in October of 2008. Then under the auspices of a government bailout, the company agreed to cut its dividend again to $0.04 per year in January of 2009.
Banking has long been a stable business with only occasional periods of tumult. As we learned during the last difficult period in 2008-2009, Bank of America failed to mitigate its mortgage and derivative risks in the preceding decade while the US housing market and lending standards got out of control. The combination of those two factors, in conjunction with the broader fiscal crisis, led to the wild ride you see in this 10-year chart.
(click to enlarge)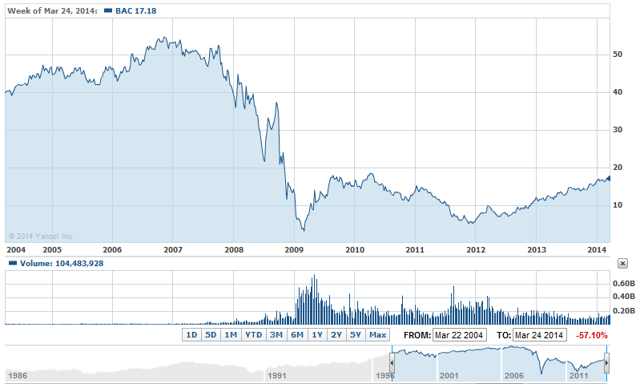 The bank has reemerged from the crisis and is now built on a more solid foundation, just as the Federal Reserve is expected to begin an extended period of federal funds rate increases which should result in a steepening of the yield curve. The recent dividend increase begins a new era of dividend growth for the company. This time the increases are accompanied by greater bank regulation that will lower the risk of failure and dividend cuts.
Future Dividend Increases
Bank of America is poised for extraordinary divided growth on a percentage basis. At a 1.18% yield, the bank is conservatively increasing its dividend payment while continuing to focus on buybacks, simultaneously announcing a $4 billion share repurchase plan on Wednesday.
Bank of America will require further increases to match the yields of competitors. If the stock price increases and the number of shares continue to decrease, expect even higher dividend increases to catch up.
At a share price of $17 and a 2.5% yield, in the neighborhood of the current yields of Wells Fargo (NYSE:WFC) and JPMorgan (NYSE:JPM), Bank of America would need an annual dividend of around $0.425 to match their competitors' yields. At a share price of $20, that number is $0.50, a 150% increase from the newly upped annual dividend amount announced on Wednesday.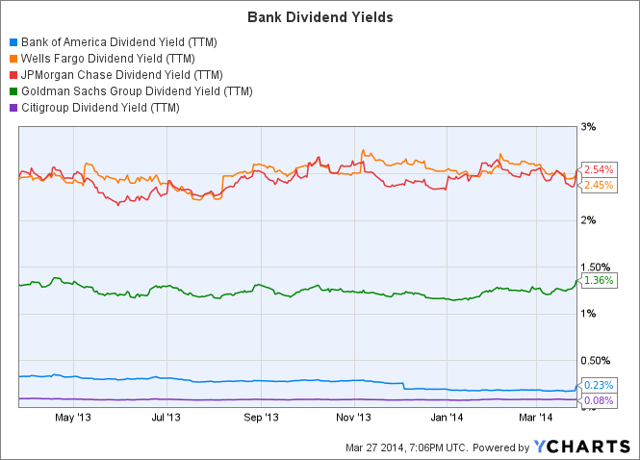 BAC Dividend Yield (NYSE:TTM) data by YCharts
Meanwhile, earnings per share have stabilized and analysts estimate that earnings will grow by 20.70% over the next 5 years (source Yahoo Finance). With an improving business environment, steepening yield curve, and low per share dividend payment amount, future dividend increases will likely be consistent and large on a percentage basis.
Future capital plans will still require approval after the stress tests. But as business improves and interest rates and earnings increase, the stress tests will likely come and go with less attention in the coming years.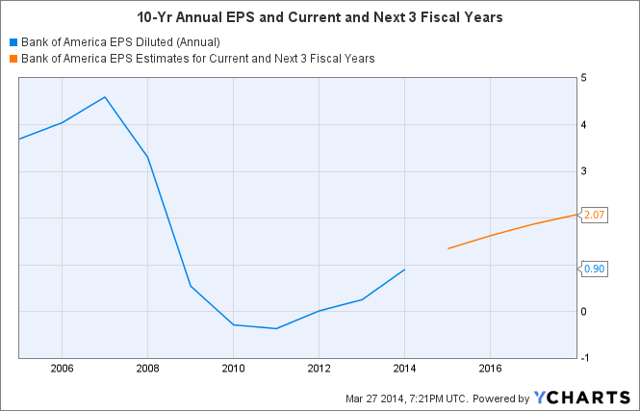 BAC EPS Diluted (Annual) data by YCharts
Conclusion
Now that Bank of America has stabilized and is recognized by the Federal Reserve as healthy, the company is entering a steady growth period. Bank of America will be compelled to further increase its dividend to remain competitive with its peers, while stress tests become less relevant. The company is buying back shares and earnings per share are expected to increase by 20.70% over the next 5 years. These factors suggest that Bank of America has plenty of room and incentive to raise its dividend to much higher levels in the coming years.
Disclosure: I am long BAC. I wrote this article myself, and it expresses my own opinions. I am not receiving compensation for it (other than from Seeking Alpha). I have no business relationship with any company whose stock is mentioned in this article.