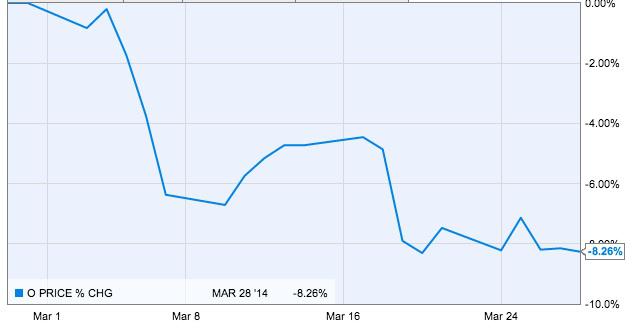 YCharts
March has seen some notable declines in Realty Income Corp. (NYSE:O), with shares declining by over 8%. In the two months previous, Realty had retraced much of its losses incurred in 2013. The stock was beaten up on concerns over Federal Reserve tightening, which many believed would lead to higher interest rates and, in turn, lower cap rate spreads for REITs such as Realty Income.
While treasury rates have gone up over the past couple of years, overall the situation has remained tame: The 10-year yield, for example, has oscillated between 2.6% and 3% for the last nine months.
This is good news for a REIT such as Realty Income. At those levels, stable borrowing rates will also mean stable, favorable cap rates, which in turn will allow Realty Income to continue to make profitable acquisitions.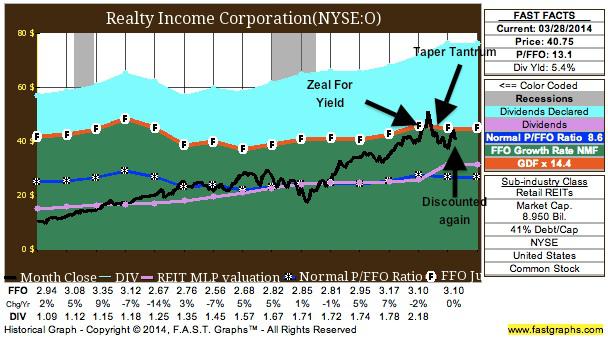 FAST Graphs
With that in mind, let's turn to the charts once more, this time with valuation in mind. Here, FAST Graphs shows us that Realty Income is once again at a moderate discount to its intrinsic "Fair Value." As of Friday's close, shares traded at about 9% below fair value. This article will focus on Realty Income's 2013 results and plans for 2014 with the above interest rate and valuation paradigm in mind.
Thoughts on 2013
Operationally, 2013 was a great year for Realty Income. Funds from operations, the most relevant profit metric for real estate investment trusts, increased by 19% per share in 2013. Same store rent also grew by 1.4%.
Looking at things over the longer term, Realty continues to diversify and increase the quality of its tenant base. Five years ago, Realty Income was almost entirely a lessor of retail space. Now, however, almost a quarter of revenue comes from tenants in other industries, and nearly all of those tenants are of higher credit quality.
Then and Now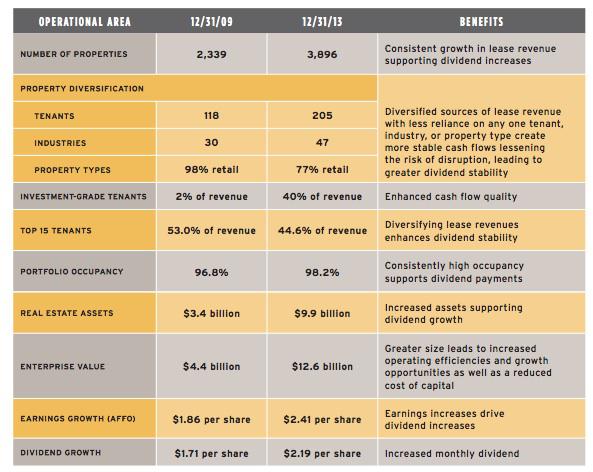 Courtesy of Investor Relations
Notice a couple of important changes in the chart above. First, Realty Income has gone from only 2% of revenue from investment grade tenants to 40%. This is largely thanks to diversification into office space, manufacturing, distribution centers, and even some wineries. The majority of these non-retail tenants are Fortune 1000 companies, and the properties which Realty Income buys are typically of strategic importance to the leasing companies.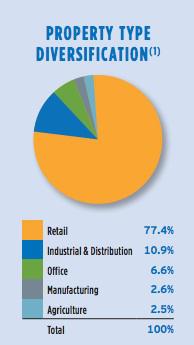 Back in 2010, management set up an internal system in which it rated the quality of retail tenants based on safety of cash flows. Among the factors were credit quality, service intensity (so as not to compete with e-commerce), non-discretionary goods and/or a low price point (due to the difficult economy for low-income earners). Management classified properties into three color codes; yellow, red and green. This year, Realty Income's retail properties are now 90% 'green.'
Guidance for 2014
Realty Income expects to acquire another $1.2 billion worth of properties in 2014, an amount roughly equal to the company's acquisition activity in 2013. Cap rates, which refers to revenue gained from a specific property divided by that property's price, are expected to remain stable this year. Management expects the spread between cap rates and borrowing costs to remain healthy, which means that the acquisition market should remain benign, and the acquisitions themselves accretive on a per-share basis.
Management also expects same store rent growth of 1.5%, again roughly the same pace as last year. We should expect FFO to grow by between 5% and 7% this year, and dividends should increase by roughly the same amount.
Conclusion
Realty Income continues to steadily grow its FFO while remaining financially stable. While the company does usually issue shares to make acquisitions, those acquisitions end up increasing FFO per share based off of the new share count. In other words, acquisitions continue to be accretive to earnings.
By its Fair Value, Realty Income is now trading at a moderate discount and yields nearly 5.4%. I believe that Realty Income is a solid buy anywhere near or below $40 per share. Investors can expect dividend growth to continue between 5% and 7%.
Disclosure: I am long O. I am also long Realty Income for a family account. I wrote this article myself, and it expresses my own opinions. I am not receiving compensation for it (other than from Seeking Alpha). I have no business relationship with any company whose stock is mentioned in this article.