State Street (NYSE:STT) emerged from this year's stress test with 13.3% in tier 1 capital under the Federal Reserve's hypothetical stressed scenario. It's main competitor, Bank of New York Mellon (NYSE:BK), followed closely with 13.1%. Ultimately, 29 out of the 30 banks tested passed, with both of the aforementioned custodial and trust banks at the top of the list.
A brief look into the past
State street, as noted in its recent investor and analyst presentation, has a recent history of outperforming its peers.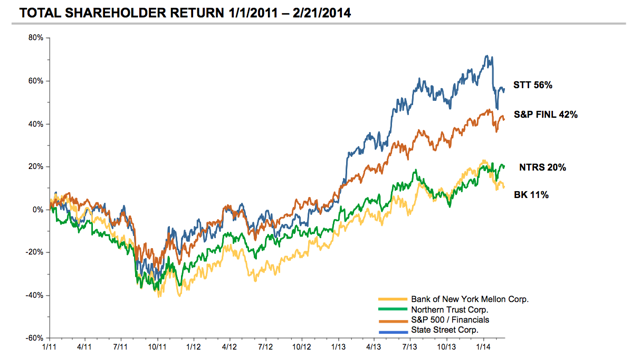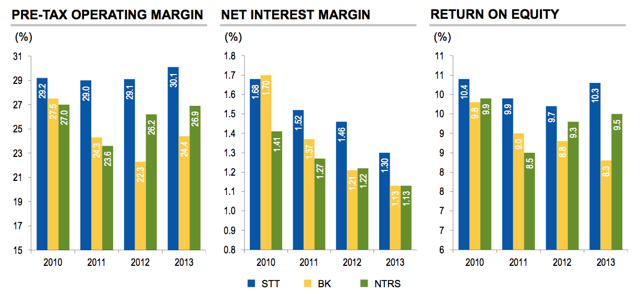 A current comparison to peers
State street increased its lead even more, in my opinion, when its capital plan was approved. The bank is now authorized to purchase up to $1.7 billion of its common stock through March 31, 2015, as well as increase its quarterly dividend to $0.30 from $0.26-- a boost of a little over 15%.
This compares to a dividend bump of 13% for BNY Mellon, which was also approved to repurchase up to $1.74 billion of its common stock through the first quarter of 2015. Northern Trust Corporation (NASDAQ:NTRS) was approved for $425 million in repurchases, along with a dividend increase of 6.45%.
To put things in perspective, State Street's market cap of a little under $30 billion is compared to BNY Mellon's of close to $40 billion. Both of them dwarf the smaller Northern Trust's market cap of around $15 billion. Northern Trust had assets under custody of $5.6 trillion with assets under management of $884.5 billion, as of December 30, 2013.
State Street ended its full year 2013 with a record $27.4 trillion in assets under administration and a record $2.34 trillion in assets under management. BNY Mellon's assets under administration/custody equate to roughly $27.6 trillion, with $1.6 trillion in assets under management, as of December 31, 2013.
Both of the two larger custodial and trust banks look strong financially and have impressive capital plans, but State Street gets the slight edge with a bigger dividend bump. State Street's past buyback performance is also superior, as it is the only financial beside Discover Financial Services (NYSE:DFS) to lower its share count by more than 5% in 2012 and 2013, according to analysts at KBW. It should be noted, however, that the current approved plan is smaller than the previous $2.1 billion plan that ends on March 31, 2014.
Valuations
State street looks fairly valued in comparison to its peers.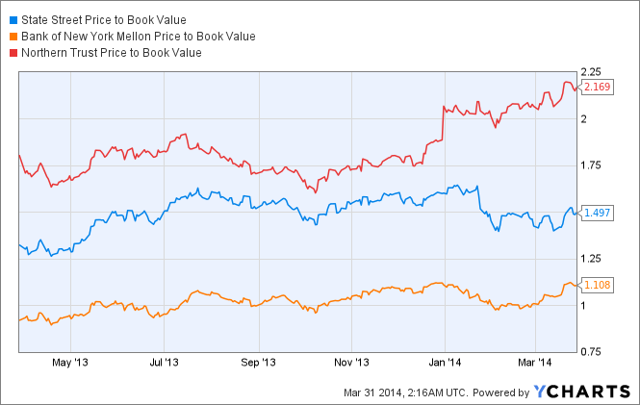 STT Price to Book Value data by YCharts
State Street boasts the highest return on equity amongst its peers.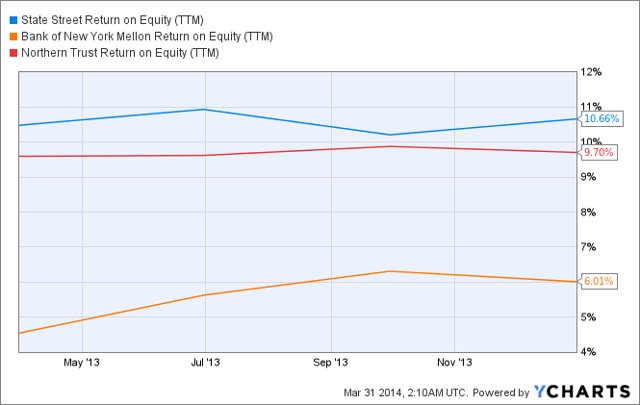 STT Return on Equity (NYSE:TTM) data by YCharts
It also trades at the cheaper end of the spectrum when looking at earnings. State Street trades for about 15 times trailing earnings and 12.17 times forward earnings. BNY trades at 20 times trailing earnings and about 13 times forward earnings. Northern Trust is valued at 21.7 times trailing earnings and 16.6 forward earnings.
State Street: the business
State Street has an immense global footprint.
| | | | |
| --- | --- | --- | --- |
| | Americas | Europe, Middle East, Africa | Asia-Pacific |
| Assets under custody | $20.77 trillion | $5.51 trillion | $1.15 trillion |
| Revenue | $5.91 billion | $3.12 billion | $857 million |
| Assets under management | $1.46 trillion | $560 billion | $329 billion |
Source: State Street 2014 investor and analyst presentation
The company is also increasingly looking to expand into emerging markets, especially China.
State Street is:
The leader in middle office market share (56%), with $10.8 trillion in outsourced assets under administration
The number 2 global index manager
The number 2 ETF manager
The number 3 cash manager
State Street Global Advisors owns the popular SPDR brand, most known for its SPDR gold shares (NYSEARCA:GLD) ETF and the largest S&P 500 ETF, the (NYSEARCA:SPY).
The company reports two separate lines of business:
1.) Investment Servicing, which accounted for roughly 64% of revenues as of 2013, includes: custody, deposit-taking, daily pricing and administration, master trust and master custody, record keeping, brokerage and other services, etc. This line of business serves U.S. mutual funds, collective investment funds, corporate and public pension plans, and other things such as foundations and endowments.
2.) Investment Management, which accounted for 12% of net revenues for 2013, includes services such as investment management and investment research.
The rest of the company's revenues (24%) comes from net interest revenue from its investment portfolio. (source: S&P Capital IQ).
The investment portfolio
An update on State Street's investment portfolio was given during the conference call for its most recent quarter (also full-year 2013). According to CFO Michael William Bell:
We maintain a high credit quality profile with 89% AAA- or AA-rated securities, and 44% of our security is fixed rate and 56% floating rate. Our interest rate risk position was in line with our position at the end of the third quarter of 2013, and the duration of the portfolio remains relatively unchanged at approximately 1.9 years.
A shorter duration portfolio with a higher concentration in floating rate securities should be well-positioned for an uptick in rates.
The company has also started to invest in senior secured bank loans, looking to target BB- and B-rated issuers. At the end of full year 2013, loan book exposure stood at $931 million.
Growth going forward
State Street wants to be an early leader in the alternative investments game. This includes segments such as hedge funds, private equity, and real estate. Alternative fund assets are projected to grow 12% from 2012 to 2015, and State Street thinks that "a substantial market opportunity within alternatives remains untapped."
The company already services 45% of the top 50 alternative managers globally, and owns 31% of the hedge fund market. State Street bought Goldman Sachs' (NYSE:GS) hedge fund administration unit for $550 million in cash back in 2012.
Another potential positive resulting from the Goldman acquisition, as pointed out by Seeking Alpha contributor Glyndon Park, is the cash balances from the acquired accounts that will provide State Street with increasing revenues as short-term rates increase.
Retirement trends
State Street is also exploring the expansion of products such as target date funds and multi-asset class solutions. Target date fund assets under management experienced a compound annual growth rate of 38% over the last three years, with multi-asset class AUM growing by 25%.
A trend that should benefit the company going forward involves retirement savings. According to State Street, over the last ten years, defined contribution plans grew to 43% of global pension assets from 38%. The firm's leadership in investment management solutions puts it in position to benefit from this sustainable trend, and products like target date funds should assist with growth.
Risks
Net interest revenue might remain challenged due to continued low rates.
Financial loss due to concentration and exposure to credit risks from counter-parties, many of which are major financial institutions.
Increased regulatory compliance costs
Increased legal costs
The bottom line
State Street looks attractively valued when compared to peers, as it leads with its capital ratio, return on equity, and shareholder returns. This is all while operating in a low-rate environment. The company will benefit when rates rise, especially in the short-term. It should also benefit longer-term from the ongoing trend in retirement savings. Shares offer value at current levels, especially after affirmation of the company's solid financial health after the stress tests.
Disclosure: I am long STT. I wrote this article myself, and it expresses my own opinions. I am not receiving compensation for it (other than from Seeking Alpha). I have no business relationship with any company whose stock is mentioned in this article.