About a month ago I began reporting that the NASDAQ Composite Index has climbed into uncomfortable territory in two articles I wrote, Yes, the NASDAQ Bubble is Definitely Here and A Tale of Two NASDAQs, This Bubble is Real.
Since publishing my second article, the ETF tracking the NASDAQ 100, Powershares QQQ (NASDAQ:QQQ), has dropped by more than 4%, while the ETF tracking the S&P 500 (NYSEARCA:SPY) has remained relatively flat (-0.7%). In fact, last week's drop of 2.8% in the NASDAQ Composite Index was the first such drop since October 2012, or the first time the NASDAQ has dropped by at least 2.8% in 77 weeks!
While a pair trade with a long SPY and short QQQ positions since my last article was published would have netted only a +3.3% gain, I do believe there is a bigger story here.
The NASDAQ has Diverged. Why?
As I mentioned in Yes, the NASDAQ Bubble is Definitely Here, the NASDAQ has traditionally moved in line with the S&P 500 over the last 20 years. The correlation has broken twice during that period, the dot-com era and today.

In response to my articles, many wondered why the NASDAQ has traded at a significant premium to the S&P 500 since the crisis following a period of such close trading for almost 8 years.
While this would require a more thorough study, my guess is that the cause was not necessarily related to an expectation of longer-term confidence in the higher multiple NASDAQ constituents, but more so because smart investors were looking for a shorter-term high yield trade that they predicted others would desire. These investors selected the highest growth, riskiest stocks because they knew other investors were looking for yield and that capital would flow into the riskiest equities around, equities existent in the NASDAQ. The idea was for smart money to look for opportunities and industries with the highest revenue growth.
As investors favored these NASDAQ Composite stocks over those of the S&P 500, many of the NASDAQ stocks began trading at irrational multiples, well above the NASDAQ's actual average. The irrational trading was followed by illusions formed by analysts. For example, for some stocks, investors and analysts have recently begun justifying growth by explaining that valuations are in fact reasonable and growth is perhaps sustainable. Bull-case cash flow models paint pictures of quasi-monopolies supposedly developing in extremely fragmented industries.
This of course is not likely to happen.
The idea I describe above is best explained by Burton Malkiel in A Random Walk Down Wall Street in which he compares stock selection to a beauty contest:
The smart player recognizes that personal criteria of beauty are irrelevant in determining the contest winner. A better strategy is to select those faces the other players are likely to fancy. This logic tends to snowball. After all, the other participants are likely to play the game with at least as keen a perception.

Thus, the optimal strategy is not to pick those faces the player thinks are prettiest, or those the other players are likely to fancy, but rather to predict what the average opinion is likely to be about what the average opinion will be, or to proceed even further along this sequence. So much for British beauty contests.

An investment is worth a certain price to a buyer because she expects to sell it to someone else at a higher price. The investment, in other words, holds itself up by its own bootstraps. The new buyer in turn anticipates that future buyers will assign a still-higher value.
These reckless actions ignore some of the most obvious risks. In fact, investors forget (or refuse) to discount for potential risks that could come in the form of competitive, economic, political, supply, beta, and other risks that could come between now and when these careless cash flow models expect to churn unreasonable levels of growth.
And then there's the media
The media effect has certainly played into the growth of the NASDAQ stocks as well. The technology stocks that are trading at high multiples are after all the more exciting stocks for the media to cover. As smart money places its capital into high revenue growth stocks, the media reinforces the obscene valuations of the stocks - a phenomenon which causes the multiples to further swell.
The question is, at what point does smart money begin to ask serious questions about actual expectations of these stocks?
The NASDAQ will Converge
As these intelligent investors begin to recognize that the risks in the NASDAQ Composite are real and as they anticipate that their highly valued stocks could face obvious roadblocks in months and years to come, a convergence between the NASDAQ Composite Index and the S&P 500 will begin to develop, something we also saw in 2000 following the historic bursting of the Nasdaq bubble.
Investors will begin to find little additional value in the high multiple equities and favor the less risky, higher dividend stocks as the new search for equities will just anticipate capital being parked in stocks with more favorable risk-adjusted returns.
Conclusion
My personal preference here is to select the less risky, more predictable dividend paying stocks. In the table below, the green represents those stocks I favor, the yellow represents those stocks I tend to be on the fence about, and the red represents stocks I believe will experience more pain ahead. Among tech, I tend to favor cash rich stocks with lower multiples, high degree of investments, and higher as well as more consistent operating margins.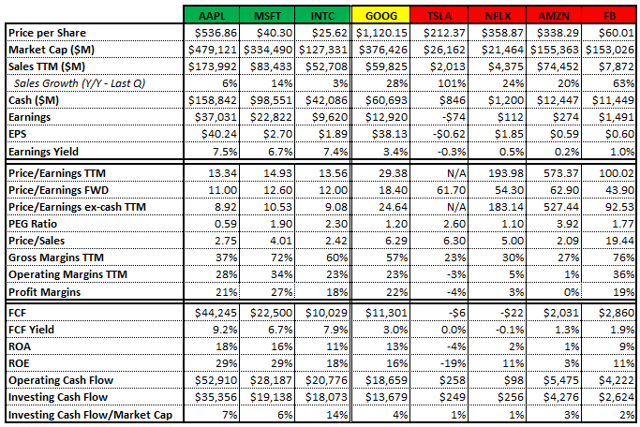 Based on above financials and valuations, I favor Apple (NASDAQ:AAPL), Microsoft (NASDAQ:MSFT), and Intel (NASDAQ:INTC). While I believe Google (NASDAQ:GOOG) is an incredible company, I am slightly hesitant to pick up its shares here, and based on above, I am staying as far away as possible from Tesla (NASDAQ:TSLA), Facebook (NASDAQ:FB), Amazon (NASDAQ:AMZN), and Netflix (NASDAQ:NFLX).
Please message me with any questions, feedback, or ideas about new articles.
Disclosure: I am long AAPL. I wrote this article myself, and it expresses my own opinions. I am not receiving compensation for it (other than from Seeking Alpha). I have no business relationship with any company whose stock is mentioned in this article.
Additional disclosure: This article represents my views only and not the views of any company that I am affiliated with. This article is intended for informational and educational purposes only and shall not be construed to constitute investment advice. Nothing contained herein shall constitute a solicitation, recommendation, or endorsement to buy or sell any security or private fund.