Reinvested dividends are a powerful growth generator. If you invested just $1,000 in Johnson & Johnson's (NYSE:JNJ) stock in the beginning of 1980 and reinvested all dividends, you'd have over $91,000 today. That's an impressive return of over 9,000%.
Investors who look for dividend paying stocks get growth as a tertiary benefit, though they're primarily looking for a defensive investment that can generate consistent returns over a long period of time. What's the go-to industry for dividend hunters? The utility sector.
Measuring the value of utility stock involves more than just looking at its dividend yield. Operating margins tell investors how flexible the company is to pricing changes - the higher margin, the better. Utilities though, are debt-laden companies, which makes them very sensitive to interest rate changes. A good way of analyzing a company's ability to finance debt is through the Weighted Average Cost of Capital [WACC]. This figure will tell you what kind of return the company needs to make on capital expenditures to make up for the borrowing cost.
The following are 5 utility stocks with high dividends, operating margin, its associated debt load, and WACC.
TECO Energy (NYSE:TE)
Dividend yield - 5.20%
Operating margin - 16.30%
Debt-to-Equity - 1.29
WACC - 5.98%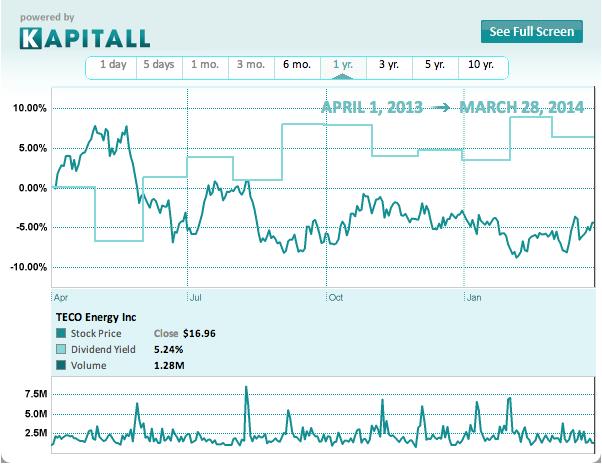 Click here to get more info on TECO Energy's dividend yield.
TECO Energy is a $3.5 billion gas and electric utility holding company. The stock trades at a relatively cheap 15 times future earnings, but has been hurt by a trend of diminishing EPS. However, analysts predict a turnaround for 2014 which could make this utility a value buy. TECO has slightly higher than average debt burdens but has reported steady revenues further suggesting that the stock is due for a turnaround.
AmeriGas Partners LP (NYSE:APU)
Dividend yield - 7.90%
Operating margin - 13%
Debt-to-Equity - 1.74
WACC - 5.87%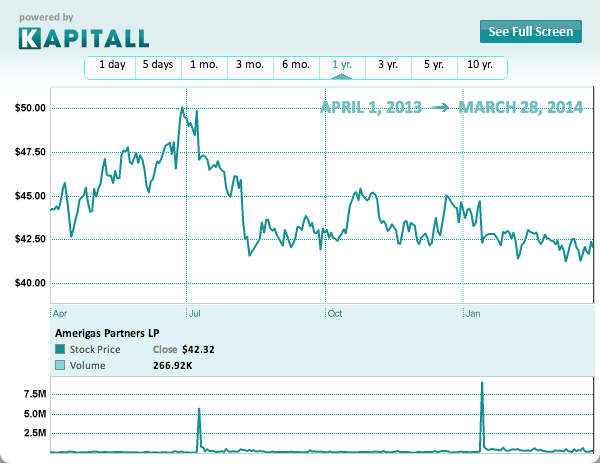 Click here to get more information on AmeriGas Partners LP.
The $3.95 billion propane gas MLP AmeriGas Partners is benefiting from the streak of cold weather events. Propane is expected to trend upwards alongside oil and natural gas which should boost revenues and EPS. The stock trades at 15.65 times future earnings and reported a 22% quarterly earnings increase, which seems to be overshadowing its relatively high debt load.
Suburban Propane Partners LP (NYSE:SPH)
Dividend yield - 8.50%
Operating margin - 10.70%
Debt-to-Equity - 1.10
WACC - 7.81%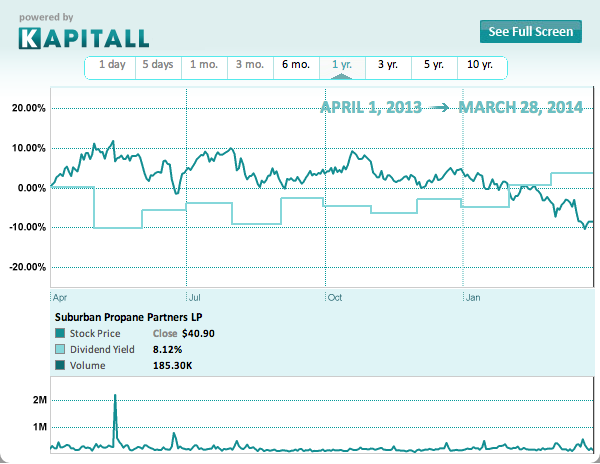 Click here to get more information on Suburban Propane Partners.
Another propane-based MLP, Suburban Propane Partners, pays one of the highest yields on the list at 8.50%. It trades on par with the S&P 500 average at around 19, although the stock has taken a hit so far this year - down 11%. Suburban Propane carries debt equal to the industry average and is expected to average 13% EPS growth over the next 5 years, making it a solid buy for income investors.
Niska Gas Storage Partners LLC (NYSE:NKA)
Dividend yield - 9.90%
Operating margin - 27.60%
Debt-to-Equity - 1.41
WACC - 7.79%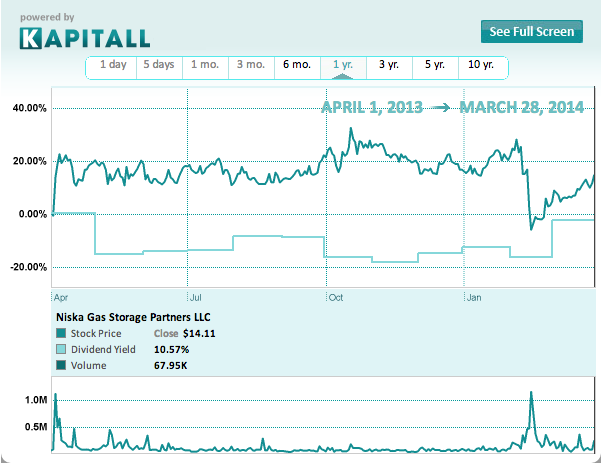 Niska's primary business is the storing of natural gas and has both the highest margin and dividend of the 5 companies discussed here. The stock was downgraded earlier this year, but has been on an upward streak after an initial dive. EPS growth estimates for next year are high for the sector - over 27%. It trades at 21 times future earnings but under its book value of $15.86, making it an attractive play for income and growth.
Gas Natural Inc. (NYSEMKT:EGAS)
Dividend yield - 5.40%
Operating margin - 10.70%
Debt-to-Equity - 0.67
WACC - 2.94%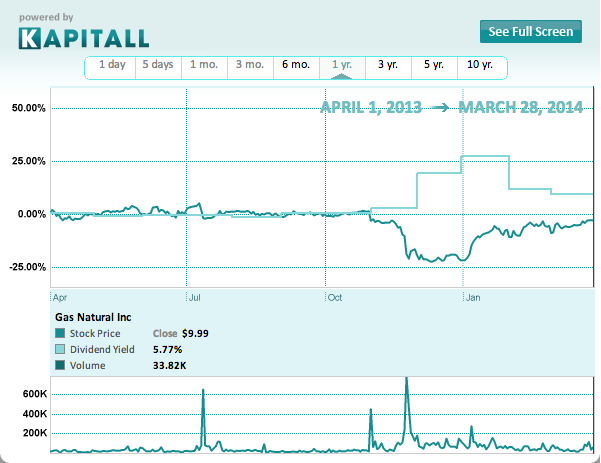 As its name suggests, Gas Natural deals in the distribution of natural gas to residential, commercial, and industrial customers. The company has beat earnings estimates for every quarter this year and trades at 15 times future earnings. Quarterly revenue growth is up 22% from last year, but the company's true strength might lie in its financials. It has the lowest debt load of the 5 listed here and the lowest weighted average cost of capital, giving the company a wide margin for profit from capital expenditures.
Disclosure: I have no positions in any stocks mentioned, and no plans to initiate any positions within the next 72 hours.
Business relationship disclosure: Kapitall is a team of analysts. This article was written by Daniel Cross, one of our writers. We did not receive compensation for this article (other than from Seeking Alpha), and we have no business relationship with any company whose stock is mentioned in this article.