Global Diversification
China Mobile Limited (NYSE:CHL) is the largest mobile service provider by customers in the world with a customer base of 770 million+. [Source: China Mobile] CHL possesses two-thirds of China's 1 billion mobile network market and domestically competes with China Unicom (NYSE:CHU) and China Telecom (NYSE:CHA). In 2008, CHL launched its first international brand in Pakistan called ZONG, (also known as China Mobile (Pakistan) or CMPak), and has a user base of 20 million+.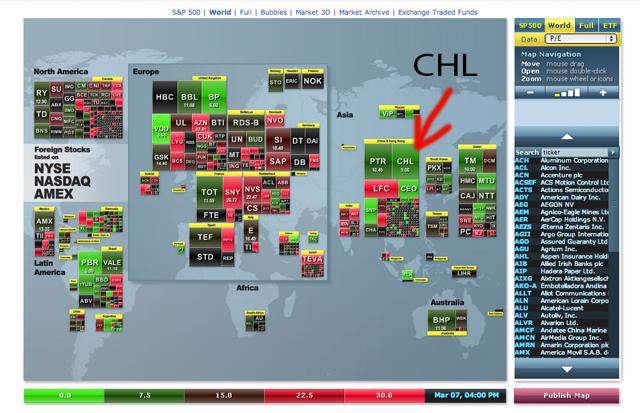 [Source: Finviz]
Chinese Economic forecast
When the U.S. stock market enters the downward stage of the economic cycle, stocks of foreign companies can provide investors a boost in their overall return. China's economic growth may be slowing down from its historic double digit annual growth since the country's reform 30 years ago, but the second largest economy in the world is still projected to have a 7% growth rate in the next decade. [Source: People Daily] This 7% growth places China's economy in the medium-high growth sector.
Some investors view the recent decreasing growth of Chinese market as a concern and choose to reallocate their investment to other developing regions. I always consider China as a unique developing nation since it is the world's second largest economy. With a slower growth rate, China offers a bit of stability compared to other developing nations for investors. With rapidly rising labor costs, the overall foreign direct investment (FDI) flowing into China hits a record high of $117.6 billion in 2013. Total FDI inflow increased 5.3 percent in the previous year. This inflow is due to the advantages that China can offer such as a huge domestic market, skilled labor force, and relatively stable social system [Source: Reuters]
CHL is an industry leader providing a basic need (telecommunications) in the second largest economy in the world, has an attractive dividend yield of 4.2%, and can offer diversification in a dividend portfolio.
Not all portfolios need global diversification. As an investor please evaluate your own portfolio for the proper allocation
Chinese Telecommunication Industry
China's wireless communications industry is comprised of three major competitors: China Mobile, China Telecom and China Unicom.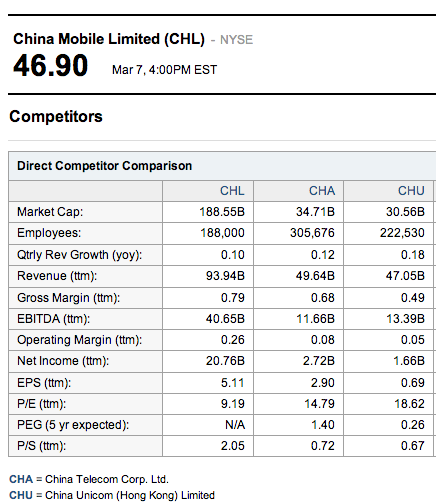 CHL is a telecommunication company which has the largest market cap, highest net income, and the lowest P/E when compared against China Telecom and China Unicom. These factors show CHL is a relatively safe investment for an investor seeking to invest specifically in the Chinese telecommunication industry.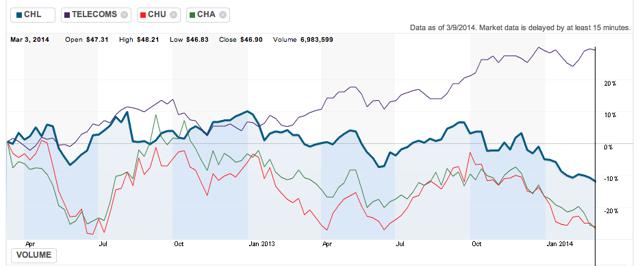 [Source: Ycharts]
CHL's return has had a difficult time keeping up with the global telecommunication market in the past two years, but so has the rest of the Chinese telecommunications industry.
As for dividend stocks, CHL's (current yield is 4.2%) dividend is by far superior when compared to the industry competitors (CHA: 2.3% yield; CHU: 1.4% yield). Additionally CHL's current yield is also above the 5 year average.

[Source: SeekingAlpha]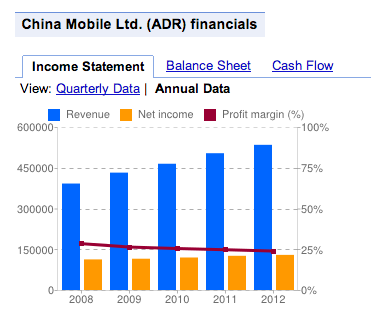 China Mobile's revenue has increased steadily in the past five years despite a decreasing profit margin. CHL's increase in 3G subscribers and rollout of 4G networks should improve this.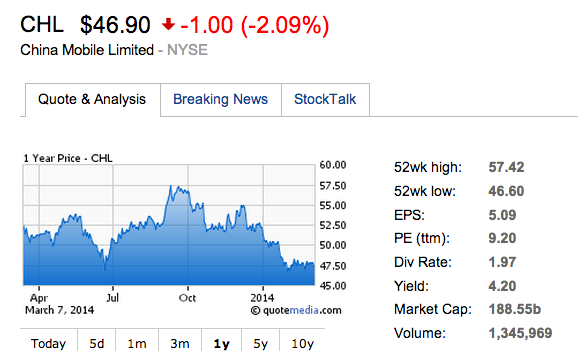 CHL is currently near the 52wk low. Investors searching for a bargain in the current market should take a closer look at CHL. It is an attractive investment because of an expected increase in the demand for data usage in the future.
The growth of data subscribers
More than 80% of China's Internet users can access the Internet through their smartphones. According to the China Internet Network Information Center (CNNIC), the increased popularity of mobile devices drove the number of mobile Web users in the country to 500 million. [Source: CINNIC] This upward trend has continued considering 80 million mobile web users were added last year.

[Source: China Mobile]
CHL is the largest mobile service provider in China, but is experiencing difficulty in taking market shares away from competitors China Unicom and China Telecom. However, CHL possesses the ability to grow its 3G subscriptions organically. CHL's total mobile customers grew 8% from 2013 to 2014 and the growth rate of 3G customers increased by 117%. Even with this large increase in 3G customers, 75% of CHL's total mobile customers have yet to subscribe to 3G service. CHL owns 63% of the total mobile market share and 41% of total 3G subscribers in China. CHL can become more profitable by increasing 3G subscriptions within its customer base.
Industry competitors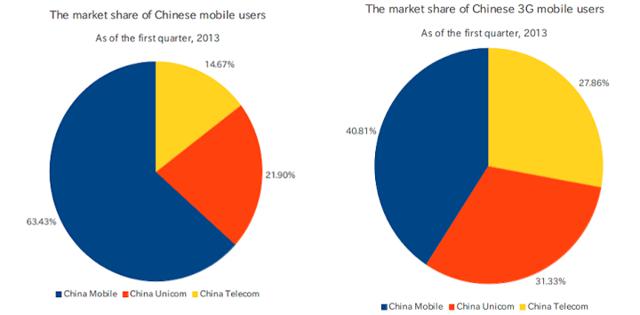 CHL can increase the 3G market share by growing organically.
CHL was slow in signing up 3G subscribers, but was a quick and early adapter of the 4G TD-LTE networks. While the three largest mobile providers in China have 4G licenses, CHL was the earliest to adopt and was the first to construct 4G infrastructures in various Chinese cities. CHL has built more than 22,000 4G base stations in 15 Chinese cities and has future plans to set up an additional 200,000 base stations in 100 cities by the end of 2014. [Source: China Daily]
CHL's two competitors CHU and CHA lacked incentives to invest early into 4G networks, since both companies had already invested heavily into the 3G technologies. With the largest mobile market share and early 4G networks investment, CHL can capture a large market share of 4G subscribers when the 4G networks roll out.
(4G mobile services are available in few of the major cities in China, the full launch of 4G services expected to be late in 2014. [Source: Asia Cnet])
Conclusion
I believe that CHL is a stock that should be considered for the investor who wants to invest globally or specifically wants exposure to the China economy. In the short term, CHL might not be a stable investment. However, telecommunication is a basic need and with the future increase of data subscriptions and high dividend yield, CHL can be a wise investment for long term buy and hold investors.
I recently added CHL at $48 for 63 shares on 2/14/14 into my portfolio. This transaction will be recorded in my 2014 Q1 portfolio update. You can follow the progress of my 30 and Under Portfolio that focuses on dividend and growth investing.

The intention of this article is to draw your interest on this investment. Please do your own research before investing. Invest at your own risk.
Disclosure: I am long CHL. I wrote this article myself, and it expresses my own opinions. I am not receiving compensation for it (other than from Seeking Alpha). I have no business relationship with any company whose stock is mentioned in this article.