I am grateful for Alcatel-Lucent's (ALU) wonderful 2013 flight. Despite the negative YTD performance, I'm hoping that the $1 billion (750 million euro) contract that Alcatel just won from China Mobile (NYSE:CHL), will help the stock post a new 52-week high. I'm also optimistic that this China win will help ALU do an encore of its 2013 performance.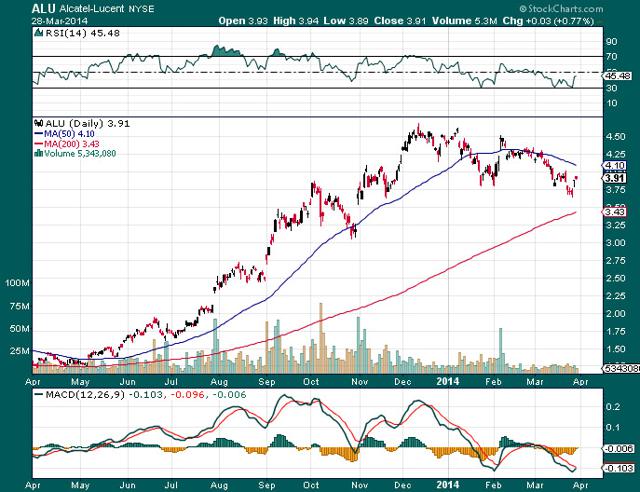 Source: Stockcharts
I'm expecting Mr. Market to give Alcatel another pat on the back this week. The less than 6% upswing for ALU since the China Mobile contract win was announced is inadequate recognition of this very important deal. Mr. Market ought to reward diehard ALU believers. Combes deserves more praises too.
The China Mobile deal eases the pain that we ALU fans felt when Alcatel did not win the Vodafone Project Spring contract last month. ALU investors were really hoping that, since Combes was an ex-Vodafone employee, Alcatel will at least get some of that €8.5 billion Project Spring pie. Being a Nokia (NYSE:NOK) long, it would have been perfect if Vodafone dropped Ericsson and gave the contract to NSN and Alcatel.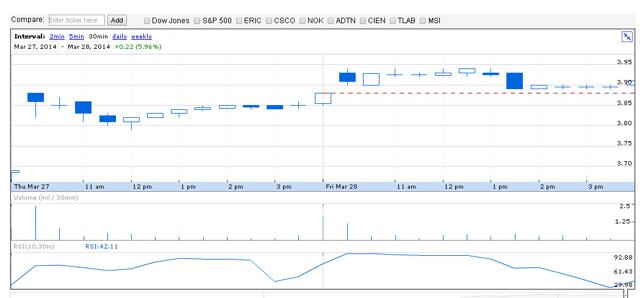 Source: Google Finance
China Mobile is the world's biggest mobile operator with 750 million subscribers. The billion-dollar contract is a one-year deal that hints of more contracts. Alcatel-Lucent's cash flow gets an improvement from this fat contract. Combes won't have to do more financing rounds like he did last year.
The Importance of This New Contract
The high debt ratio of the company is a heavy handicap that's preventing Alcatel from winning more bull fans. Looking at the chart below, Alcatel's Debt/Equity and LT Debt/Equity are legitimate red flags that prevent more investors from joining the ALU army. However, I look at the green go signal from the low P/S and P/C ratios as indicators to be more bullish on Alcatel-Lucent this year.
The Forward P/E is 18.71 and the company did well last quarter, EPS Q/Q of 86.8%. The company's Quick Ratio and Current Ratios are still not in the red zone. The China Mobile contract will only improve Alcatel's liquidity.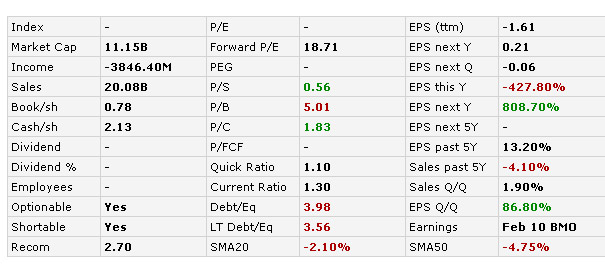 Source: Finviz
So here are more metrics why I still like Alcatel-Lucent despite it being a laggard this year. ALU has low short ratio, the shorts find Alcatel boring so they aren't interested in beating it down.
I also like that Finviz's Target Price is $5.14 which is in line with my optimistic craving for Alcatel. I also cannot ignore that 52-week range of $1.22 to $4.68.
The $1 billion deal with China Mobile might just help my darling ALU flirt again near its $4.68 high. The China Mobile contract is not as big as Vodafone's Project Spring deal, but it's big enough to keep Alcatel-Lucent safe from running out of cash.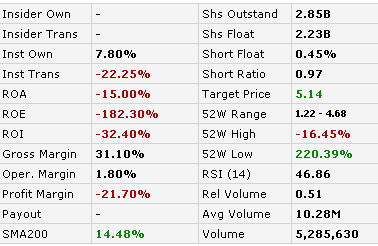 Conclusion
Alcatel-Lucent is a boring ticker that Mr. Market doesn't give much attention to. Investors who like beaten up stocks that still have a big room to fly higher should consider looking into ALU.
Just one year after taking the helm as CEO, Combes is doing great steering this French giant back into profitability. He is not even dipping into the company's massive patent portfolio and yet Alcatel-Lucent is already on track for a big comeback.
The fourth quarter 2013 earnings report showed ALU earned a net income of 134 million euros, 0.05 EPS. The company's free cash flow is also a positive 363 million euros.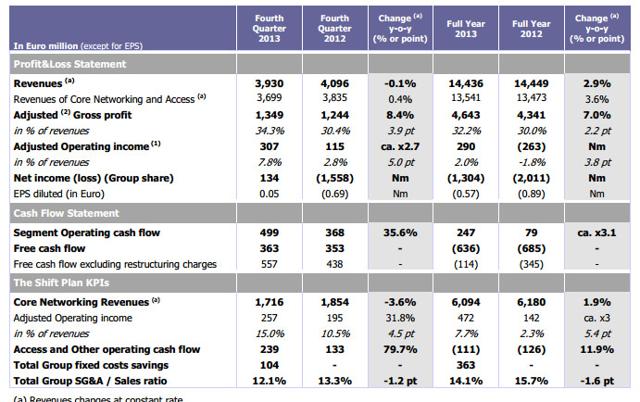 Source: Alcatel-Lucent
Please also take time to study this chart. It shows Alcatel-Lucent is not only big in China - the company has fat contracts in North America and Europe too.
I'm long ALU and will continue to hold unto it until it posts another 52-week high. I'm not expecting this underappreciated ticker to hit $5 soon but $4.80 is reasonable considering all the recent contract wins of the company.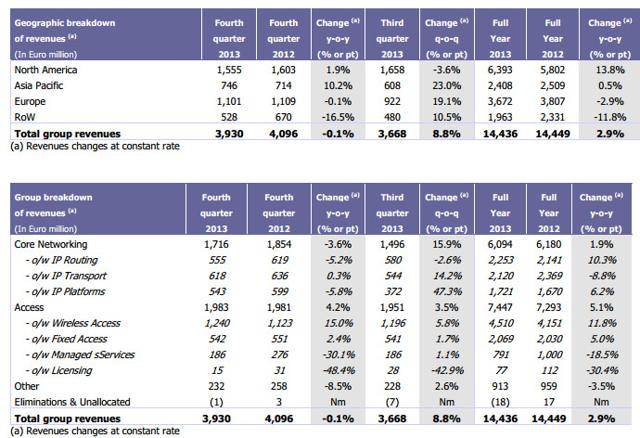 Disclosure: I am long ALU. I wrote this article myself, and it expresses my own opinions. I am not receiving compensation for it (other than from Seeking Alpha). I have no business relationship with any company whose stock is mentioned in this article.