With all of the recent M&A activity unfolding in the Triple Net REIT sector, it's easy to miss out on a true gem. Sometimes you have to look hard in the haystack to find the companies that are worth owning.
The big names like American Realty Capital Properties (ARCP) and Realty Income (NYSE:O) seem to be getting all of the attention - rightfully so, since they are buying up a war chest of free-standing assets. It's clear that size does matter in an industry where modest vacancies are the driving forces for organic value creation.

It seems that many of the Triple Net REITs are chasing down the same properties and the lines are beginning to get blurred as it relates to brand differentiation. The better companies always surface when they have truly unique platforms that provide long-term relevance and shareholder-aligned value.
EPR Properties - A Focus on Non-Commodity Investments
EPR Properties (NYSE:EPR) - formerly known as Entertainment Properties Trust- went public in November 1997 and is a ~$4.6 billion REIT (based on Total Capitalization) based in Kansas City. With gross assets of around $3.27 billion, EPR is the largest owner of entertainment-related real estate, with a large concentration in the theater industry, comprising 67% of its total portfolio (based on investment value), as well as charter school properties, ski hills and entertainment retail centers.
EPR is a specialty REIT that invests in properties in select categories which require unique industry knowledge, while offering the potential for stable and attractive returns. As of the latest quarter, EPR owns over 200 properties in 38 States, DC, and Canada. The portfolio generates approximately $331 million in annualized NOI. Here is a snapshot of the portfolio: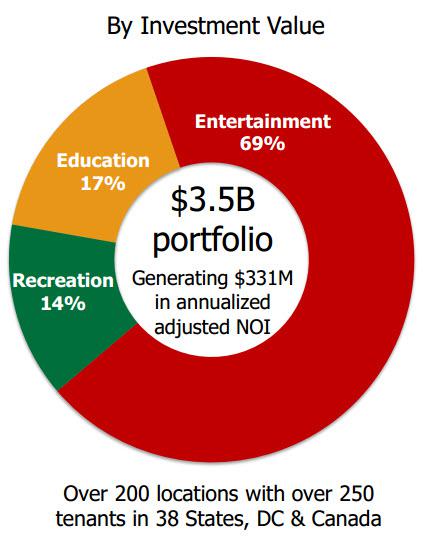 EPR does not contend directly with most Triple Net REITs and as a result, the company has been able to source new investments with less competition. As illustrated by the snapshot below, EPR has been able to increase investment pace across all primary segments.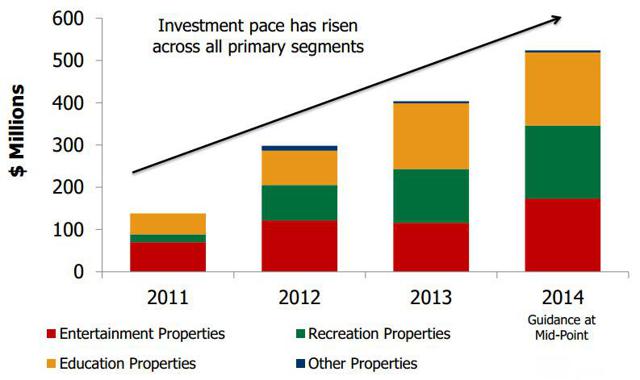 A few years back EPR changed the name of the REIT to reflect the company's growing transition into other asset classes beyond entertainment (aka., theaters), specifically education (aka., charter schools) and recreation (aka., differentiated retail). At one point, EPR had significant concentration with AMC Entertainment (NYSE:AMC), however, EPR has diversified into other sectors and categories.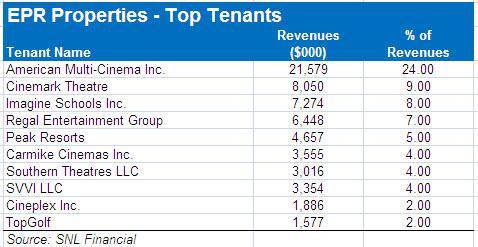 Entertainment remains the anchor of EPR's revenue model with 69% of income generated. Education and recreation make up around 17% and 14% respectively.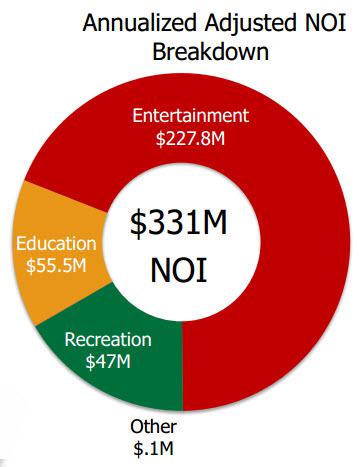 EPR's portfolio has increased considerably over the year and so has its occupancy rate. As of the latest reporting period, EPR's occupancy rate has grown to 99%.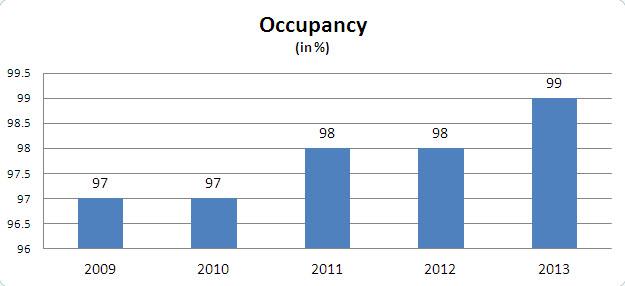 Here is a snapshot of EPR's portfolio details (Note: The occupancy stats are on the far right side of the chart).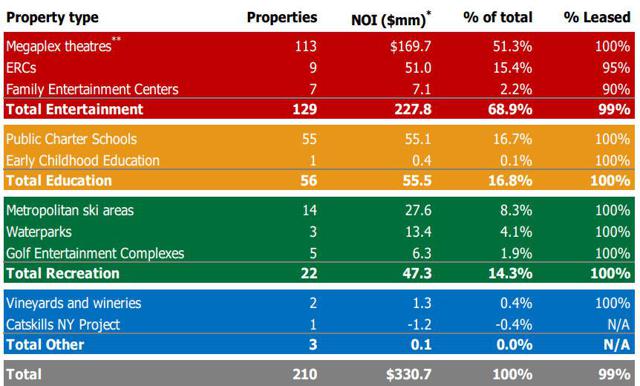 Entertainment: A Repeatable Investment Proposition
Signature theaters represent a majority of EPR's revenues and the REIT's focused income strategy provides investors with considerable growth opportunities. As a landlord for AMC Entertainment, Cinemark Holdings (NYSE:CNK), and Rave Cinemas, EPR has targeted its core income strategy around leasing facilities to specialized sector specific chains.
As evidence of EPR's income strength, Q4-13 box office receipts were up by 10% over 2012. The growth in this evolutionary sector is distinguished by adaption to customer experiences, technology, and content transformation. In addition, new food and beverage concepts enable operators to capture a diverse customer segment.
EPR operates around 113 megaplex theatres, 9 ERCs (Entertainment Retail Centers), and 7 Family Entertainment Centers. With enhanced content presentation in virtually every EPR facility, customers are attracted to alternative content that increases ticket sales, including utilization of sports, concerts and special events revenue. EPR's entertainment category represents around 69% of the REIT's investment value.
Recreation: Time for Recess
As noted above, part of EPR's value proposition is to provide a well-balanced income model distinguished by repeatable sources of revenue.
The recreational category consists of 22 properties (100% leased) including 14 Metropolitan ski areas, 3 Waterparks, and 5 Golf Entertainment Complexes. EPR's top Waterpark tenant is Schlitterbahn Waterparks. They own 2 of the top 10 U.S. waterparks based on attendance.
The ski properties have enjoyed strong multi-year performance and the recent cold weather has positively impacted the resorts - attendance through January 2014 is up 18% over the prior year. Due to geographic diversification and snowmaking abilities, EPR has mitigated weather-related risks.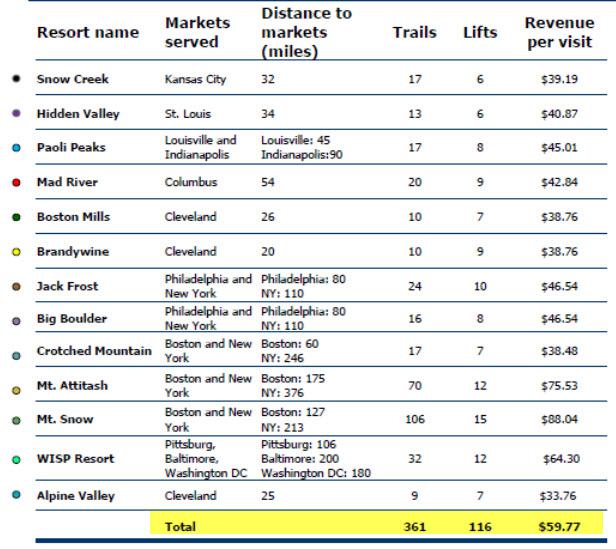 Education: Surge in Enrollment
With an increase of around 13% (to over 2.5 million students) in 2013, the number of public charter schools has grown by 7% to nearly 6,500 students. New and innovative learning models provide students with alternative sources of education that has resulted in a national waiting list of almost 1 million students. Furthermore, this wave of alternative educational choices has resulted in a surge in addressable built-to-suit (BTS) transactions - estimated to hold a market share of around $2 billion (the average investment in a school is between $5 and $7 million).
EPR has also extended its education platform into Early Childhood Education and Private Schools. Both segments continue to outpace supply and the opportunities for expansion (build-to-suit) for EPR appear endless.
EPR's Latest Results
As detailed above, EPR has three primary revenue categories and the consolidated income for 2013 was up 8% to $343.1 million. Funds from Operations (or FFO) per share was $4.13, up 15% from $3.59 in 2012. FFO as adjusted was $3.90 per diluted share, up 6% from $3.69 in 2012.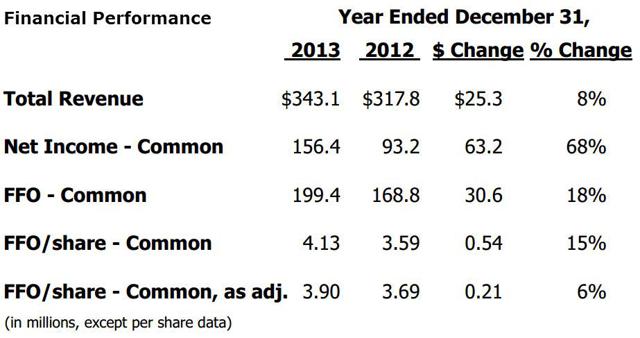 In the fourth quarter EPR continued the positive momentum of the year with approximately $151 million of capital spending (in the fourth quarter), bringing year-end total investments to over $400 million, a 35% increase over the prior year. EPR's capital was deployed across all three investment segments and the company intends to invest around 30% (mid-point) in 2014.
At quarter end, EPR had total outstanding debt of $1.5 billion (all of about $50 million of this debt is either fixed rate debt or debt that has been fixed through interest rate swaps with a blending coupon of approximately 5.5%). We had no balance in its line of credit and $8 million cash on hand.
EPR is also in excellent shape with debt maturities. As of December 31st, the company has no scheduled loan maturities and less than $100 million of such maturities in each of the next three years thereafter.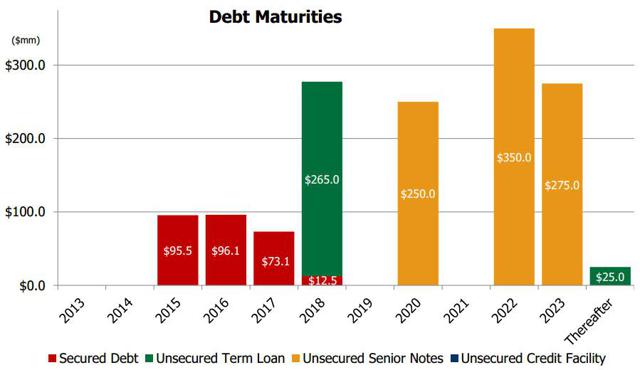 During the fourth quarter EPR issued 3.6 million common shares in an offering for net proceeds of approximately $174 million. The proceeds from the offer was primarily used to pay off the line of credit which had a balance of $160 million at the time of the offering. During the year, EPR issued approximately 938,000 common shares on the dividend reinvestment and direct share purchase plan, for net proceeds of approximately $46 million.
Looking back at the full year 2013, EPR raised $300 million of new unsecured debt and approximately $220 million in common equity. The company paid off approximately $170 million of secured debt.

With the full amount available of $475 million on its line of credit, EPR has no near-term debt balloon payments due and is well positioned from a balance sheet liquidity perspective.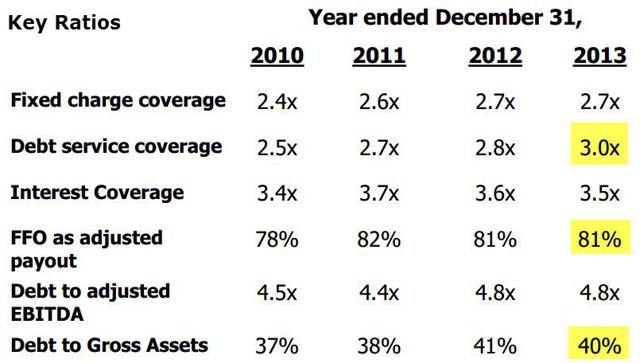 I would expect to see EPR continue to grow its credit ratings from all rating agencies.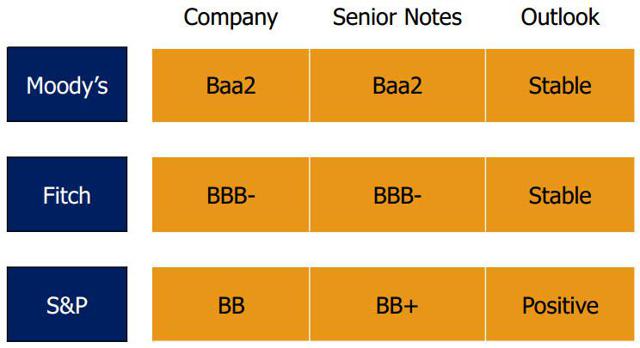 Here is a snapshot of EPR's Total Debt to Total Capitalization compared with the broader peer group:

Adelaar: A New Four-Season Destination Resort Planned in Sullivan County, New York
A few years ago EPR acquired a large tract of land in Sullivan County, New York. The original project became unglued due to a failed bank and troubled developer. This project was the only "nose bleed" for EPR in 2013 (negative NOI for this project of $1.2 million); however, the company recently announced "new life."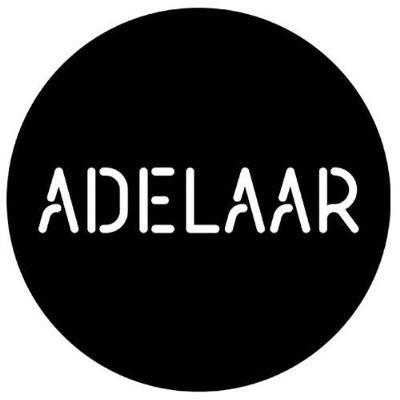 EPR and its co-developers recently unveiled Adelaar, a new $750 million (includes land value) four-season destination resort. The new project is located 90 miles from New York City, is estimated to create nearly 5,000 jobs and will sit on 1,700 acres of land at the site of the former Concord Resort.
EPR has teamed with Empire Resorts, Inc. (NASDAQ-GM: NYNY), the company that currently operates the Monticello Casino and Raceway and intends to apply for a license to own and operate a destination gaming resort that will include a four-star hotel. Adelaar - the Dutch word for eagle - will feature a broad variety of leisure and recreational programming EPR Properties President and CEO David Brain stated,
As a major Sullivan County landowner, we are very excited about the prospect of bringing the Adelaar vision to life. This new world-class destination resort will deliver significant economic benefits for local businesses, create dependable local employment and have a positive impact on tourism in upstate New York. With our SEQRA, permitting and final site plan in place, Adelaar is well prepared to come to market quickly.
EPR also announced an agreement to design, develop and operate a new indoor waterpark hotel and adventure park at Adelaar. EPR is partnering with the same team that is currently developing and operating the company's Camelback Mountain Resort in Tannersville, PA. The proposed project at Adelaar will consist of 135 acres of hilly terrain that includes a 350-room family-style lodge with an indoor waterpark, and an outdoor adventure park with zip lines, a snow tubing facility and mountain coaster.
The famed golf course architect, Rees Jones, has been retained to oversee the renovation of the 18-hole Monster Golf Course at Adelaar. In working with existing golf courses, Jones' philosophy is to preserve the past while recognizing the needs of the modern game, earning him the moniker "The Open Doctor" for his redesign of courses in preparation for major championships.
My take on this deal is that EPR's patience is paying off. The company had to defend a lawsuit and resurrect a failed land deal during the depths of the Great Recession. Although I don't believe that REITs should invest in land (or develop large scale projects), I am encouraged that EPR has assembled "best in class" team that should complement the specialty finance business that EPR operates. Hopefully EPR will now be able to return capital to investors and reduce the overhand associated with the previous lawsuit and non-income producing components.
A video link that provides more information on the Adelaar project is HERE.
Should I Add EPR To My REIT Basket?
After the end of 2013 (in the first quarter of 2014) EPR announced an increase in its monthly common dividend per share for that equates to $3.42 on an annual basis. This represents a dividend increase of more than 8% over the prior year, and based on the 2014 earnings guidance reflects a payout ratio of about 80%.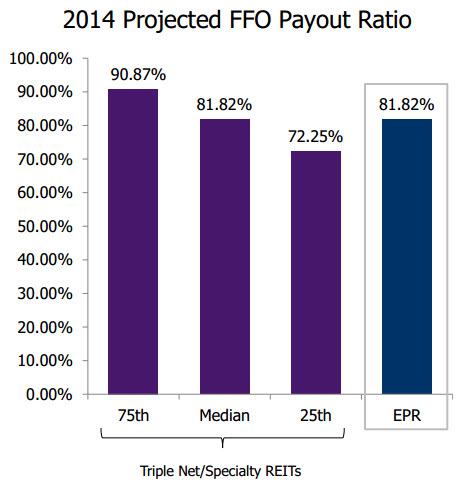 Based upon the current share price, EPR's dividend yield is now 6.48%.

As illustrated below has maintained a relatively consistent dividend history; however, the company did cut its dividend in 2010.

Since that time, EPR has surpassed its highest dividend paid and is now paying the highest annualized rate in its history.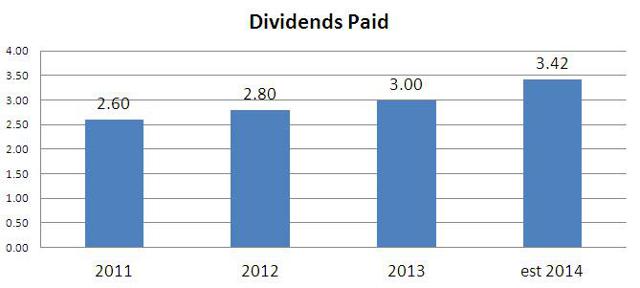 In terms of valuation, EPR has a Price to Funds from Operations (P/FFO) multiple of 12.7x. This puts EPR in a valuation category similar to ARCP and Spirit Realty (NYSE:SRC). It's important to remember however that ARCP invests in a majority of investment grade properties and the company's overhang has more to do with its diversified asset base and its advisory business. I consider EPR to be trading at fair value based on its non-investment grade focus.

Here is a FAST Graph that illustrates EPR's earnings history (and recovery from its dividend cut in 2010).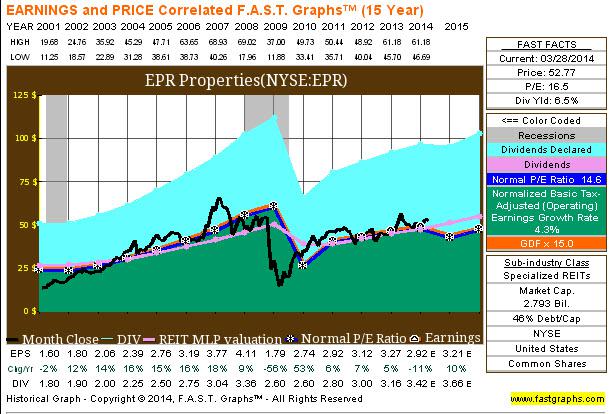 This close-up of EPR (below) illustrates that EPR is now trading at fair value. I would consider purchasing the shares at the current price ($52.77) for income; however, a more patient investor should wait until there's a better margin of safety. My TARGET BUY price is $45.00.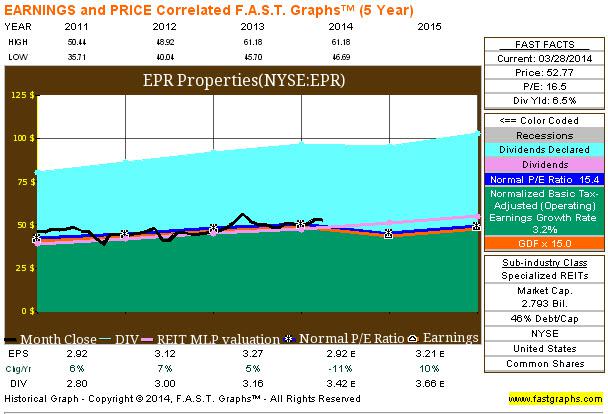 Given the alternatives (number of options) in the Triple Net sector, I believe that Realty Income is a more attractive option. This REIT is paying a 5.37% dividend yield - just around 100 bps below EPR. Also, ARCP is perhaps the most attractive with a dividend yield of 7.17% and a P/FFO multiple of 12.2x. I'm also glad to see ARCP spinning-off the shopping center assets (see my article HERE) and hopefully that will allow the ARCP shares to move closer to the peer average.

In closing, EPR is doing a terrific job at decreasing exposure to Theatre assets and I like the company's continued investment exposure to other non-commodity alternatives. I believe EPR's shares are fairly valued and I believe the dividend is safe based upon the conservative payout ratio and improved balance sheet improvements. ARCP's overhang has definitely impacted my decision to own EPR and I would like to see some movement in ARCP's share price before I gain more exposure in the Triple Net sector. I like EPR's specialty-focused business model and I will look for an opportunity to capitalize on market correction.
I also look forward to visiting the Adelaar project when it's completed!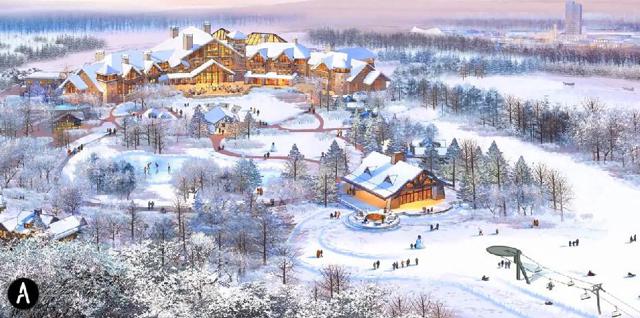 For more information on my "sleep well at night" ("SWAN") REIT picks, check out my newsletter HERE.
Sources: SNL Financial, FAST Graphs, and EPR Investor Presentation.
REIT mentioned: (NYSE:GPT), (NYSE:NNN), (NYSE:WPC), (NYSE:ADC), (NYSE:CSG), (NYSE:STAG), and (NYSE:MNR).
Disclaimer: This article is intended to provide information to interested parties. As I have no knowledge of individual investor circumstances, goals, and/or portfolio concentration or diversification, readers are expected to complete their own due diligence before purchasing any stocks mentioned or recommended.
Disclosure: I am long O, DLR, VTR, HTA, STAG, UMH, CSG, GPT, ARCP, ROIC, MPW, HCN, OHI, LXP, KIM. I wrote this article myself, and it expresses my own opinions. I am not receiving compensation for it (other than from Seeking Alpha). I have no business relationship with any company whose stock is mentioned in this article.