There's a new trend happening at restaurants and sports bars across the country. Restaurants are increasingly adding tablets to tables for guests to customize orders and stay busy while waiting for their food. Publicly traded NTN Buzztime (NYSEMKT:NTN) offers a pure-play investment on the growing sector. The company's national rollout with Buffalo Wild Wings (BWLD) should reward investors and be the starting point of additional contracts.
BEOND
From the makers of Buzztime Poker and Trivia for restaurants and bars comes NTN Buzztime's BEOND. The company's newest tablet platform is set to boost the company's top and bottom lines as it signs more meaningful revenue deals and shifts from its old school handheld model to a new interactive tablet at every table model.
BEOND (Watch the Video) is "the first social, mobile, entertainment platform for bars & restaurants". BEOND features a Samsung Galaxy touchscreen tablet in a rugged case with a double battery pack that lasts all day. The tablet has trivia, card games, and arcade games to keep guests entertained. The built in rewards and marketing are of particular note, as this is a huge incentive for restaurants to utilize NTN's tablets. Of course, the tablets have built in poker and trivia that can be attached to televisions in the restaurants, similar to the company's old handheld technology.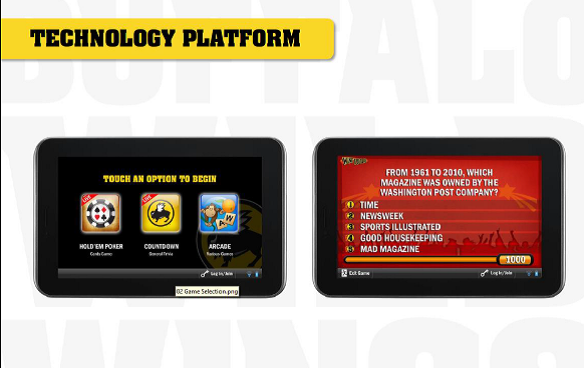 NTN Buzztime has over 4 million registered players on its network and continues to add members at impressive rates (150,000 per month). The company believes BEOND is a game-changer and had this to say, "We knew BEOND was that good and we're excited to share the news that our new platform is a game-changer in an industry that always needs one."
Prior to BEOND, NTN Buzztime got three types of revenue from its Buzztime handheld devices:
· Merchant services: subscriptions paid by customers, free to consumers.
· Premium products: paid by consumers, revenue split with customers. This includes games, applications, and songs that can be played at restaurants.
· Advertising: this is an existing platform that is currently being scaled.
Buffalo Wild Wings Deal
BEOND was selected for a test rollout from Buffalo Wild Wings. From April to July of 2013, the 33 locations that had BEOND tablets saw a big boost in sales. For NTN Buzztime, the tablets helped provide a 500% increase in gameplay and a 700% increase in registered Buzztime players.
In February, Buffalo Wild Wings discussed the impact minimum wage increases were having on its stores. In 10 states, minimum wage increases will take place in 2014, which means some restaurants will be forced to have fewer servers on at a time. This led to the test rollout of BEOND tablets. Buffalo Wild Wings CEO Sally Smith said, "We really believe this model has the ability to drive same-store sales, whether through increasing the shift in purchases coming back for another time or just helping introduce the guest to the technology."
At the end of the third quarter, NTN Buzztime had BEOND tablets in 150 Buffalo Wild Wings locations. This amount is expected to more than triple to 500 by the end of 2014. The tablets are expected to rollout to all North American locations by the end of 2015.
At the end of the last fiscal year, Buffalo Wild Wings had 434 company owned locations and another 559 franchises restaurants. The company plans on opening 45 company owned and 40 franchised locations in the next fiscal year. Buffalo Wild Wings plans on getting to 2000 locations in North America, so obviously the BEOND rollout can continue to expand every year as the restaurant company expands.
Buffalo Wild Wings is a large national restaurant with over 1000 locations. Even though the company is not the largest restaurant company in America, it does hold a significant share in the sports bar market and has been able to help move stocks. Shares of Craft Brew Alliance (NASDAQ:BREW) are up over 100% since I highlighted the company's partnership on "Gamechanger" beer. Shares of Pepsi (NYSE:PEP) and Buffalo Wild Wings both saw increases when Pepsi became the new drink inside Buffalo Wild Wings restaurants as investors predicted future menu collaborations.
Other Customers
Buffalo Wild Wings represented 27% of revenue in a recent quarter. That share will likely increase as the national rollout continues with Buffalo Wild Wings. Other customers include Hooters, Tilted Kilt, Native New Yorker, Old Chicago, Mellow Mushroom, UNO Chicago Grill, Quaker Stake & Lube, Buffalo Wings & rings, Lamppost Pizza, and TGI Friday's. Many of these companies are using the old handheld devices and could upgrade to the BEOND platform soon. The company has a 10,000 site goal within a five year period.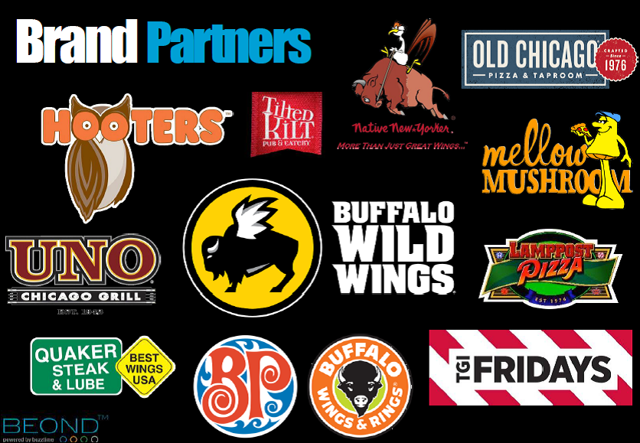 Partners (Roth Presentation)
Hooters is a prime example of possible upside in NTN Buzztime stock. Hooters has 430 franchised locations and an additional 160 company owned restaurants. As an early adapter of the handheld Buzztime platform, Hooters could look at upgrading its tables to a tablet based system. This would increase sales at Hooters and possibly help with labor costs. NTN Buzztime would benefit by increasing its revenue from tablets and continue its massive member sign-ups.
Here are some of the testimonials from customers of BEOND:
· "Drawing in a large, diverse crowd, night after night"
· "Live trivia increases sales 20% on a Wednesday night"
· "Transforming a bar into an entertainment hot spot"
· "Doubling down on a competitive, social experience"
· "Sponsorships and staff commitment take customer experience beyond"
· "Entertainment brings guests back again and again"
· "Going beyond entertainment to craft a community"
· "Building loyalty and sales with engaged customers"
Huge opportunity
Restaurants continue to face pressure as labor costs, food costs, and healthcare costs rise. New healthcare regulations and minimum wage hikes continue to be hot topics and have forced restaurants to cut staff. The BEOND and other tablets are helping restaurants increase sales and cut labor costs. In a recent article, KeyBanc Capital analyst Christopher O' Cull suggests that a restaurant with $2.5 million in annual sales could save 100 to 200 basis points in labor by offering tablet payment options at the table.
Servers who have read articles about tabletop tablets are likely a little worried about their jobs. However, most tablet companies are quick to point out that the tablets are all about adding sales through beverage and dessert add-ons. The tablets also allow servers to take more tables at once, which saves 30 to 40% of total server hours for restaurants.
We have reached a time where most restaurant chains will bring tablets to their tables. NTN Buzztime is one of several competing companies in the field that currently have a small share of the overall market.

Rivals in the industry
One rival to NTN is E la Carte. The company has been a subject to investments from Groupon (NASDAQ:GRPN) co-founders and also Intel Capital (NASDAQ:INTC). E la Carte is attracting big names and for this reason could be bringing attention to the interactive tablet market and its opportunities. Back in 2011, E la Carte received $4 million from Lightbank, the private equity firm founded by two Groupon co-founders. Recently in June of 2013, E la Carte saw a $13.5 million Series B funding round led by Intel Capital. The round included past investors and also Skip Sack, the former chair of the National Restaurant Association. To me, this investment is the one that stands out the most as it shows the potential in the industry.
E la Carte had installed 1000s of tablets across the restaurant industry as of June. The company sees a market of 200,000 casual dining restaurants. The company will see a huge increase in number of tablets installed by the end of 2014. E la Carte has a deal with Applebees (NYSE:DIN) to install 100,000 tablets in 1800 locations throughout 2014. This is a huge increase for E la Carte's total tablets in use.
Another rival Ziosk has served over 100 million guests through its tablet technology. In fact, Ziosk is considered the industry leader in tabletop menu ordering, entertainment, and payment at the table. Ziosk uses a 7 inch Android tablet with Wi-Fi, a camera, and 22 hour battery life. There is also a built-in printer option that allows customers to print receipts at the table.
Ziosk is a private company that has a base of 1200 locations and has helped provide service for over 8 million guests. By mid-2014, Ziosk's goal is to have 30 million guests using its service a month. While E la Carte has a deal with Applebees, Ziosk recently signed a deal with Chili's (NYSE:EAT) to rollout the tablets across all locations.
Financials
NTN Buzztime reported fourth quarter earnings last week. In the quarter, NTN had revenue of $6.6 million, which was an increase from the prior year's $5.9 million. The company reported a net loss of $0.4 million, which represented earnings per share of $0.00. This compares to a profit of $0.6 million or $0.01 per share last year. Full year revenue of $23.7 million was a decline from the $24.1 million reported last year.
NTN ended the fourth quarter and full fiscal year with 3204 subscribers, a decline from the 3638 at the end of last year. NTN ended the year with $5.5 million in cash, representing more than enough to maintain current operations going forward to rollout the BEOND platform. BEOND was the big theme of the fourth quarter, as NTN ramped up the rollout of the device. At the end of the year, NTN had the BEOND platform in 200 locations.
The company's third quarter earnings came with the announcement of a private placement that netted $2.4 million in gross proceeds. The cash was signaled by the company to be used for the "ability to execute more aggressively our growth plans".
NTN Shares
Over the past fifty two weeks, shares of NTN Buzztime have traded in a range of $0.24 to $0.99. After falling Friday from the most recent earnings report, shares are now down 8% on the year. Shares have traded above the $0.50 mark since November and seem to have a bottom there. Back in 1993, shares traded over $10. As recent as 2005, shares were trading over $2. I believe shares can get back to that level as early as a year.
The transition to the BEOND platform is a huge opportunity for NTN Buzztime. The company also remains the only pure play investment on restaurant tablets. More press and a full rollout at Buffalo Wild Wings could lead to new signings from other restaurants. Consider that NTN Buzztime recently said it was at the "start of multi-year growth phase as scale BEOND platforms." This means investors are looking at the ground floor opportunity for this growth coming to NTN as the company's BEOND rollout continues.
Disclosure: I am long NTN. I wrote this article myself, and it expresses my own opinions. I am not receiving compensation for it (other than from Seeking Alpha). I have no business relationship with any company whose stock is mentioned in this article.
Editor's Note: This article covers one or more stocks trading at less than $1 per share and/or with less than a $100 million market cap. Please be aware of the risks associated with these stocks.