Penny Stock Fever
The AvWorks Aviation (SPLI) advocates out there have rallied for company based on the sole fact that it is a 'real' company. Being a 'real' company doesn't mean that the company has 'real' value. Below I have contrasted AvWorks to American Apparel to give investors a sense of how outside the pot-stock sector, how 'real' companies are valued based on performance. This comparison is warranted because both are considered Penny Stocks and have relatively similar market caps.
American Apparel (APP)

AvWorks Aviation

9 months ending September 30th

2013

2012

2013

2012

Sales

464,839,000

444,282,000

62,731

55,751

Gross Profits

241,378,000

234,292,000

17,929

20,155

Expenses***

(326,906,000)

(276,467,00)

(69,989)

(119,054)

Net Loss

(85,528,000)

(42,175,000)

(50,987)

(98,899)

Balance Sheet

Assets

332,933,000

328,212,000

6,058

3,000

Liabilities

~389,124,000

~306,128,000

~286,242

~233,197

Accumulated deficit

(235,654,000)

(150,126,000)

(1,557,170)

(1,557,170)

Stockholder (deficit) equity

(56,191,000)

22,084,000

(280,184)

(230,197)

Outstanding Shares

110,366,000

107,181,000

270,020,145

Share Price*

0.4765

0.293

Market Capitalization*

52,589,399

83,022,569

Adjusted Share Price**

0.5259

0.8302
*Closing price on March 28, 2014
**Adjusted if total outstanding shares were 100,000,000.
***Includes taxes
Based on this comparison, investors believe AvWorks Aviation is more valuable than American Apparel. On an earnings basis, one can make the argument that SPLI has a higher net income than APP.
However, APP has been able to retain a higher percentage of its earnings than SPLI, even though these figures are expressed in losses. For every dollar APP earned, its costs of goods and expenses were comparatively $1.14. For every dollar SPLI earned, its cost of goods and expenses were $2.28.
This comparison is not to suggest that American Apparel is a good buy. American Apparel continues to lose money. I do not recommend investors buy APP solely based on this comparison. This is merely to demonstrate that at current share price, SPLI is valued 57.9% more than APP, even though APP has nearly 7,410% more in revenues than SPLI and 54,987.6% more in assets.
But AvWorks Aviation is a real company
A screenshot from inside 'AvWorks Aviation's' warehouse: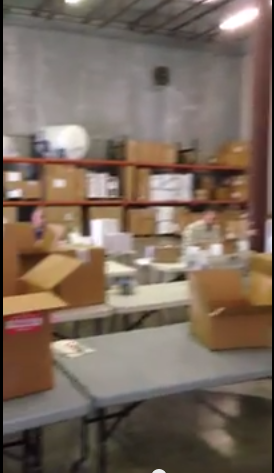 A photograph from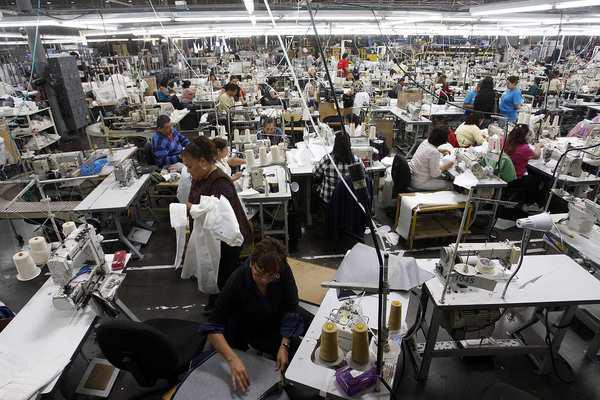 inside American Apparel's factory:
Investors have become extremely defensive of stocks like SPLI. A recent article that pointed out past criminal activity of SPLI's CEO was met with an onslaught of ridicule and denial. This suggests that investors are reluctant to be objective about their investments.
A common retort regarding SPLI is that it is a real company. Yes, it could be a real company. Being a real company does not negate the fact that it is still overvalued. If you are a shareholder of SPLI and currently own 20,676 shares, or .000073% of the company, you currently have the equivalent of 100% of SPLI's assets, or $6,058.
I am not saying SPLI's share price won't keep rising. Share price isn't determined by underlying value. It is determined by whatever shareholders are willing to pay for it. In an ideal world, shareholders will buy stock of a company that reflects underlying value. But in the real world, investors buy and sell stocks based on expected future value. Since there is no way to predict future value, investing is always an informed guessing game.
A Lesson In Owning Common Stock
Buying common stock entitles you two things: voting rights and dividends. If the company does not pay dividends, then earnings are reinvested into the stock. This leads to capital appreciation.
When share prices skyrocket 24,000% like SPLI, a question should go through your mind: do current stockholders have an incentive to hold on to their shares? And why? Since the company has no net income, nothing is going to be reinvested into the stock. The buyers and sellers purely determine current stock price.
So what's the benefit of holding? Well, there is the possibility of a greater fool buying your shares in the near future. Or, maybe you have a passion for placing your votes in shareholder elections. It is a nice feeling to have a say in the company's future.
Please Do Not Misinterpret
This article is not for current shareholders of SPLI. If you are a current investor, I think you are making a great sacrifice to help this start-up company and I commend you for that. You are risking a lot by investing in this stock. And that takes courage.
This article is for potential stockholders debating whether they should invest in SPLI. If you want to join the current ranks of the SPLI fans, I say go for it. Just understand the risks you are taking by buying a stock that may have less underlying value than your current investment.
This is not to say the future does not bode well for SPLI. It is possible that in the next earnings report we could see a big turn-around in revenues.
NOTE: Even though APP relatively has more value than SPLI, that does not mean I recommend buying APP. This article is just a cursory glance at two penny stocks that have similar price tags.
Addendum 1: This article cannot factor in revenues reported in a PR newswire that have not been submitted to the SEC.
For calendar year, 2013, the Vapor Group's first full year of operation, it had gross revenues (audited) in excess of $1,975,000, which were achieved by steady increases in sales month-over-month throughout the year. Although final audited net profit figures are not yet available, Vapor Group was profitable in its first year of operations. Final audited financial statements for 2013 will be released in the coming weeks.
If these numbers are correct, SPLI is boasting nearly $1.9 million in sales after their September 30th filing. The only way to evaluate the accuracy of this information is with a 10-k.
Higher than average revenues does not necessarily mean a high return on investment. SPLI has not had the best record of retaining revenues. As I mentioned above, for every $1 earned SPLI lost $2.18. The only way to determine the value of those revenues is in a SEC filing.
SEC filings allows investors to make informed decisions. The purpose of these filings is to make any information relevant to the company publicly available.
To meet the SEC's requirements for disclosure, a company issuing securities or whose securities are publicly traded must make available all information, whether it is positive or negative, that might be relevant to an investor's decision to buy, sell, or hold the security.
Although SEC allows companies to use social media to release key information to investors, this information can often be misleading. Without full disclosure, we cannot determine whether management is doing an efficient job retaining revenues.
Addendum 2: On March 28th, SPLI submitted an amended 10-k to the SEC for the period ending in December 2012. The company reiterates the risks of the business:
WE ARE CURRENTLY A DEVELOPMENTAL BUSINESS, AND INTEND TO PURSUE A COURSE OF ACQUISITION, MERGER AND ORGANIC GROWTH, WHICH ACCORDINGLY MAY RESULT IN THE VALUE OF YOUR SHARES TO DECREASE.

WE HAVE LIMITED RESOURCES AND NO REVENUES FROM OPERATIONS, AND WILL NEED ADDITIONAL FINANCING IN ORDER TO EXECUTE ANY BUSINESS PLAN; OUR AUDITORS HAVE EXPRESSED DOUBT AS TO OUR ABILITY TO CONTINUE BUSINESS AS A GOING CONCERN.
Investors should note that "no revenues from operations" means that the sales discussed above were not from the company's product line. What they were from remains to be determined.
Investors should be very cautious with a company that reports large revenues in a newswire but discloses the opposite in their filings.
Disclosure: I am long APP. I wrote this article myself, and it expresses my own opinions. I am not receiving compensation for it (other than from Seeking Alpha). I have no business relationship with any company whose stock is mentioned in this article.
Additional disclosure: I have a relatively negligible position in APP and I do not plan on adding to that in the next 72 hours.
Editor's Note: This article covers one or more stocks trading at less than $1 per share and/or with less than a $100 million market cap. Please be aware of the risks associated with these stocks.