Well, it was not long ago that I had written about two small cap stocks that had begun to show plenty of potential; Venaxis (APPY) and Ambarella (NASDAQ:AMBA).
It didn't take long for the bears and naysayers to begin assaulting the thesis and the valuation, as well as the products these firms have.
Here is my article on AMBA which at the time was selling for roughly $15.94, but dipped below $15 making it an even better buy for me.
The company manufactures semiconductors for HD video cameras. The cameras are widely used for sports broadcasting, which most of us know, offers perhaps the best HD viewing on television right now. The company has also developed an upgraded chip, A9, to be used not only for consumer cameras, but also for wearable video devices, security and automobile cameras and recorders.
Now the company has announced the next generation of security cameras, which for all intents and purposes are the best available. Security is an issue that increases daily and AMBA is cutting edge in product placement and technology.
As you can see, the share price has had a very nice run since I began covering it, and aside from a short attack or two, based on valuation, my thesis about this company is more firm today than it was back when I first wrote about in 2013.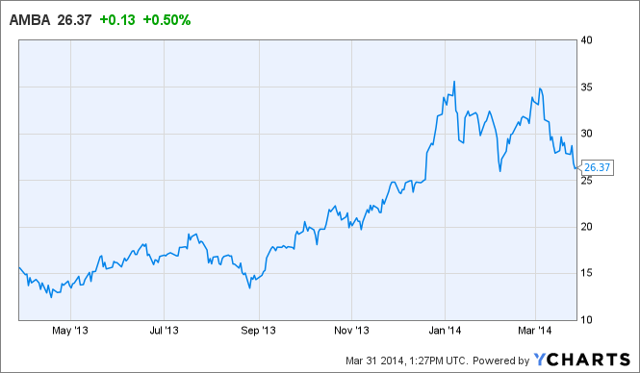 The share price today offers a compelling entry or adding point in my opinion and should at least be researched. The company appears to have a rather bright future.
AMBA has an enterprise value of only $352 million, but as a growth company has a very low forward PE ratio of 14.50.
Of the 27 million shares outstanding, insiders still hold over 43%, and institutions own another 10%. This leaves only 13 million shares on the open market right now.
The company has more than $104 million in cash available.
AMBA has ZERO debt.
While the fundamentals have changed slightly, they are still very impressive and keep in mind this is a growth stock that has yet to reach its potential.
I have a $40 price target right now based on just what the company has out in the marketplace right now and its potential relation with Google (NASDAQ:GOOG) "wearables" as well as the GoPro connection (soon to be an IPO by the way).
Moving on to another stock I was enthusiastic about, APPY, the company had been working on its phase 3 trial to have a noninvasive test for appendicitis approved by the FDA. My first article on the stock was an interview with the CEO, Steve Lundy.
Bringing the costs down is a primary focus for this testing kit and as you can see, the costs as they stand right now are significant: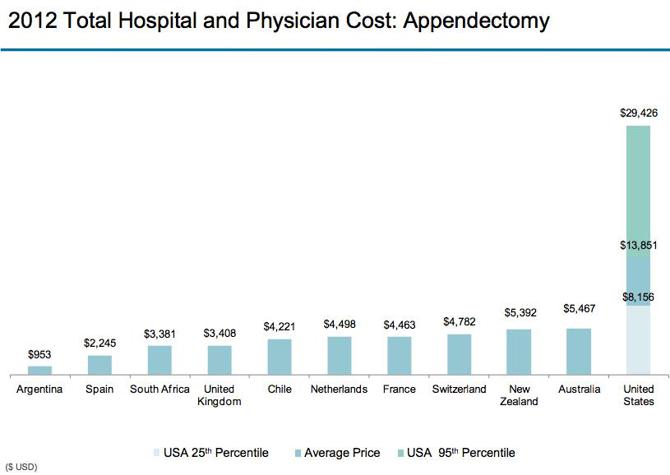 For a $75.00 test, it just might be the first line of defense for hospitals and emergency rooms to go to, to cut costs. Now the company has announced its progress WITH the FDA for final approval of the test kit.
The market itself is very compelling for a speculative risk/reward play.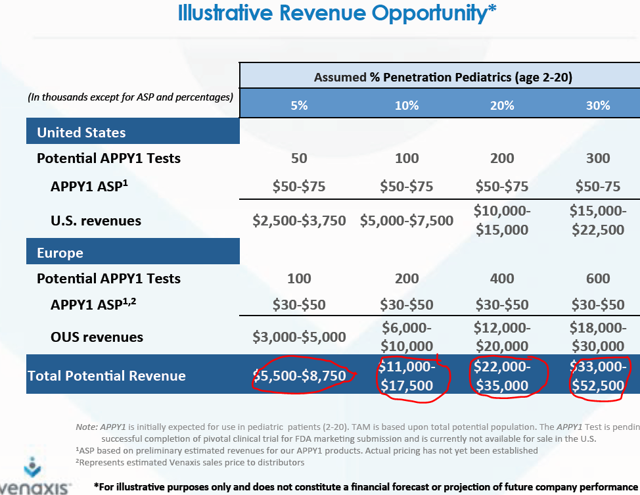 At the current share price, this stock also offers a compelling entry or add on point.
My target price for this stock is over $10.00/share and it has not even gotten started yet.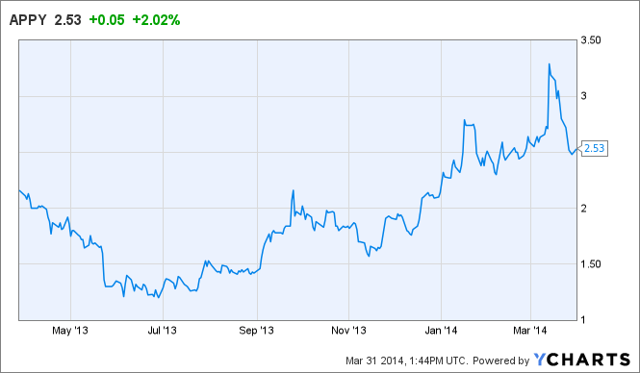 The stock was selling for barely $2.00 share when I first wrote about it, and as you can see, the trajectory has been mainly up, even with the attack on the biotech sector recently.
The Bottom Line
Both of these stocks are deserving of your further research, but it seems clear that these very real companies have plenty of capital appreciation potential in the near term as well as the long term.
Both are small cap risk/reward plays, so please keep that in mind.
Disclosure: I am long AMBA, APPY. I wrote this article myself, and it expresses my own opinions. I am not receiving compensation for it (other than from Seeking Alpha). I have no business relationship with any company whose stock is mentioned in this article.
Editor's Note: This article covers one or more stocks trading at less than $1 per share and/or with less than a $100 million market cap. Please be aware of the risks associated with these stocks.