Salesforce.com (NYSE:CRM) is one of a pile of Cloud computing companies sharing space in a market deeply into "bubble" territory where dark Clouds are forming and we are heading for a storm.
The silliness is evident in Cloud storage firm Box Inc. filing for an initial public offering despite massive losses since it started up with its deficit reaching $361 million by January 31, 2014. Almost half that cumulative deficit came from Box Inc.'s $169 million loss in the fiscal year ended on that date, according to its SEC filings. Profits are not expected any time soon. The lack of profits in current operations is seen as a positive by investors in Cloud companies as I see it - no pesky analysis of price earnings multiples and no easy way to tell when a stock is undervalued, richly valued or overvalued. As long as there is the prospect of sales growth, the market is buying in and paying up for the privilege.
Traditional and more conservative companies with big interests in the Cloud include Microsoft (NASDAQ:MSFT), SAP (NYSE:SAP), Oracle (NYSE:ORCL), IBM (NYSE:IBM), Google (NASDAQ:GOOG) and Amazon.com (NASDAQ:AMZN). What this latter group has in common is not only fast growth in their cloud businesses but also net income. No one seems all that impressed with net income so these technology giants are pretty well sidelined when it comes to the momentum stock players who seem to prefer paying gargantuan multiples of sales to buy into the profitless names.
Cisco Systems (NASDAQ:CSCO) recent decision to spend $1 billion to build a Cloud service should make some of the smaller players take note. Cisco has the horsepower to follow through and regardless of how well it works for Cisco it will take some steam out of competitors. Investor enthusiasm for the unprofitable group is illustrated by the rise in share price of Workday (NYSE:WDAY) since it went public in 2012.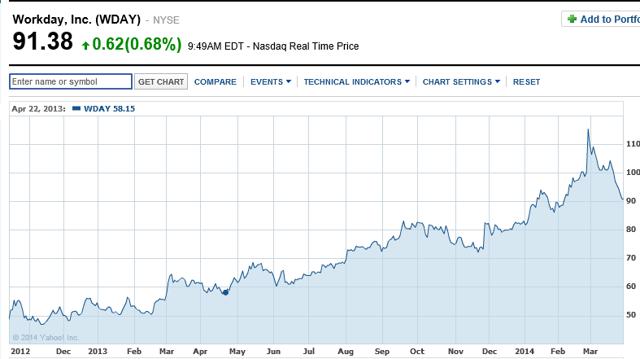 Source: Yahoo.com
Workday's $469 million reported revenue for the year ended January 31, 2014 was up 71% over the prior year. The $195 million rise in revenues came at a cost of a $230 million rise in costs and expenses, a trajectory that usually does not have a happy ending unless reversed. With only $469 million in revenues Workday sports a $15 billion market capitalization.
A quick review of the Cloud space and the players' valuations points to the risks. Workday, Netsuite (NYSE:N) and Salesforce.com have a combined market capitalization of $60 billion which is about equal to Hewlett Packard (NYSE:HPQ). They have combined sales of $4.8 billion versus $112 billion for Hewlett Packard, who earns more net income every year than their combined revenues. Go figure.

Contributing to the massive valuations of relatively small and unprofitable players in cloud computing has been the wide variation in forecasts for the industry by professional groups we look to for guidance. The pre-2008 forecasts, for example, were all over the map.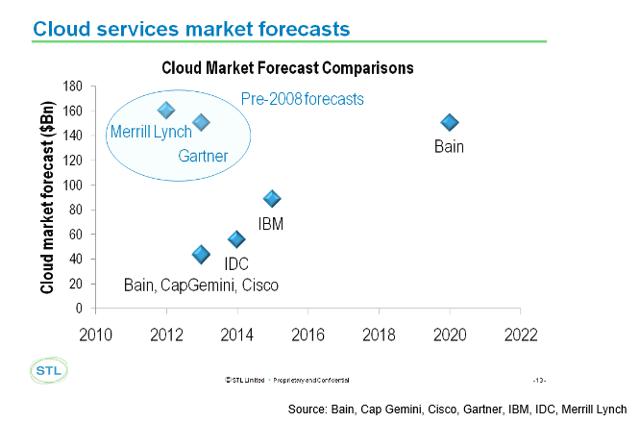 Source: Telco2Research
More recent forecasts by Gartner for Public Cloud Services show the traditional compound growth investors typically associate with fast growing markets but point out that almost half the market opportunity is Cloud advertising with Software as a Service ("Saas") growing from about $33 billion in 2013 to some $48 billion in 2016 - a more likely outcome, in my view.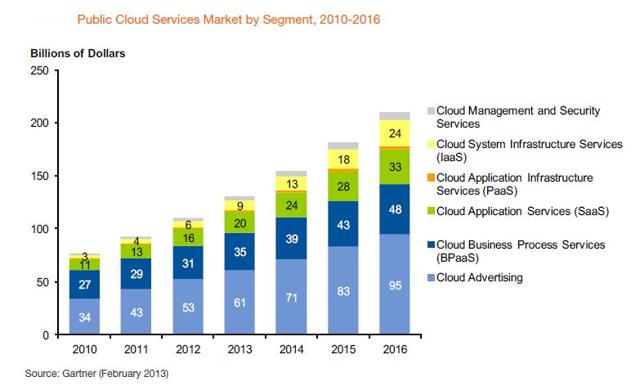 That growth at somewhere around 15 to 20% annually is nowhere nearly enough to substantiate valuations of 8 to 30 plus times sales for unprofitable companies where investors implicitly expect far higher growth. The long bet is that these smaller companies with marginal economics are going to take some share from Microsoft, Google, Oracle, SAP, Cisco, IBM and Hewlett Packard in markets where those giant players are established, profitable, and in most cases have technologically superior capabilities.
New entrants can buy their way into large and growing markets with heavy spending on marketing and sales and what they profess is a superior platform. History has shown me that the platforms designed and built by the seven giants I have named not only work well but also have fully featured and robust underpinnings in terms of reliability, security, scalability and function. The key things CEO's and IT managers value in a platform are reliability, security, scalability and function. Putting millions of sales and profits at risk for a marginal benefit from an upstart player is a tough sell in Fortune 500 boardrooms.
Sooner or later the Cloud bubble will burst and the high flying names will find stock markets can be fickle lovers.
I would not bet money on Workday, Netsuite or Salesforce.com as long term investments. To the contrary, I am betting money that Salesforce.com in particular is overvalued by a country mile, and am short 10,000 shares.
Disclosure: I am short CRM. I wrote this article myself, and it expresses my own opinions. I am not receiving compensation for it (other than from Seeking Alpha). I have no business relationship with any company whose stock is mentioned in this article.