Written by Michael Kovar.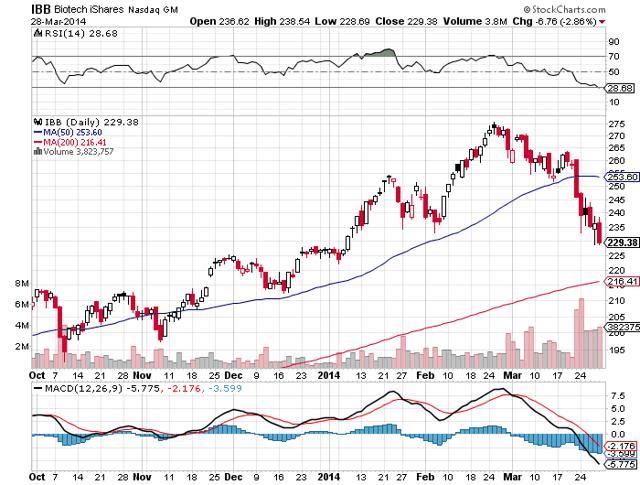 Along with the IBB indicator shaving 16% off its highs, Russia and Ukraine has created some anxiety and uncertainty in the market. Money has been shifting into risk-off and safer investments along with bonds. In trying to stay versatile in the ever-changing market, we have a tendency to lean toward short ideas at this time except when uniquely positive circumstances appear.
A company we wrote about in a positive light last year because of an excellent chance of long-term success is Keryx Pharmaceuticals (NASDAQ:KERX). We accurately predicted the price run-up and wrote,
We believe Keryx can run up to about $10 a share before the near-term data release, and eventually see a price north of $16 within 8 to 16 months.
Although long-term success is within reach and a PDUFA decision pending in June, there have been some curious warning signs recently. With the market cap over $1.5 billion and the stock up over 700% in a year and a half, this looks like a spot when shorting the stock would be the correct play. There are a lot of variables left for Keryx to be successful, and with no FDA approved drugs and an already huge valuation, we believe this will retreat at least until very close to the June FDA decision. Because many long investors may be inclined to take some of the major profit from Keryx off the table combined with the big money moving to less risky areas, we feel there will be a lot of downward pressure on the stock in April and May.
Keryx is developing Zerenex, a drug to help dialysis patients with kidney failure remove excess phosphorous from their bodies. The experimental medicine is also being tested as a treatment for iron deficiency anemia and elevated phosphorous for certain chronic kidney disease patients who aren't on dialysis.
Although Keryx is developing this drug, the company doesn't own it. From the 10Q, we read:
Because all of our proprietary technologies are licensed or sublicensed to us by third parties, termination of these license rights would prevent us from developing and commercializing Zerenex.

We do not own our drug candidate, Zerenex. We have licensed and sublicensed the rights, patent or otherwise, to Zerenex from a third party, Panion & BF Biotech, Inc., or Panion, who in turn licenses certain rights to Zerenex from one of the inventors of Zerenex. The license agreement with Panion requires us to meet development milestones and imposes development and commercialization due diligence requirements on us. In addition, under the agreement, we must pay royalties based on a mid-single digit percentage of net sales of product resulting from the licensed technologies (including Zerenex) and pay the patent filing, prosecution and maintenance costs related to the license. If we do not meet our obligations in a timely manner or if we otherwise breach the terms of our license agreement (including upon certain insolvency events), Panion could terminate the agreement, and we would lose the rights to Zerenex. In addition, if Panion breaches its agreement with the inventor from whom it licenses rights to Zerenex, Panion could lose its license, which could impair or delay our ability to develop and commercialize Zerenex.
So, the details above appear to be a noteworthy risk factor. It is a significant restriction that Keryx has to rely on Panion and BF Biotech, Inc. to uphold its end of the agreement, or there would be potential to impair the development of the drug.
However, if approved in June, this could end up being a great product that could help a large group of patients suffering from diabetic nephropathy and pre-diabetic nephropathy conditions. Unfortunately for Keryx, this is the only drug candidate the company has. With all of its eggs in one basket, this is a risky proposition for a pharmaceutical company like Keryx.
To date, Keryx has not generated any product sales from any drug candidates. The company has only generated revenue from the sublicensing of rights to Zerenex in Japan to its Japanese partner, JT and Torii. In Japan, the drug was approved for marketing in January and Keryx's partner expects to launch the drug in the second quarter of this year. However, with no sales data, it is very difficult to make any projections regarding the success of Zerenex in Japan or anywhere else.
Whether Keryx attains a partner in the US or not, there are challenges ahead to validate the current pre-approval market cap on its stock of $1.5 Billion. The company will need substantial cash for sales and marketing, especially if it plans to go without a partner. This would most likely mean a significant dilution of current shareholders in the future. If they receive a partner, a lot of value will be given up with the company only receiving a percentage of the sales.
Lack of a Clear Direction
In 2013, we closely watched as Aveo Pharmaceuticals (NASDAQ:AVEO) plunged after its tivozanib drug failed to receive the recommendation from an FDA panel as a treatment for advanced kidney cancer. The stock has gone from approximately $8/share to about $1.50/share today. Even with this drug, which to date has so far failed, the company was making a lot of progress in preparation for a positive decision from the FDA. In the months prior to being rejected, Aveo had a huge recruitment effort going in terms of oncological sales reps and related marketing managers.
This would've enabled the company to hit the ground running with a positive FDA decision. It takes a long time to develop the necessary relationships in order to sell a never used prescription drug. These relationships need to be with doctors (Nephrologists in Keryx case), insurance companies, pharmacies, and others.
Unfortunately, there is no such effort visible on the part of Keryx. Looking at its website in the "careers" area, we currently see zero job opportunities listed and merely a request for qualified candidates (apparently of any kind) to send their resume in. This is a brutal effort by the HR and management to get the ball rolling in the necessary areas.
In listening to the year end 2013 conference call, analysts asked questions regarding the Keryx sales force and marketing going into launch. The answer mentioned that pricing and marketing evaluations are currently being completed. The company is unsure of how large of a sales force would be optimal and mentioned nothing about any being hired or working with recruiters in this area.
It's uncertain what the company is waiting for considering it plans to launch this drug in Q3 of this year. These evaluations should absolutely be completed. It seems unacceptable for any company legitimately getting ready for a paradigm shift in its infrastructure due to its first FDA approval and upcoming product launch to operate in this manner.
Recent News and Insider Sales Activity
Keryx recently made news and a nice pop in share price after comments from its CEO regarding US legislation that would continue the current pricing system for dialysis. This legislation would avoid putting dialysis drugs in the same category as ones with upcoming Medicare related physician payment cuts.
The measure is "very good for us," Keryx Chief Executive Officer Ron Bentsur said in an e-mail.
These comments are borderline irresponsible. First, Keryx does not have an FDA approved product, does not have a sales force in place to sell it, and has zero product sales at this time. So, the implication from the CEO is that all of these pieces of the puzzle are all in place and the company is set to be dramatically more profitable when none of that is true. Secondly, since investors and funds most likely didn't price these potential future price cuts into the share price, it was a bit surprising that this was so beneficial to the stock price on an unapproved drug with no track record.
The confidence on display by the company CEO is contradicted heavily by a close co-worker, CFO James Oliviero. As shown in the table below, every transaction completed by insiders since December of last year by insiders has been a sale with exception to shares they are receiving via option exercises or at $0/share. It's certainly most notable that Mr. Oliviero has sold well over half of his shares in this time period, making himself a smooth $6,000,000 in the process.
| | | | | | |
| --- | --- | --- | --- | --- | --- |
| Mar 21, 2014 | OLIVIERO JAMES F III Officer | 13,444 | Direct | Sale at $15.11 per share. | 203,138 |
| Mar 20, 2014 | OLIVIERO JAMES F III Officer | 125,000 | Direct | Sale at $15.04 per share. | 1,880,000 |
| Mar 19, 2014 | OLIVIERO JAMES F III Officer | 154,039 | Direct | Sale at $15.23 per share. | 2,346,013 |
| Mar 19, 2014 | OLIVIERO JAMES F III Officer | 104,039 | Direct | Option Exercise at $2.53 - $4.58 per share. | N/A |
| Feb 8, 2014 | MADISON GREG Officer | 76,547 | Direct | Statement of Ownership | N/A |
| Jan 3, 2014 | BENTSUR RON Officer | 5,257 | Direct | Sale at $12.57 per share. | 66,080 |
| Jan 3, 2014 | OLIVIERO JAMES F III Officer | 6,309 | Direct | Sale at $12.57 per share. | 79,304 |
| Jan 2, 2014 | OLIVIERO JAMES F III Officer | 22,741 | Direct | Acquisition (Non Open Market) at $0 per share. | N/A |
| Jan 2, 2014 | BENTSUR RON Officer | 26,611 | Direct | Acquisition (Non Open Market) at $0 per share. | N/A |
| Dec 30, 2013 | OLIVIERO JAMES F III Officer | 79,500 | Direct | Sale at $12.62 - $12.64 per share. | 1,004,0002 |
| Dec 30, 2013 | OLIVIERO JAMES F III Officer | 30,000 | Direct | Option Exercise at $4.59 per share. | 137,700 |
| Dec 27, 2013 | OLIVIERO JAMES F III Officer | 30,000 | Direct | Sale at $12.68 per share. | 380,400 |
Conclusion and Company Strategy (or lack of):
With money currently flowing out of the biotech space combined with the recent activity we've seen from the company and insiders, we feel Keryx is overvalued at its current market cap of approx. $1.5 Billion.
A couple of bullet points from the companies documented "strategy" in its annual report are below:
Seek to acquire medically important drug candidates in early clinical development
Identify and explore licensing, partnership, and other business development opportunities for Zerenex, and any drug candidates we may in-license or acquire
The company doesn't seem to be executing on the strategy it has outlined at all. Where are the additional drug candidates to develop other than Zerenex? As far as partnerships, Keryx has one in Japan and that is it. It has not received approval from the European Medicines Agency or any partnerships in that area of the world.
Although Keryx has submitted the application, typically this is in the bag prior to companies looking for approval with the FDA. With the lack of evidence demonstrating a competent management team and no prior approved drugs, it would be surprising to me if this June meeting works in Keryx favor. Although the CEO speaks confidently in the Q4 conference call with regards to "no alarming feedback from the FDA," the actions from the CFO liquidating a large percentage of his shares speak much louder to us. We think investors should not pay over $13 a share for the company in its current condition.
Disclosure: I am short KERX. I wrote this article myself, and it expresses my own opinions. I am not receiving compensation for it. I have no business relationship with any company whose stock is mentioned in this article.
Editor's Note: This article covers one or more stocks trading at less than $1 per share and/or with less than a $100 million market cap. Please be aware of the risks associated with these stocks.