Investment Highlights
Focused on reducing SG&A expenses with the integration of an ERP and HR Management system
Management change with a "relentless" commitment to World Class ethics and Corporate Governance
Growth in O&G, Environment & Water foreseen predominantly in their stronghold, the Canadian market
Synergies to be realized mainly between the resource segments and ICI
High client retention with their commitment to complete customer satisfaction and a leading safety record that is substantially below that of other industry peers
Renewed focus on key markets and key sectors plus the divestiture of non-core and less profitable assets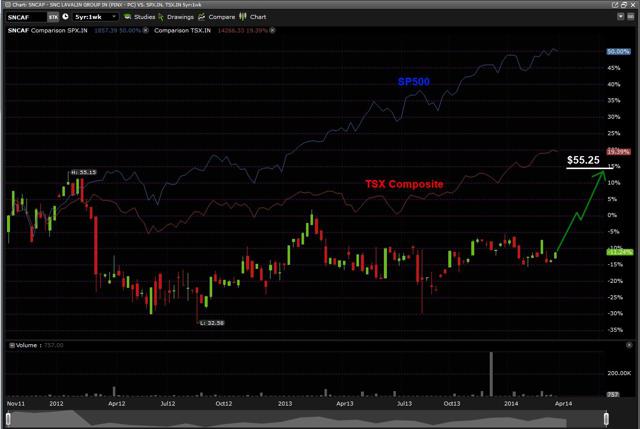 SNC-Lavalin (OTCPK:SNCAF) is a World class engineering and construction firm with experience and the capability for project financing which provides them with an advantage over their competitors. Though SNC-Lavalin has been in the spotlight for corruption issues, the old management has been replaced with the new. SNC-Lavalin has come forth with their new strategy or '3 Pillars,' which shows the company is re-focusing their efforts in key regions and key growth industries that have positive outlooks, especially for infrastructure investments where SNC will be able to capitalize. A basic summary of their new 3 Pillars strategy is shown below: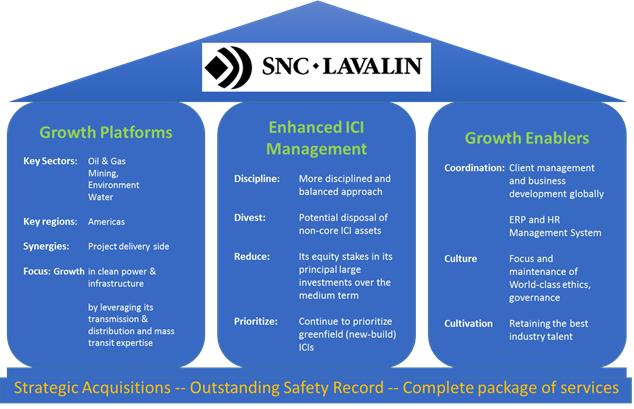 SNC has also divested non-core assets and areas that have not proven too profitable and hopefully now seen all of the write-downs and impairments in relation to their recent detrimental cost-reforecasting. Escalating SG&A expenses will be reduced organically and through the implementation of an ERP and HR management system, unlocking value to shareholders. Institutions are increasing their positions which shows market sentiment is shifting to the positive. SNC is well positioned in a positive economic environment in its two key regions and future catalysts such as securing future infrastructure projects as governments and businesses alike loosen their capital expenditures, could push the stock price much higher than my current valuation.
Company Description
SNC-Lavalin is a World class Engineering and Construction firm based in Montréal, Canada. The firm provides services, operations, maintenance, consulting and a mix of those from offices in 40 countries and continues to be active in over 100 countries worldwide at any given time. The company has established itself as one of the World's leading firms in its field for its experience and ability to provide not just a part of, but the whole package of services required for almost any engineering or construction project big or small. Unlike many of other firms, SNC-Lavalin has expertise and services across many different disciplines, which gives them a real advantage when bidding on large scale projects that require many different functions. A customer can get the engineering, consulting, operations, maintenance and even financing for a project all in one place, reducing the time and effort required for procuring contractors and other related matters. This adds value to and saves clients time for any engineering project. The company's substantially lower safety incident track record further adds value by providing top notch services on time, on budget and much more often than others, without incident.
Though SCN-Lavalin operates across a significant variety of industries and sectors. Revenue has shown steady growth in recent years rising nearly 7.88% CAGR since the bottom in 2010. Unfortunately Operating Income has declined by about 12.5% during the same period.
Segmented Operations
The company is grouped into 4 basic segments: Services, Packages, Operations & Maintenance, and Infrastructure Concession Investments: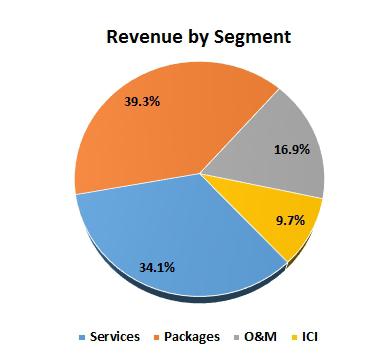 Services [34.1%]: provides customers with engineering services, feasibility studies, planning, detailed design, contractor evaluation and selection, project and construction management, project financing consultation and commissioning services to name a few. The segment has decreased with about a 15% reduction in revenue for 2013. The reasons cited are for lower activity in the Mining & Metallurgy, Infrastructure, Environment and Power industries representing a broad reduction across all engineering.
Packages [39.3%]: includes contracts where the firm is responsible for providing one or more services activities, but also assumes the responsibility for providing materials, equipment, and usually construction activities. This segment increased by about 3% in 2013. The rise is attributed to Power, Mining & Metallurgy with a reduction in O&G.
Operations & Maintenance [16.9%]: includes contracts under which they provide the operations, maintenance and logistics for buildings, power plants, water supply and treatment systems, desalination plants, postal services, broadcasting facilities and telecommunications infrastructure, highways, bridges, light rail transit systems, airports, ships, oil and gas facilities, and even camps for construction operations and the military. This segment had a negligible rise in revenue for the same nine month period ending Sept 30, 2013.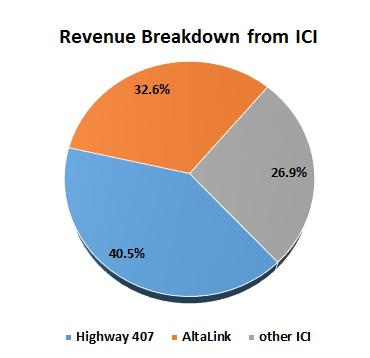 ICI [9.7%]: Infrastructure Concession Investments includes equity investments in infrastructure concessions for public services, such as airports, bridges, cultural and public service buildings, power, mass transit systems, roads and water. In September 2011, SNC completed the acquisition of Macquarie Essential Assets Partnership's (MEAP) 23.08% ownership of AltaLink Holdings, L.P. (AltaLink), and is now considered SNC's largest concession asset alongside their Highway 407 ownership. The company has made great investments in this sector as the Highway 407 earnings have become a driver to their bottom line and some analysts have put the value of Altalink as high as $20 per share. Earnings from this segment rose 35.17% YoY for 2013. However, the segment only accounts for about 9.7% of revenue in 2013, so the earnings may have had a substantial increase, but in aggregate the segment is very small.
Revenue Backlog [105% of current annual revenue]: is an important aspect since it represents an accumulation of future contracts. The backlog table depicted in their statements shows a total of about $8.3B compared to the $10.1B at the end of December 2012. A decrease in Power and Mining & Metallurgy in both Services and Packages, arising mainly from depressed commodity prices, is the reasons stated for the backlog reduction. Moving forward though we should see growth in O&G and other sub-sectors where they are now focusing their efforts. This should boost the Revenue Backlog through 2014/2015.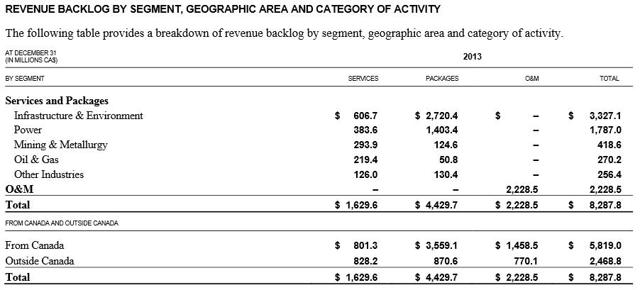 Management
Making the Right Moves
The new management has made a number of smart moves including the divesture of less profitable ventures like the chemical & pharmaceuticals branch of their subsidiary in France. Such examples are in-line with their European reorganization plans intended to increase efficiency and competitiveness for that region. In relation to this reorganization the Company has recorded a charge for restructuring and goodwill impairment totalling $123.5M in 2013. These losses and charges are at the heart of the firm's poor metrics. However, considering the changeover of management, management willingness to divest less profitable ventures and restructure, with the positive forward outlook for the company and economy, I expect their currently poor metrics to significantly improve in the short term.
Corruption
An important aspect of SNC-Lavalin is their management as the stock has justifiably been hit hard over the past couple of years with the firm being exposed for countless cases of corruption. This has ultimately lead to the company being scrutinized to the fullest extent on these matters and being given, and agreeing with, a 10 year ban from any World Bank project.
Change of the old guard
Thankfully for investors, governments and the business community, new management has been brought in, old management has been dismissed, with some even having charges laid. Also new company policy measures are being implemented and communicated to every single one of their approximately 34,000 employees world-wide. On top of this, the new management continues their ongoing discussions on whether or not they should centralize some of the bidding and other such decisions for projects. This shows their willingness to do whatever is necessary to instill confidence back into their clients, investors, governments and public's mind. We are currently now also seeing a near complete void of corruption allegations against the company, the latest being of an account opened in Switzerland directly after the new contract award for the maintenance and rebuilding of the Jacques-Cartier Bridge in Montréal. The void of allegations shows that management is putting their foot down where needed and causing change, and this example will hopefully be last.
Government Bids - Permission Granted
The Quebec government gave SNC the 'green light' to bid on AMF contracts again. Considering the necessary changes are now being communicated and implemented, SNC's management has a relatively clean bill of health going forward and much of the risk associated with their corporate governance practices has been reduced. Much of that confidence has returned as investors have begun to price the company back to what it is actually worth as can be seen in the share price appreciation seen over the past few months.
Management Effectiveness
With the change-up of personnel over the past few quarters, it is hard to judge the new management. A more qualitative analysis is prudent for the time being until we have enough data to really say how effective the new management really is. However, as is clearly visible in the firms ROI, ROE and ROA metrics displayed to the right, they are considerably lower than their peers, arising from significant losses as of lately. Losses attributable to shareholders that affect the firm's returns metrics include: cost reforecasts on certain unprofitable legacy fixed-price contracts chiefly contained in the hospital and road sectors, and a decline in the contributions from the Power segment. These should represent single event issues and I expect their earnings and thus ROE, ROA and ROI metrics to soon return back to normal levels since management has been making great strides towards changing the company and attempting to strengthen its reputation once again. It should be noted that their 5 year Average ROE is still 23% while their BVPS growth CAGR sits at just below 15% and remains within the top of the pack.
Outlook & Catalysts
Industry
The engineering and construction industry is widespread, full of small competitors and dominated by larger firms spread throughout the world. Few companies have the ability to service their clients to their complete satisfaction like SNC, and have the experience and ability to perform any project function within a project's life-cycle from start, to finish, to maintenance and reclamation like SNC can. But their still exists numerous competitors in every country.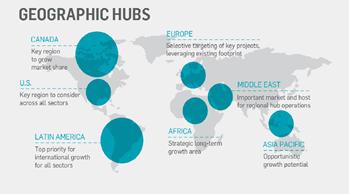 SNC-Lavalin operates in many countries, as can be seen in the picture above found on SNC's website, but chooses to focus on regions as hubs. For example the new head office in Abu Dhabi is their Middle East and Africa hub. Their stronghold is their home turf in Canada, where it is a market leader with significant experience in Clean Power. That is Renewable Power and the industry where they really set themselves apart and expanded their brand globally, Hydro Power. SNC also has significant experience in P3 transit systems and is a global opportunity for the company, especially in European countries where public transit is the norm.
Economic Outlooks for SNC 's Major Regions
Canada & the US (66%, 5%)
The company has been seizing opportunities from public infrastructure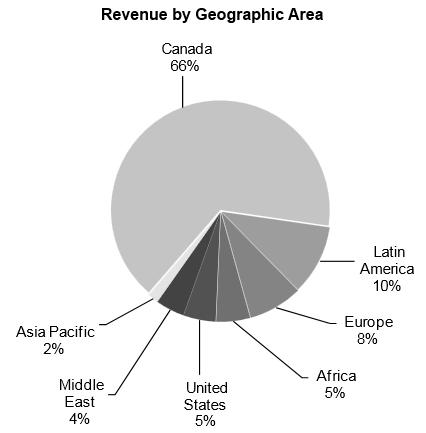 investments by various levels of governments in Canada throughout the economic recovery as can be seen in the two graphs of SNC's Revenue by geographic region to the side here. A few of the high profile projects SNC has been awarded recently include the Jacques-Cartier and Champlain bridge reconstructions, the Evergreen Line for the Vancouver Skytrain system, the Christina Lake project, and a renewal of a 10 year agreement worth up to $400M with the military to provide logistical support in Bosnia, Kabul and Kandahar.
Canada's average age, in transportation infrastructure especially but generally all infrastructure, is well over 50% of their lifecycle in many of the provinces. This means significant investments are going to be needed in the future. The aging of infrastructure along with about 2.3% Real GDP growth expected in 2014 and near 2.6% in 2015, presents a great opportunity for a diverse, experienced and respected Canadian company like SNC to gain large infrastructure projects throughout Canada.
Engineering Construction in Canada is forecast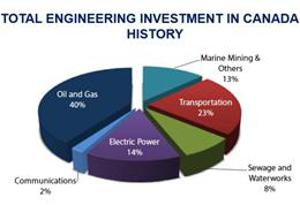 to increase by about 5-7% in 2014 and slightly higher for 2015. Alberta is the largest market with Ontario and BC close behind, and Quebec the 4th at just nearly half that of the other 3. Oil & Gas and Transportation investment in Canada makes up slightly more than 60% of the total engineering investment as the graph to right shows. This is good for SNC since they already have expertise in all of these areas and explicitly stated they are now two of the areas of focus for the company.
The US is a small portion of the company's revenues and is attributable to the intense competition within their borders. In the US SNC are attempting to make further progress into the rapidly growing O&G market. They have also been slowly making further in-roads in the US, such as when they were the owner's engineer at the Solar Two facility in Barstow, California. Solar Two is a Concentrated Solar Power demonstration plant funded by the US Department of Energy.
Latin America (10%)
The second largest focus for SNC is the South American market. In South America GDP growth has been on a steady decline as countries around the region face greater pressure from emerging economies. Growth is now seen as remaining relatively stable with an average of about 2.7%. With the commodity boom posing a real threat to the economy in the medium term, the OECD has highlighted the importance of logistics and customs performance in the region to existing and proposed infrastructure. Improving these will help to create more and better infrastructure in the future. SNC-Lavalin is a multifaceted firm with experience and the ability to provide efficient services to infrastructure projects which encompasses logistics. With SNC's presence and skills they should be able to leverage what they do best and help provide those efficient services. A few of the countries in the region are not currently doing as well was expected including the powerhouse Brazil who is now expected to see lower stable growth of 2.2% growth. Consumer confidence has also been down as of lately, the lowest since 2009 showing the slowdown is having an effect on the population.
The OECD and Latin economies have also produced papers through the 'Great Recession' calling for further public infrastructure investment in the region to boost their competitiveness as other emerging economies continue to pressure them in that regard. Services such as Water, Sanitation and Transportation infrastructure have all been highlighted as key areas for public investments. With many of the Latin American economies including Mexico now stabilizing and many of their governments beginning to relax their tight fiscal policies plus the infrastructure investment highlights just outlined, the region should again see growth in its public infrastructure. SNC has offices spread throughout many of their countries: Brazil, Chile, Columbia, Dominican Republic, Haiti, Peru, Venezuela, Panama, and Honduras. Many of their offices are conveniently located in all of the key countries to benefit from not just public infrastructure, but also the mining projects that have been increasing in the region over the past number of years as well.
Europe, Middle East, Asia Pacific and Africa (8%, 4%, 2%, 5%)
The company is refocusing its efforts to create a leaner business in Europe and has divested such things as a branch of the pharmaceutical and chemical arm from the SNC France subsidiary. They were also successful in getting a contract for participation in the development of 2 new Nuclear Power facilities in Romania. Most of their efforts in the region for the next short while are being directed towards furthering their efficiencies and refocusing on what they have been doing best.
The Middle East is being treated by SNC as a central hub to other regions in the area and opened a head office for the Middle East and Africa in Abu Dhabi. They hope this will help to expand their operations in the area. Recently the company was awarded a contract for the engineering, procurement, construction, commissioning and start-up of a sulphuric acid plant in Saudi Arabia. They also have become the main supplier of district cooling solutions in the world through their contracts in the Middle East region such as Dubai's subway cooling system.
The Asia Pacific is still experiencing rapid growth in many of the economies but less than 2 percent of SNC's 2012 revenue came from the region. Though SNC is not focused on and little revenue comes from the region, it is an area where high growth rates can be found. China is forecast for about 7.5% growth, India at 5.4% and Thailand at 3% to name a few. These high growth areas represent high potential for SNC to further grow. Africa has seen significant cost reforecasts, particularly in North Africa, and has hurt the company's bottom line in 2013, and like many countries in the Asia-Pacific many of the countries in Africa are consider Emerging and the overall outlook for Emerging economies has been lowered as of recently. Thus most of Africa does not look to be a great area for near term growth.
Two Major Industries of Focus for SNC
Infrastructure & Environment [34%]
With many economies around the world beginning to recover and expand again and many of the dire uncertainties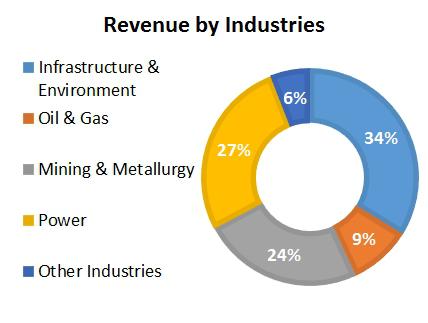 diminishing, governments and business will again start to invest in Infrastructure projects. The World is also seeing increases in demand for environmental projects and water treatment facilities as the population swells and people begin to demand more sustainable industries. SNC has a great environmental impact track record and is also highly skilled in providing complete services for such projects and water treatment plants worldwide, so SNC should be able to scoop up many of those contracts as they come up for bid with the improving global economy too.
Oil & Gas [9%]
With a growing O&G sector worldwide, 6.4% of the US construction workforce was involved in the sector in 2012. By 2017 the FMI is predicting that about 10% of the US construction workforce may be involved in O&G construction showing the significant growth still to come and SNC's new strategy of focusing efforts on expanding its market share in O&G is a wise choice. The oil sands, while historically somewhat volatile, is a big industry in Canada and SNC has expertise and project management capabilities unlike a substantial portion of its competitors. It seems evident then that the firm will be able to gain a greater portion of that market and make greater headway as they are in Abu Dhabi. The firm was awarded their 3rd ZADCO contract giving them the opportunity to help strengthen their client's position in the Middle East O&G sector while building a solid business relationship. Then there is the Offshore Oil & Gas market. SNC is also focusing on its very strong design capabilities in the substructures of offshore platforms and would like to gain more expertise in the topsides of platforms. They eventually want to be able to offer the complete package for Offshore, just like they do in many of the other sectors they operate. SNC has also been active in the LNG boom beginning in Alberta, but much of the anticipation for this growth will have to wait until the country finds a means for getting it out of the country in the bulk required to make large investments into the LNG sub-segment.
Competitive Landscape
The competitive landscape for SNC-Lavalin is so diverse just as their operations are. There is not just a few competitors but a myriad of tiny to small companies in every region and every country along with other countless other medium sized engineering firms and a few well known Tier I firms too. An example of their competitors even in their home territory is their bid for the Evergreen Line project in Vancouver where SNC-Lavalin was one of three groups bidding on the project. The other two were EL Partners, containing mostly well-known Canadian firms like GENIVAR now WSP Global Inc., and Kiewit Corp's group. Kiewit Corp is a Nebraska based firm nearly 50% larger than SNC and on their team was another well-known Canadian firm Stantec among a few others. Interestingly many of the companies within and outside of each of the groups compete against each other on other projects. It is common industry practice to partner with other firms. Below is the list of competitors used in the analysis of the company's financials.
Jacobs Engineering Group
Jacobs Engineering an international US based firm that is perhaps the most similar though with a greater influence and market share in the O&G market in Canada and the US. Jacobs has many capabilities for every aspect of the oil and gas industry from upstream, to midstream, to downstream and refining operations. Their specialization in the O&G market is the steam-assisted gravity drainage [SAGD] technology. The firm also works on a common project creation platform from a multitude of international offices and relies on building sustained relationships with customers. The firm has been able to maintain a steady margin and sustained growth from the long-term relationships it has built throughout the globe. SNC has also done the same as evidenced by SNC's long history in places like India.
AECOM Technology Corp.
AECOM is a LA based but worldwide engineering firm that specializes in transportation infrastructure. The company provides professional technical engineering services and recently has been expanding its business in the management support area. The company also has projects in environment and water etc, but unlike SNC, AECOM does not delve into nuclear facilities or much into power generation projects. AECOM also has over 60% of revenues coming from publicly funded projects like the US military contracts they had in Iraq. This exposes them to much more volatility when public funds dry up and governments make big decisions like pulling out of Iraq.
Emcor Group
Emcor manages electrical & mechanical construction ventures as well as facilities maintenance projects for corporations. They are not a very similar company to SNC as they are nowhere near as diverse in nature, but for the analysis, they represent a decent comparison from revenue, to margins, to their backlog of $4.5B.
MasTec, Inc.
MasTec is a much smaller at about half of SNC's size, but is a leader in communications and utilities infrastructure. They have recently acquired Big Country expanding their operations significantly. MasTec is a US based firm and are focused on expanding their business into the O&G infrastructure boom. They operate mainly throughout North America and across a range of industries. Their activities include the engineering, building, installation, maintenance and upgrade of energy, communication and utility infrastructure, electrical utility transmission and distribution, natural gas and petroleum pipeline infrastructure, wireless, wireline and satellite communications, wind farms, solar farms, and other renewable energy, and industrial infrastructure. They may be much smaller than SNC but they operate and are building expertise in most of the same industries, except for the nuclear side of things.
Fluor
Fluor is the only Tier 1 firm used in the analysis of this report with about $27B in Revenue which is nearly 3 times larger than SNC. Fluor claims they 'Design and Build the World's Toughest Projects.' Fluor is a Fortune 500 company that delivers engineering, procurement, construction [EPC], maintenance, and project management to governments and clients in diverse industries around the world, just the same as SNC does. Fluor's customers depend on their expertise from their 41,000 employees operating globally, to deliver capital projects safely, on schedule, within budget. They operate in 25 countries and 30% of their revenue comes from the US where they are based. They have interests mainly near resources based regions like Canada where they specialize in Uranium. They also operate in the Oil & Gas segment and especially in offshore drilling. They are a major competitor to SNC in many of their segments but have received an "A" ranking in Transparency International's 2012 anti-corruption study following the corruption scandals of SNC and a few others. The company even hosts online and in-person anticorruption training sessions for staff and operates an ethics hotline. Fluor is also known for having a strong Environmental segment where they have been recognized as a leader. Again Fluor is a major competitor to SNC for this segment.
Financials & Fundamentals Analysis
The Pros
The company has achieved strong Revenue growth with a 12.93% 10y Avg CAGR compared to the average of 10.28% as of Sept 30, 2013. Their BVPS 10y Avg CAGR is also top notch at 14.75% and is essentially equal with the other 2 top competitors used in the analysis, Fluor and Jacobs Engineering. SNC still provides a great Dividend at a 1.99% Yield as of Feb 27, 2014 and they have continued to increase and give dividends for the past 10 years. This yield is slightly higher than normal due to their current undervaluation, but essentially their dividend is currently at nearly double majority of the competitors considered in the analysis. SNC's dividend has increased a staggering 3077% since its inception in 1989 or a total historical yield of 4.166% CAGR, which has no doubt helped to drive share price.
The Cons
SNC has seen about 3 poor years in a row in relation to their Earnings or Operating Income. As stated previously this is arising from a number of issues. The first being unfavourable cost reforecasts and Goodwill and Impairment charges. The second being that their SG&A expenses along with the COGS has been climbing faster than there Revenue growth and remains at historically high values. Both of these have cut into Earnings and has produced their low Current Ratio 0.92x compared to the average of about 1.67. However, with much of the detrimental on time costs like the reforecasts out of the way, this should significantly improve in the coming quarters. The substantially higher D/E Ratio of 4.59x compared to the average of about 1.74x. Both of these liquidity measures represent a concern if the company cannot get its costs back under control. The firms 10y Avg EPS CAGR is in negative territory, sitting at -3.57% which is substantially below the average of about +6.65%. This should be expected when the number of shares issued from 2008 to 2012 doubles the number of total shares while the company's expenses are still increasing as just discussed. This is a definite issue considering most investors rely on EPS or the P/E ratio as a cut and dry analysis and would prevent the company from getting picked out on stock screeners. Also, on May 22, 2013 S&P lowered the credit rating of the Company's debentures from BBB+ to BBB with a negative outlook, but the company retains its investment grade status. Again, if the company doesn't get their costs under control then this poses another serious drawback to company and investors and people will begin to pull their funds out.
Valuation
The company has a low Book-to-Market ratio just 0.28x versus the average of 0.58x and shows the company's current undervaluation due to the many reasons discussed throughout. To value the company a DCF was used and felt to be the best method using the assumptions listed below where a price of $55.25/share was found, representing about a 30% upside:
1. Management will get the SG&A expenses back on track by 2015
2. ERP & HR information implementation will minimally decrease cash from the implementation services required for the 1st year, whereby the IS will help reduce both SG&A and COGS by a conservative 12.5% and remain at that level into perpetuity. This calculates to 9.8% SG&A expenses for 2014 and 8.8% into perpetuity thereafter.
3. Even though an ERP has been shown to lead to previously unrecognized areas of growth for the various already discussed, no further growth other than the reduction to costs was assumed until future earnings reports reflect the success of the ERP
4. With positive economic outlooks in many regions in which SNC operates and significant investments in key regions and key industries required and expected, revenue will increase by 6% in 2014, 5% in 2015 and I have held growth at 3% in perpetuity and the backlog will fill back to around the same values as that of 2011 and 2012
5. Further significant re-organizations in Europe, unfavourable cost reforecasts, goodwill and impairment costs and softened segments due to lower commodity prices will not continue beyond 2013 and such affected variables will return to historical levels
6. The AltaLink divesture was not considered as it is best to wait for confirmation of value and the date if it is
Institutional Ownership Increasing
Looking at the institutional ownership of the company as is depicted in the table above and judging it against previous quarters, it is found that certain institutions are taking larger positions. Two examples of this is Le Caisse de depot et Placement du Québec and Beutel, Goodman & Co Ltd, who have increased their stakes in SNC. SNC has been hit hard for their mishaps, but this shows investor confidence in the company is returning. Their depressed price also represents an opportunity for long term holders.
Conclusion
The new CEO and President has everything to prove with visibly poor financial metrics and many groups and individuals scrutinizing the companies every move. Management has explicitly stated that Corporate Governance, ethics and business practices are of the utmost importance. Management has made smart moves by instigating new ethics and business practises and communicating them throughout. The company also states they are committed to shareholders, and management's swift actions and new strategy show they are serious.
SNC-Lavalin's new strategy or '3 Pillars' shows the company is re-focusing their efforts in key regions and key growth industries that have positive outlooks especially for infrastructure investments where SNC will be able to capitalize. SNC is divesting non-core assets and areas that have not proven too profitable, such as the re-organization that is occurring right now in Europe. Essentially the firm is focusing on what they do best and that which has the most growth potential. On top of this the firm has also stated that they want to become a truly global Tier 1 firm and shows they are committed to pushing themselves further than ever. It will take a few quarters to fully assess the new management's performance, but from the past events that already occurred over the short period they have taken the helm, I am confident they will perform well.
Furthermore, the President of Resources, Environment & Water, Neil Bruce, believes that the three sub-segments, Mining & Metallurgy, O&G and Environment & Water, have natural synergies to be realized between them, and I agree. Expenses will be reduced organically and through the implementation of an ERP and HR management system, unlocking value to shareholders. Institutions are moving back into the company or increasing their positions which shows market sentiment is shifting to the positive.
Overall, SNC is a great company with strong fundamentals, great Revenue growth potential, is committed to reducing costs and re-focusing their efforts to maximize the company's value. Taking everything into consideration in the DCF valuation, SNC-Lavalin is a BUY with a Target Price of $55.25 for an upside of about 30%.
Disclosure: I have no positions in any stocks mentioned, but may initiate a long position in SNCAF over the next 72 hours. I wrote this article myself, and it expresses my own opinions. I am not receiving compensation for it (other than from Seeking Alpha). I have no business relationship with any company whose stock is mentioned in this article.