By Carla Fried
Last year the Technology Select SPDR ETF (NYSEARCA:XLK) trailed the 32% gain for the broader SPDR S&P 500 ETF (NYSEARCA:SPY) by six percentage points. The Vanguard Technology ETF (NYSEARCA:VGT), which includes a bigger slug of small and mid cap tech stocks than the SPDR portfolio, also couldn't keep pace, though it fell short by only 1.3 percentage points.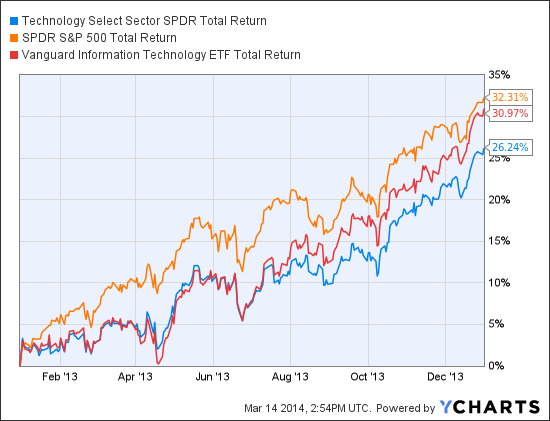 XLK Total Return Price data by YCharts
But much of that calendar year underperformance was baked in early in the year. In the second half, technology found a bit more mojo: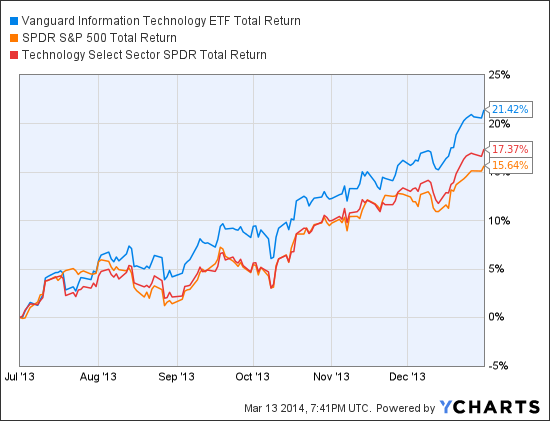 VGT Total Return Price data by YCharts
So far this year, the Vanguard ETF is slightly ahead of the market and the SPDR ETF is even.
Moreover, tech stocks still score as a pretty compelling relative value in today's market. Relative being the operative word, as the broad market is not cheap by any measure. That said, the Leuthold Group recently noted:
"Technology's relative valuations have rarely traded below today's levels. The sector's Normalized P/E [Leuthold looks at five years] closed February at a 17% premium to our all-cap universe, the lowest reading recorded over a history that extends back to the late 1980s."
Of the 15 sub groups within the tech sector that Leuthold tracks, nine are currently rated Attractive, three are "High Neutral" and none are considered unattractive.
"This is about as good as it gets for a sector as 'heterogeneous' as Tech," wrote Doug Ramsey, Leuthold's chief investment officer. Ramsey also noted that the S&P 500 tech sector has had the biggest rise in short interest over the past 18 months, a period when the sector's relative performance has picked up. If that trend persists there could be some extra juice for tech stocks if the shorts relent. Short interest for five of the largest tech firms -- Apple (NASDAQ:AAPL), Google (NASDAQ:GOOG), IBM (NYSE:IBM), Oracle (NYSE:ORCL), Microsoft (NASDAQ:MSFT):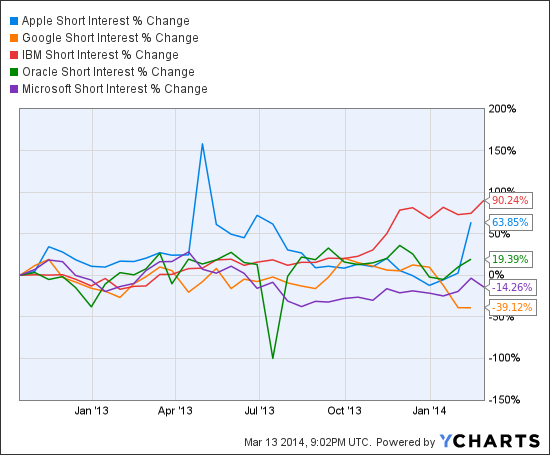 AAPL Short Interest data by YCharts
The SPDR tech ETF tracks the S&P 500's tech stocks. And somewhat oddly, that includes telecoms. AT&T (NYSE:T) and Verizon (NYSE:VZ) account for 10% of fund assets. (Short interest in AT&T has nearly tripled over the past year and a half and is up more than 150% for Verizon.)
The SPDR Tech ETF follows Standard & Poor's market-cap weighting approach. Over the past year, Verizon and IBM, both in the top five holdings, have been a pronounced drag.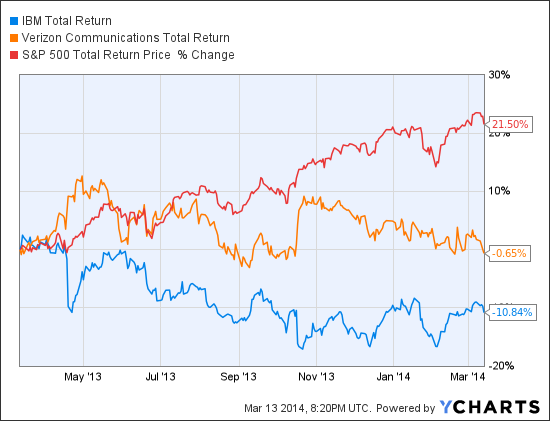 IBM Total Return Price data by YCharts
In fact, neutralizing market cap weighting looks to be the smart way to track the sector. Over the past year the 30% gain for the Guggenheim S&P 500 Equal Weighted Technology ETF (NYSEARCA:RYT) was more than nine percentage points better than the Select SPDR's gain. And that's been a trend for the past five years: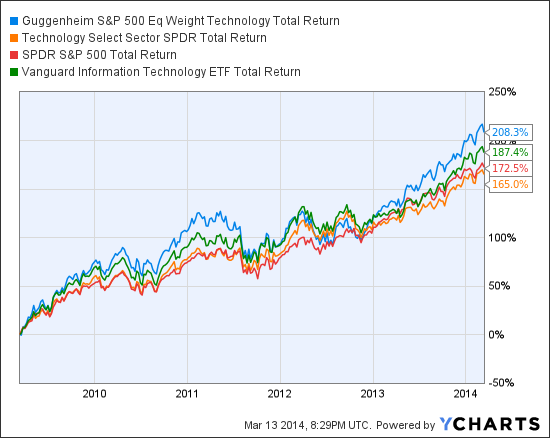 RYT Total Return Price data by YCharts