DXP Enterprises Inc.'s (NASDAQ:DXPE) share price has improved by more than 30% in one year. This increase is justified, given the performance DXP has delivered in the past. During the 3-year period where net income growth in the industry has fallen at a 3-year average of negative 1.4%, DXP has outshined its peers by experiencing a net income growth of near 46%. The company still has plenty to offer once the industry conditions improve.
In this article, we will see how DXP did during 2013, and whether the growth is likely to be sustained in the future.
2013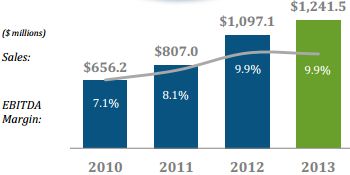 Source: Presentation
DXP's sales have nearly doubled since 2010, with the latest figure reaching $1.2 billion, reflecting a 13% increase from 2012. However, upon further analysis, it is revealed that most of the increase was associated with DXP's recent acquisitions. Excluding the contribution ($140 million) by businesses acquired in the last two years, on a same-store sales basis, revenue improved by a small 0.4% since 2012.
This wasn't impressive, considering the fact that growth was coming from stocking other businesses, and that won't last forever if the acquisitions fail to deliver their desired results. Organic growth is a must-have attribute in a successful company. DXP's growth rate last year from organic operations was just 0.43%, and well below the target rate of 10%. However, on a positive note, it can be concluded that this result pertained specifically to 2013, owing to macroeconomic factors as DXP encountered double-digit organic growth rates in the recent past. For 2012, it was 12%, and for 2011, the rate was 16%.
A better customer mix in the supply chain department and better product mix in service centers increased the overall gross margin to improve by 90 bps to 30% last year. Going forward, SGA expenses, based upon a same-store basis, went in the opposite direction due to increased salaries, commissions, health claims, and insurance premiums. Expenses as a percentage of revenue, also rose owing to acquisitions, and caused a higher cost margin ratio.
The final result was the diluted EPS rising 18% to $3.94 owing to lesser accruals in state income taxes that decreased the effective tax rate of DXP to 36.4% from 40% last year. All in all, while the year showed improving results on the surface, nothing solid in terms of organic growth or cost improvement on a permanent basis prevailed, and led to the fact that this top line growth rate will be hard to sustain in the future.
However, it must be noted that despite the conditions DXP experienced throughout the industry, it still managed to deliver a higher rate of return in virtually every fundamental (see graph below).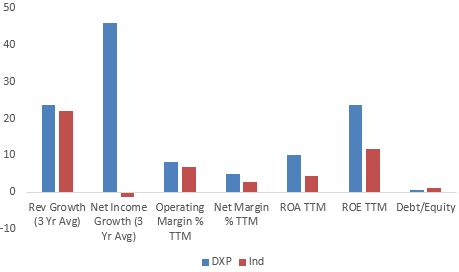 DXP's return on equity was 24%, which is more than double the industry's 11.7%, so this was its return on assets at 10%. All the above results were gained at lower leverage, with its debt-to-equity ratio at 45% less than its peers.
For 2014, the rise in profits can come from the economy that is expected to recover. Forecasted results display that the gross national product in growth strategies being implemented under supercenters will rise. In addition to that, prices are expected to increase between 2.5% to 3.5%. Since DXP's organic growth is based on increasing activity, greater economic action and higher prices mean that organic growth may return to normal levels.
Also, recently acquired companies such as B27 that have an estimated $200 million in annual revenue means that the acquisition and similar companies offer top line potential in the upcoming period. Acquired companies don't start delivering top results until they are fully absorbed inside the structure of the parent company. While this takes time, they are certainly lucrative from a long-term assessment.
That being said, increasing the supercenter base by transforming service centers to supercenters will further profit boosts by allowing customers to have a greater reach to products being offered. In 2013, DXP converted four in-process service centers to supercenters. In 2014, the company is currently operating 37 supercenters, and a plan is in motion to convert an additional six service centers into supercenters by the end of this year.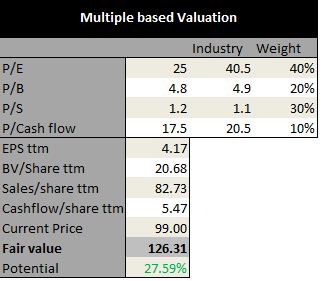 It is clear that some growth will come from the economy that is expected to recover. The multiple-based approach is likely to give a reliable estimate. Based upon the results, DXP provides an upside of 27%, and I think that's a suitable figure given the prospects of the company.
Bottom Line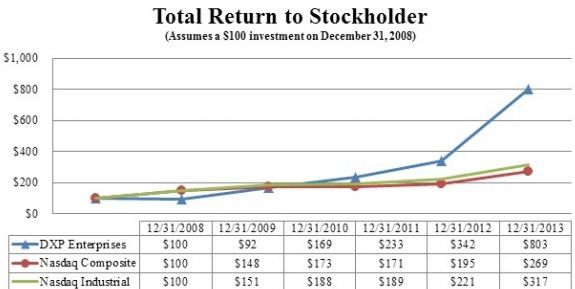 Source: 10K
DXP is a good investment opportunity. The company has surpassed NASDAQ returns since 2010, and DXP beat the industry during a period where macro factors weren't too supportive for the company's business. Now, with improving conditions and more acquisitions in hand, I believe DXP has a better arena to play in. With this in mind, I believe DXP's share price will continue to grow. Therefore, I recommend buying the stock.
Disclosure: I have no positions in any stocks mentioned, and no plans to initiate any positions within the next 72 hours. I wrote this article myself, and it expresses my own opinions. I am not receiving compensation for it (other than from Seeking Alpha). I have no business relationship with any company whose stock is mentioned in this article.