As specialists in researching and investing in the North American energy space, we have canvassed the industry and have taken a deep dive into the companies that we believe will benefit from the boom in shale oil and gas production. We believe Bonanza Creek (NYSE: "BCEI") the Denver-based oil and gas exploration company is well positioned for high margin double digit production growth and resource expansion driven by its Niobrara oil play in the Wattenberg Field in Northeast Colorado.
Bonanza Creek (NYSE:BCEI) is a $2.1 billion oil and gas exploration company with primary operations in Colorado and Arkansas. Bonanza's asset portfolio consists of approximately 35,500 net acres located in the Wattenberg field targeting the Niobrara oil and gas formations in Northeast Colorado. The remainder of Bonanza's operations are in the Dorcheat-Macedonia fields located in the Mid Continent region of southern Arkansas. Bonanza plans to spend approximately 85% of its capital budget in 2014 in the Niobrara region with the remainder allocated towards further developing its operations in the Mid-Continent Dorcheat-Macedonia fields.
Bonanza went public in December 2011 with an offering of 10 million shares at $17 per share. The company currently trades at $45.94 per share or up 170% since going public. We believe that management has been able create shareholder value by strategically deploying cash flow from its recurring Mid-Continent oil production towards successfully delineating and developing its high margin Wattenberg play, a strategy that has been well rewarded by the investment community so far. We believe the company continues to execute on this strategy while further defining the extent of its inventory in one of the best emerging oil plays domestically.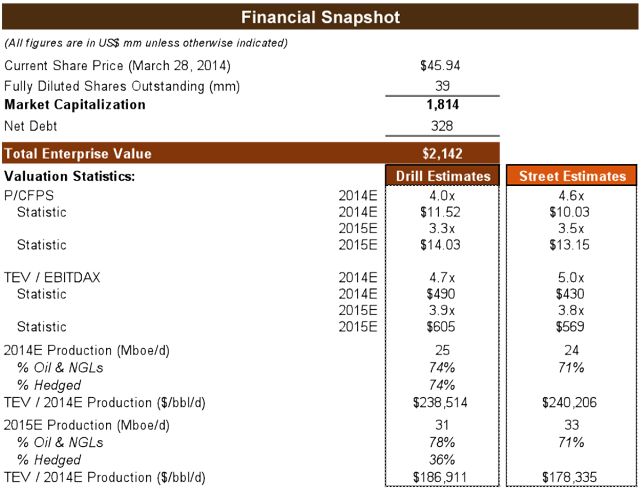 Source: Drill Research and Company Filings
Bonanza currently trades at $45.94 per share. We have a $65 per share price target on the stock. Our price target is weighted 50% to our NAV of $63.11 per share and 50% weighted to our DCF of $66.23 per share. The consensus Street target price for Bonanza is $58 per share.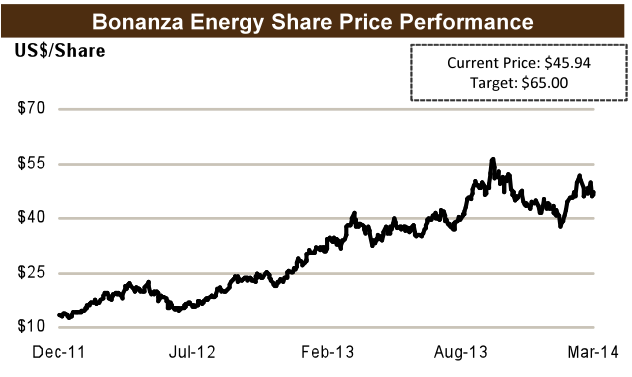 Source: Drill Research
We believe risk/reward characteristics for Bonanza at current levels are attractive for several reasons including:
The industry isn't close to being done learning how to best drill the Wattenberg, Niobrara oil play. We believe Bonanza is well positioned to benefit from the learning curve improvement currently taking place in the play.
We believe the Wattenberg field is one of the best oil plays in the country, with the core part of the play competing with drilling returns and paybacks of the Eagle Ford, Permian and Bakken oil shale areas. Our type curves have the play breaking even at $60-65/bbl WTI on regular length horizontal laterals and closer to $50/bbl WTI on extended laterals. We still think industry operators are in the middle of figuring the play out; capital continues to be allocated towards improving drilling configuration, well spacing, extended laterals, completion methods and field pressure optimization. Positive industry comments around the potential from the multiple zones within the Niobrara area also very encouraging.
Bonanza's Wattenberg acreage borders some of the industry's largest domestic oil and gas operators: Anadarko (NYSE:APC) and Noble (NYSE:NBL). We think Bonanza will benefit from the research and development from its adjacent neighbors. We also think the larger scale development from these neighboring operators will allow the company to execute a more surgical approach to development on a go forward basis on the back of industry wide learnings and information sharing.
Production growth and execution have been consistently good, so has risk management. We expect the company to continue planning conservatively while allowing itself the ability to beat expectations.
Against the backdrop of improvements made at the field and development level, Bonanza has continued to grow production in the Rocky Mountains from 2 Mboe/d in 2011 to over 15 Mboe/d as at Q4 2013. We are impressed with management's ability to set realistic expectations and execute on these goals; production guidance for 2013 was between 14.5 to 16.0 Mboe/d, but the company's actual production came above the high-end of guidance at 16.2 Mboe/d. We believe strong execution should be rewarded as it provides the investment community with more comfort in the company's ability to forecast and manage growth parallel with the resource expansion initiatives we are seeing at the field level. Management has set 2014 production guidance at 23 to 25 Mboe/d. We have modeled 2014 production at the high end of guidance at 24.6 Mboe/d given management's track record and well program for the year. On a longer term basis we expect Bonanza to grow from 24.6 Mboe/d in 2014 to 44.4 Mboe/d by 2017, an approximate 24% growth CAGR on a debt adjusted basis. We believe that despite several recent changes at the managerial level, the internal processes will remain the same.
With moderate leverage levels (net debt to cap) at 34%, Bonanza has allowed itself the financial flexibility to expand or contract its development schedule. We view this as a prudent approach to risk management.
DCF Assumptions:
We expect Bonanza to produce 24.6 Mboe/d in 2014 and for that figure to grow to 44.4 Mboe/d by 2017, an approximate 24% growth CAGR on a debt adjusted basis.
Bonanza has approximately 60% of its oil production hedged and 74% of its natural gas production hedged in 2014. In 2015 the company has hedged approximately 19% of its oil production and 36% of its natural gas production.
Hedged pricing realizations:
2014E = $73.73/boe [Oil @ $91.02/bbl, Gas @ $5.20/Mcf, NGLs @ $53.19/bbl]
2015E = $70.51/boe [Oil @ $84.21/bbl, Gas @ $4.75/Mcf, NGLs @ $48.81/bbl]
We have assumed a long run average corporate decline rate of 35% and capital efficiency of $32,000 per flowing bbl. We expect the following capex profile:
2014E = $615 mm, 2015E = $615 mm, 2016E = $665 mm, 2017E = $665 mm, Maintenance capex = $743 mm
We anticipate a gradual decrease in the operating cost structure on a go forward basis as the company ramps up its development program:
LOEs: 2014 = $8.23 / bbl , 2015 = $7.96 / bbl
G&A: 2014 = $6.46 / bbl, 2015 = $5.56 / bbl
Production Taxes: 2014 = $6% , 2015 = 6%
DD&A: 2014 = $26.01 / bbl, 2015 = $26.01 / bbl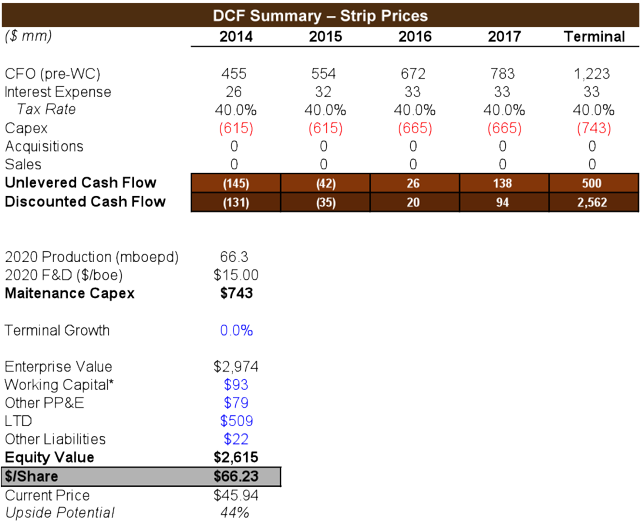 Source: Drill Research and Company Filings
Transition towards extended lateral development program in the Wattenberg will create incremental upside going forward.
The investment community has yet to give full credit to companies operating in the Niobrara as it relates to their development assumptions. We believe that at minimum, 50% of Bonanza's Wattenberg acreage could be developed using extended laterals. We believe the extended laterals present a significant uplift to the NAV going forward with better returns and F&D costs - the wells are estimated to recover approximately 700 Mboe of recoverable resource versus a regular horizontal well at 330 Mboe for less than double the cost to drill ($7.5 mm for a 9,000 foot extended lateral well versus $4.5mm for a regular horizontal well). We have modeled in our NAV that 50% of Bonanza's Niobrara B section will be developed using extended laterals with the remainder using regular laterals to reflect our view on the changes being incorporated within the development assumptions going forward. We think over time the industry will also get more comfort on the Niobrara A and C section testing using extended laterals as well.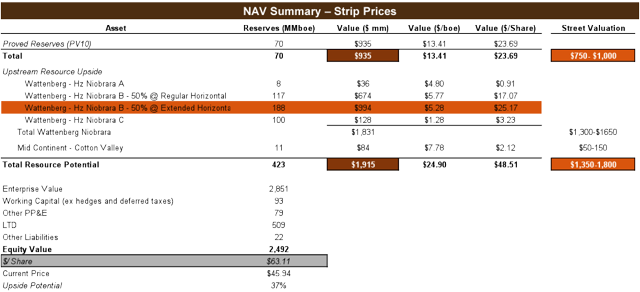 Source: Drill Research and Company Filings
As it relates to our trade recommendation for Bonanza Creek, here are the catalysts to monitor:
The company plans to drill six 7,500 foot extended laterals and four 9,000 foot extended laterals in 2014. Results from these tests will confirm the type curve and development spacing assumptions for the program.
Noble Energy is planning between 55-60 extended reach laterals for 2014 - these results will be important to monitor as the company plans a mix of testing across multiple zones and spacing configurations. Extended lateral testing the Codell play in 2014 could push the boundaries of the target zone going forward. Noble recently tested a medium length lateral in the Wells Ranch area with a 7,000 foot lateral - production averaged 500 boe/d after 2 months. Other industry operators also testing in the play are very encouraged by well results in the field. Look for additional color from Anadarko, Carrizo (NASDAQ:CRZO), Bill Barrett (BBG) and Petroleum Development Corp (April Analyst day) on a go forward basis as it relates to the Wattenberg tests and development assumptions.
Greenhorn testing by Noble could open up yet another target zone in the Wattenberg.
Disclosure: I have no positions in any stocks mentioned, and no plans to initiate any positions within the next 72 hours. I wrote this article myself, and it expresses my own opinions. I am not receiving compensation for it (other than from Seeking Alpha). I have no business relationship with any company whose stock is mentioned in this article.
Additional disclosure: All information provided is for informational purposes only and should not be deemed as investment advice or a recommendation.Drill Research or any of their subsidiaries or affiliates, nor any of their respective officers, directors, employees or agents, accepts any liability whatsoever for any direct, indirect or consequential losses (in contract, tort or otherwise) arising from the use of this document or its contents or reliance on the information contained herein.The information in this document has not been independently verified by Drill Research. Drill Research or any of its subsidiaries or affiliates, nor any of their respective directors, officers, employees or agents, makes any warranty or representation, express or implied, as to the accuracy or completeness of the information which is contained in this document whether obtained from or based upon third party or public sources or otherwise. Drill Research does not undertake any obligation to provide any additional information or to update any of the information or the conclusions contained herein or to correct any inaccuracies which may become apparent. Past performance is no guarantee of future returns.