Johnson & Johnson (NYSE:JNJ) engages in the research and development, manufacture, and sale of various products in the health care field worldwide. The company operates in three segments: Consumer, Pharmaceutical, and Medical Devices and Diagnostics. Johnson & Johnson is a major component of the S&P 500, Dow Industrials and the Dividend Aristocrats Indexes. One of the company's largest shareholders includes Warren Buffett. JNJ has been consistently increasing its dividend for 48 consecutive years. Dividend author Dave Van Knapp has also included the company in his most recent book "The Top 40 Dividend Stocks for 2010".

Over the past decade this dividend stock has delivered a 4.90% average annual total return to its shareholders.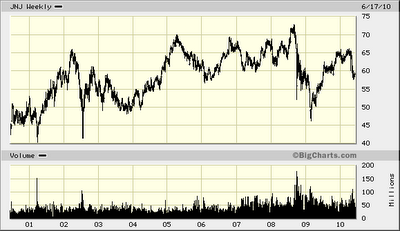 At the same time company has managed to deliver a 11.10% average annual increase in its EPS since 2000. Analysis expect a 9.80% increase in EPS to $4.83 in 2010, follow by an 8% increase to $5.23 in 2011.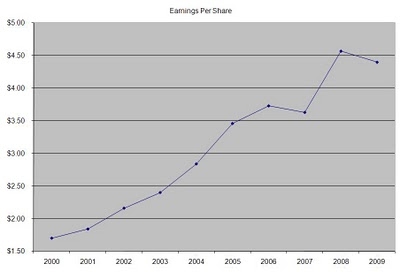 Johnson & Johnson is the first stock that comes to mind when illustrating the benefits of dividend investing. The company has been enormously successful, has a strong competitive advantage and as a result has managed to boost distributions for 48 consecutive years. It is no surprise that it is found in the portfolios of most dividend investors. The company's sales and earnings growth would be driven by the company's ongoing acquisition program, its pharmaceutical pipeline as well as expansion in emerging markets. Remicade and Stelara are two drugs which could fuel growth in sales, as is a new blood thinner drug under development, which would prevent strokes in patients. The company should do well due to its diversified revenues coming from drugs, consumer products and medical devices. Despite its size, Johnson & Johnson is highly innovative and aggressively funding new product development in order to maintain leadership positions.

The ROE has remained largely between 25% and 30%, with the exception of 2006 and 2007.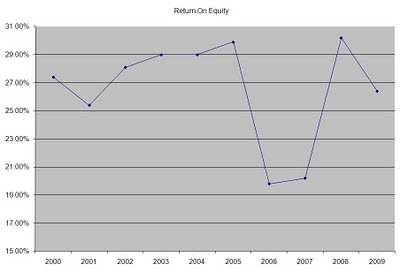 Annual dividend payments have increased by an average of 13.40% annually since 2000, which is much higher than the growth in EPS. A 14% growth in dividends translates into the dividend payment doubling almost every five years. Since 1971 JNJ has indeed managed to double its dividend payment every 5 years.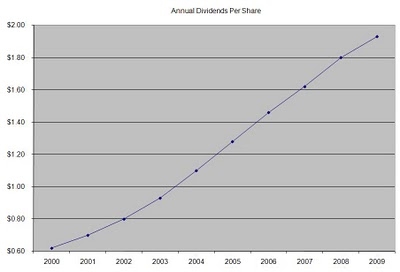 The dividend payout ratio has remained in a range between 36% and 45%. A lower payout is always a plus, since it leaves room for consistent dividend growth minimizing the impact of short-term fluctuations in earnings.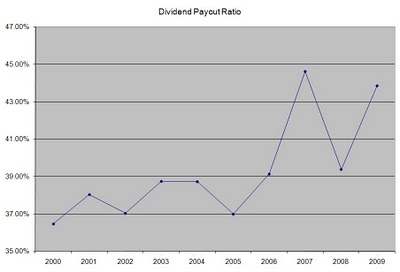 JNJ is
attractively valued
at a price/earnings multiple of 12.50, a low dividend payout ratio and at a current dividend yield of 3.60%. In comparison
Abbott Laboratories
(NYSE:
ABT
) trades at a P/E of 13.90 and yields 3.60% while Bristol-Myers Squibb (NYSE:
BMY
) trades at a P/E of 5 and yields 5.00%. I would keep accumulating Johnson & Johnson (
JNJ
) stock.
Full Disclosure: Long ABT and JNJ